You guys may remember Kara from Kara Paslay Designs thanks to the amazing house crashing tour that she took us on a while back. And when she sent over some photographs of a stunning ottoman that she DIYed, we begged her to treat us to an exclusive little YHL tutorial. And- oh happy day!- she was game. So without further ado, we'll hand this post over to Kara so she can take you through the process of making your very own version of the lovely (and surprisingly doable) ottoman that she whipped up. Gorgeous, eh?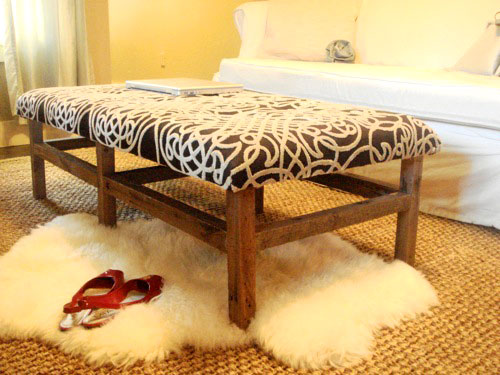 Hello YHL readers! I am so excited that John and Sherry have invited me to share the details about my DIY tufted ottoman! Here we go:
Step 1- Cut a piece of wood (or MDF) to the coffee table size of your choice, unless of course you are using your current coffee table to save some moolah. If you're building it from scratch, I'd suggest using 3/4″ plywood (or MDF) to avoid sagging. Next, choose the spots where you'd like to add button tufts (6 or 8 or as many as you'd like) and pre-drill small holes through the MDF or wood. Then cover your wood top with contact cement and place 2 inch foam (cut to the same dimensions) on top. You can find the foam at your local craft store.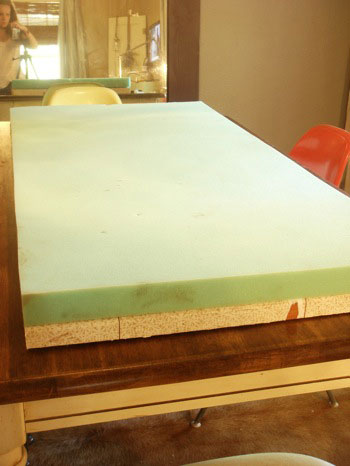 Step 2- Cover your top with extra-loft batting, securing it underneath the table top with a staple gun. Then trim the excess.
Step 3- Cover the batting with your chosen fabric. If your fabric has a pattern, make sure it is straight before placing all your staples. When upholstering a simple square or rectangle: put a few staples in one side, then go to the opposite side, pull it tight, and add a few staples there. Do the same with the other two sides. This ensures that your fabric is taut and you don't end up with bunches and bulges that you didn't expect. Also pay attention to how tight you are pulling the fabric and keep the tension the same all the way around for a professional look!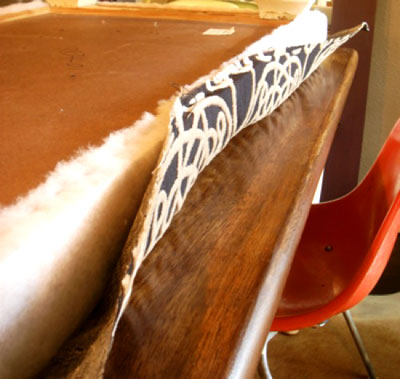 Step 4- Finish out your corners. They should look like the photo below at the beginning.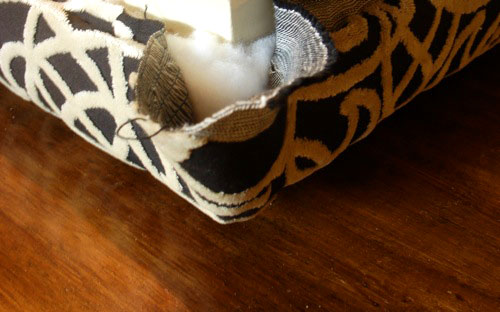 Then pull the left flap to the right and staple. Next pull both flaps to the left and staple, being sure to smooth out any lumps and humps because regardless of what the song says, these are NOT lovely or ladylike! Here's what you should end up with: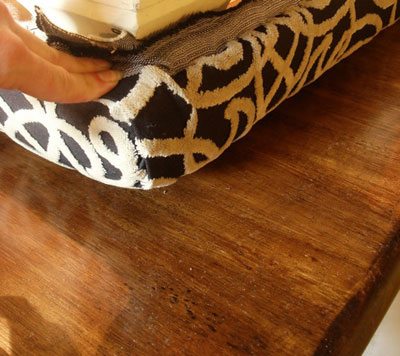 Step 5- Now it's time for tufting. You can find buttons and cover kits at your local craft store. Once home, cover your buttons using the instructions on the packaging.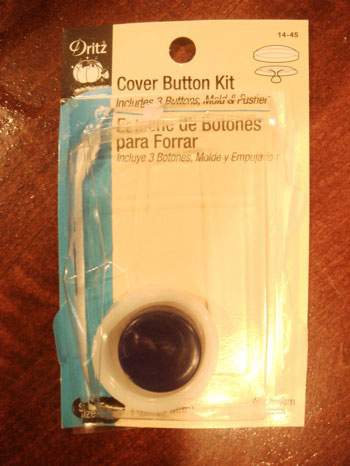 Step 6- String a heavy and strong thread through the eye of a very large needle. Do not cut the thread.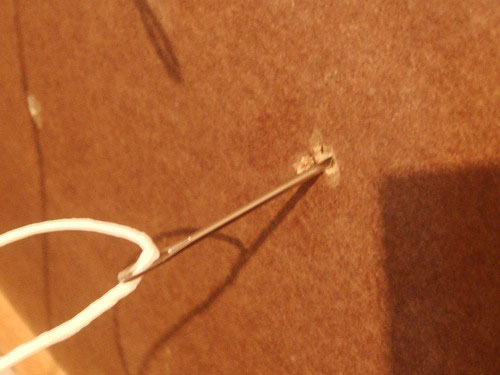 Step 7- Push the needle and thread through (from the back to the front) of your piece, through a pre-drilled hole where you want your button tufting to appear. You may need to use pliers to grab the needle and pull it through.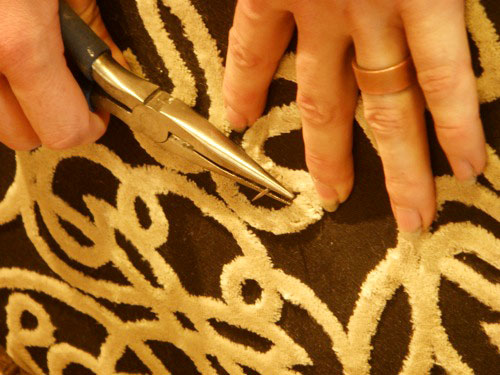 Step 8- String your button onto the thread and then push the needle back through. It may take a few tries to find the hole, but keep trying and you will get it!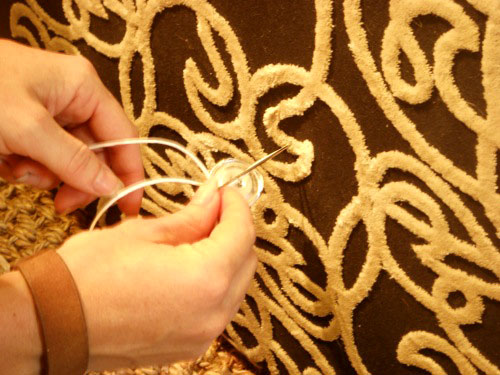 Step 9- Thread a washer onto one end of the string and then use both ends to tie a knot ensuring nothing comes loose. Have a friend or spouse push the button in on the other side while you tie the knot to ensure that all your tufts are the same depth.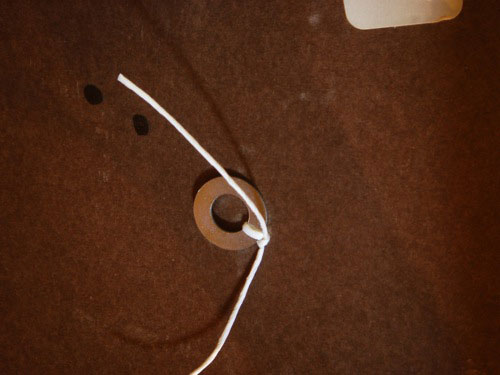 You tufted button should look like this once completed: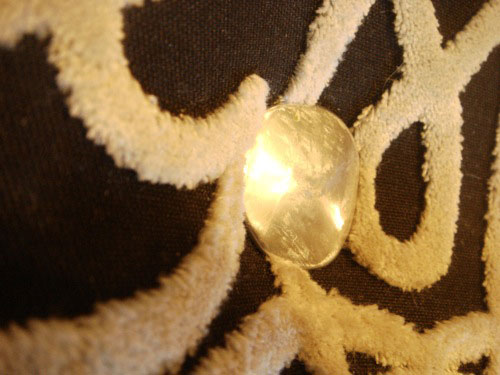 After you do all of your buttons this way you should be left with a beautiful tufted HEADBOARD!!!! All you'd have to do is hang it! But we needed an ottoman, so Tim and I put together some "look at me" legs. I always like a piece with some history, so I chose to make my base with old 2 x 2s that we removed from our house during its renovation. Our house was so old/not up to code, a few walls were made up of 2 x 2s set in a grid pattern (instead of 2 X 4s centered on 16s). YIKES!
Step 10- Next we cut our wood into: six 2 x 2s at 12 inches, three 2 x 2s at 19 inches, and four 2 x 2s at 22 inches. Here is a color coded drawing to show you how we put the pieces together. The 1st drawing is a side view while the bottom drawing is a birds eye view.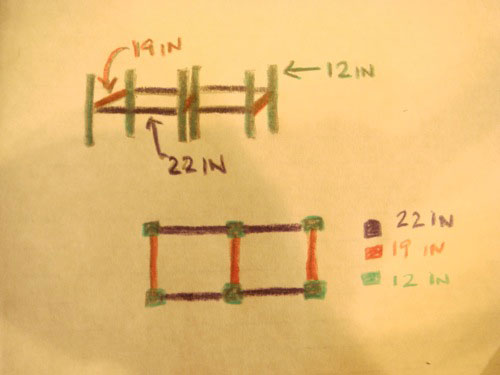 Step 11- Bring your base together. Now would have been a great chance to use that Kreg Jig that John has been loving, but unfortunately we don't have one. So, we opted for a 1-2 punch of finish nails and Liquid Nails. You could also use screws and Liquid Nails. Things are pretty sturdy in the beginning, but once the Liquid Nails hardens up, things are Jillian Michaels tough!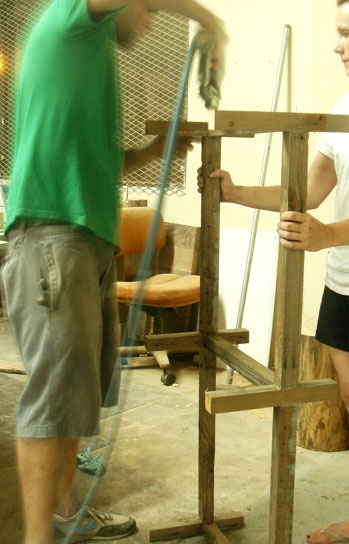 Step 12- Attach the base to the top. We used Liquid Nails again and then toe-nailed our finish nails to secure the top to the bottom. To "toe- nail" simply means to nail things in at a diagonal. You should also do this if you are using screws (and be sure to pre-drill)!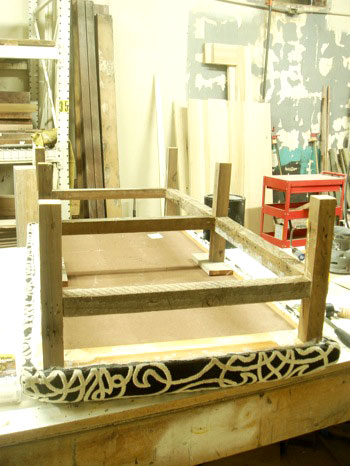 Now that we're finished, here's what it looks like in our living room!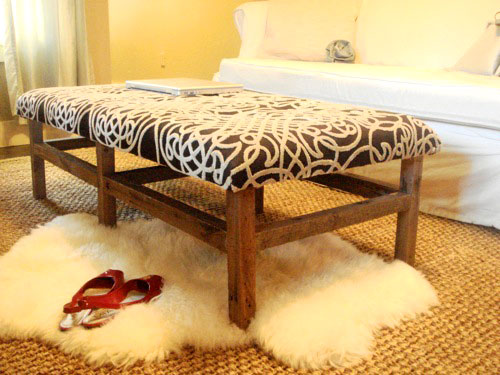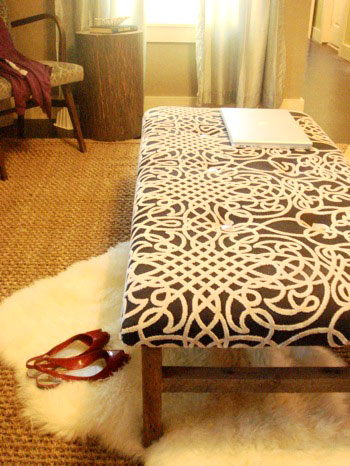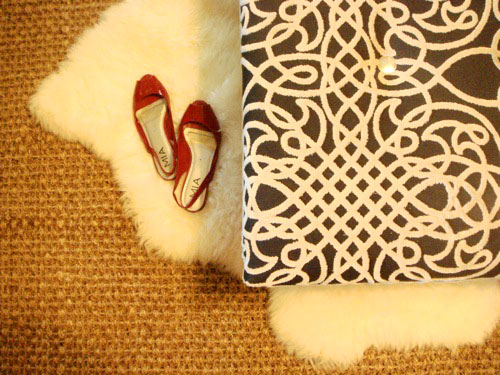 We are so excited to have a brand new piece of furniture that is incredibly functional, serves as a reminder to our renovation experiences, was made from mostly reclaimed materials, and only cost us about $35! Here's the budget breakdown:
Top from former coffee table- FREE
2″ thick foam- $27 (with 40% off coupon)
Contact cement- already owned, aka: FREE
Fabric (scrap piece) – FREE
Tufting buttons- $5
Reclaimed wood legs- FREE
TOTAL COST: $32
Although we lucked out by finding pieces we could reuse, we're sure you can do the same by upholstering a coffee table you already have, using an old curtain panel for your fabric, and scouring your local thrift shop or Habitat For Humanity ReStore for wood scraps or pieces that you could reinvent as an ottoman. Good luck!
Doesn't that DIY ottoman look fantastic? And you can't beat that price. We're sending out a huge thank you to Kara and Tim for providing such amazing photos and this awesomely detailed play by play of their upholstering and building process. What do you guys think? Anyone out there who will be referring to Kara's tutorial to whip up one of their own? We must admit that we're more than tempted to try our hand at one for ourselves!