Let the pantry party commence! I never thought organizing a space that sat behind a closed door 90% of the time could be so cathartic, but working on this pantry with Sherry has made us both feel like the whole kitchen – nay, the whole house – is more functional. Clearly it has even made us more prone to hyperbole.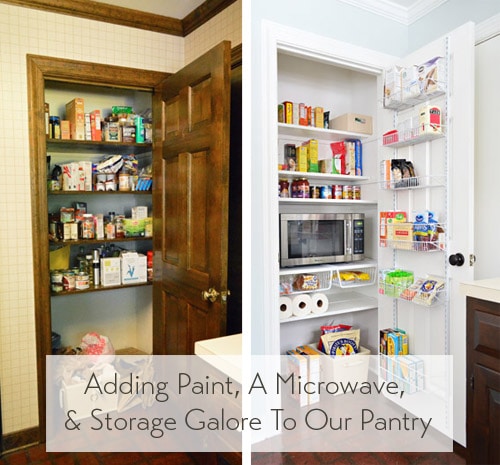 First we got an outlet added, switched up some shelves, and moved the microwave in. Next we moved the trash out. Then it was time for a few fresh coats of primer and paint.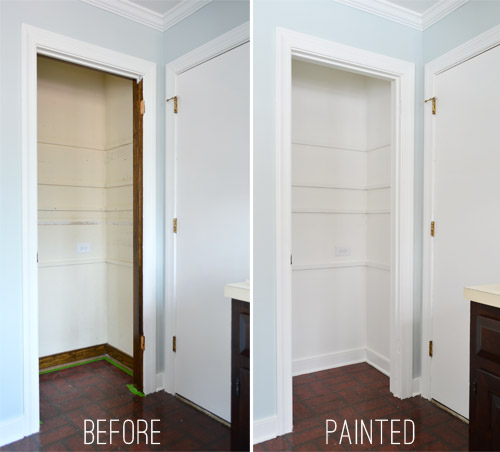 Sherry and I briefly debated choosing a happy or bold color in there (either on the walls or the shelves or both), but with all the colorful food labels that end up in a pantry we decided white made sense to keep things as calm as possible – especially since we don't have a light in there, so we didn't want it to get too shadowy or dark in the back corners.
So we removed all of the shelves and lined them up in the dining room. Note the strip of painter's tape so they could lean without marking the wall. It took one coat of primer (Kilz Premium) and three coats of paint (Advance paint in Simply White, leftover from the kitchen cabinets) which we applied with a small foam roller for the most part, although we did break out a brush for the trim and corners in the pantry.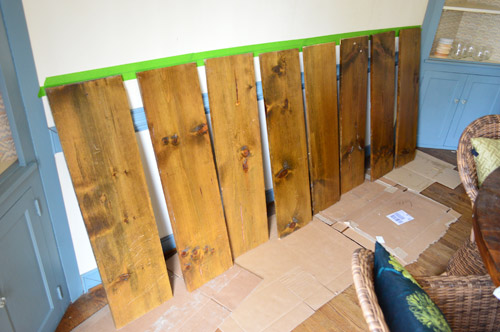 Once the shelves, walls, and trim dried, we put things back together and rehung the door, which we removed for easier priming and painting access. Each shelf was made up of two boards, but after a fair amount of debate and experimentation, we opted to only use one board for the two upper shelves. We decided that shorter depth would prevent things from getting pushed way back where we couldn't see / reach / use them anymore.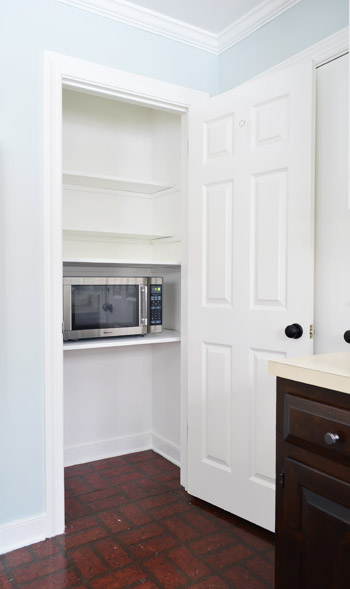 Next up, we added this $35 back-of-the-door wire shelf system since no fewer than two dozen of you recommended it in the comments of this post. It can be hung over the door, but we opted to screw it directly into the door (using anchors whenever it didn't hit something solid) so we wouldn't have any hooks peeking over the door when it was closed.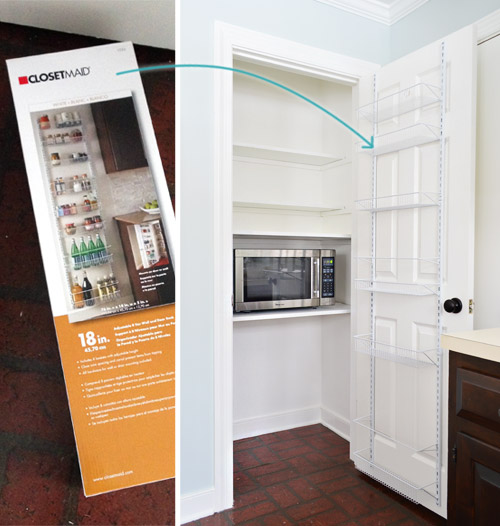 We still wanted to do something to make the bottom area of the pantry work harder (since the trash can was no longer hogging all of the space), but before we made any decisions we figured it would be smart to load things back in and see what sort of help we still needed down there.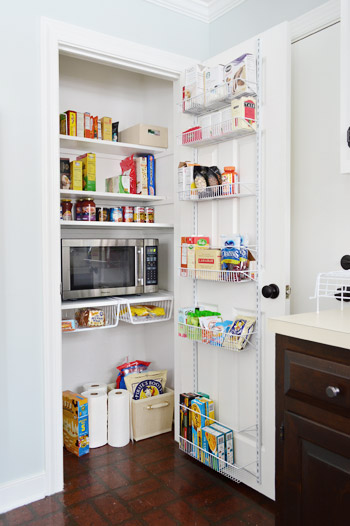 We debated some vertical dividers, or maybe some stacked bins, but ultimately decided that another shelf would do the trick for now. Thankfully it was pretty speedy to add one because we already had two spare boards ready to go (since we only added one to make those two top shelves shallower, that left us with two extras that were already primed and painted). So I just screwed a couple of wood strips to the walls (like I did in this post) and in no time we had a spot for paper towels and cloth napkins (those were in the laundry, so they're MIA in these pics).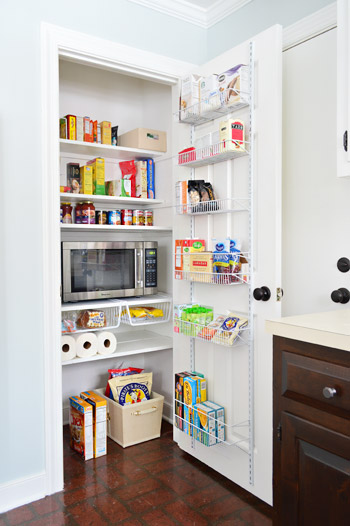 You'll note the two under-shelf wire baskets that are also helping maximize the space, which came as part of this $15 shelf organizer set. We like that they allow us to compartmentalize the shelf a bit more without having to add more permanent systems (the wire cubbies just slide on and off, and we can remove them or place them somewhere else if we want to reconfigure things down the line).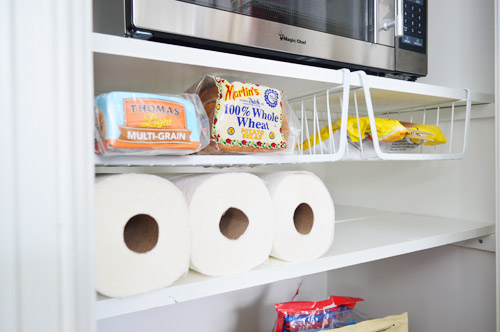 It's looking a little sparse in there because we have to go shopping again pretty soon. Or maybe it just looks that way because we suddenly have so much more storage space in there? Either way, by the end of this little pantry re-org, Sherry and I were both itching to go to the store just to see how much more we could cram in there. Maybe tonight's the night…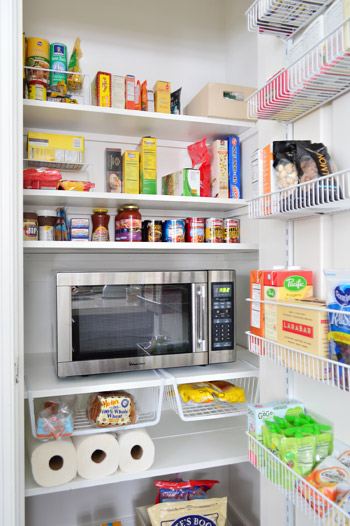 On the top shelf we put baking items and meal items, including things like bread crumbs, boxed rice, brown sugar, and baking soda. On the right there's also a box that contains sprinkles and icing for decorating cookies and cupcakes. Below that is a shelf that we devoted to snacks, cereals, and other boxed items like oatmeal, granola, and crackers. Then below that one, on our narrow shelf, we lined up all of our shorter items, like cans and jars of soup, salsa, peanut butter, tuna, etc.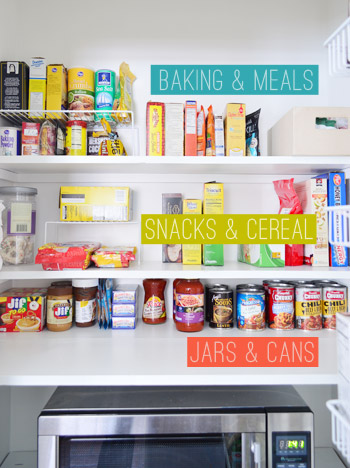 The wire shelves that gave us a little bit of extra stacked storage were part of the same 5-piece set that included the two under-shelf baskets that I called out a few paragraphs ago. And the fifth piece from that same set was a wire basket that hangs against a wall or inside a cabinet door. We screwed ours into the side wall to store spare plastic bags. It's so much nicer than the giant bin on the floor that we used to haphazardly toss them into.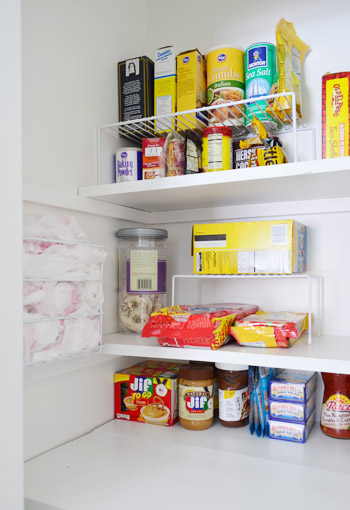 Oh and although a ton of Pinterest pantries have awesome glass or plastic containers like these (which are from The Container Store), we thought long and hard about how we really live and decided that even though we have some clear containers already on hand (like the ones you see in this shot of our first house's makeshift "pantry') it felt like they'd be more for show than anything else. We tend to go through things fast enough within their own packaging, so putting them in pretty jars just didn't feel like something we'd honestly keep up with these days.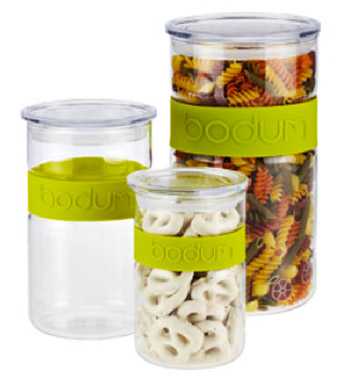 But back to the pantry. The wall across from our plastic-bag-holding wire bin has a similar spot where we could hang something else, but it's empty for now, at least until we have a specific use for it. You'll also notice some empty shelf space in front of the cans. We can always use it if our can & jar stock expands, but for now it's mostly to protect the top of the microwave from anything that might "jump" off one of the top shelves. It has also proven helpful as a spot to temporarily put things down or spread them out while we're organizing or looking for something.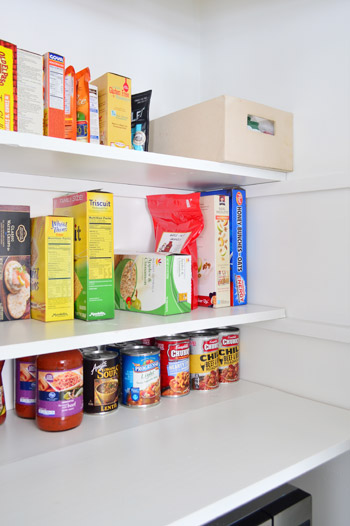 And thanks to the narrower shelves on top of that one, it's still easy to grab those cans and see what we have (we stacked the same items in front of each other, so there's nothing different lurking in the back that we'll forget about).
We used our new door-hanging system to stock the items that would most easily fit into those baskets (they're only 5″ wide). So it mostly ended up being random stuff like tea-and-coffee-related items on those top two shelves, along with a shelf for nuts and other snacks, one for pasta, and one for other items like granola bars. There are still a couple of leftover baskets from the set that we could have hung, but we found that cramping the shelves closer just made it tougher to access things. So we'll add those extras if we need to down the line, but for now it's nice to have some space above the long boxes of pasta to actually pull them out without banging into another shelf right above them.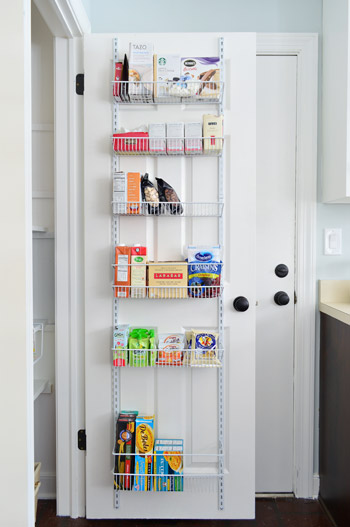 We also dedicated one shelf to some Clara snacks, which are right at her height, so she can help herself. She already loves ducking into the fridge to get packs of carrots or little containers of hummus that we keep on a shelf in there for her, so having a snack-zone in the pantry has been a big hit as well. We also appreciate that this shelf is full of easy-to-grab items for packing preschool snacks more quickly in the morning.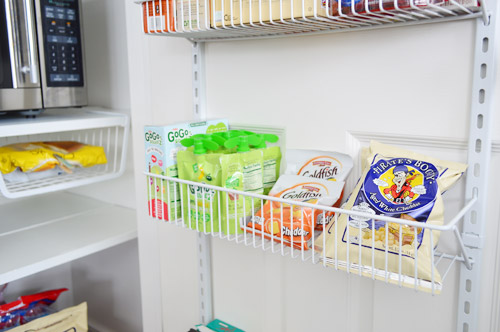 The space that will probably evolve a bit more for us is the floor. We didn't end up doing anything except adding a basket (that had previously housed our plastic bags) to corral big packages of a few bulk items, and tossing down a couple extra-tall cereal boxes before they're called into action (i.e. poured into the glass containers that we keep on the counter). But this probably foreshadows the purpose of this area as a spot to house more bulk items. For example, now that our pantry feels under control, I'm tempted to stock up on some things. Nothing too crazy, but it's nice to have a little "growing room" down there.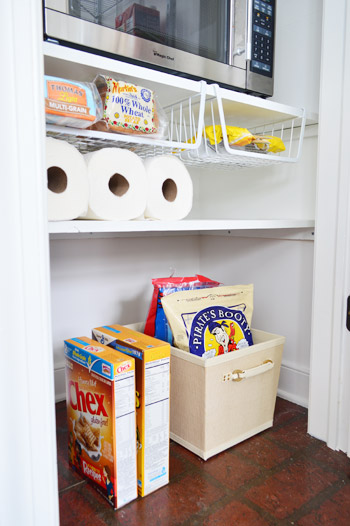 So besides fine tuning the floor area and seeing how it functions after a grocery trip, we'd consider this pantry makeover complete. And now I have the urge to go organize something else. Wait, am I nesting?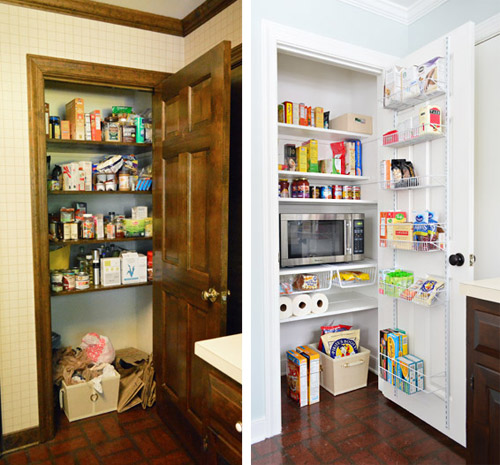 What did you guys do this weekend? Did anyone else who got snowed in end up organizing or re-thinking how a cabinet or closet works for your family? Are you now craving Nutella or Craisins? Ain't no shame in that, my friend.
Psst- Wanna know where we got something in our house? Just click on this button: