UPDATE: We've selected a winner below (Congrats Bridget!) but we also wanted to share that Kacy has another prize for everyone – a $5 coupon code (5OFFYHL)to use towards a purchase of The Inspired Office Poster. Enjoy!
Moving is just about the antithesis of feeling organized. Which is why we've lined up this giveaway from Kacy at The Inspired Office. She's a professional organizer who specializes in turning your space into a functional, productive, and (dare we say it) pretty place as part of her virtual video consultation called The Blueprint. And speaking of pretty, she has taken nuggets of organizing wisdom from over 12 years of doing this and put them on a stylin' silkscreen poster. And to get you even closer to Organizing Champ status, along with winning the poster and her organizing services, she's also throwing in a $50 gift card to The Container Store, for a total prize value of over $350!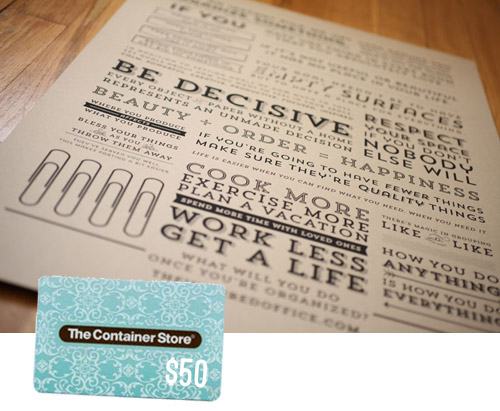 We're doing a little re-organization ourselves this week too, so we're taking the popular giveaway site Rafflecopter for a spin since we've heard so many great things about it (it'll hopefully free up some time to spend on house/family stuff while being pretty simple for you guys to use as well). So instead of commenting like usual, just use the widget below to login (using Facebook or your email, which is only used to contact the randomly selected winner – so you won't get spammed or anything). A couple of clicks later you'll be entered. Please only use the comment form if you have questions or trouble entering (entries there won't be counted, sorry!). Oh, and this giveaway is open to the whole wide world!