Jingle bells! Batman Smells! Robin laid an egg. Batmobile lost a wheel and Joker did ballet.

What? You didn't sing that song at camp while wearing culottes and a tie-dyed shirt? Well I did. Anyway, the point is that I hung the stockings and did a little extra Christmas decorating beyond putting up the tree (just in time to put it all away in about a week when we start packing for the big move in mid December). Gotta celebrate Clara's first Christmas, even if it's only for a hot second. Out came the ol' feather trees (from Target and a local store called Buford Road Pharmacy a few years back) along with the same ol' Target stockings that we've been enjoying for the past few Christmases: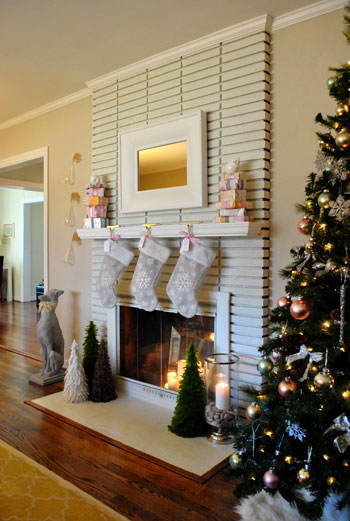 Since the stockings and the feather trees were from a few years past, I decided I wanted to do something new to spice things up – but I didn't want to spend much money. So piggybacking off of our pink and silver tree, I picked up two pretty sheets of wrapping paper from a local gift shop (Mongrel) and grabbed a roll of silver wrapping paper while I was at it. Then I raided our gift closet for boxes and ribbon. I ended up having a ton of empty gift boxes and even had my fair share of pink and silver ribbon thanks to welcoming a baby girl six months ago (I'm totally that cheap-o who saves all the ribbon along with the boxes /bags from gifts that we receive over the years).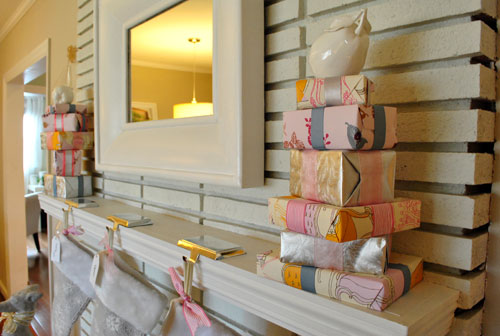 So my little stacks of eleven faux-gifts (since they're just empty boxes that I wrapped for effect) were accomplished for the cost of the gift wrap (around $7 or so). I think they're sweet and kind of vintage-ish, plus the fact that there's a touch of yellow in some of the paper really works with our yellow rug in there. They're so cute I'm thinking that I might save them and work them into the decor every year somehow…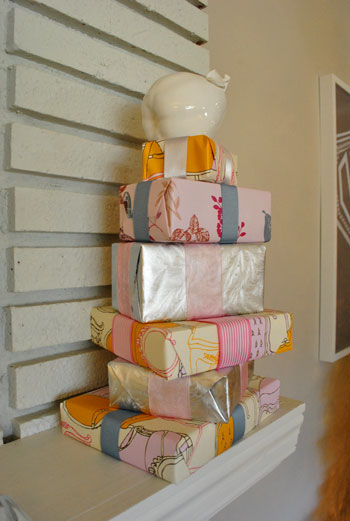 And of course Mr. Concrete Greyhound now has his Christmas best on (read: I tied a gold ribbon that I already had around his neck, but don't tell him that).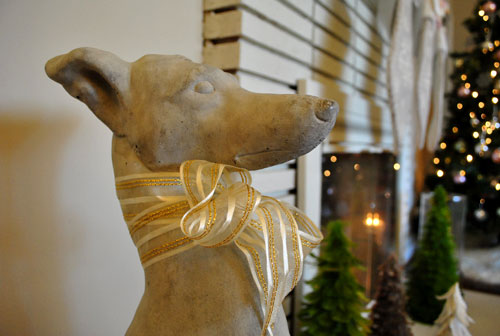 I also made little card stock tags for each stocking (John and I shared one labeled "Mom & Dad" so both Clara and Burger would have their own). Then I tied some extra ribbon around them so they relate to my little stacks of faux gifts. Took two minutes.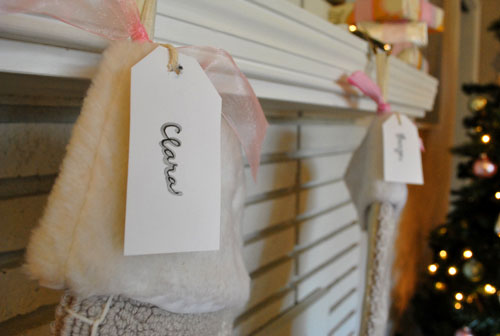 With the candles in the fireplace burning and the tree all plugged in it's more festive than ever. I'm so glad we took the time to put things out, even if it's only going to be enjoyed for a short time.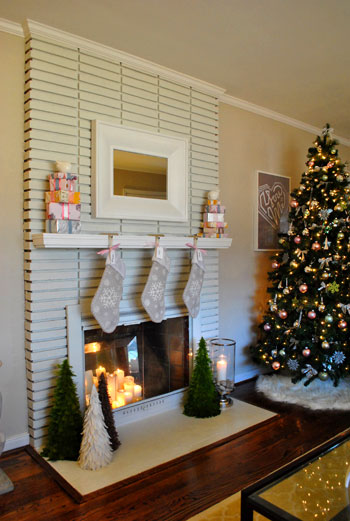 Are you guys decorating yet? It's officially December so I feel a lot less odd about breaking out the holiday cheer. Is there anyone else who's moving but still putting some stuff up to enjoy it just for a little while?
Psst- Check out a ton of holiday decorating and gifting ideas in this section of our Projects page. Ho, ho, ho.
Update: You can check out all of our favorite holiday decor finds here – many of which are under $15!