The third bedroom (also known as our second guest bedroom) has finally come together. And not a minute too soon since we're hosting a gaggle of guests on Friday night. As a reminder, this is the former dining room that we converted into a bedroom by closing off the doorway that connected it to the kitchen (we didn't miss the dining space since we moved it into our jumbo living room).
Lucky for us, the old dining room already had a closet, so other than ripping down the chair rail and switching out the light fixture it wasn't much work at all (after the doorway was closed by a professional). Here's a picture of the old dining room to refresh your memory: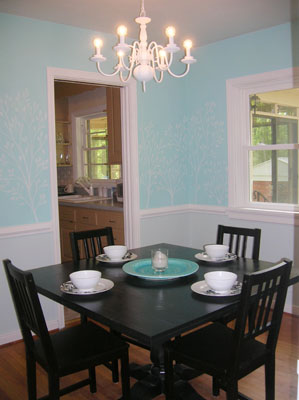 And here's a photo of the cozy new bedroom (still in progress of course):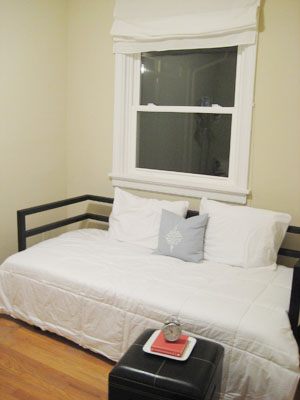 All it took was a cushy new daybed from West Elm (on sale for $299 with free shipping- gotta love Christmas sales) and a charming little storage ottoman from Target ($59). Oh and a soothing coat of tan paint (Glidden's Water Chestnut, $21), because nothing says insomnia like turquoise walls.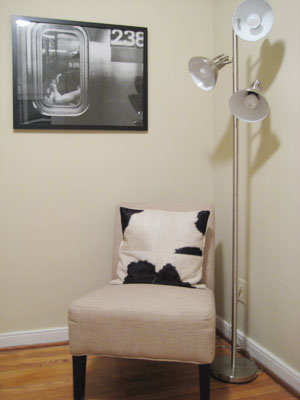 On the opposite side of the room we threw one of our existing slipper chairs in the corner with a reading light that we already had and hung a fun black and white print on the wall. Then we called it a day. But don't be fooled, we still have to get some sheets for the daybed. It looks sleepover-ready but it's naked under that comforter… the shame!
Stay tuned for more updated pics (once I get my mitts on some fun pillows, wall art, and other accessories to add a little extra oomph).