On Sunday we took Clara on a little weekend adventure. And one of our stops was a butterfly exhibit with all sorts of real live butterflies who were doing their thing: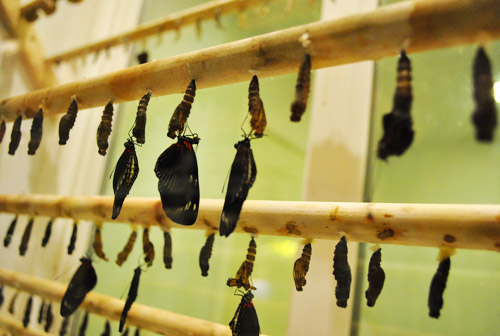 And thanks to something that we picked up while there, I was able to make this new framed art for our built-ins as soon as I got home: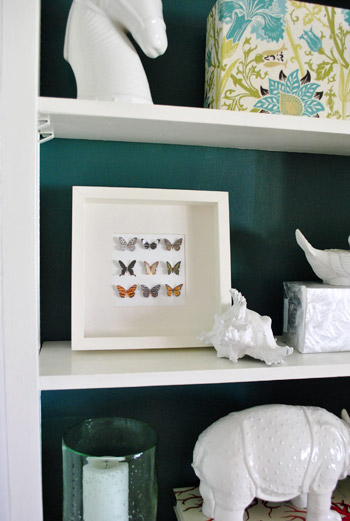 Wait, it's not what you think. My little craft isn't made from real butterflies. It's actually cut from this information sheet we were given at the exhibit (I asked if I could buy it with this idea in mind and they said that they didn't sell them but I was welcome to take the one I was given home with me – so nice of them, right?).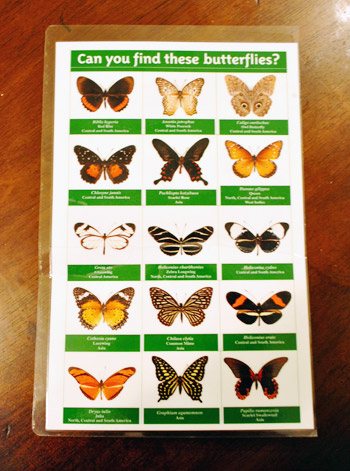 See, ever since seeing this post over on Little Green Notebook and a few cool faux butterfly shadow boxes on Pinterest (like this one) I was ready to try my hand at some faux butterfly taxidermy.
So my first step of the whole oh-heck-let's-see-if-this-works process was to cut out the butterflies (the paper was double sided so I flipped it back and forth and picked out my favorites on each side. Oh and the little flier was laminated, so if anyone wants to try this at home, you might want to print out some small butterfly images on glossy photo paper and cut them out so they have the same butterfly-like sheen (or even get regular printer paper with butterfly images on it laminated at a place like Kinkos for the same effect). I was also thinking that folks might be able to get this look with realistic stickers from a craft store stuck to printer paper or cardstock and then cut out.
Oh and my cutting method was just to use my good sharp scissors and go slow. I wasn't perfect or anything (and all of the antennas had to go since they were too thin to keep) but it worked out pretty well. And I was left with these babies: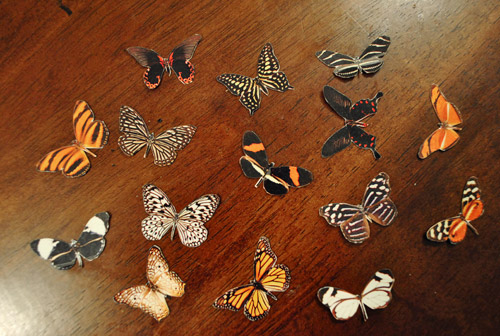 They weren't especially convincing at this stage. So in another fly-by-the-seat-of-my-pants-and-see-what-happens move, I decided they would look more convincing if I could get them to fold a little. So I very carefully folded each wing back like a taco: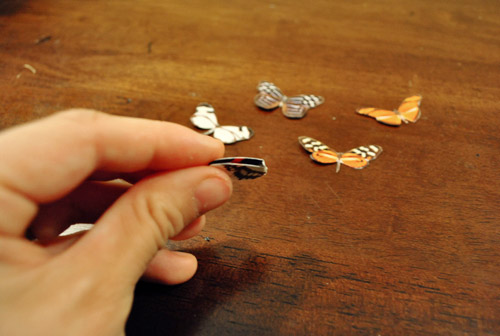 When I released, they looked like this: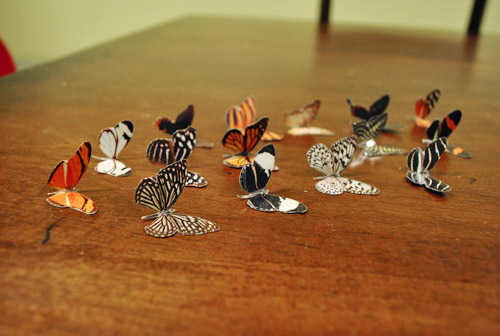 They were suddenly looking a lot more convincing. Then it was time to pad around the house to look for a shadow-box-like frame to use (something with some space between the paper and the glass so they'd have room for the whole folded thing). This old one from Ikea that was already sitting on our built-ins in the dining room fit the bill. And I had zero attachment to the green leafy print inside (an old Ikea poster) so I laid out my nine favorite butterflies atop the glass to play around with different layouts. I decided the three-rows-of-three approach was my favorite: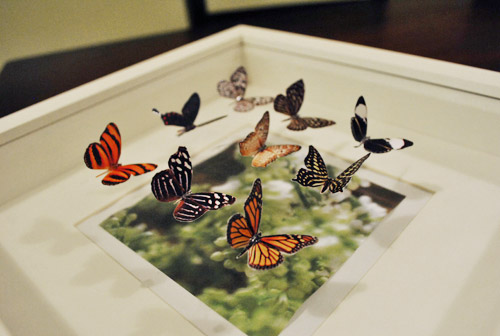 Then I just used Aleen's Tacky Glue (it's the same tube of craft glue that I've had since before making Clara's nursery mobile 17 months ago) to adhere them to a piece of white cardstock that was cut to fit the opening in my frame: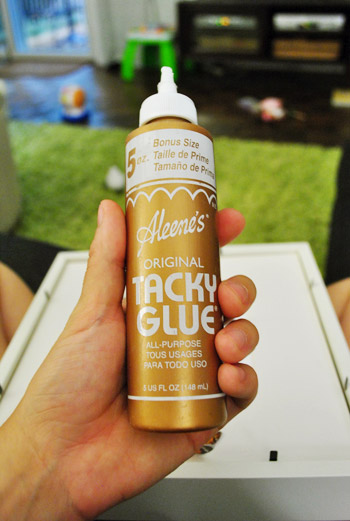 All I did was dab it on the back crease of my butterfly (don't be thrown off by the blue butterfly image that you see below – that's the back since the flier was double sided)…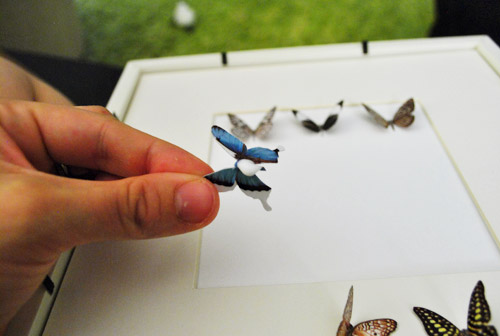 … and then I just stuck them in place (by eye, I didn't measure but they look pretty good since I tweaked the spacing until I liked it beforehand, and then just glued them down):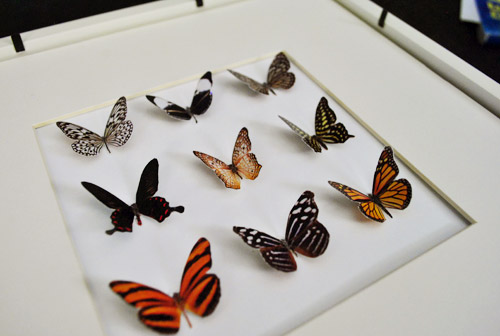 I let them lay flat like that to dry overnight before attempting to hang them (I didn't want them sliding or popping off before the glue had fully cured).
Then in the morning I put my little frame of faux butterflies right back up on the dining room built-ins: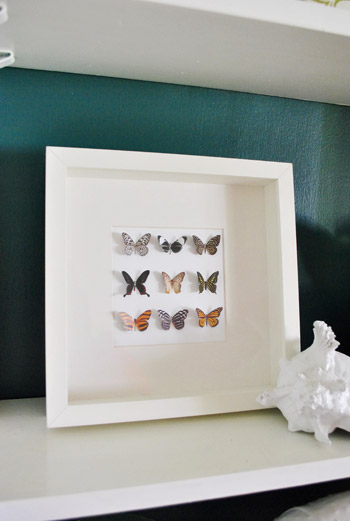 I love how the white frame, mat, and backdrop pop with the moody teal paint behind them (sort of like how all of my other faux animal friends like Mr. Horse, Sir Rhino, and El Bird stand out).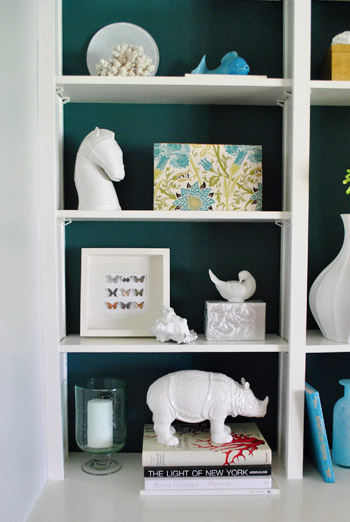 And even if you get pretty close, they definitely don't look like a free flyer from a butterfly exhibit. In fact I think they could fool my mom (which has been a measure of success for me since I was a tween).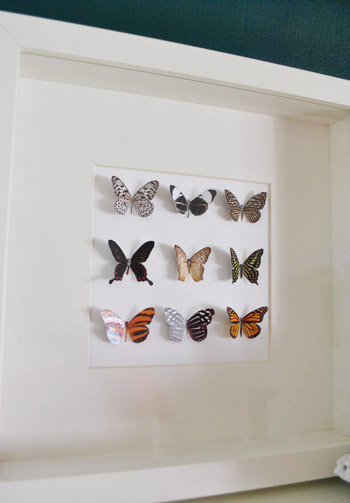 And in case you were wondering where the heck this butterfly exhibit was, I'll tell ya: Natural Bridge. It's just shy of three hours from Richmond in Southwestern, Virginia. We picked it as a good little weekend activity because (1) we'd never been there and (2) it was a good place to meet up with John's BFF Kevin (who's currently teaching/in grad school at Virginia Tech).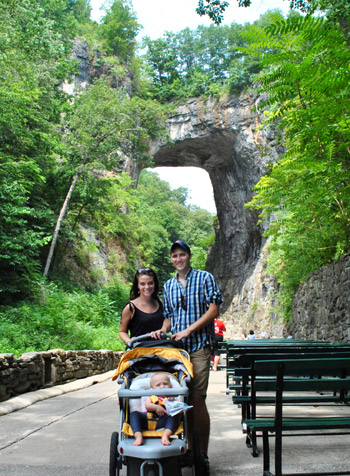 The bridge was more spectacular in person than we had expected. If we understood the guide correctly, it's what's left of an underground cavern that collapsed on all other sides. It's got cool history so it's totally worth the visit if you're ever in the area.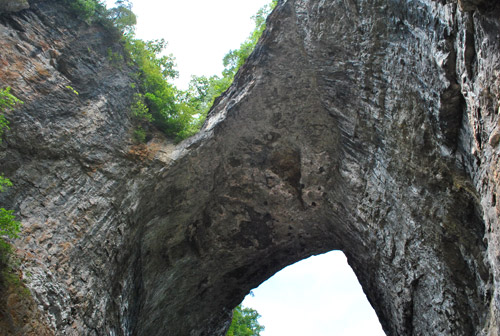 Seeing the giant stone bridge was only a portion of the visit. There was also a really beautiful (though humid) path that we all hiked (well, Clara got strollered). It led to a scenic little waterfall, but our only good pictures from that spot ended up being of this butterfly (foreshadowing of the butterfly exhibit to come later, perhaps?)…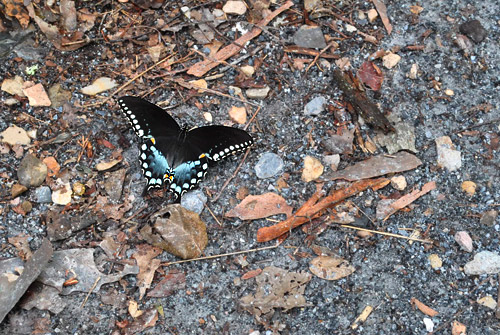 We also learned that we have a future geologist on our hands. Seriously, Clara was inexplicably obsessed with this rock: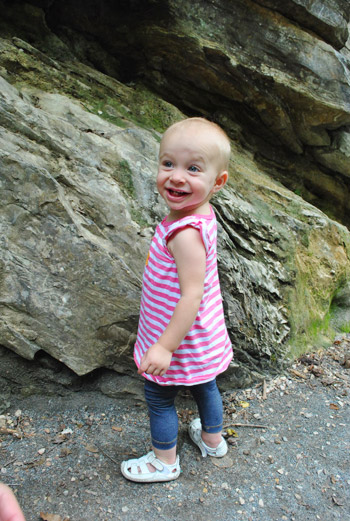 Speaking of rock obsessions, these beauties in the gift shop did catch my eye. Everyone say it with me: "Oooooooh, shiny." I didn't take any home with me (the big ones I loved most were around $80-100) but mark my words: giant shiny rock fragments are the new coral when it comes to natural decorating accents, methinks.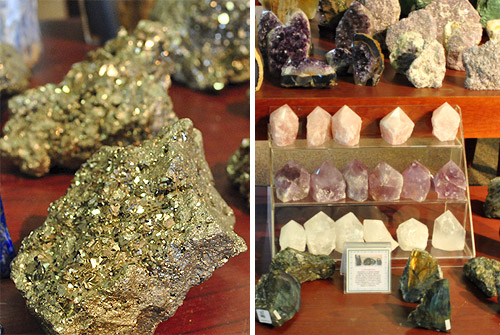 And since we hate to ruin the illusion that we rank up there with only the classiest of travelers, you'll be glad to know that we most certainly did not visit "Foamhenge" while in the area…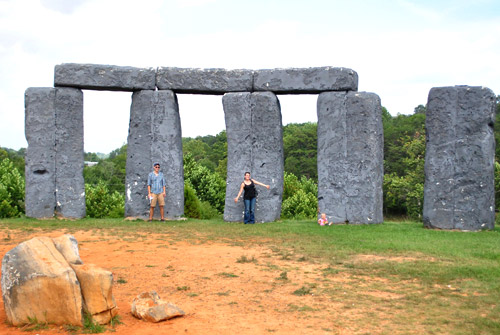 Sure, visiting an all-styrofoam full-scale replica of Stonehenge for free right here in the Virginia mountains a would be tempting for less sophisticated sightseers, but not the Petersiks. No-siree-bob.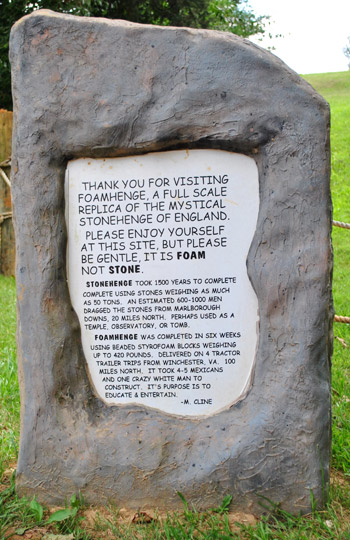 And even if we had, we definitely wouldn't have taken pictures with a life-sized Merlin statue that was constructed to illustrate one of the theories of Stonehenge's mysterious creation. Please, give us some credit people. We're mature adults.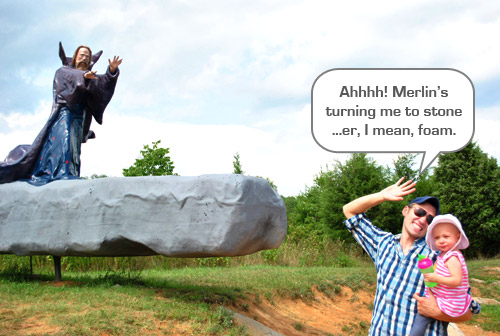 Good thing Clara doesn't have embarrassing parents, right? I'm sure she'll thank us for being so poised and level-headed when she's 16 and treasure this picture always.
So that was our little Sunday adventure this weekend. Gotta enjoy summer while it's still here, right? Especially when you can score a free souvenir-turned-project in the process. Has anyone else out there made any faux butterfly crafts? Mobiles? Art? Jewelry? Tattoos? Foam replicas? Speaking of foam, someone else out there has to have witnessed the hilarity that is Foamhenge. Anyone…?
Psst- My BFF Cat is working on her three month old son Edison's room, so I dug up ten of my favorite nurseries to inspire her over on BabyCenter. So much cuteness, so little time.