We're super excited to share the latest casa we crashed, camera in hand. In fact, we couldn't stop snapping pictures of this lovely local home (which was actually featured in Domino magazine last summer!) and of course homeowner Katie Ukrop was a fabulous hostess. Oh look, here she is now to show us around.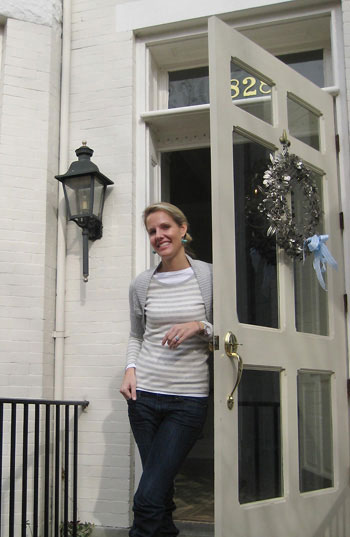 Katie is somewhat of a local celeb here in Richmond. She owns a fabulous gallery called Quirk (that we toured here but has now become the Quirk Hotel) and is such a super nice person that it's no surprise that everyone in Richmond knows and loves her. But on with the tour. Her entryway is grand and welcoming, with painted floors that continue throughout the entire first floor (although the pattern and tones change from room to room). Her old wood floors were a bit worse for wear so she left town for a few days and had them sanded and painted while she was gone. The details were left up to Sunny Goode, a local artist with a penchant for floor stencils (we toured her shop here). So Katie returned home wondering what floor decor would await- and let's just say she wasn't disappointed.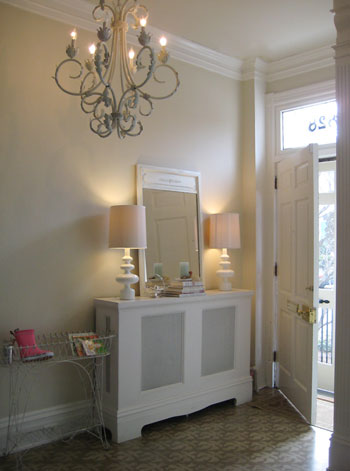 Here's another shot of that fabulous stenciled floor, along with her delicate and airy furnishings (which hail from specialty shops and mainstream stores like Storehouse and West Elm alike). Of course the gorgeous marble fireplace and lofty ceilings add to the dreamy feeling that Katie captures oh so well.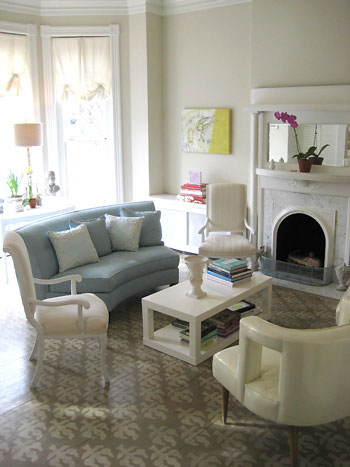 And the gorgeous bay window doesn't hurt either.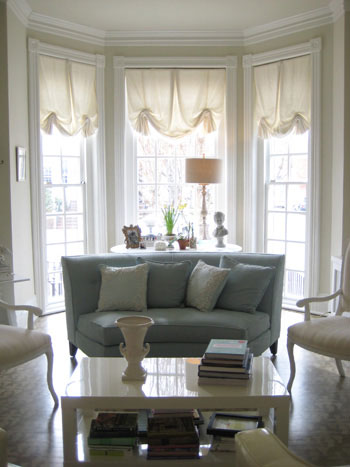 Just beyond the living room is a posh little sitting room with built in bookcases and yet another fireplace. We absolutely adore everything from the brilliant Oly light fixture, those fantastic pocket doors, and of course that amazing painted border on the adjoined dining room floor.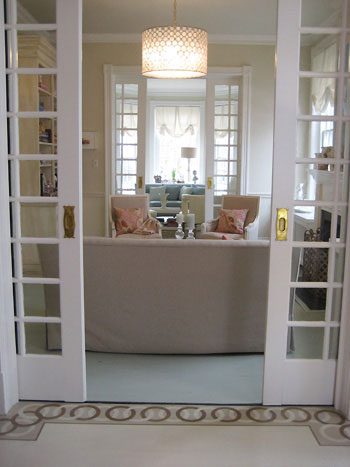 Katie adores soothing symmetry, and in this room she cleverly balanced the radiator under the left window with a parson's desk from West Elm under the right window to create eye-pleasing balance and a functional place to pay bills. And who can miss that ethereal blue bird painting above the fire. Not only does it bring out the lovely painted floors (which happen to be blue in this room) but it's also a piece from her gallery which has loads of amazing paintings, drawings, jewelry and more.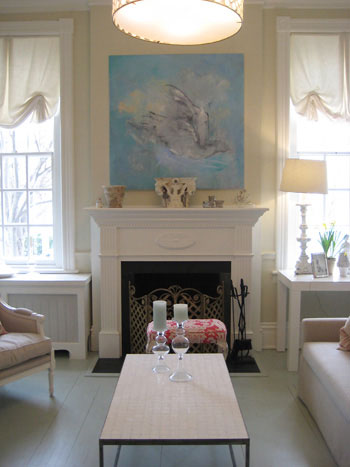 Part of what makes Katie's home so soft and welcoming is her muted palette and her feminine touches. Delicate pink linen pillows and loads of glossy white keep things feeling serene while punches of brighter pink (like the fabric on the ottoman) and quirky accessories (like the ceramic deer head on the wall) add pops of personality and fun.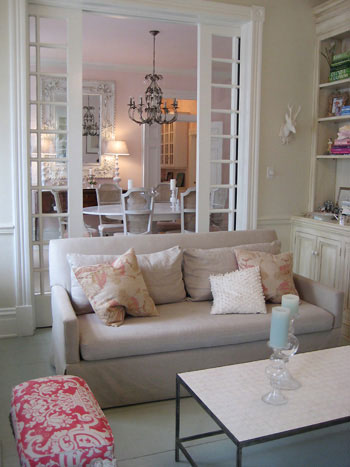 Another thing that keeps Katie's home feeling fresh and fabulous is her mix of furnishings and materials. From an old ornate chandelier to a shiny lacquered dining table, Katie likes sleek as much as antique and she mixes the two flawlessly.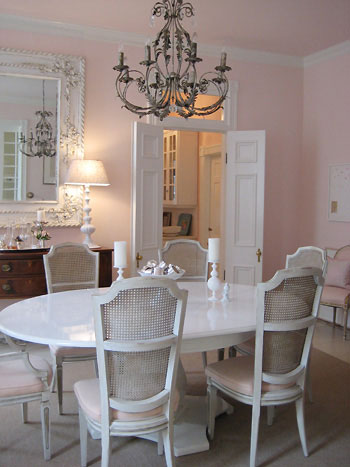 Just beyond the dining room is a cheerful and über functional kitchen. Simple white cabinetry with a beadboard backsplash keeps things feeling open while miles of built-ins ensure order and organization- even with two growing children and a hubby living under the same roof. And how adorable are those pink mixer prints framed and hung on the backsplash- they're yet another score from her gallery Quirk.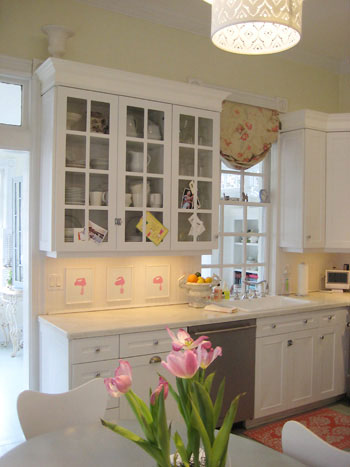 And we love Katie's penchant for white ceramic collectibles. They can be found in almost every room of the house. She likes to group similar objects on windowsills and side tables, and you can never go wrong with a smorgasbord of white pottery on a handy shelf above the cooktop.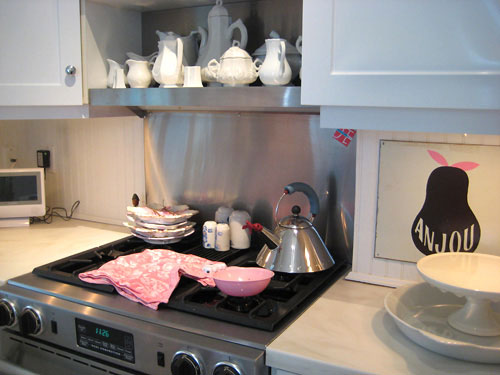 Yeah, we weren't kidding when we said Katie's kitchen had built-ins. It was impossible not to drool over all the places to stash stuff in her super functional and fabulous kitch. And is that cut-out chandelier not to die for or what?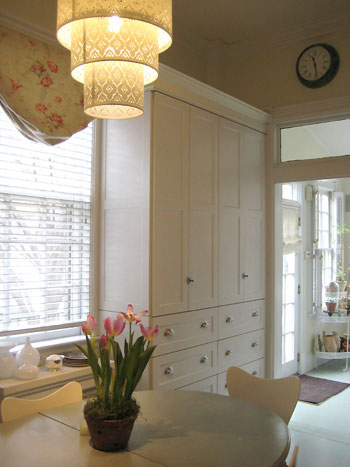 Beyond the kitchen is a sweet little sunroom full of more white built-ins and accessories along with some pops of green thanks to good ol' Mother Nature. And Charlie, her adorable pooch has no problem lounging around on his hot pink floor pillow atop those dreamy blue floors. We imagine he pretends to be the captain of some fabulous pink ship sailing the seven seas.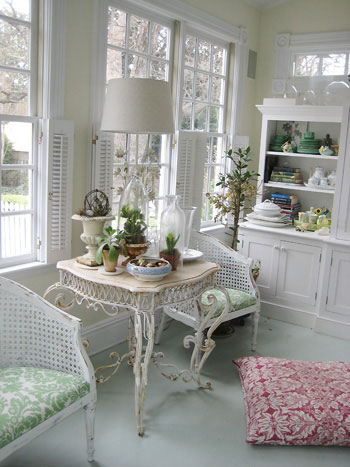 And for one last touch of soft blue in the space, Katie painted and distressed this hutch to complement those soothing blue floors and filled it with another casual collection of mixed and matched white pottery.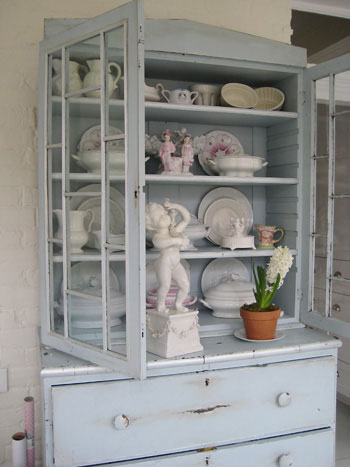 So folks, what did you think of adorable Katie's home? Was it not everything you thought it would be and more? No wonder it was in Domino last summer, right? And isn't it amazing that two kids and a dog can live so easily and seamlessly with such a soft palette? The whole house feels like a breath of fresh air. We can't wait to hear what you guys think. And a big thank you goes out to Katie and her family for so graciously opening their doors to us (her children even took some pictures of me and John while we were taking pictures of their house). Oh and be sure to check out her gallery and maybe even stop by and meet her in the flesh!