After Jordan and Landon shared their amazingly affordable (and drop dead gorgeous) kitchen overhaul with us (here), we definitely were left wanting more. So when they offered up the opportunity to House Crash them, we said "uh… yes please." And we figured since it's their house they'd be the best at showing you around, so we're passing the virtual mic over to them for the tour while we clean our house within an inch of it's life in an effort to woo a few more potential buyers this weekend (fingers crossed). Enjoy the tour!

Welcome to our home in Columbia, South Carolina! We're Jordan & Landon from landonjacob.com.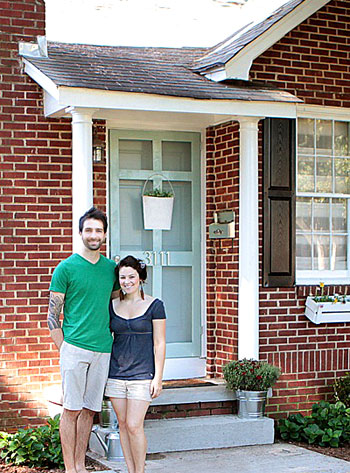 You've already seen the kitchen (here), but we'll share that pic again, just to refresh your memory: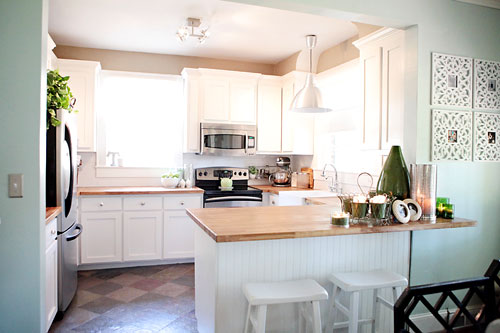 This is our dining room. The wine bottles come from one of our favorite wedding venues that we shoot at often! We had them hold the bottles for us (and we bought a bottle cutter on eBay).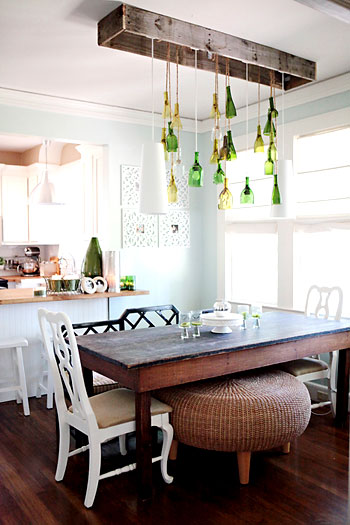 That's actually a DIYed mirror leaning against the wall. We bought mirrored closet doors on Craigslist for $40 for the pair and then found an old weathered pallet, took it apart, and made two mirrors (one for in here and one for the hallway).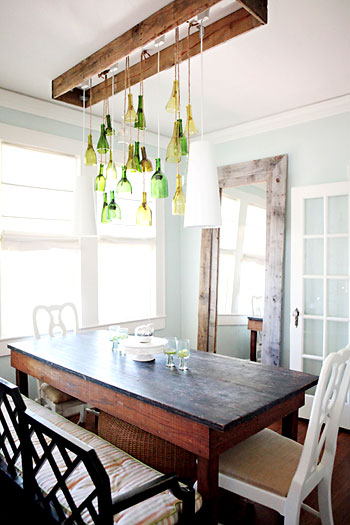 Our dining table is an amazing thrift store find that people ooh and ahh over. It was just 10 bucks! The chairs and bench were bought at a yard sale, and the ottoman was a throw out item from a friend.
Next we have our living room: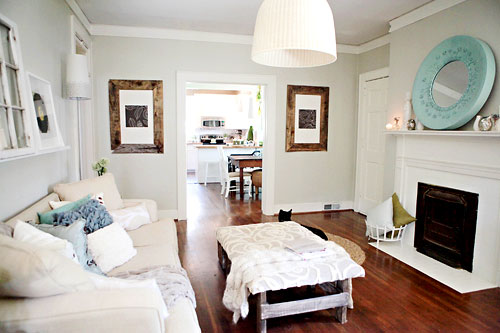 As you can see above, Landon made two frames out of more pallets. We really love that rustic wood (its kinda all over the house). We made that ottoman which was actually inspired by Kara's DIY ottoman that you shared!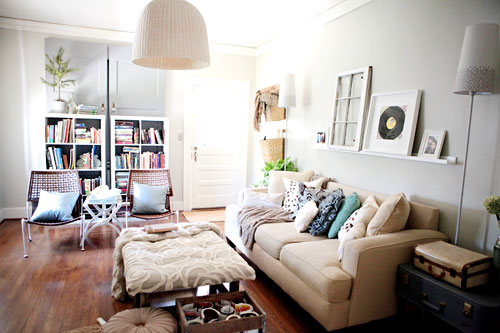 Oh and that old wine bottle crate in the foreground works as an awesome magazine holder. We also love our little DIY end tables which we made from vintage suitcases on legs. We also like those hanging baskets from Ikea on the wall next to the sofa (it was actually an idea we stole from the ikea catalog). The doors on the wall above the bookcases are original doors from the home, so we wanted to incorporate them into the room.
Next we have our bedroom, where we added the beadboard wainscotting ourselves and hung a bunch of inexpensive frames that I sprayed white on the wall in a group.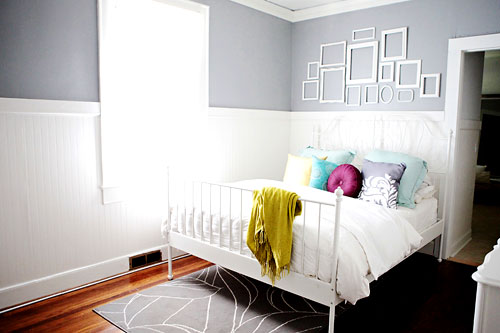 And here's our bathroom. Can you tell we have a think for big mirrors? We love how they open things up and make rooms feel lighter and bigger.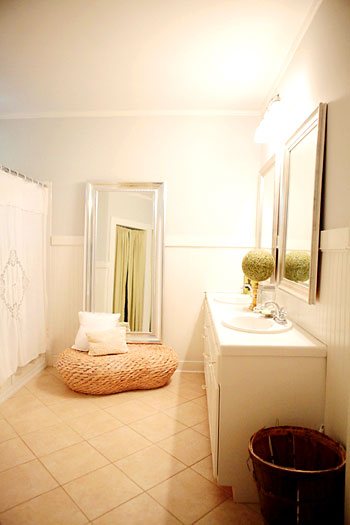 This is our awesome little hallway! Its my favorite space in the house! Its about the size of our other rooms! The chairs were thrifted for $40 and we recovered them. That's also the second homemade mirror that we made with the mirrored doors from Craigslist and the weathered wood pallet. We also grabbed that lotus light fixture from Ikea.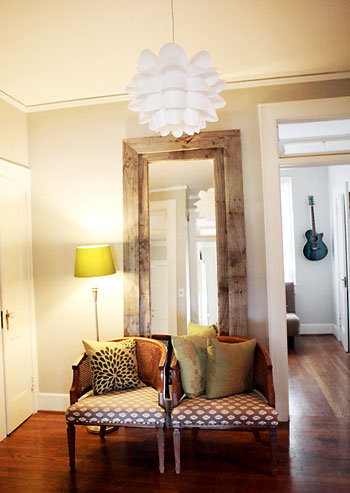 This is our office / crafts room. We thrifted that awesome craft table for 5 bucks. We also love instruments (we love music around here since my dad was a musician, and Landon is one as well… I sing, but technically that's not a musician). Anyway I love how the blue guitar fits so perfectly in this room and that it gets to be a piece of art on the wall.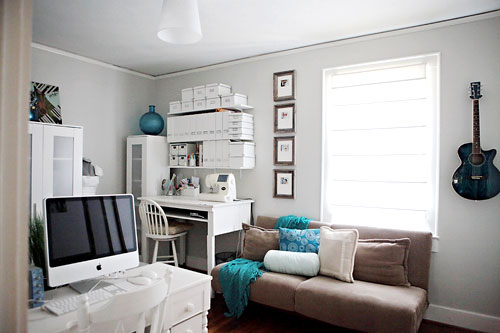 This is the spare bedroom. We found the bed on Craigslist and I bought those awesome orange curtains for about $1.50 at Goodwill!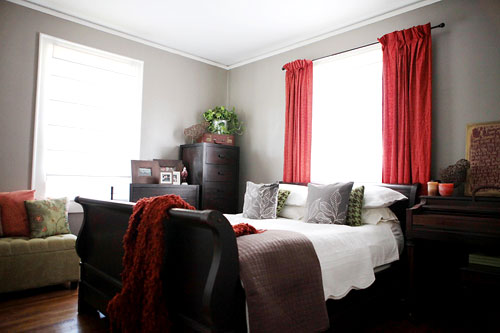 This is our spare bathroom that we just finished off! It was a huge mess before! It's so very tiny, so its kinda hard to show off in pictures, but I tried! That is your sink and faucet by the way (I was inspired by your bathroom overhaul) so we ordered them and added them to an antique wash stand that we found! And of course we have another huge mirror, but it really makes this bathroom feel so much bigger!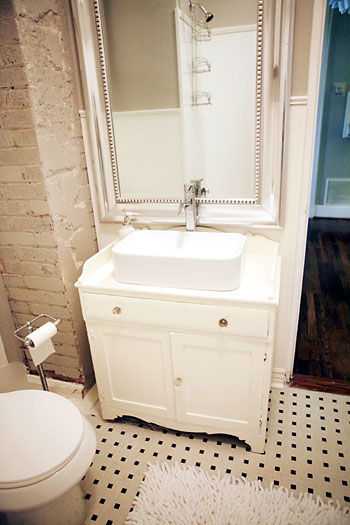 Ok, so that's our house. Thanks so much for sharing it! – Jordan & Landon
So who's jealous? Our hands are officially raised. Thanks so much to Jordan and Landon for sharing their home and all of their affordable DIY ideas. We're sufficiently inspired. What was your favorite part everyone?