Hold on to your jaws people because otherwise they'll be on the floor in a few moments. Jordan and her husband have totally flipped their kitchen for just over a thousand dollars. And the result is nothing short of spectacular. Here's Jordan's letter:
I've been obsessed with y'alls blog for a while now. I check it every day! Me and the hubs finally bought a house this spring and just like you guys, we're in love with it. We're full time photographers (as opposed to designers or renovators) but I could paint and decorate for days without food or drink! I just love making things over!
We transformed the kitchen on a pretty tight budget. $1,207 to be exact!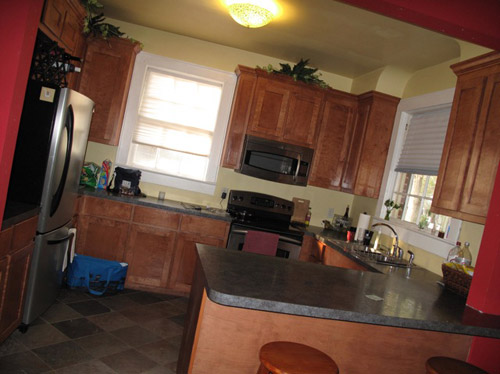 But we definitely did our best to make our money go a loooong way. Just look at the difference: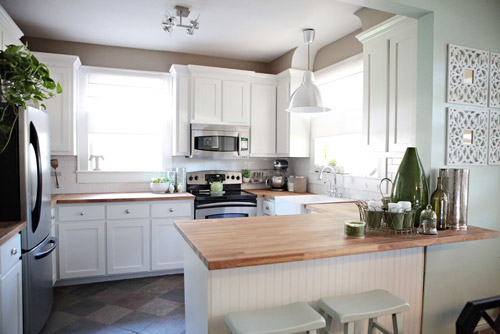 Painting the cabinets and switching out the counters made for quite a change. And the stainless steel appliances that we already had definitely popped thanks to the change. Hanging a new light fixture above the sink also really changed the feeling of the room, and the new sink adds so much personality.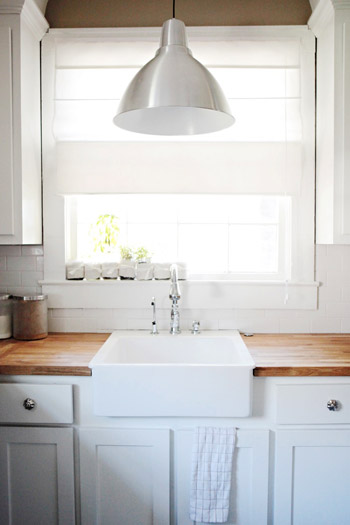 Here's a little breakdown of everything that we used:
$20 – Paint for the cabinets (Olympic Dogwood Blossom)
$0 – Primer for the cabinets (we already had it)
$0 – Paint for the walls (don't remember the name, but we had it forever)
$20 – Beadboard for the front of the peninsula (Home Depot)

$620 – Oak Numerar countertops (Ikea)
$185 – Sink (Ikea)
$98 – Faucet (Home Depot)
$86 – Knobs (Anthropologie)
$100 – White subway tile backspash (Home Depot)
$78 – Light fixture over sink (Ikea)
$0 – Stools (we already had them in another room)
TOTAL: $1,207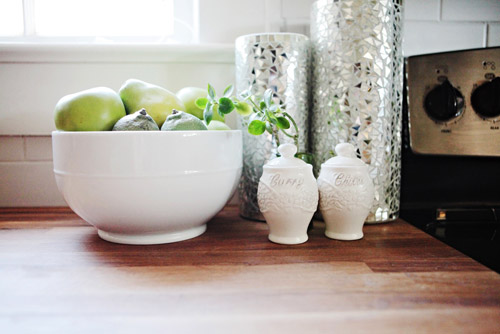 I'm so excited because I finally have a finished room to send y'all. Thanks so much Sherry and John! – Jordan at landonjacob.com
Isn't it amazing? It's just another example of how Ikea can come to the rescue when it comes to creating affordable room transformations – that and doing the work yourself to save some serious loot. We're totally in love with what Jordan and her husband did that we're just about ready to invite ourselves over for breakfast. Nice work guys! And what do you people at home think? Does it have you looking at your kitchen in a whole new way? What's your favorite part?