You guys might remember the quickie $200 makeover that we whipped up for our niece Olivia last October. Just to refresh your memory, here are the before shots: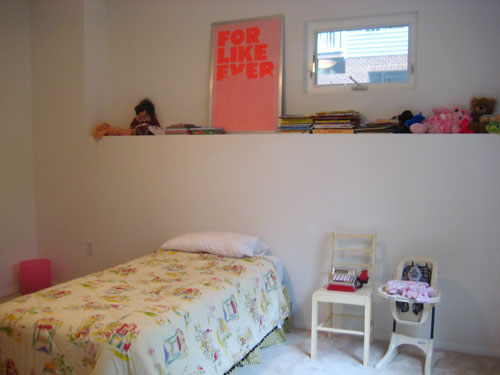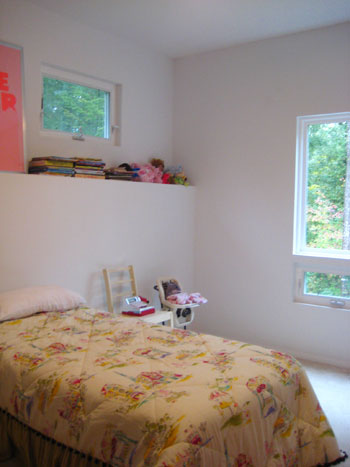 And here are the we-only-spent-200-beans afters (and that budget includes the desk, the chair, the headboard, the dresser, the curtains, and a ton of other things in the room- see the details right here):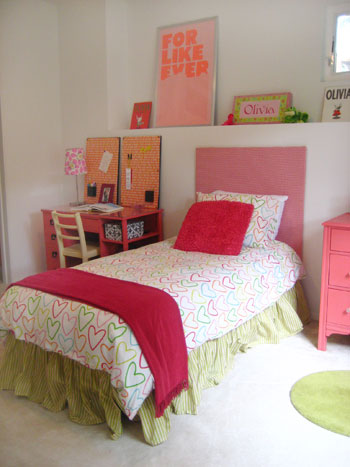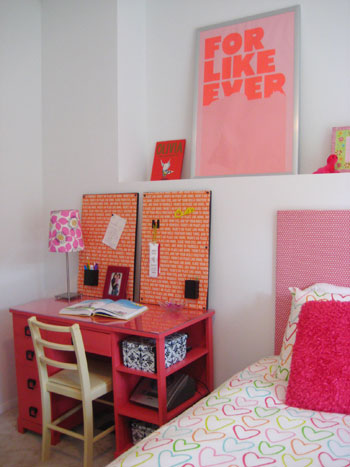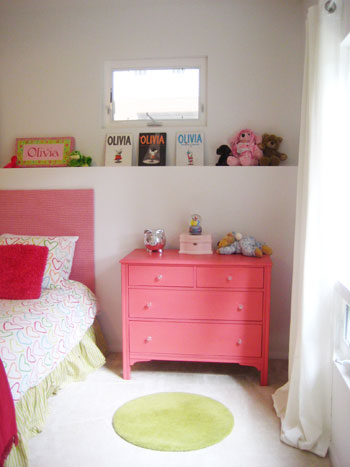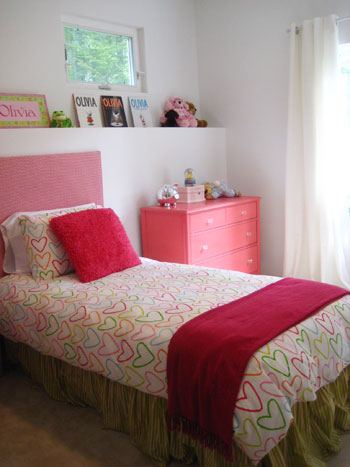 Yes sir, Olivia's room was definitely spiffed up. But when it came to her attached bathroom (yeah, she knows she's a lucky girl to have one of those) well it was looking a little blah: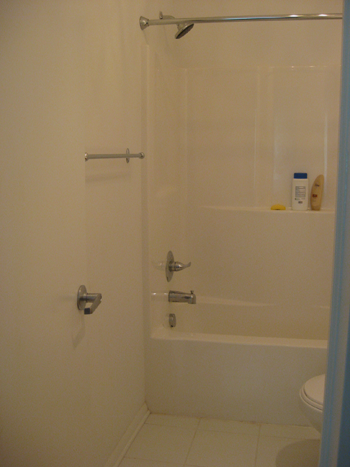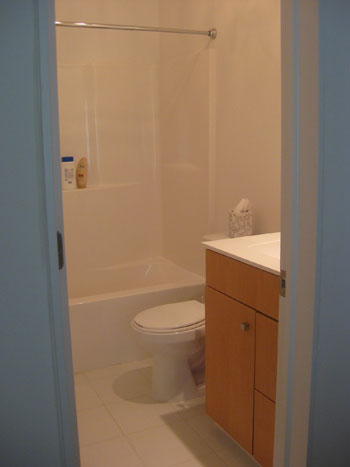 But it was nothing a bit of avocado green paint and a few playful (and super cheap) accessories couldn't solve…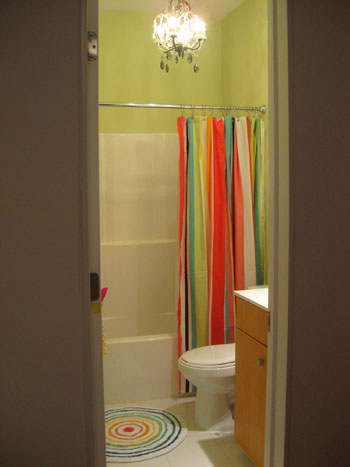 Can you believe that's the same room all decked out for Olivia's 9th birthday? And isn't she totally a girl after our own heart to ask for a bathroom makeover as her gift?! John's cute sister even wrapped the door to properly package the little makeover for her daughter on her big day: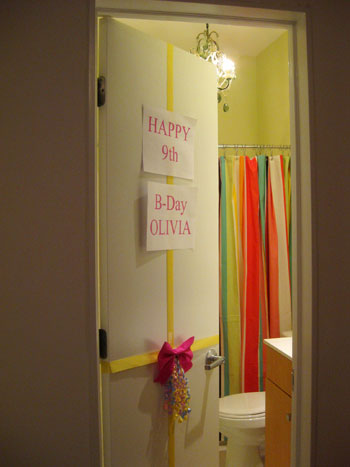 And what's that you see gleaming on the ceiling? Why it's a posh little green chandelier for Miss. Olivia to brush her teeth under. The icing on the cake is that it only set us back $30 at Marshall's (on clearance).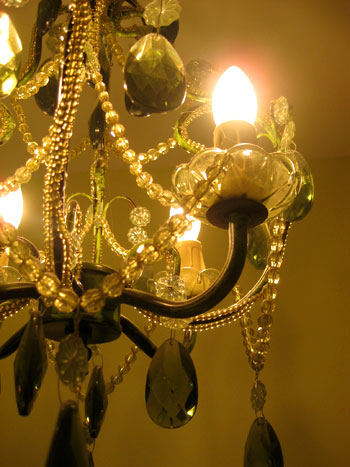 We also took the opportunity to inject color wherever we could in an effort to take the builder white room to va va voom. The wall color is Glidden's Celery Sticks (we've been waiting to see it in action for a while and let's just say it did not disappoint!). Especially when paired with splashes of hot pink (just like her adjoined bedroom) and a playful little round rug from Ross.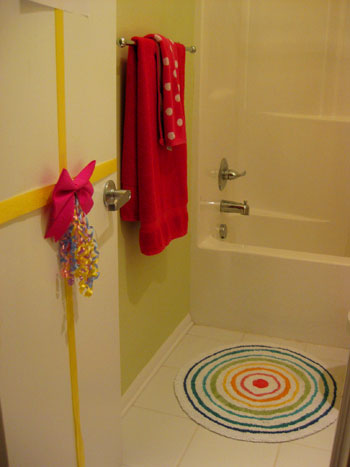 And of course our colorful Target shower curtain really added some playful pattern (that looks surprisingly perfect when paired with the little rainbow rug):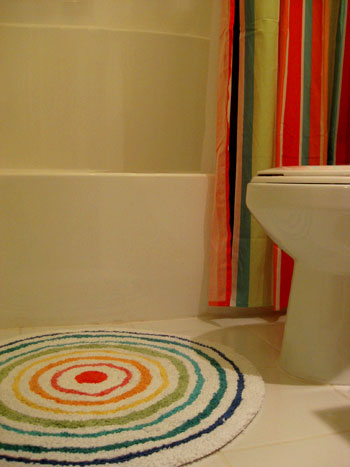 So that's the story of Olivia's birthday bathroom makeover. All wrapped up with a bow and everything. Needless to say she squealed with glee when she saw her brandy new bathroom with all the cheerful colors and patterns. It's perfect for a happy little nine year old like her.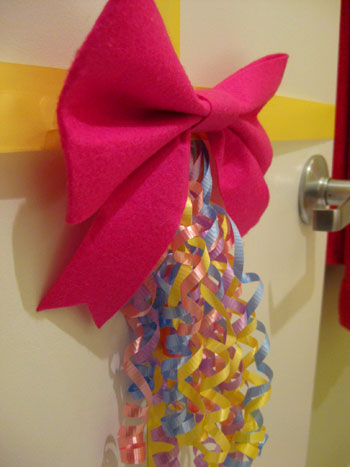 But what's a birthday bathroom makeover without a fun little budget breakdown? We just love how a little bit of elbow grease and a few bucks can really transform a room:
Chandelier (on clearance from Marshall's):$30
Rug (on clearance from Ross): $4.99
Shower curtain (from Target): $29.99
Paint (Glidden's Celery Sticks): $17.60
Hot pink towels (from Target): gift
Door decorating supplies: already owned
GRAND TOTAL: $82.58
Not bad eh? Especially since we were even able to inject little extras like a bejeweled chandelier. The funny thing is that you could easily spend $82 for the chandy alone, so we're pleased as punch (along with the beaming birthday girl). And best of all we've now officially seen Glidden's Celery Sticks in person, and it's fabulous for any room (not just for kids!) so definitely check it out if you're looking for a modern green reminiscent of a freshly sliced avocado. And speaking of avocados, what's for lunch? Any bathroom makeovers on the menu for you guys? Any other kids out there who ask for home related updates for their birthdays? We just can't get over how cute that is.