***This giveaway is no longer accepting entries – see who won below!***
Thanks to random.org, these three ladies are getting a kick start to Mother's Day: Traci (who inherited her mother's worrying skills!), April (who got her mom's love of shopping, travel and new things) and Stacy (who inherited the gift of being a good cook from her mom).
Because becoming a mom has mysteriously given Sherry the urge to learn how to sew (more on that here and here) we thought we'd use this pre-Mother's Day giveaway to dish out TWO fabric-tastic prizes to THREE lucky winners. And they won't have to sew a stitch because it has already been done for 'em. The first comes from City Chic Country Mouse, whose Etsy shop caters to those who want to inject a bit of chic to their chore list (not that any moms should be doing housework on Mother's Day). Each of our three winners can choose from any of their colorful, graphic, and punchy ironing board covers, which will definitely cheer up any laundry room: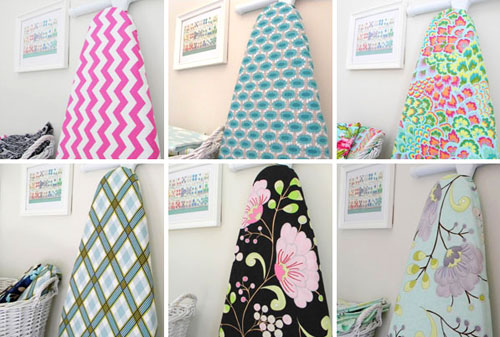 Plus those same three lucky winners get a double dose this week. A customized fabric wreath from a local Richmonder who puts her sewing prowess to work in her Etsy shop, Love Elaine is also on the agenda. While she's got cool modern spins on aprons, quilts, and bags – her fabric wreaths are always a favorite. And yup, each winner gets to pick our their own colors.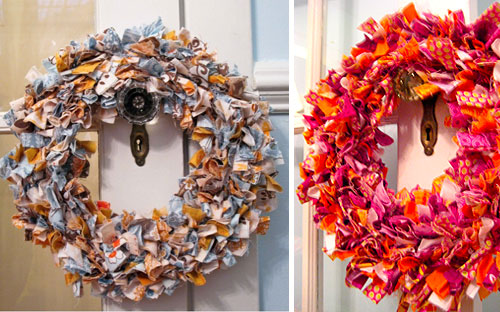 PRIZE: Any ironing board cover from City Chic Country Mouse and a custom fabric wreath from Love Elaine
TO ENTER: Comment on this post with the words "SEW ME!" and…
BONUS QUESTION: … tell us one quality you're glad you inherited – or wish you had inherited – from your mother (or other parental type figure). Are you grateful she instilled strong family values? Or that she passed down her sense of style / fabulous cooking abilities? Or do you keep waiting for her sewing skills to kick in like Sherry?
GIVEAWAY CLOSES: Wednesday, May 4th at 8pm EST
NUMBER OF WINNERS: Three
PRIZE SHIPS: The United States and Canada
USUAL STUFF: One entry per e-mail address is permitted. The winners will be selected using random.org and announced on Thursday as an update to this post. That's right, come right back here on Thursday morning for the announcement of our winners. Good luck…
Note: We weren't paid or perk'd for hosting this giveaway, we just like rewarding our lovely readers! See our Giveaway FAQs page for more info. Pics from City Chic Country Mouse and Love Elaine.