With a snowstorm dumping about nine inches of fluffy white stuff on us this weekend (which is pretty rare for our neck of the woods), we were oohing and aahing over how pretty everything looked covered in powder. But it also reminded us that one reason that we love central Virginia is that we're lucky to get a chance to experience all four seasons. Nice long springs and falls are pretty much par for the course along with the occasional snowstorm (three instances of accumulation in four years- just few enough to make them feel special). Of course we also get to enjoy the sticky summer humidity but it's definitely a fair trade in our minds.
So we used our big-deal snow day to dig up photos of our house from all four quarters of the year. Here are a few seasonal views of the front of Casa Petersik – although we apparently have no summertime shots saved that were snapped from this angle (one more thing to add to our to-do list). Here's our house in the spring (taken in April of 2009). Does it look familiar? It should- it's actually the pic in our blog header.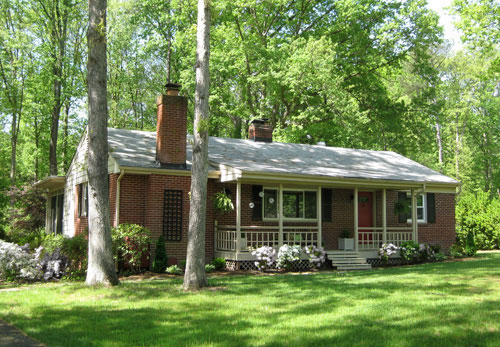 Here's our humble home in the fall (taken in September of 2007). Of course this old shot was snapped before we removed the yellow storm door, demo'd that country-looking scalloped porch header, retooled the front landscaping, painted the big gray gas tank to match the house, and took on our big porch makeover.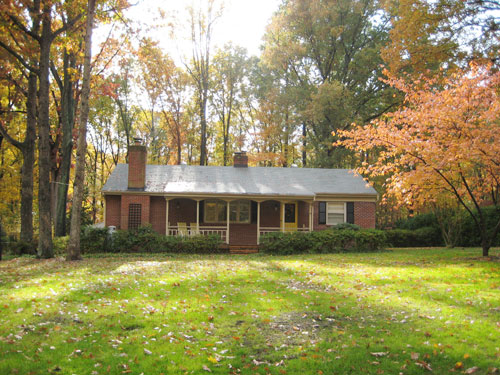 And here's our house in the winter, sporting a nice little snow blanket (taken in December of 2009).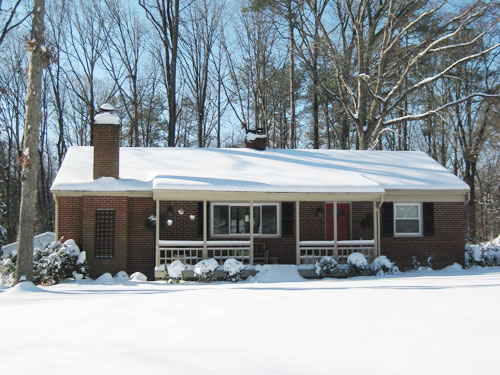 We were also surprised to discover that we actually had shots of the backyard in all four seasons. Here's the view from the back patio, starting with the spring (taken in April of 2009).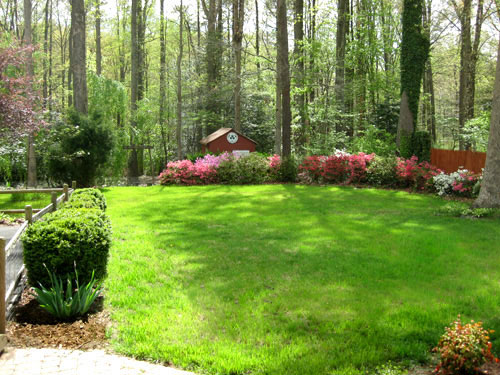 Here's the yard in the middle of the summer (taken in June of 2009, right after I mowed that crazy-green lawn).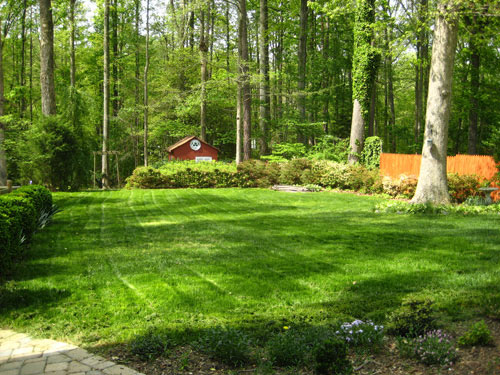 Here we are in the fall (taken in September of 2008).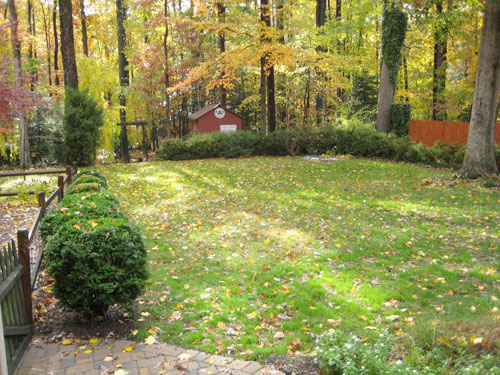 And now for a blindingly white winter shot (taken in March of 2009).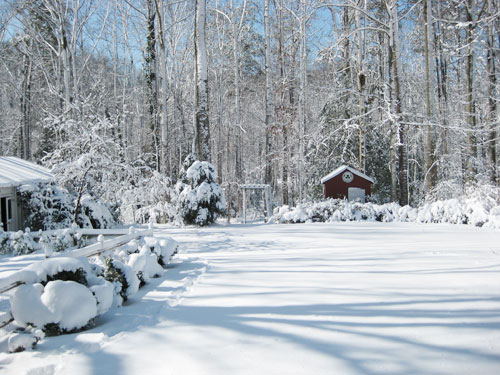 It really is nice to have documentation of almost every season from the front (and every single one from the back). Even if it's just to dream of winter when we're sweltering in July or reminisce about sunny spring days when the yard is covered with snow like this weekend. Do you guys get to experience each season where you live? Are you over in Australia enjoying the summertime right now? Is there one season in particular that you think makes your house look especially beautiful? Or one that you dread for all the housework it causes (leaf raking? lawn mowing? snow shoveling?). Do tell.