When Amy sent over her $100 backsplash makeover we were so inspired and just had to share. Here's her letter:
I whipped this out in about five hours and am very excited about the results! I bought nine packages of these light, thin stainless wall tiles. The tiles include double-stick foam squares for hanging, so there is no messy tile work. Some reviewers recommended Liquid Nails, but I was worried about making corrections if thing didn't line up properly. I can go back if there is a problem, but they feel very secure! You can cut these tiles with a pair of scissors and even bend the tiles! I snipped a cut on each side and bent them around a ruler to make a 90 degree angle for corners and to cut down the size on my top row. It looks fantastic, and now I don't have to trim around an unfinished edge. One thing to look out for – here is a slight grain to the tiles and you will see a reflection difference if you don't hang them all in the same direction. This was one of my easiest home projects ever! The entire 27 square feet of tile cost me $94.77 (with free shipping!) and I also bought new stainless switchplates to match, so my total came to about $110.00. Hope you enjoy! You've inspired a lot of projects in my house, but this is my favorite so far! Thank you! -Amy
Here's the backsplash before the amazing (and amazingly priced) stainless tile makeover: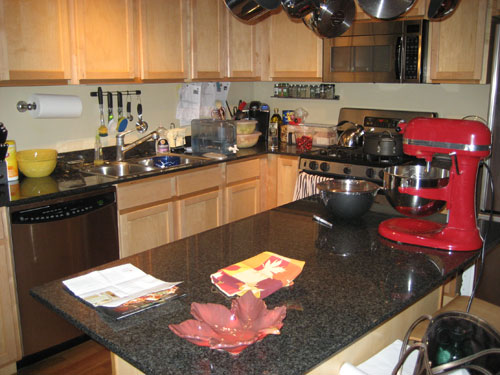 And here's the whole shebang after Amy stepped back to admire the finished product: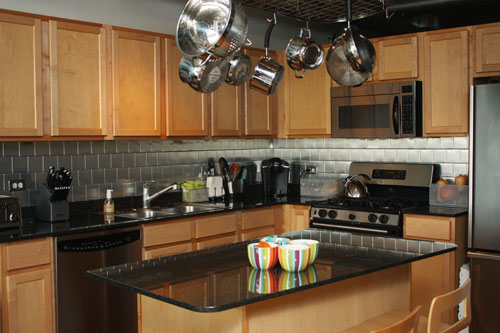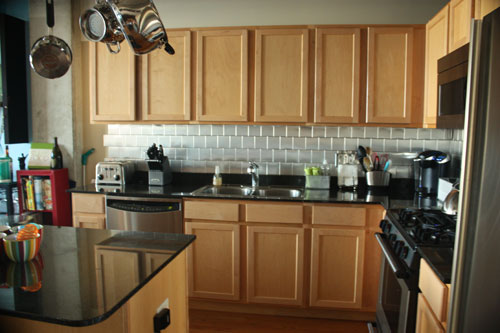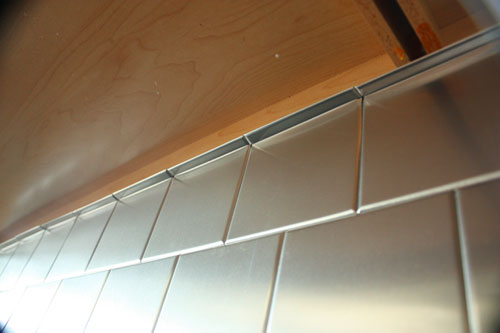 Don't you love how simple yet sleek that is? We're excited to hear that it's a quick fix for anyone (even renters!) who want to upgrade their kitchen and hide dated tile without breaking the bank. Thanks so much for sending the before and after pics our way Amy! What a lovely view you now have when you're whipping up spaghetti.