It feels like a theme lately to remind you guys that we mentioned that we were going to do fill-in-the-blank a while back and then exclaim that we finally got around to doing it. So this time fill-in-the-blank is finally painting the bedroom finials to match Ed The Bed. See how they're a bit too white in this pic?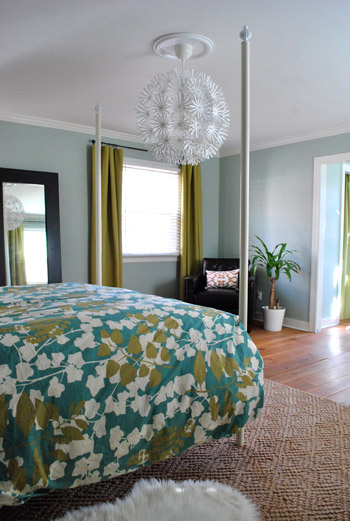 It definitely wasn't rocket science (not much of what we do around here is, haha) but we wanted to share the super easy process when it comes to matching paint to any existing item of furniture, like if you're planning to add legs to a painted dresser that you already own for example. The first step is to grab a bunch of white (or whatever color your item is) swatches.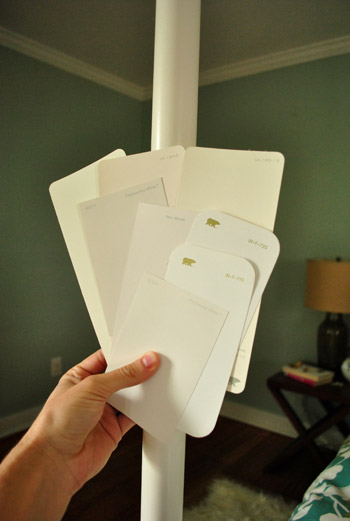 We weren't brand loyal at all (we wanted to get the widest range of white tones). Then we came home with all of them and held each one up against one of Ed's posts to see which one almost "disappeared" when we held it up (meaning it was the closest match). The winner was Parchment White by Glidden.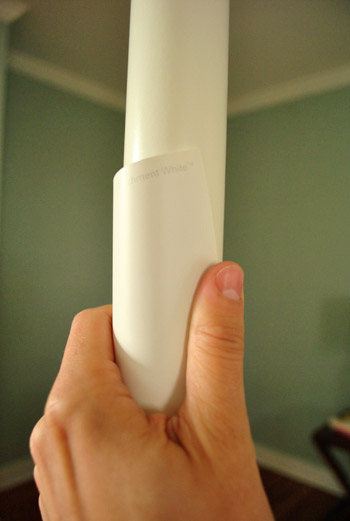 So we got a tiny test pot of it in satin for a few bucks and I prepared to get my paint on. I had saved the cardboard packaging from the guest bedroom mirror that we picked up from Target (large cardboard pieces like that always come in handy since I'm so paint obsessed, and I've actually already used it a few times now) so I stuck each finial through the raised part of the packaging so they would "stand up." That way I could paint all sides of them without worrying about having to touch/smear them to spin them around. And yes, of course I was watching some evening TV while I got 'er done (The Apprentice if you're wondering).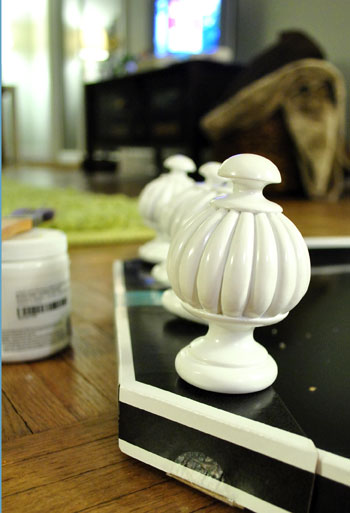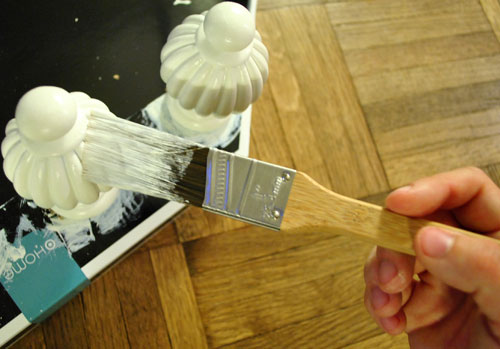 The result? Well they look pretty much the same color as Ed.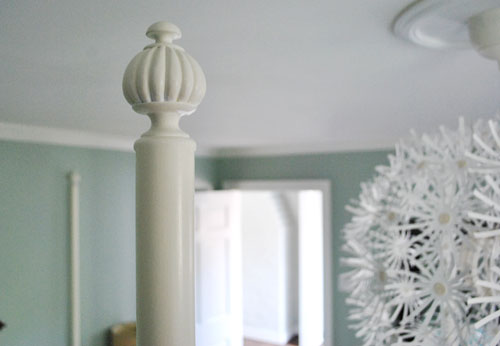 Oh but we've noticed that many items from Ikea vary when it comes to how white they are (for example, some of their white frames are brighter than others) so it's not necessarily safe to assume that Parchment White by Glidden will be a perfect match to every white Ikea item. But bringing home some swatches, holding them up, and then buying a tiny test pot of the one that blends in the best for a few bucks is a pretty painless process.
The only problem? Little paint projects like this leave me itching to find other small things to paint. What's wrong with me? It's a sickness I tell ya.