We snuck off to the beach over Memorial Day weekend to spend some time with John's family (at their amazing beach house near Bethany Beach, Delaware) so we thought we'd share our house-related adventures. A while back a reader (thanks Ann!) recommended checking out The Old Screen Door in Lewes (about 30 mins from Bethany), so we took a drive out there and it was the cutest little town (which boasts that it was the first town in the first state). Here's the front of the shop: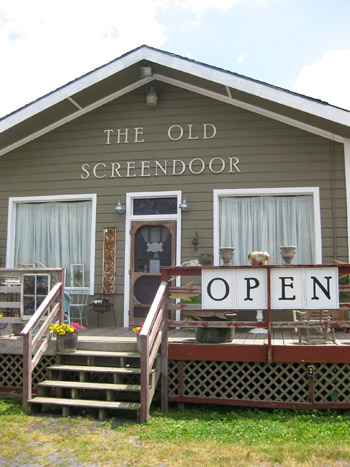 It's not very big inside, but there's a collection of really fun old stuff going on (mixed with some new stuff to keep things interesting).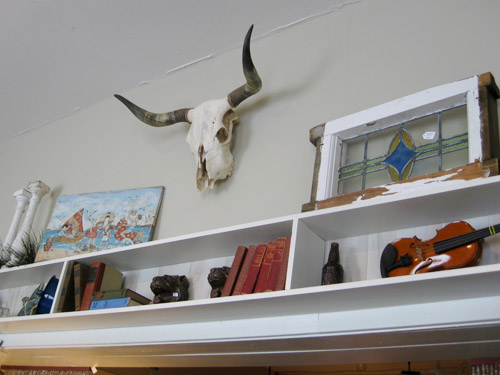 And Clara loves bikes. Well she loves lots of things (birdies, duckies, doggies, kitties, cars, blocks, her stuffed giraffe that she affectionately named Gee, etc) so it was no surprise to us that she honed in on this cool metal tricycle as soon as she saw it.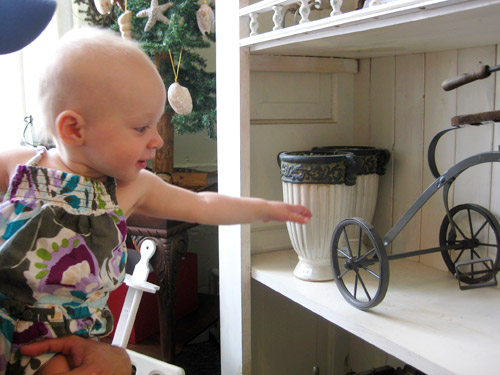 So like typical parents with no willpower we bought it for our office (since it's really not meant for riding, but it's fun to look at and we're all in there all the time). At thirty beans it wasn't exactly free but we like to pick up one or two "house things" whenever we travel (that way they have a vacation memory attached to them, which seems to make them more special). Here are some better shots that we snapped of it back in Richmond yesterday: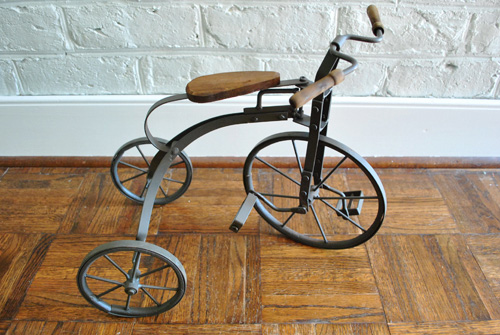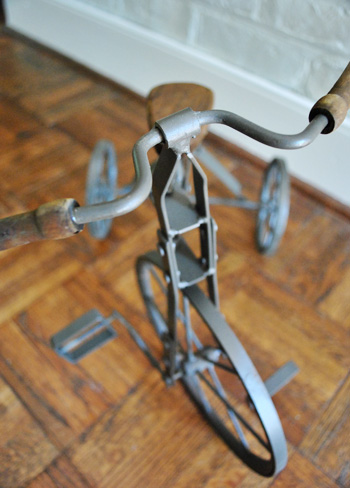 We don't have a specific spot for it in the office yet, but we figure once we add more storage and cabinetry it'll look pretty sweet in there. Of course, no sooner had we put our purchase in the car did we look at each other and simultaneously realize that it kinda reminded us of the creepy tricycle from the Saw movies: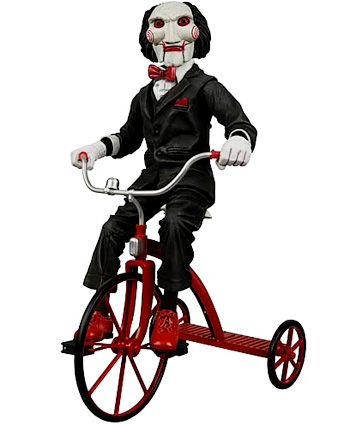 So even though it should give us the heebie-jeebies it somehow makes us laugh (and thereby love it a little bit more). Ah random quirkiness – gotta have some of that to make a house a home.
But back to our visit to The Old Screen Door. I was also head over heels in love with this tiny outdoor chair (it was the best weathered gray color) but at $65 (which isn't bad, we're just cheap) we decided to leave it there for the next baby to enjoy.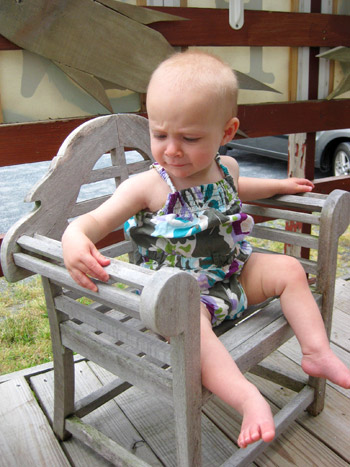 Then we drove over to downtown Lewes which is a gorgeous tree-lined street full of shops and goodies (like a store called Cake Bar). Clara had a ball in Kids Ketch (a toy store packed with fun stuff). Here she is perusing the monster collection that hung from a clothesline across the entryway: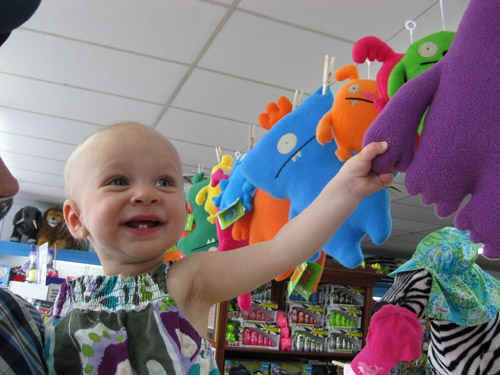 She especially liked a small green doll called Groody. Let's just say that Groody's tag cracked us up (if you can't read it, it says: Groody is a pretty relaxed, easy going, energetic, stressed out, moody broody mess! Aaaaaahhhhh! Did I just close that door? It was a ghost! Did I send that e-mail to the wrong person!!??? You get the picture. If you are willing to help him on his quest for inner peace he will help you on your quest for whatever dealio you got going. His first though).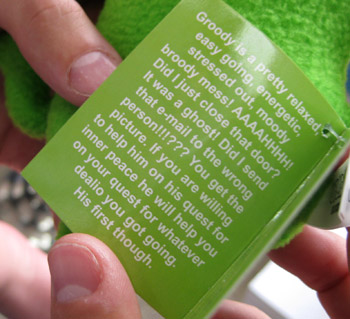 Hilarious. Oh and remember snap bracelets? I wore one as a scrunchy in grade school. Oh yeah, I was that cool. Anyway, they had snap bracelet watches that brought me back.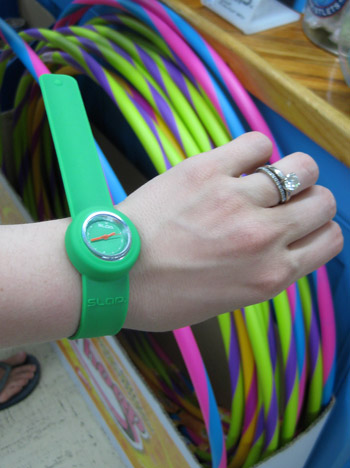 But we left without Groody or the snap bracelet watch (sometimes it's just fun to window shop and spend a few bucks on ice cream as you walk around). Oh and speaking of window shopping, I spied this cute little pig planter through the window of a flower store. Totally my idea of a good time. In the words of A.C. Slater, "oink, oink babe." <– audio clip here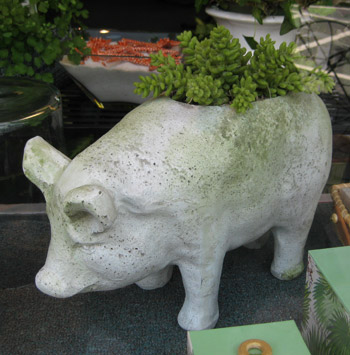 One of the most fun places that we popped into was this little alley marked "Antique Mall":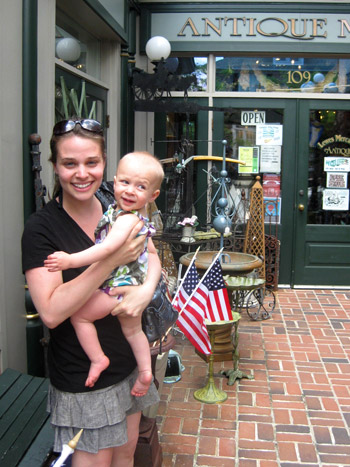 Inside were some of the most amazing collections of cool stuff that I've seen in a while. Like these pretty oversized mercury glass finial-like accents and the fun antique bronze porthole mirror: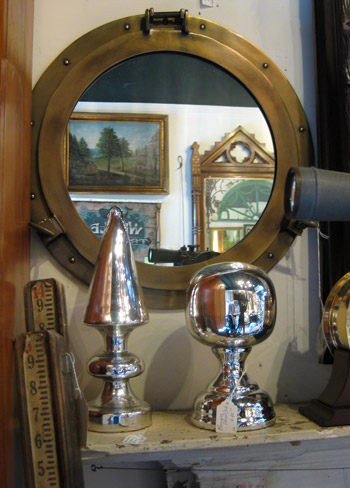 And this insane to the membrane (well, to mine at least) wood horse. He was $250 firm, so I hugged him and then moved on. Not without telling him I loved him first (see, he made me go crazy).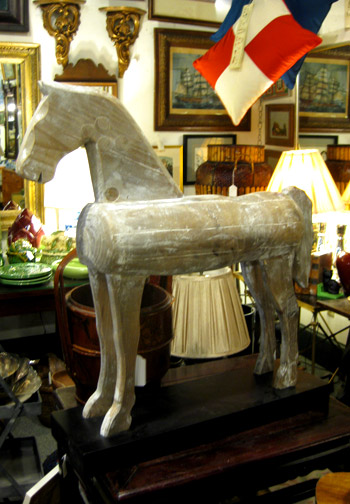 I also fell in love with this amazing print about Kalamari (at over $200 I had to pass it up, but I still daydream about it for at least twenty minutes a day):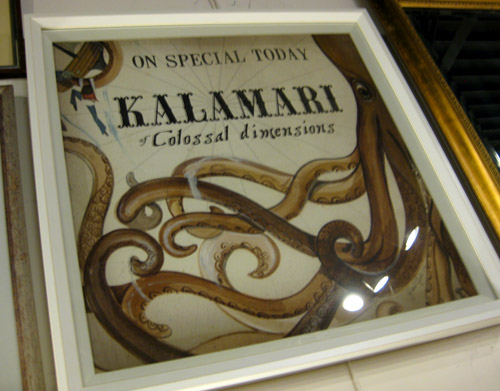 And this tin whale thingie was, in the words of my girl Bethenny Frakel, amazeballs. It's hard to explain but you could rock the whale back and forth and the mouth would open and close and the eye would move from left to right. In short, he was cooler than my snap bracelet scrunchy.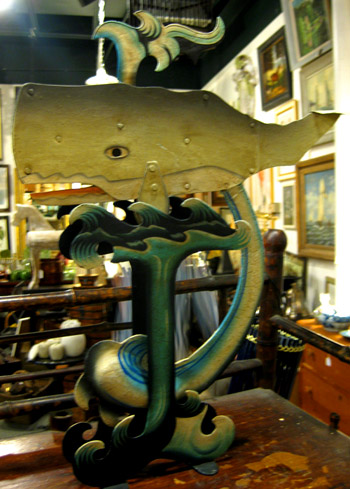 And then there were these baskets. I loved how tightly they were nested (the whole set was muy expensive, but they also sold them individually).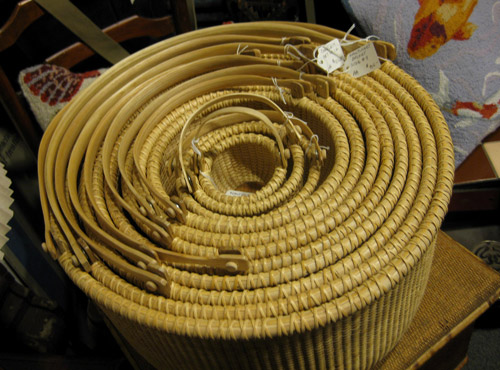 What did we get? Well, right as we were about to leave we noticed a little stand of iron birds and sea turtles for $6 a pop. And you might remember that I have a thing for sea turtles thanks to our moving-day experience and a certain necklace from Cougartown (more on that here). So we decided to take this little guy home with us.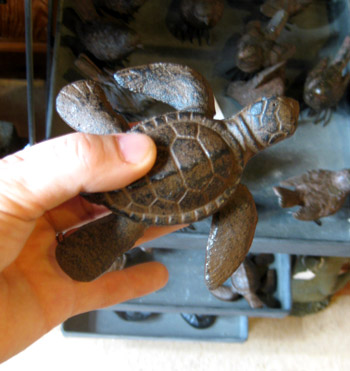 So our total spent for the day was around $40 (including our $30 bike, our $6 sea turtle, and some ice cream to enjoy while strolling around Lewes). It was a good day. Oh and there were such cute houses too. Like this one with not one but two giant concrete dogs out front (we were driving so I only caught one):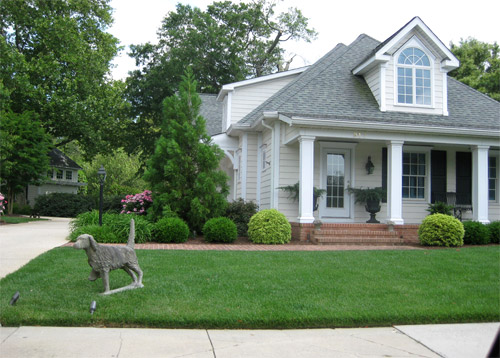 And this inviting little beach palace with crisp white trim and a picket fence: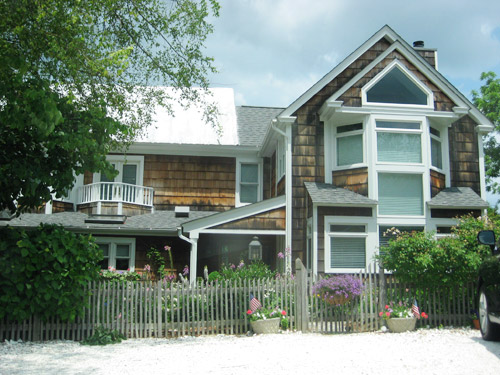 And this guy complete with gargoyles guarding the hydrangeas: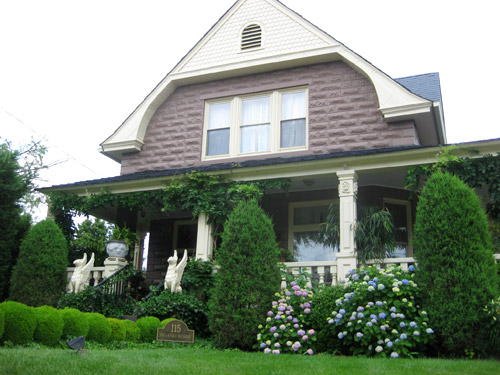 Of course we also had our fair share of family time and beach hijinks. Here's a little slice of that for all you Clara-loving folks (hi mom):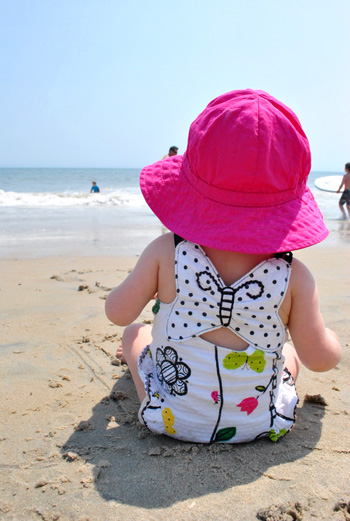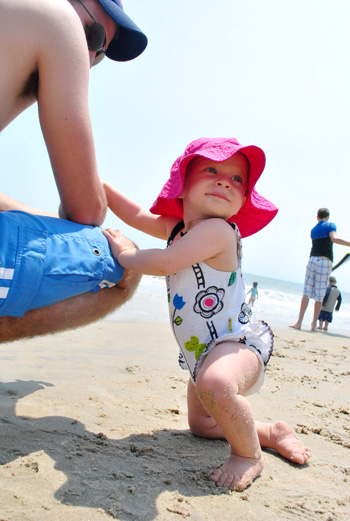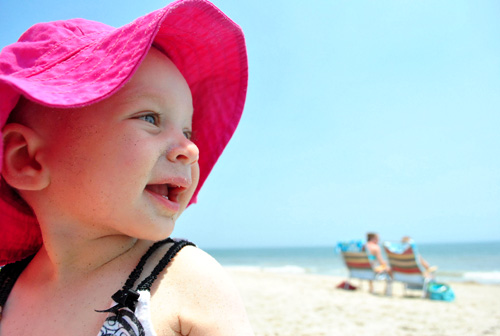 And for some reason Clara really enjoyed yelling at the ocean, so we snagged a short iPhone video of her royal loudness (John filmed it with his own extended arm, so that explains the odd cropping):
Oh and I read a lot of Bossypants aloud to John (he's the driver for our road trips, so I'm in charge of entertainment while Clara and Burger are in charge of sleeping) and we both thought it was hilarious. So I guess I'll fill in where Oprah's Book Club left off and recommend it.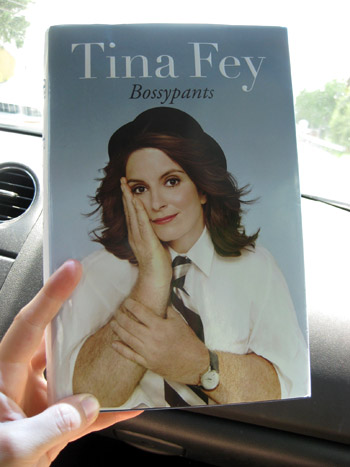 That's all she wrote. What did you guys do for Memorial Day? Any other beach trips or window shopping excursions? Anyone else who wore repurposed a snap bracelet as a scrunchy?
Psst- Creepy saw tricycle image from here.
Psssst- We announced this week's giveaway winner. Click here to see if it's you.