Remember when we House Crashed Katie over at Bower Power? Well we brought her a set of botanicals from our shop as a token of our appreciation, and she ended up ripping a few pages out of her Hooker Book (an old book of fruit and botanical drawings that she found at Goodwill) and sending them home with us in return. Isn't she sweet? And now that we've finally gotten around to a little project with our lovely courtesy-of-Katie botanicals, we're here to share the goods.
We decided we had framed art aplenty around here, and immediately started to brainstorm other ways to use the prints. Thinking outside the frame if you will. My love of white ceramics came into play when I was peering into our Decor Store at a few white ceramic cups and thought: wouldn't they look cute with a bit of fruit on the front? I grabbed the two ceramic containers from the cabinet and found the third one full of ivy in our bedroom windowsill. Here they are before "Project Produce."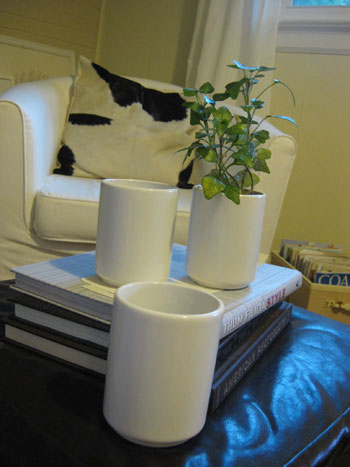 And here are our torn out Hooker Book pages courtesy of Katie before the ol' snip fest. We just cut out some of the smaller fruit drawings…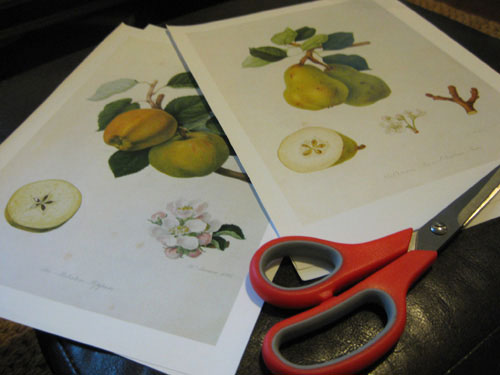 … and found some old Mod Podge from Michael's in my craft drawer. Then I grabbed a small paint brush and coated each fruity cutout with a bit of Mod Podge and stuck them to each ceramic cup for a cheerful and fresh little finished product (note: when using Mod Podge you can coat the back of the thing-to-be-stuck and then coat the front of it once it's in place for a more durable "seal" that's long-lasting and invisible).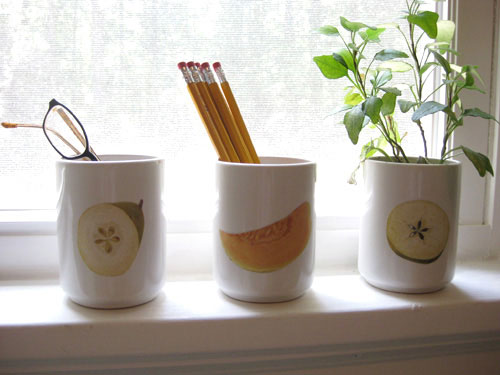 We also love how versatile the little cups really are. They can hold flowers, office supplies, plants, and more. Don't they look cute all lined up by the window?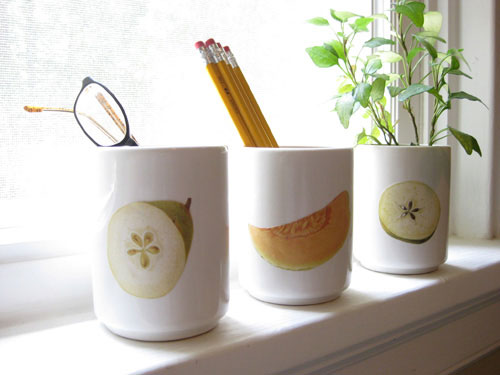 We loved them en masse, so they actually ended up on my desk where the pencils and eye glasses come in handy all the time. And the ivy provides fresh clean air for me as I blog the day away. Total project cost: $0.00. Sweet.
And since there were also larger botanicals that remained, we decided to decoupage two larger drawings onto small dessert plates that can be hung on the wall or even leaned on the floating shelves in the dining room for a bit of sweet food-related fun. Here they are before Mod Podge. Isn't it amazing what an old Goodwill book can become?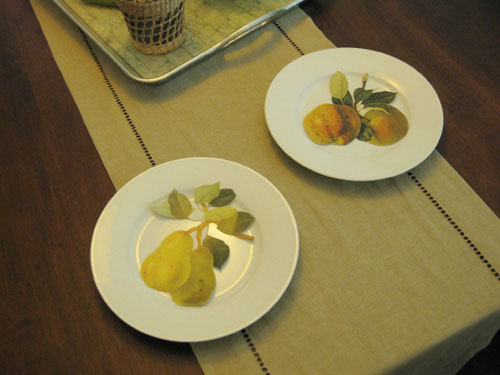 How about you guys. Have you whipped up any botanical masterpieces of your own as of late? Scored anything amazing at Goodwill? Repurposed something you had around the house in a new way? Do tell.