Quick note: Tonight we'll be in Minneapolis at the West Elm on 3879 Gallagher Drive for cookies, cocoa, and a book signing at 6pm (we hear this parking lot is small, but there's a larger lot at a nearby Macy's as well as a ramp that leads to a parking garage which should hopefully help – as will getting there early, carpooling, or getting dropped off). More info here. We'd love to see ya there!
Remember how you guys were asking us to take photos of the holy-cow-that's-crazy playroom packed with secret book projects, stuff for our yard sale, and future projects so we could share them when the book was finally out? Well, I don't think you're ready for this jelly…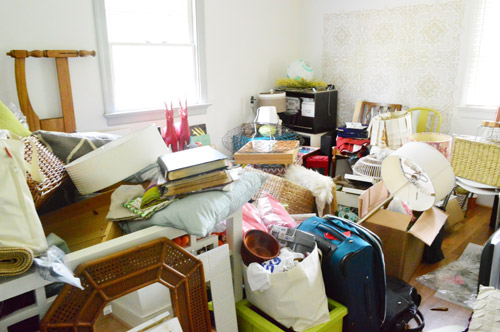 Were you ready? I told you it was crazy! But thankfully now that the secret book projects are out of the bag, we can share the insanity with you (since it's no longer a spoiler for you to see our partially stenciled wall, the gray trim around that window, the green planter, that wooden headboard, the yellow branch wreath, or anything else that you might recognize from zee book).
Here's a vertical shot. Just as crazy, right?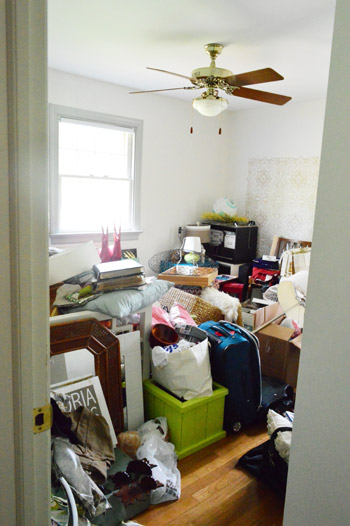 So when my mom came out for a visit a little while ago, we decided to tackle it together (me + mom = organizing nerdfest). Literally the second I put Clara down for her nap it was as if someone fired some imaginary gun at the starting line and we shot off in different directions to get that room cleaned up. Completely comical.
When you're dealing with such an extreme volume of things that need to be sorted (since some were book projects that were going to be auctioned for charity, other things were going to be yard saled, and other items are still waiting to be made over and used in future rooms like the sunroom, Clara's big girl room, the guest room, etc) – the first step is definitely clearing the room. So we scurried to bring everything out into the entryway, where there was more floor space for sorting. We had three zones going on:
one spot for yard sale stuff
one spot for the book auction items
one spot for things going back into the playroom for future projects
Most of what you see in this picture are things that were going back into the room (the luggage goes in that closet, those shelves are for a future project, etc). And there's my mom going through all the gift bags that I save to reuse (she was almost entirely on closet-duty, so she got to play with things like tissue paper, gift bags, and ribbon while I sorted things for yard sale and auction piles.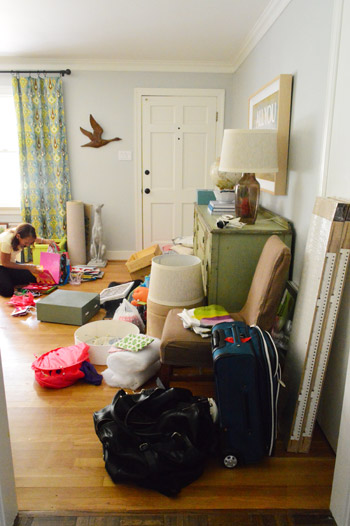 About an hour and a half later, we could see most of the room again! It was weird. Like those dreams that you have of discovering an extra room. Tip: don't fill a room with junk and you won't feel like you're discovering said room after hours of cleaning it out.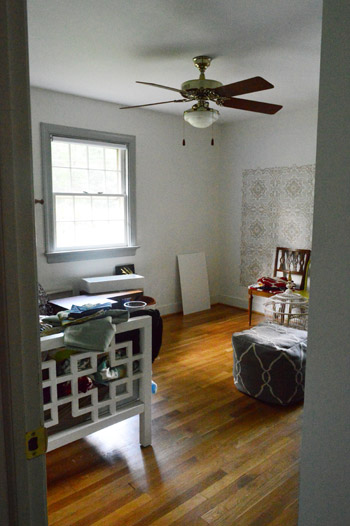 Sure enough, as the cluttered playroom got emptier, the areas in the entryway (and the adjoined hallway) got crazier. This was our yard sale pillow pile. Yikes. Note: You can read more about how the yard sale went here.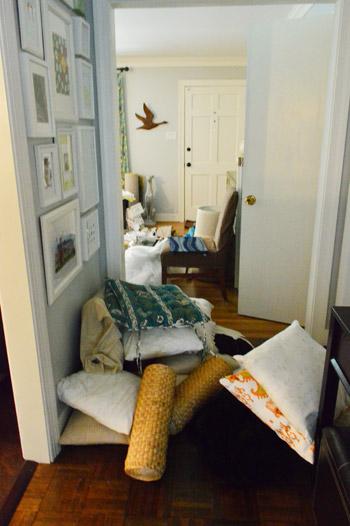 Here's what the room looked like after we loaded things back in (the items under the window were smaller auction items that we didn't want to leave out in the sunroom with the bigger ones, so they're actually gone now). But the rest of everything is still in there since we put the yard sale stuff into the sunroom to keep it separated. Oh and you'll notice that we tossed up the old curtains from our bedroom just to keep them hung so they're not wadded up in some closet (but clearly they still need to be ironed/retrained so they don't look all ganked up).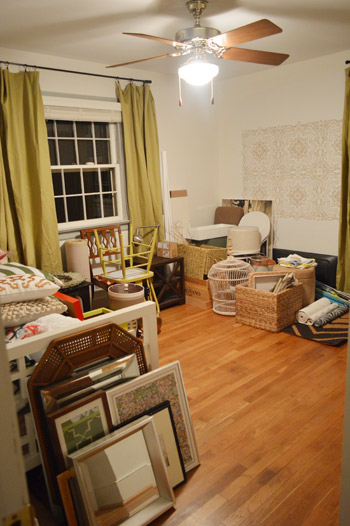 Still looks pretty darn cluttered, but it's not nearly as bad as it looked a few hours earlier. Whew. Thanks momma!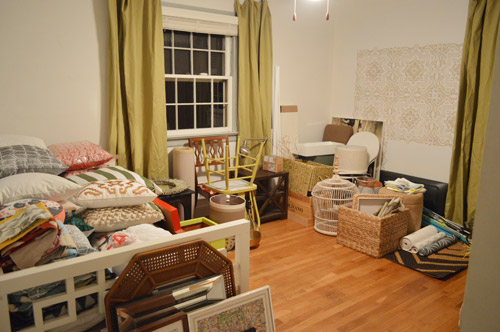 Here's the view looking back at the daybed (Clara's future big-girl bed) covered with pillows (yes, I have a pillow problem, but in my defense we still have a daybed in the sunroom and Clara's big girl room to use them for). Then maybe we'll need to have another yard sale… haha.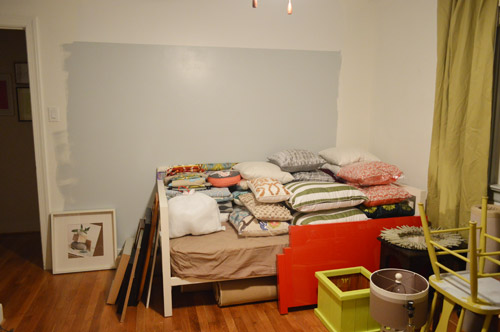 See that big rectangle of blue paint? Just another wall we painted for book shooting. That wall actually got painted three times (navy for a headboard project, paprica red for cloud shelves we made, and then blue for a tip about not painting all the way up to the ceiling). It's crazy to think about how many things we painted and repainted back in January! Oh and see that green chair and twig mirror in the bottom corner of this pic? Those are book auction items, so they're cleared out and no longer on the floor.
Speaking of the auction, we made $500 for charity thanks to generous locals who bid on our secret book stuff in the silent auction last week at the R. Home for the Holidays event. Woot! We're so thankful to you guys for giving those items a good home. And we wish we could have opened up the bidding up to a wider span (nationally or even internationally) but shipping things (many of which were large and heavy) made it too complicated for a two person "company" like us (it also would have diminished a lot of the profit we were trying to make for the charity). But to any locals who went home with something, we'd love to see pics of things in your rooms! And to anyone else anywhere in the globe, if you DIY anything from the book (since you've definitely got the info on what we used/how we did it) of course we'd love to see those pics!
As for the closet, here's my mom's handiwork. She's awesome, eh? I think sorting all of my gift bags and ribbon might have been the highlight of her trip. Well, that and seeing sweet Clara of course. Ok, Clara wins.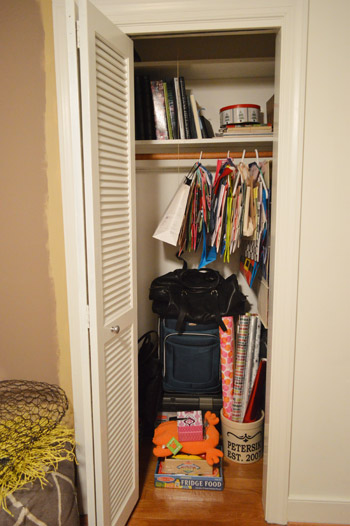 Oh and see that weird line of paint to the left of the closet in the pic above? Yet another wall that we painted at least three times for book backdrops. We so crazy.
Ahhh, but behold: nothing's in the entryway or the hallway anymore. Can I get a what what?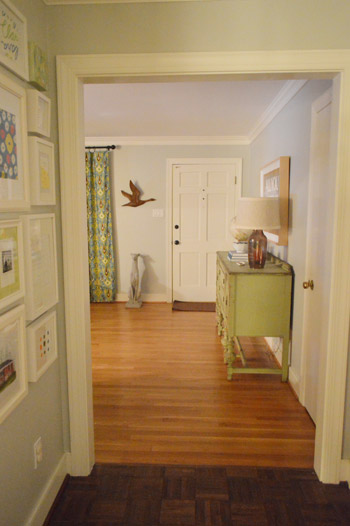 I hope these long awaited playroom before and not-as-bad-now pics were fun for you guys. Seriously, this before picture gives me the willies: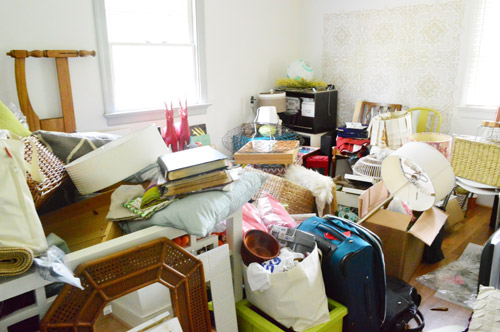 Please tell me you guys at least have a closet or a junk drawer that's looking pretty hairy, just so I don't feel so alone. Haha. And you know what partially clearing out this room means… we're one step closer to converting it into Clara's big girl room (although we still have the hall bathroom and the basement to finish along with an untouched sunroom, carport, and guest bathroom). You know we're all over the place, so it's only a matter of time before we bounce in there too. Bring on the paint, the fabric, and the moose lamp!
Update: Nope, I'm not prego! Maybe I need to add an update to this post? Yup, I'm doing it. I, Sherry, hereby solemnly swear that I'm not with child. Haha. Spread the word!