***This giveaway is no longer accepting entries.***
If you're a Richmonder, you might've already deciphered that the Sunny mentioned in this morning's Reader Redesign is none other than local paint heroine Sunny Goode. Heck, even non-locals with a good memory might have picked up on it since Sunny's name has popped up more than once on YHL, like when we house crashed this Domino-featured home that sported Sunny's signature stenciled paint treatment on her floors: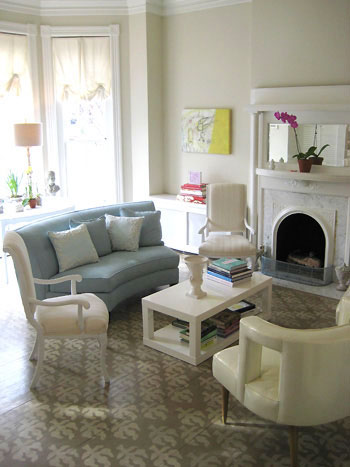 Or when we dropped in on her store, Sunny's Goodtime Paints, a couple of years ago: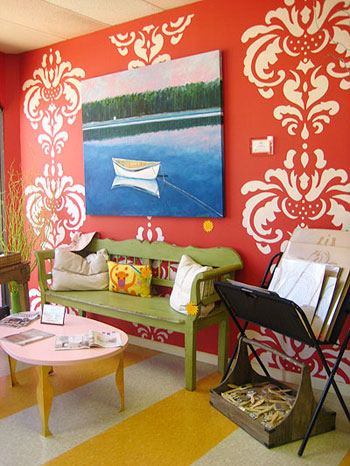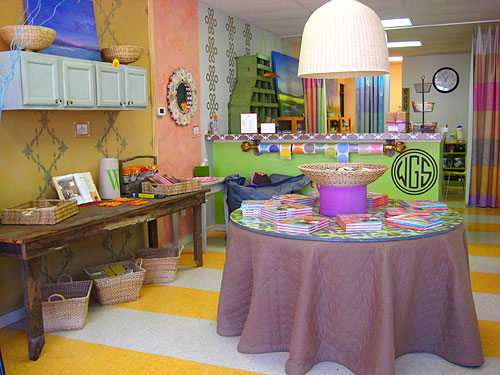 Plus we even got to sneak a peek of one of her newest creations: the floor at the soon-to-be open children's consignment boutique called Clover located in Richmond's Carytown district. Sidenote: we'll be showcasing even more inspiration from this stunning shop soon because it's chock full of awesome (and doable!) ideas.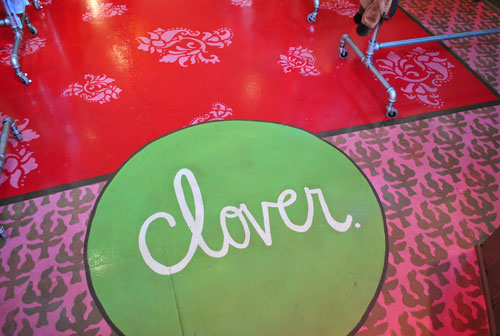 But in case you're still in the dark about just how talented and inspiring Sunny is, allow us to shine a little light on the subject. Sunny serves up a boatload of tools and inspiration to make your next paint job work a little harder when it comes to creating a more unique, playful, personal, and beautiful space. We know her best for her stencils, color washes, and stains- which can bring some much-needed pattern to a blank floor or wall. But she's also got monograms, decals, and even two books (Paint Can! and its kid-tastic sidekick).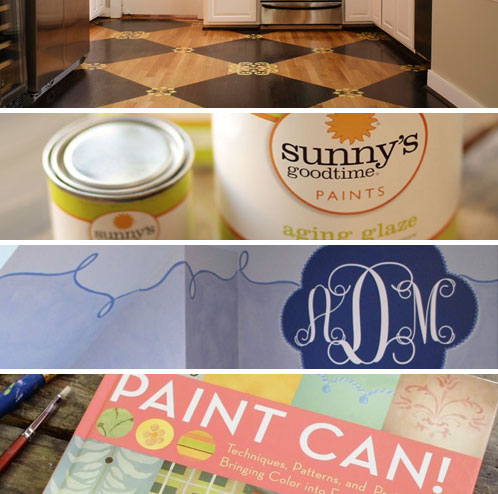 So because Sunny has so much fun stuff to dish out, we're excited to announce that TWO lucky winners will score an $100 shopping spree. So you have the chance to snag whatever goodies catch your eye on her site the most! And the rest of you will be able to cash in on a pretty sweet discount too (stay tuned for those details on Thurs). But enough jibber-jabber. Here are all the deets:
PRIZE: $100 towards anything from Sunny's Goodtime Paints
TO ENTER: Comment on this post with the words "SHINE ON ME!" and…
BONUS QUESTION: … help us get the creative painting juices flowing and share your favorite use of paint (whether it's something you've done or just something you've seen). Is it a surprisingly stellar color combo? An object that was totally transformed by a few brushstrokes? Or perhaps a painted pattern or stencil that really make the room?
GIVEAWAY CLOSES: Wednesday, July 21st at 8pm EST
NUMBER OF WINNERS: Two
PRIZE SHIPS: The lower 48 United States
USUAL STUFF: One entry per e-mail address is permitted. The winners will be selected using random.org and announced on Thursday. Good luck!
See our Giveaway FAQs page for more info. Pics courtesy of Sunny's Goodtime Paints.