It's been way too long since our last window shopping adventure. As most of you know, these aren't paid or perked or anything – we just walk through a store with a camera and take pics of whatever inspires us for you guys. This post is actually a few months overdue (woops) but now that I've uploaded the pics and sat down to write this post I'm all school-girl-ish again. See, I actually stepped foot into my first Jonathan Adler store ever a few months back (while we were in DC for a signing up the street) and I was OBSESSED.
Believe me, it's not a good look. I get all squealy and grinny and I probably look like I'm one minute away from rubbing my face on everything. But the employees were very nice and nobody escorted me out, so I consider it a win. Here's what was there to greet me when I casually sauntered in bounced my way around the store like a female non-tiger version of Tigger.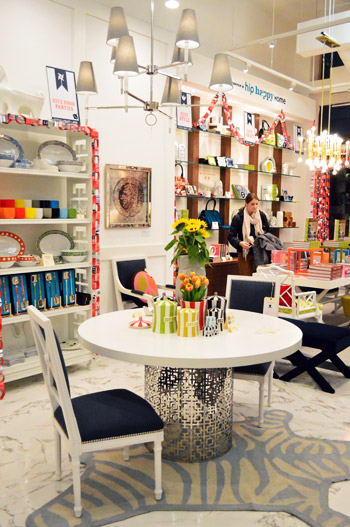 Pretty colors, right?
I loved every last mug design. Can't you picture a collection of these stacked on an open shelf in someone's kitchen? Heck a few of them even make for some awesome wall-stenciling inspiration.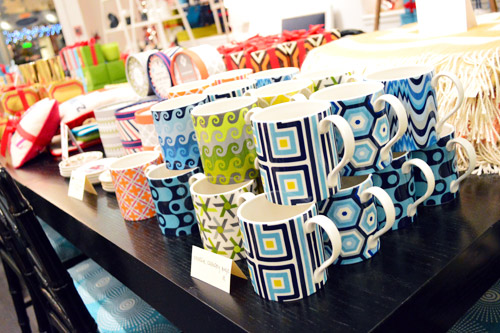 And the lights.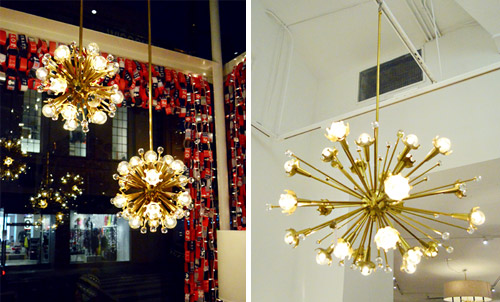 Don't get me started on the lights.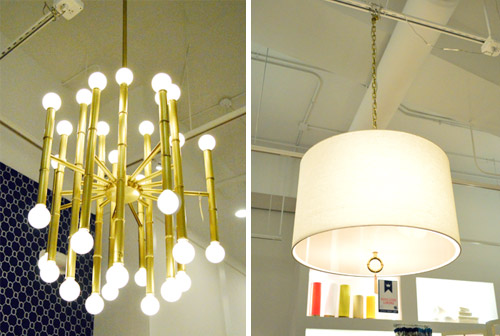 They were amazing. And of course since I was trying to play it cool I didn't ask someone how much they were but my guess would be a million dollars each because they were that pretty. Probably overshot that a little (I'm a bad guesser) but as far as 100% free inspiration goes, this store was packed with it. And that, my friends, is why I love Mr. Adler.
Sidenote: if you guys haven't read his books, I highly recommend them all. He's real, hilarious, and inspirational. In fact this quote from his latest book (100 Ways To Happy Chic Your Life) was so awesome that I instagramed it a few months back…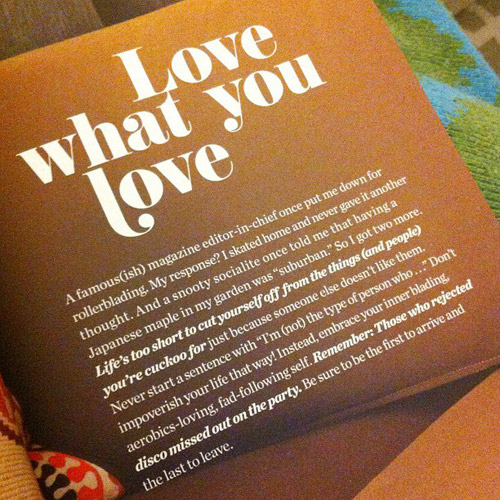 Oh and speaking of loving what you love and all things happy-chic, how much fun are those two yellow and white ottomans? I petted them. I couldn't help myself.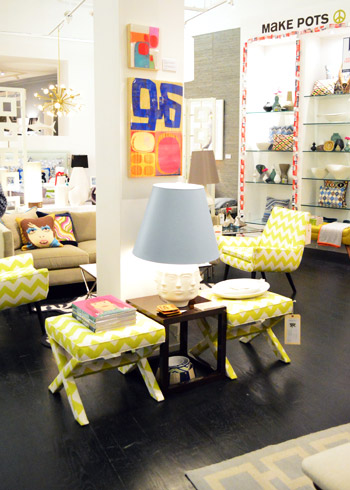 This pillow even had John laughing. Gotta love a pillow with a sense of humor (remember this old Joan Crawford quote from Mommie Dearest?).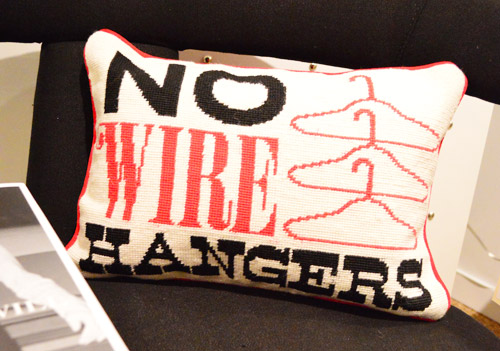 Couldn't you picture an entire kids room designed around one of these needlepoint map pillows? I'd do soft blue walls with pops of the brighter blue (from the pillow) in a ton of accessories along with hits of green and orange. And maybe a glossy yellow rocker? Me-ow.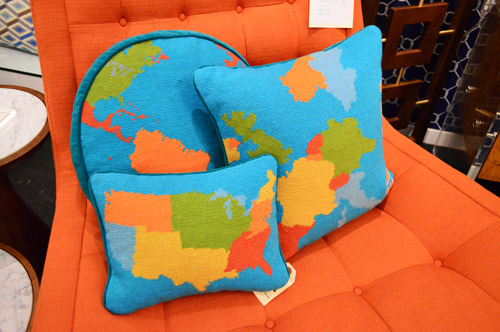 This purty chair was sort of the cousin to our office chairs. So much happy, you just wanted to park your buns in it all day. The funniest thing is that a few years ago when we were in our super neutral phase of decorating (see our first house) I never would have described J-Ad as my style, but after having Clara and moving into our current place, we're down with all things happy, cheerful, and bright. It's like Sir Jonathan covertly wormed his way into my heart and I didn't even realize how much my preferences had changed until I was walking around his store thinking "yes, yes, yes!" instead of "scared, scared, scared." Haha.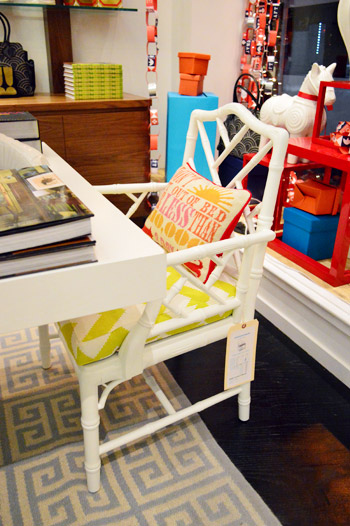 These were my favorite. They were little faux zebra dishes in a few fun colors and I completely regret not buying the green one for my night table (wouldn't it be cute for a pair of earrings or a watch?).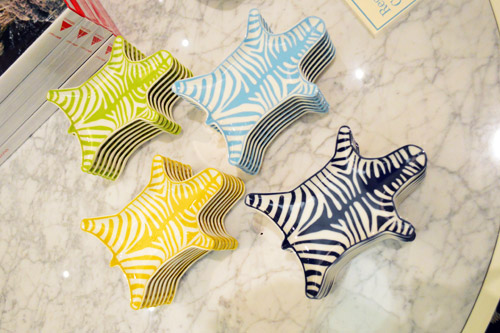 This needlepoint pillow is full of so many colors (yellow, red, teal, navy, gray, black & pink!) but it still felt like it could layer into any room. And I loved the two other pillows with the colored piping that were paired with it. I know some of you out there could DIY your take on those neon-piped pillows, right?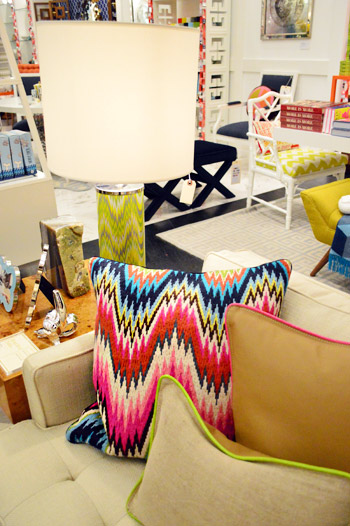 This plate inspired me a lot too. How many old white plates from thrift stores have you seen like this? None with gold, but maybe that could be added with metallic paint or gold leaf. It totally made me want to try my hand at a homemade version.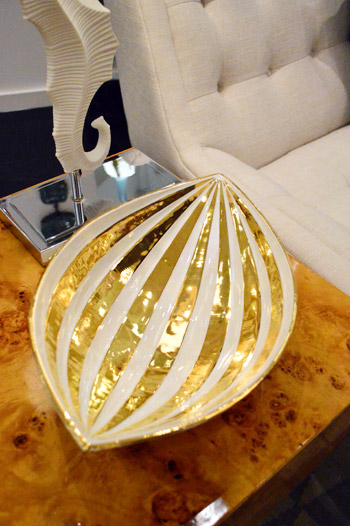 Here are some other fun ottomans. If money were no object I'd snatch them up for Clara's big girl room. But even though they're not in the budget, they're awesome for inspiration. I love how there's white, pink, and bold red all layered together in a fun ikat-ish way.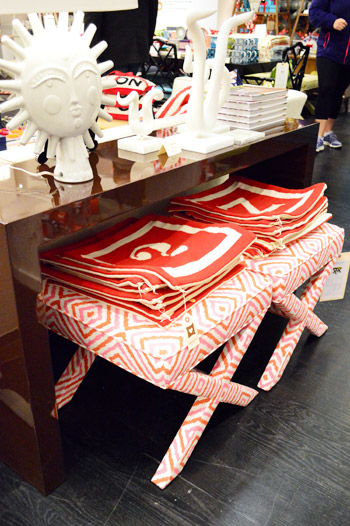 Here's another example of sheer inspiration that I snagged while staring dreamily at one of the side tables. See that teal and gold egg? Well they sell wooden eggs like that at craft stores like Michaels for 99 cents each. So you could grab a bunch, spray them metallic gold, let 'em dry, then put some rubber bands around them at random angles and spray them bright teal. When you remove the rubber bands there should be bands of gold that show through just like the guy below.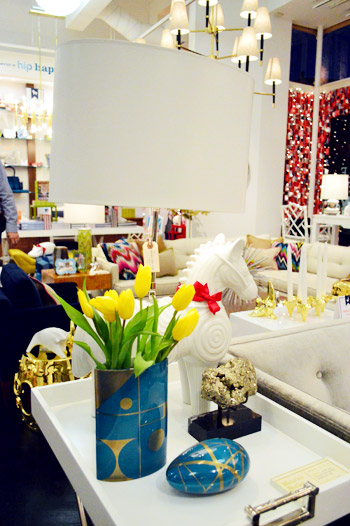 And that side table was actually a cool white lacquered tray attached to an X base. So if you see any old table bases at a thrift store, painting them and adding a big lacquered tray to the top could be fun, right? You can whip something up like the tray-side-table that we made for our guest room thanks to some 3M command strips.
This was just a corner that I loved. See the art? Sorry about the glare, but it's a giant picture of a bird. Yeah, I'm into it.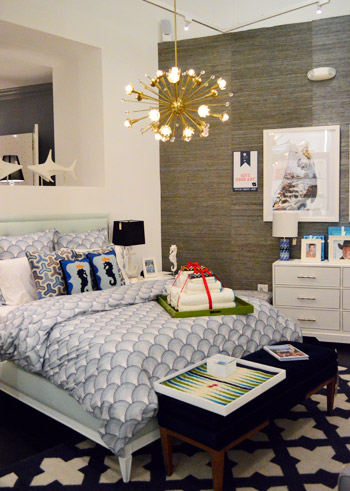 Another bird. Because one large bird print is never enough. And I mean that without any hint of sarcasm. Seriously, I want two.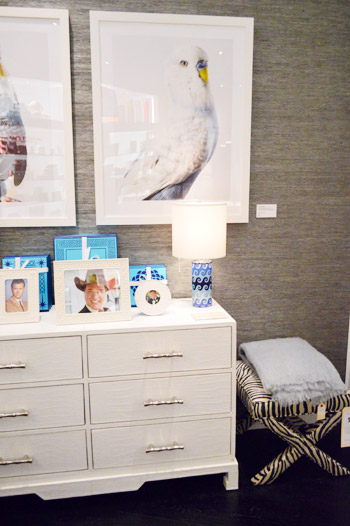 This bed was so cozy looking with the tufted velvet headboard in that pretty platinum color. And I love how they added those bright yellow poufs along with some colorful pillows to keep it from being too neutral.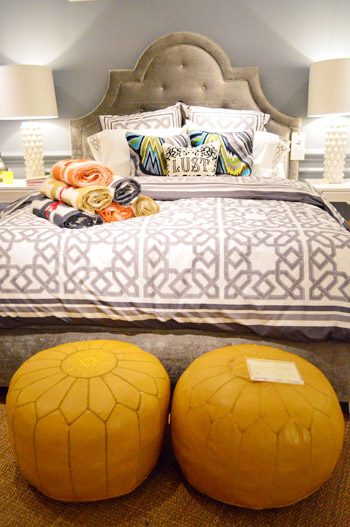 I thought this wall was really retro and fun with the vintage looking wallpaper paired with the giant feathered wall hanging. And there's that lacquered tray side table again, so you can see the whole thing more clearly here (with a chesty vase on it to boot).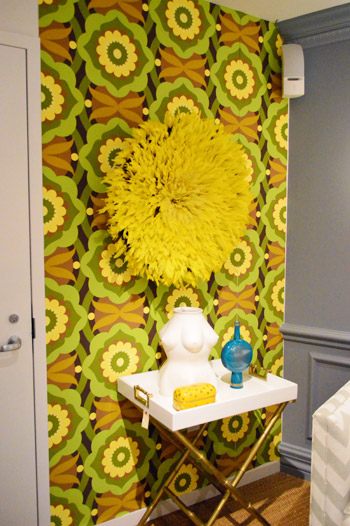 And since Teenage Mutant Ninja Turtles are my thing (Donatello's my favorite because my favorite weapon in karate class was the bo), I could totally get down with this guy on a buffet or a console. It could be my little decorating hero in a half-shell. Turtle power.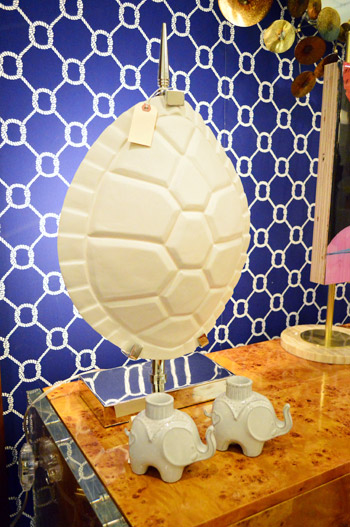 The kids section was fun too. How great is that wallpaper? I would totally use that inside of a nook or a closet. I think it came in pink too. And the needlepoint pillow with the giraffes on it? I might have hugged it to my chest while slowly twirling and whispering "this is the best day of my life." I told you I get excited.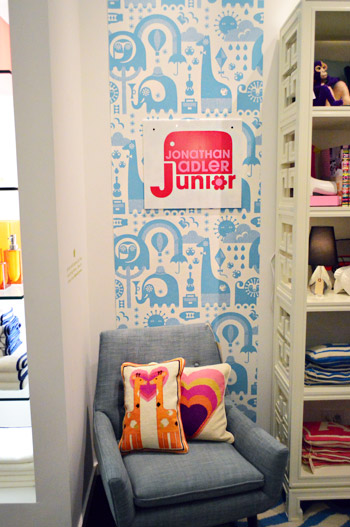 Oh Jonathan Adler, I adore you. Let's be best friends and exchange ceramic animals for every holiday.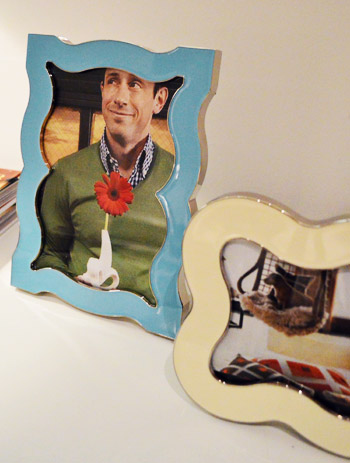 Hope you guys liked that little virtual window shopping spree. It's fun to duck into a purely-inspirational place every once in a while (we usually traipse through places like Target, World Market, Ikea, thrift stores, and smaller independent shops) but there's definitely truth to the whole "eye-candy is everywhere" sentiment. What stores have you been ogling lately? Are there any projects or updates that are now on the agenda after seeing them in a shop (or even in a restaurant or coffee house)?
PS: Want to hear an interview I did with Jonathan Adler himself! Check out that link for all of the details and the audio recording, or read a transcript here.