***This giveaway is no longer accepting entries.***
This week we're keeping the eco-friendly theme going with a freebie from Bright and Bold. They're a great online resource for all sorts of green home wares, including the much-loved Envirosax bags and other items like jewelry and gifts. Plus, everything on the site ships to the US for free (our favorite four letter word), so you gotta give it them for making the world a happier place.

This week we're teaming up with Bright and Bold to offer up some earth-friendly products in a lunch-themed giveaway (shouldn't more things in life be lunch-themed?). Three people can comment to win the perfect tools for a no-waste midday meal: their very own Klean Kanteen and a reusable Fresh Snack Pack bag. You've heard us rave about Klean Kanteens before (check it out here and here) and they're consistently ranked as some of the best reusable, stainless steel bottles out there because they're non-leaching and bpa-free. Which explains why we currently own three of them (only two are pictured because I keep one at work, so Burger's filling in as an honorary member of the Klean Kanteen gang).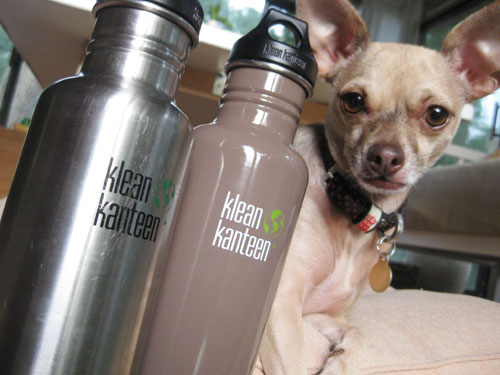 Along with the reusable water bottles, our trio of winners will also score the Fresh Snack Pack bags which are a great reusable alternative to the traditional Ziploc disposable sandwich bags. They're made of food safe, nontoxic, PVC-free, Pthalate-free plastic that's easy to clean and it even folds out to make a placemat. So you no longer have to worry about getting mustard on your latest work assignment (or am I the only one who does that?).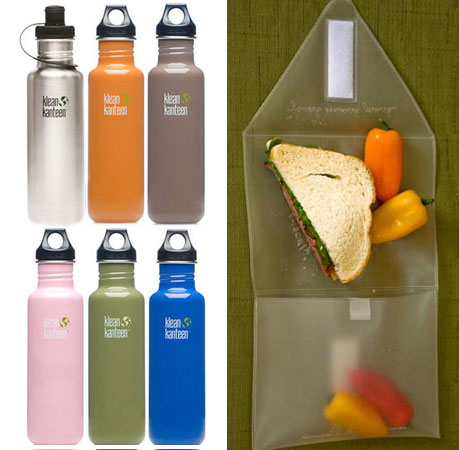 Here are this week's entry details:
PRIZE: A reusable lunch kit from Bright and Bold (a 27oz Klean Kanteen in your color of choice & a Fresh Snack Pack of sandwich-sized lunch bags- valued at $34)
TO ENTER: Comment on this post with the words "I'LL EAT BRIGHT" and…
BONUS QUESTION: Tell us your favorite go-to option for lunch? Grabbing a bite at a local restaurant? Indulging in last night's leftovers? A classic PB&J?
CONTEST CLOSES: Wednesday, August 12th at 8pm EST
NUMBER OF WINNERS: Three
PRIZE SHIPS: USA and our northern neighbors in Canada
THE USUAL: One entry per e-mail address is permitted. The winner(s) will be selected using random.org and announced on Thursday. Good luck!
Until then, happy lunching…
Get more info on our freebies at our Giveaway FAQs page. Images courtesy of Bright and Bold.