Sure it might just be a small change, but sometimes switching up the way a table functions can really make all the difference. And our house is not a museum. Pillows and accessories are swapped out all the time, and nothing's too precious to get relocated or edited down whenever the mood strikes. So as our life evolves (ex: we added a baby girl to the mix and John now also works from home) we like make sure our house evolves with us. Which meant it was high time we reevaluated the way that we use our side table in the den. Here's what it looked like back when we introduced it to the room (read about that here and how we built the table here):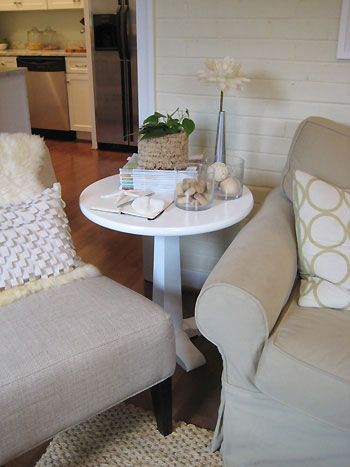 The only functional needs that we had at that time for the table were:
A spot for a notebook (I like to jot down ideas in the evenings while we're sitting on the sofa watching TV or reading)
Room for a drink (which could easily be accommodated)
A place to display some decorative items as well as a stack of "keeper" magazines for reference
A plant for the air purifying perks that it adds to the room
But our lives and the way that we use that side table have changed over the last year and a half. So our once useful and clean table was left looking like this: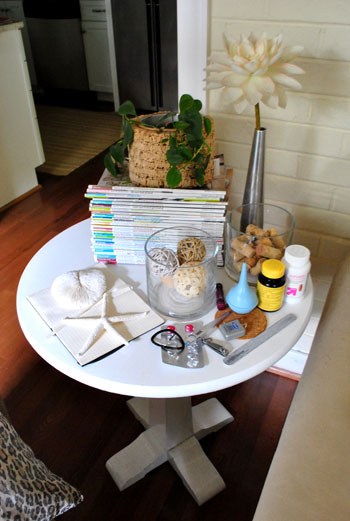 Yikes! Clearly the old table setup wasn't meeting our new-ish needs. So we had to reevaluate what we really wanted:
A container to store all of that unsightly junk out of view
Fewer decorative items to free up more space to drop a teething toy or an errant rattle
A spot for a snack (snacking on the go is definitely something we do these days)
A coaster to indicate exactly where a drink should go (no more wiping up after glasses that sweat on the table)
A stack of "keeper" magazines for reference
A plant for the air purifying perks that it adds to the room
So here's the newly tweaked table as it looks today. We pared down the mags, removed a lot of the decorative items, and placed the notebook on the nearby desk (now that a lot of space has been freed up over there since we moved my computer into our new home office). Then we added a few new items like a clutter hiding box and a coaster. Thank goodness for concealed storage huh?!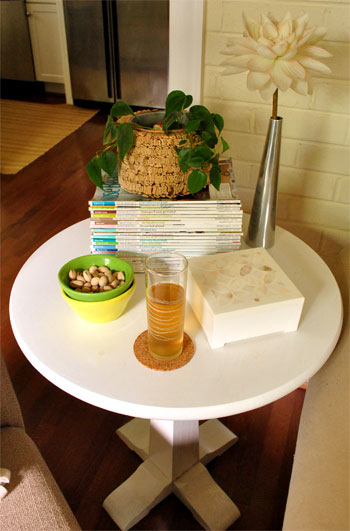 Granted, adding a decorative capiz box isn't rocket science, but sometimes something that simple can really clean things up and make for an autopilot tidy look. But it did take a bit of creativity to get everything that I needed to fit into said box (which is an old Target purchase of yore by the way).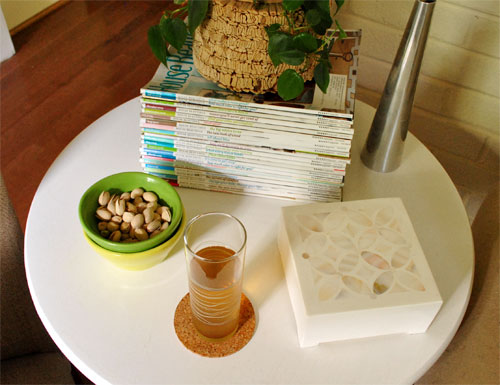 First I went through all the clutter from that insane before shot and paired it down to just the things that we actually used on the regular. For example, the bulb syringe could be put back in the bathroom since it didn't need to be in the den at all times. The thermometer could be moved to the bathroom too, but because we already had one in the bathroom (and I'm paranoid enough to take Clara's temperature once a week or so when I think she's feeling warm) we decided to keep the spare one in the den. So other than cutting out the bulb syringe, we decided to do our best to accommodate everything else.
I'm on a few postnatal vitamins these days so the only way I remember to take them is at night when Clara's tucked into bed and John, Burger, and I are decompressing with a bit of TV. But I reasoned that I didn't need to keep both vitamin bottles and the tin vitamin sheet on hand (since all three would never fit into the box). Instead I found an old Target bottle (from an ancient prescription that we no longer needed) and filled it with all three types of vitamins. Now I can easily take them each night without devoting half of the side table to my vitamin bottle and tin collection. I was also happy to see that the nail file (Clara has some crazy sharp nails!) would fit, along with a few other things that we appreciate having nearby. Yes, I do floss on the sofa every night. Right after taking my vitamins.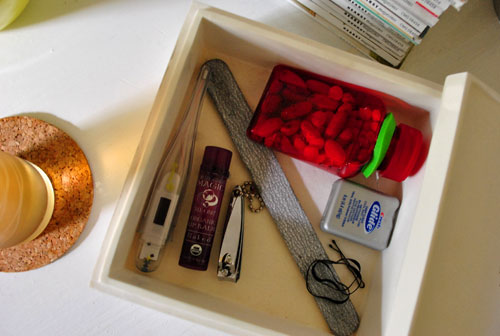 The point is that I'm weird, but my side table meets every odd need that I have now that we've removed some things and added a few others. And it didn't cost a thing or take more than about a half an hour to decide what functions I wanted to gain (and lose) and to reorganize things accordingly. Oh and you'll notice that we have the pistachios in two nested ceramic bowls. This is because it's so much easier to bring both bowls over to the sofa when we want a snack and use one bowl for the empty shells while we pick pistachios from the other. So there's a nut-eating trick for you. What don't we cover here at YHL?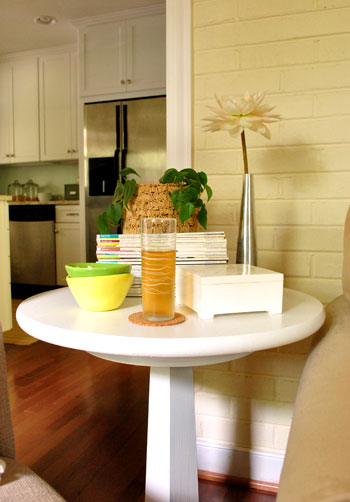 Oh and it's worth mentioning that anyone with little people who are a tad more mobile than Clara should be careful to store things like nail clippers and vitamins out of reach- safety first! On another note, just to show you what I'm dealing with these days, here's an outtake from the photoshoot for this post. Yes, John thought it would be funny to duck into a shot with Clara and then run away. Oh the hilarity.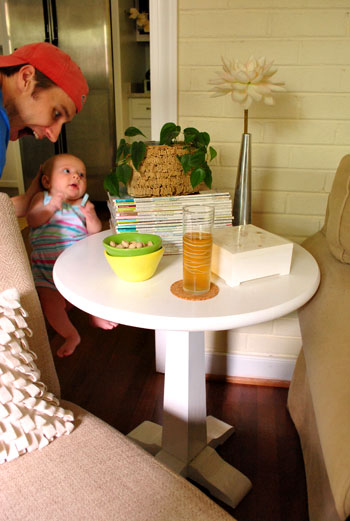 But it looks like Clara approves of the new side table sitch. What about you guys? Have you corralled a collection of pills in one bottle to cut down on wasted counter space? Does anyone else floss on the sofa? What are your necessary items to have on hand? Lip balm is a given right? That's my one non-negotiable-must-have. What's yours?