I worked in a library all through high school, which means that things like microfiche and the Dewey Decimal System have a special place in my heart. So of course I was excited about this DIY project from Jeremy & Adrianne that involved turning a Craiglists find from an old public library into a signature piece for their dining room. Here's Jeremy's letter:
My wife Adrianne and I love your site. I thought I would send in our before and after pictures as we took a vintage Phoenix Public Library card catalog (purchased on Craigslist for $150) and turned it into a buffet for our dining room. Here's a quick breakdown of what we did: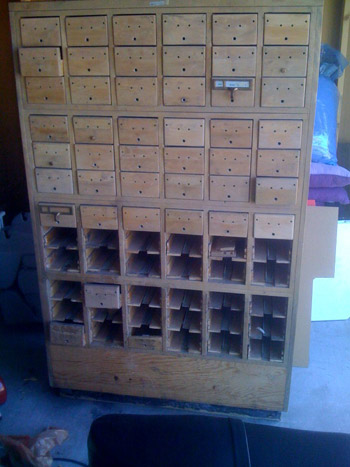 Removed the 72 drawers, numbering each with tape as we went so we could place it back in the correct corresponding spot

Removed the outside plywood casing of original cabinet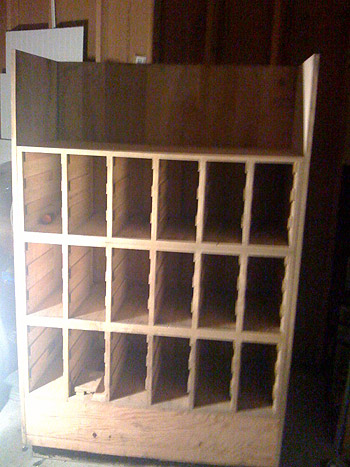 Separated the four sections of 18 slots that were stacked 4 X 1 and reacquainted them with each other in a 2 x 2 buffet setting. Screwed the sections back together.
Purchased two 4'X8′ sections of oak plywood and had Lowe's cut them to size for free. These would be the new top and base, but we used the original casings for the sides to preserve the character of the piece since they have great splits and dents already.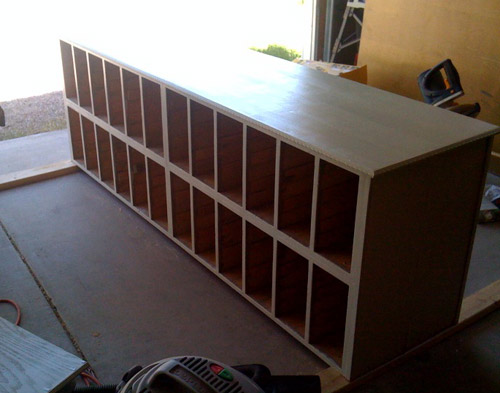 Secured 8 legs purchased from Lowe's for $8 each to base sheet of plywood in a diamond pattern (the card catalog is probably 350 lbs so we were really really relieved when the base withstood all of the weight.)
Added 3/4″ trim purchased from Lowe's and cut at home with our miter saw, then patched the nail holes with wood putty.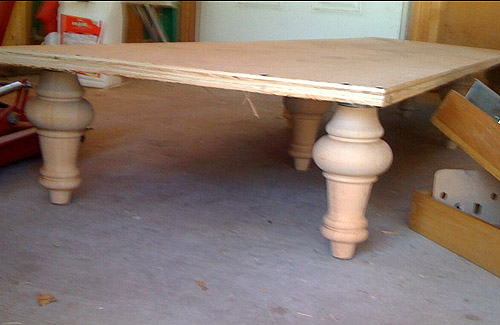 Sanded, re-sanded, and sanded a little more to smooth things out.
Painted with Behr Premium Plus Ultra Paint and Primer in one from Home Depot (a blueish gray color call Rhino).
Then we rubbed some stain (Minwax Dark Walnut 2716) all over with a small brush and a few rags to give the antique look, followed by a little more sanding and then some Minwax Wipe On Poly to seal it.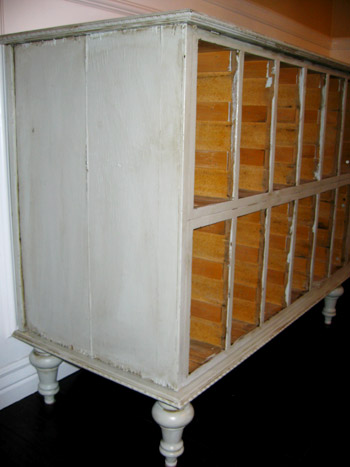 Lastly we placed all the original hardware back on each drawer, moved it into place and we now have this great, extremely unique buffet.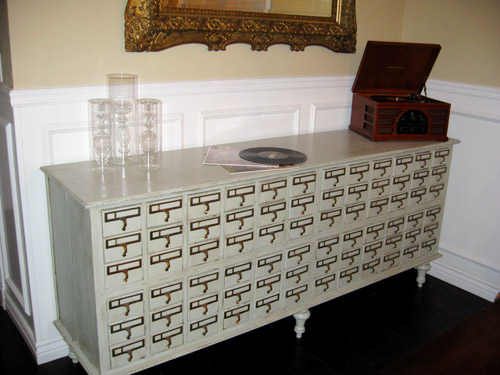 We keep bottles of wine in one section, napkins and utensils in another, and still have many drawers to fill with whatever will fit. It was a tough project since the unit was so heavy but we are so happy that we put a little time, a little energy, and a few dollars ($345 to be exact) to have this great conversation piece. -Jeremy and Adrianne at The Lentine Family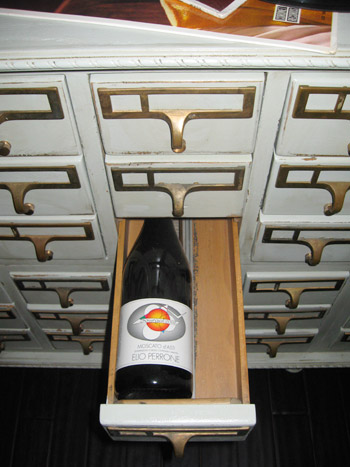 We're totally digging this transformation (not to mention the meticulous refinishing that went into it). And it's fun just to think that if we were ever lucky enough to score a similar discarded card catalog we could fill it with tons of fun stuff (from Clara and Burger's collection of toys to Sherry's extra lip balm tubes and my favorite ties and belts). Great work you guys- it's a total showstopper akin to some 3K piece from Restoration Hardware or Anthropologie (but it's even more one-of-a-kind). What do you guys at home think? Isn't it quite the makeover? Who's craving a trip to the library?
Psst- Don't forget to check out our weekly BabyCenter post right here. We switched up Clara's art wall again- we just can't help ourselves!