We're back with our weekly mood board and this time we tackled a serene and gender neutral bedroom full of moody grays, blues, yellows and whites. From clothing storage to display space for jewelry, books, and more, we really tried to squeeze in a ton of function without breaking the bank (affordable Ikea furnishings definitely kept the make-this-room-yours cost down). And we love how the happy doses of yellow add a bit of energy – so it might be a smidge easier to slide out of bed – while the muddy grays and blues paired with sleek white furnishings really keep the room feeling breezy and restful.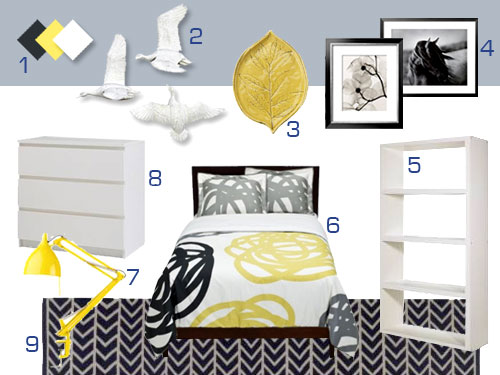 1. When it comes to the color scheme, we'd love to see dark charcoal grays, pops of lemon yellow, and a few dark wood pieces mixed with some crisp white furnishings. Painting the walls in the subtle blue-gray color (Benjamin Moore's Silver Lake 1598) that we added as a thick stripe across the top of the mood board would add instant depth and moodiness- plus it would look amazing with crisp white trim and doors. And you might notice that the numbers in the board are a rich navy tone, which can definitely be added to the scheme if yellow, grays, and whites aren't enough hue for your liking.
2.These geese ($25 a pop) would add energy and movement along with a sweet serene feeling to the space, especially when hung in a cluster above the white dresser(s).
3. This plate (under $8) would be a nice splash of our accent color when placed atop the dresser to display jewelry and watches in a charming and casual way.
4. This print ($21) and this print ($29) would look gorgeous hanging on the wall… or even leaning on the wall atop the bookcases that we're about to mention.
5. Two of these bookcases ($129 each) placed directly behind the bed's headboard will create a stylish and functional feature wall (and painting the wall behind them two shades darker than the rest of the room, Benjamin Moore's Timber Wolf 1600, will really add posh dimension and interest). Then just load them up with books, baskets, and accessories like planters, vases, candlesticks, and other beloved collectibles in tones of gray, white, blue and yellow. A good friend of mine has two bookcases behind her bed's headboard (kind of like this) and it really does make such an amazing impact and create a ton of storage and display space. And thanks to the bed having a built-in headboard there's no worry that you'll lean back into something on the shelves.
6. This bedding ($79 for a king sized duvet) works perfectly with our scheme- and the price for such a large duvet is pretty darn good.
7. Two of these striking and sophisticated yellow clip lamps can be attached to the bookcases behind the bed so they shine down for easy in-bed reading just like wall-mounted sconces (without the complicated wiring).
8. This sleek and affordable dresser (just $79.99) provides tons of budget-friendly storage – and can even be placed next to a second dresser of its kind for the look of a spacious 6-drawer piece.
9. This chic patterned rug that doesn't break the bank (just $179 for a 6 x 8′) complements everything from the comforter to the wall color while adding some nice texture and geometric interest when it's placed under the foot of the bed. Then hanging crisp white curtains (Ikea sells a number of affordable options) would finish things off nicely. Of course soft yellow or even gray and yellow banded curtains would work too. Or for anyone looking to add extra drama, rich velvet navy curtains along with a navy throw at the foot of the bed would add yet another hue to the room for that super luxe look.
So there you have a sophisticated and wallet friendly bedroom in a box- er, board. In fact, adding up every item in this board along with an additional $20 for paint and $20 for Ikea curtain panels brings the whole-board total to just $909. Not bad considering you can spend that much on two bookcases and a dresser alone – and we also squeezed in a rug, two lamps, tons of wall art, paint, curtains, and even a jewelry tray along with those three major furnishings. Does anyone out there have anything else they'd love to link to that would work well with this bedroom setup? Is anyone planning to snag anything in the board for their own sleeping space (send us pics please!). Is anyone already enjoying a gray, yellow, navy, and white palette in one of their rooms? Do tell.