I've often heard the phrase "things are as easy or as hard as you make them" and if you stop and think about it, it really makes sense. So as I go about my day I often think "am I making this harder than it needs to be?" or "is there anything I can do to make this easier/faster/more automatic/less annoying?" Thinking like this over time has actually helped us to develop a few systems and habits that help our house feel a bit more like it's working for us. As most people know, I'm sort of a freak about organization, but I just find that it's often the key to being efficient, knowing where everything is on a moment's notice, and having a place for everything (when you know where to put things, it really makes cleaning an auto-pilot job). Sure it might seem like more work up front to create the systems and practices that help your house run like a well oiled machine, but it's really something that pays off almost immediately. And after about a week you'll wonder how you ever lived without 'em! So without further ado, seven things that make our lives easier:
1. We have a woven tray near the back door in the sunroom where we stash our shoes before coming into the house. It's super easy and it looks a lot better than a pile of shoes on the floor, even though it's just a pile of shoes in a basket. It also keeps the house cleaner since we're not tracking in any bottom-of-the-shoe dirt or leaves (and really helps during allergy season).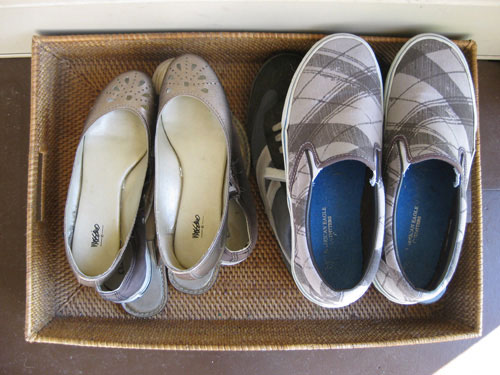 2. We have a bowl on our rolling laundry caddy just beyond the back door where John drops his keys and his wallet. Actually it's a white planter from Ikea, but it was $1 and it serves the same purpose as a key bowl. My keys and wallet are always in my purse which I hang in our mini-mudroom, but John used to have those "where the heck are my keys" moments, so we implemented the bowl technique and have never looked back. This quick "drop spot" really gets us out the door faster and keeps me from having to complain when I find John's little pile of pocket-stuff on my desk or on the kitchen counter.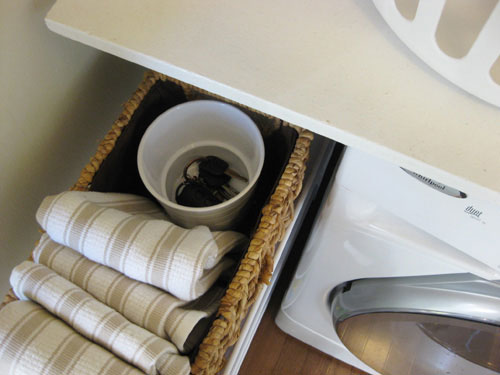 3. We whipped up a little in-cabinet cork board (here's how) for easy recipe storage. It's great to have a place for all the cooking ideas that I tear out of magazines (which would otherwise pile up on the counter or get lost before I get a chance to beg John to make 'em for me). And I can even pin up my shopping list and add to it throughout the week. Oh yeah and it was less than $5 to make.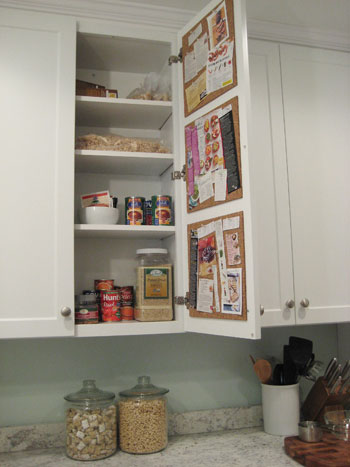 4. Matching wooden hangers are the best. Your closet instantly feels more boutique-y and organized. And they're much kinder to clothing than those sad mismatched wire ones (no more weird shoulder bumps). Oh and if you've missed our how-to-add-two-extra-closets-to-your-tiny-bedroom tutorial, check that out here.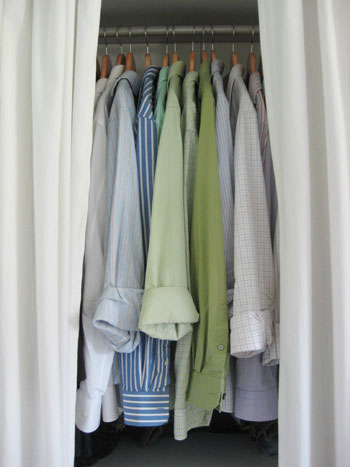 5. Being a list maker, I used to tear off sheets from a pad and leave them all over the house with things to do and items to get and people to call. Now I have one notebook (which I affectionately call the Holy Grail) that I just flip open and write in. Putting the date on the top of the page and jotting down all the things I want to do, people I have to call, and other important details is second nature to me now. And it means there's no more missing list, no more forgetting where I stashed someone's phone number, and no more missing appointments. There's peace of mind knowing that everything's all in one place, and there's something so cathartic about turning a new page and starting fresh every day or two (and dropping it into my purse for on-the-go access).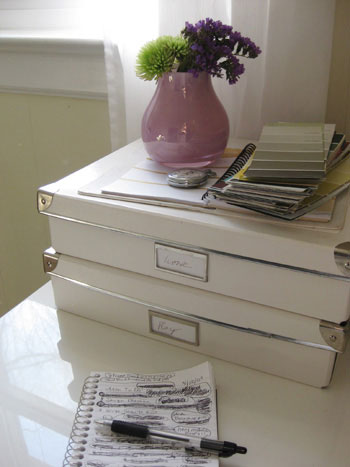 6. Of course I used to have piles and piles of torn out pages from glossy shelter magazines sitting around waiting to be filed or flipped through. But a few years ago I grabbed a 3-inch binder and some clear sleeves and literally created "the ultimate magazine" by adding all of my favorite inspiration pictures. It's super easy to flip through (a lot less cumbersome than a folder of loose tear-sheets), and I even organized it by category (interior inspiration, curb appeal ideas, etc). Life changing, I tell ya.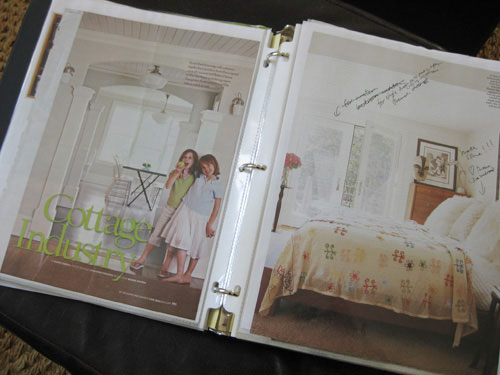 7. And although this is a system that my lovely cable provider offers, I can't end without saying how much we love our DVR. Talk about making our lives easier! We're no longer a slave to the clock (so we're free to get more done and we have more fun too). Of course if we ever need to tighten our belts it's certainly an "extra" that we would forgo, but it just feels so decadent to fast-forward through the commercials and watch everything that we want, when we want. Talk about time management!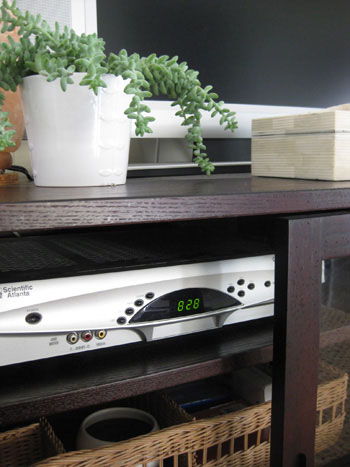 So there you have it. Our roundup of a few of the things that make life easier here at Casa Petersik. There seems to be this stigma about organized people that suggests that all they do is spend time alphabetizing their spices and folding their underwear (I do neither of those things by the way), but my theory is that the organized people spend way less time trying to keep their home tidy and find things that they need because they have drop zones and folders and baskets for everything (so it's easy to put stuff where it actually goes and go about your day).What about you guys? Do you have any organizational ideas or habits that make things go smoother around your house? Do tell.
In the mood for more organization ideas? Check out how we made jewelry storage and even cereal storage super easy.