We're super excited to be a part of the 48-Hour Challenge with Better Homes & Gardens and Home Depot. Here's the deal, Home Depot and BHG selected five of their "favorite home and garden bloggers" (we're blushing) "to create clever weekend projects for outdoor living using $500 in materials from The Home Depot." I know! We're still pinching ourselves. Feel free to pop over to BHG.com and read more about the challenge, oh and you'll see that our lovely friend Nicole over at Making It Lovely is also in on the action. Fun, fun, fun! We're actually both sprucing up our front porches so of course we can't wait to see what she has in store for her gorgeous home.

Speaking of in store, we've already done a quick run-through of Home Depot (a la Supermarket Sweep) and picked up some fun little starting point pieces. Although we recently tried to spruce up our porch on a dime with old spray painted chairs and new painted wood planters, we're about to take porch pimping to a whole new level. Here's just a sampling of the stuff that we've already grabbed and stashed in our sunroom (of course there will also be penny pinching building and painting projects so stay tuned…)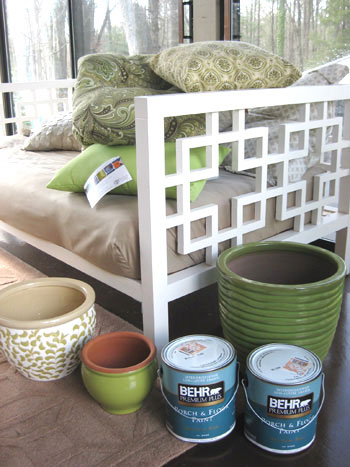 And because we love a good hint (or four), it's safe to say that our new porch plan includes: some rockin' new seating, painting between the lines, a bit of a Burger zone, and a 2 minute make-your-own-side-table tutorial.
We can't wait for our big two day transformation that's sure to be full of sweat and maybe even some tears of joy (hopefully no blood if we can help it). Throughout April we'll be blogging on BHG.com about our project preparation and our plan of attack, and then in early May comes the big reveal! Stick around for weekly updates and all the dirty DIY details.