Remember the West Elm duvet cover that we ordered on sale last week? It's here!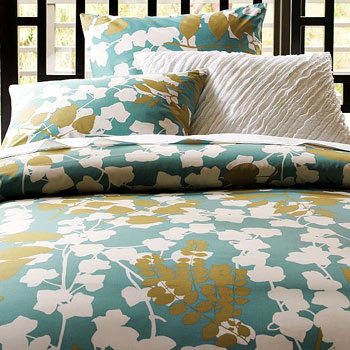 Oh, I guess it would make more sense to show it in our space now: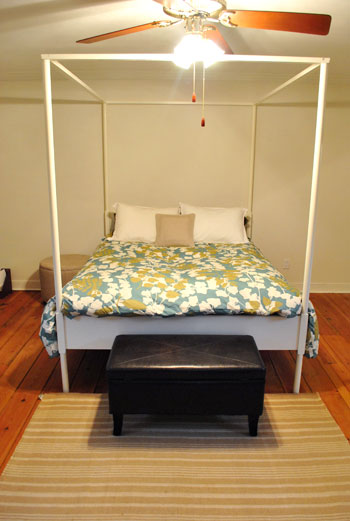 Of course we'll be adding in some bolder accent pillows down the road, but we love it. It's a smidge greener than we expected, but it actually reminds us of the bold blue-green color that we used to paint the back of our built-ins. We filled it with an über-cushy king sized Ikea comforter (we think it's this one, but we're not 100% sure since there are so many). And can I just say that we're so glad we didn't try to make do with a skimpy full/queen duvet cover for our queen sized bed anymore. The extra fabric means no one has an arm or a leg hanging out in the cold anymore.
And we're not the only ones who love the new bedding: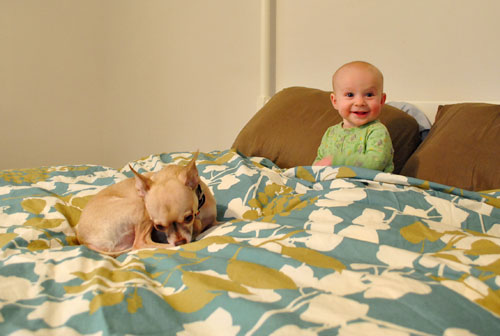 Don't mind the chihuahua foot nibbling that's going on. It happens a lot. The guy grooms himself like a cat. Here he is looking a bit more presentable: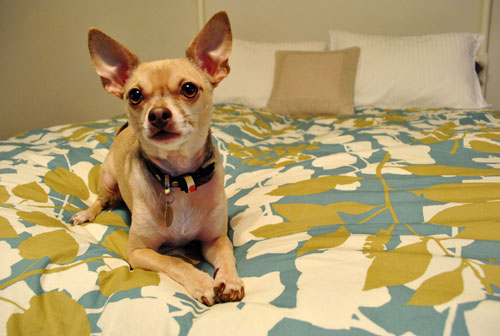 Alhough most of the time you'll find Burger looking more like this: buried beneath the covers.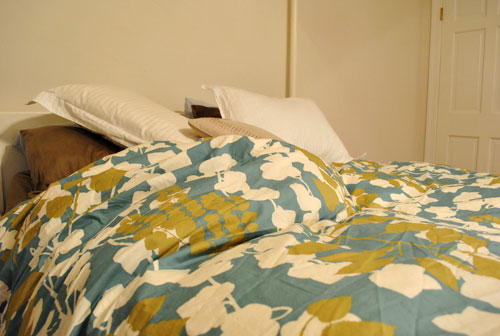 And with the new duvet in place, we're now itching to paint the walls. We realize that the color of the duvet is reading a bunch of different ways in these pics, but this one's probably the closest to being accurate. It's definitely a sort of bold teal color.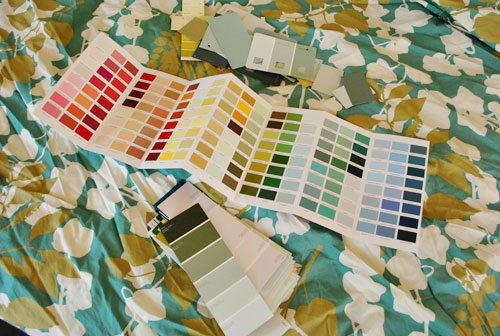 We're currently favoring these swatches (since we don't want the walls to be the same bold hue as the duvet since that could be a bit much). But we definitely want something darker and smokier than we're used to. You know, so Ed the bed really pops (along with the sweet crown molding we inherited in this room).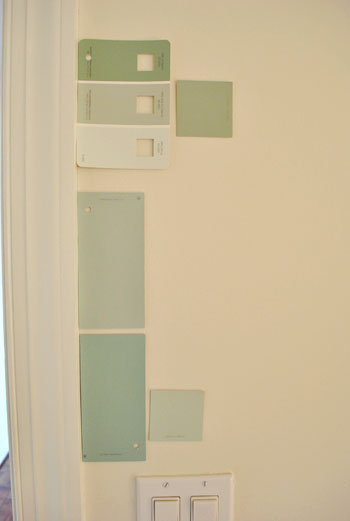 We don't have a clear winner yet but we're getting there (we used to have about 15 swatches taped up there, but we're slowly narrowing them down). Oh and we also considered picking up the goldy-yellow tones in the duvet cover on the walls instead, but decided that we both prefer a cool-ish gray-blue-green shade for our sleeping space over a warm yellowy-gold one. Here's hoping we get around to making a final decision and painting that huge room sometime soon. Yes, that's me trying to rally my own troops and get up the energy to tackle the biggest bedroom that we've ever painted (14 x 14′ is straight up palatial by our standards).
Did anyone else get their West Elm after-sale order yet? We were surprised at how fast it arrived.