No, nothing's being hurled at your head (at least we hope not). We're just sharing our latest purchase: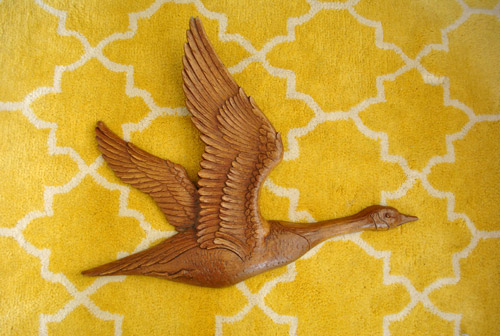 I guess he's actually a goose. Where he'll go and what color he'll be painted is still up in the air (oh look at that, a flight pun). But we figured we could do something fun with our plucky friend, so we brought him home. It was actually my suggestion – although we all know my wife has a penchant for collecting faux animals – I guess this old-school bird was just calling my name this time. And I didn't exactly have to twist Sherry's arm. Perhaps it's the beginning of our own pink duck collection a la HGTV's Antonio. Well, pink's not really my jam but I would go for lime or navy or pretty much anything else. Sherry mentioned bold glossy plum about an hour ago. Could be interesting…
We spotted him during a day of thrifting on Richmond's northside. Our goal was to find some nightstands or even a dresser, but in the end we only came home with El Goose and a silver quatrefoil tray that happens to resemble a certain mirror that we purchased a few weeks ago.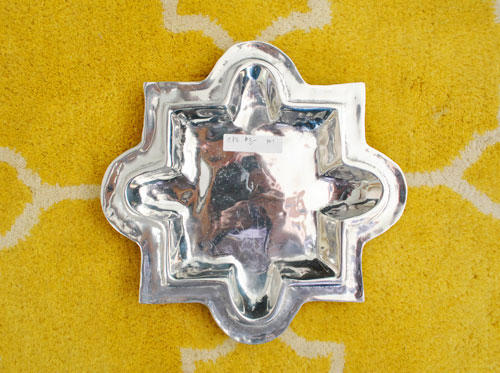 Not quite sure where that'll end up yet either, but the ol' ball and chain loves to place random trays on top of stacks of hardcover books, dressers, console tables, and nighstands for everything from lip gloss and hair bands to jewelry or keys. And Sherry murmured something about loving the fact that it's not ceramic/breakable, which fits into our attempt to make this house virtually kid proof (hence all the ceramic animals being stored up high in the built-ins). This goal means we'd love if the whole extended family could come to stay and we wouldn't worry about nieces and nephews blowing through and shattering things as they go. Of course it's not exactly toddler friendly if it's used as a weapon, so we'll have to keep it out of reach of the little ones. But it should be great up on a console or dresser.
Total cost for both buys: under $12. Not a bad price for a bit of art & a smidge of organization. Btw, the duck was from Pass It On in the Lakeside Towne Shops and the dish was from Consignment Connection, also on Lakeside Avenue for any locals who are wondering.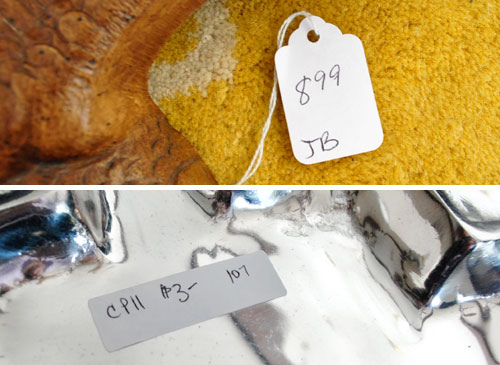 So now at least you have the backstory in case you happen to spot what looks like a goose migration going on in the background of one of our pictures in the near future. Why not add a wooden friend to a house full of white ceramic ones? The menagerie madness continues.
Psst- Who doesn't love a little organizing? Check out this week's BabyCenter post all about Sherry's system for storing outgrown baby clothes, blankets, the Boppie, and her not-gonna-need-that-for-a-while maternity stuff.