Last week we shared how we built the DIY outdoor hanging daybed that we installed on our front porch. And as promised, I'm back to share how we hung it since, if you're like me, hanging things that are meant to support the full weight of a human body (or two!) can make you a little nervous.
It was actually extremely easy to do. So easy that we did it more than once (ha!) so that it resulted in the smoothest and most non-tipsy sway possible (our first hanging attempt made it tip forward and backwards a bit, which wasn't ideal). Thankfully the second attempt worked like a charm. Plus it meant we could document the entire thing for you, so you can just skip right to doing it the better way on the first try.
Here's how it looked when you last saw it, after our initial hanging attempt: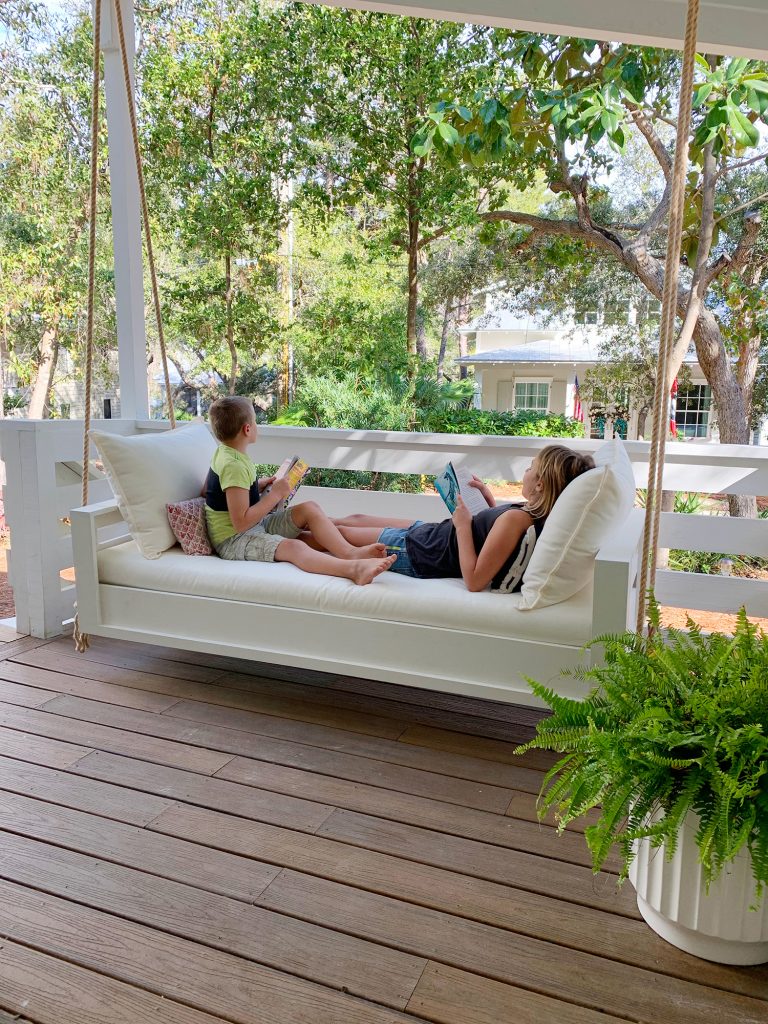 We mentioned were going to rehang it in last week's post, because almost immediately after hanging it with just two ceiling hooks, we realized that suspending it that way made the daybed swing front-to-back a bit more than we hoped, like an actual swing you'd find on a playground. When you sat on the front edge it was prone to tip forward.
When you laid on it you felt like you were rocking back-and-forth in a very shallow U-motion. It wasn't necessarily bad, but we had envisioned more of a subtle swaying motion where the bed stayed level and flat the entire time. And we knew that would be the result of upgrading to four hooks in the ceiling. And thankfully, it worked!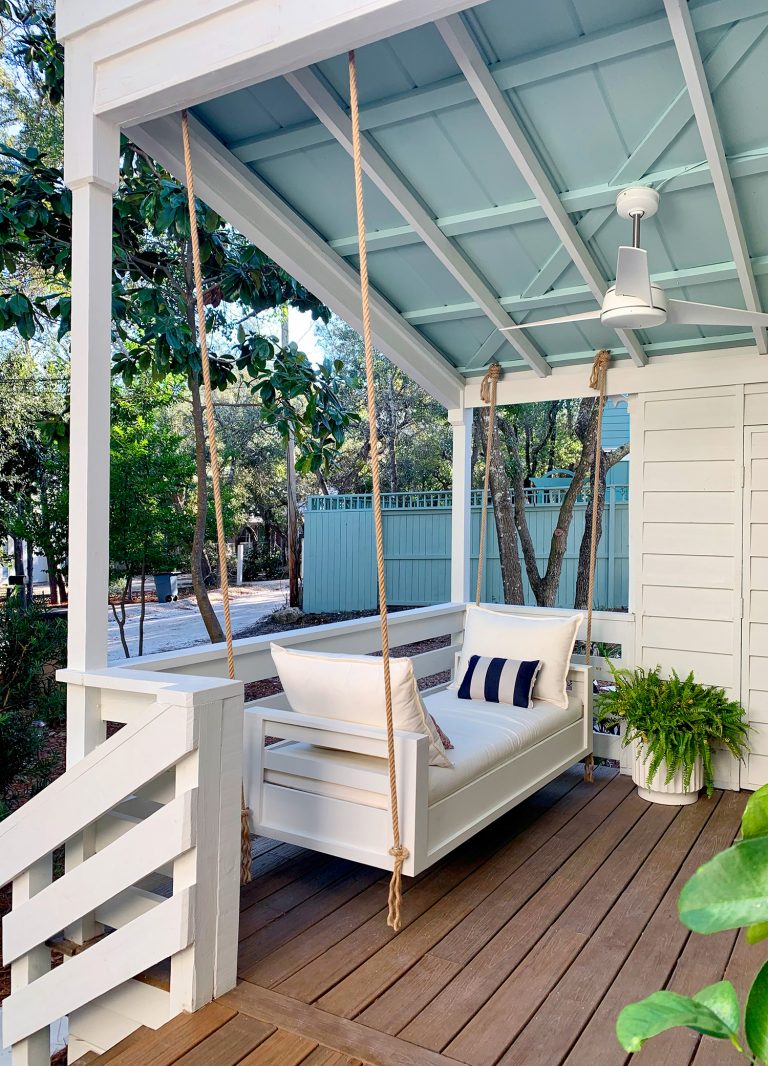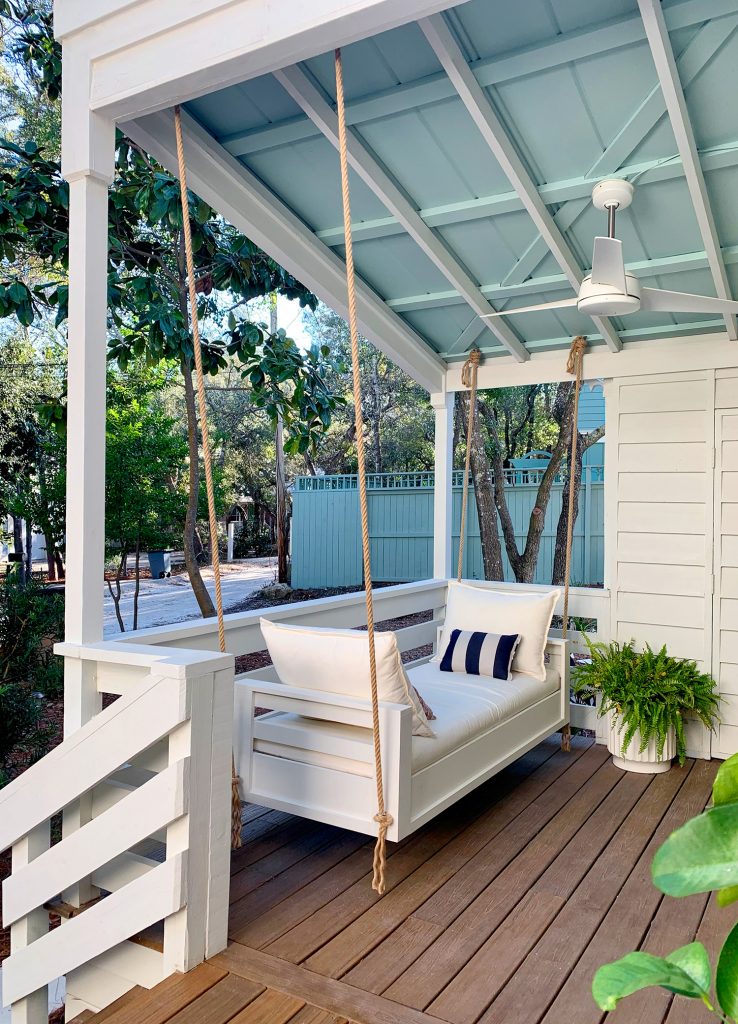 The bed can still gently sway, but no more pitching forward and back like it's an actual swing. Everyone stays level and flat while reclining, reading, or hanging out – and we couldn't be happier with the result.
So it might seem like a small detail, but securing the daybed from four ceiling spots was a big improvement, and it's even easier to understand on video, which is why we filmed the whole process. The video below covers everything from what hardware we used, how to account for the rope relaxing (it does quite a bit!), and why you shouldn't be scared of complicated knots (which is something that I came to terms with as we filmed this). It definitely goes down as one of our weirder videos (I had no idea Sherry would laugh so hard when I explained what sold me on the smaller eye hooks that attach to the daybed), so hopefully you'll find it helpful and/or entertaining:
Note: You can also view this video on YouTube, where you can turn on auto-generated closed captions if that's helpful for you.
If you aren't able to watch the video at the moment, I'll cover some of the basics in the following paragraphs, but the video is especially explanatory, so come back and watch it whenever you're actually planning to hang your daybed to hopefully error-proof your experience. You'll also catch the difference between literal and figurative statements – and how that can DRAMATICALLY change the meaning of a sentence.
Daybed Hanging Materials
Just like the hanging process itself, the material list is pretty simple: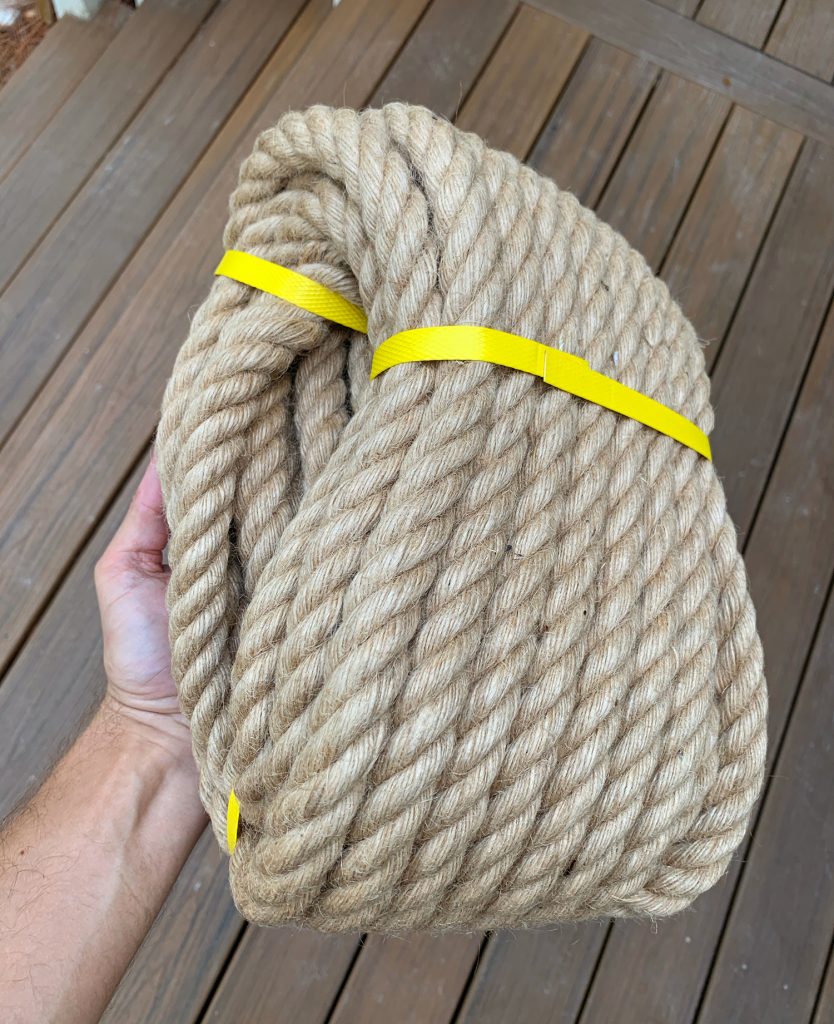 Be warned that this rope DOES STRETCH under the weight of your daybed and your body. So you need to hang your daybed significantly higher than your desired final height, which is where the 5-gallon buckets come in. You can see a true demonstration of this fact in the video above (they're really helpful).
How To Hang Your Daybed
When researching methods to hang our daybed, we saw a bunch of different tutorials that all recommend one common detail: propping up your daybed with 5-gallon buckets during the hanging process (like this one and this one). Just as many of them warn, it will seem too high. But as you saw in our video, once the buckets are removed at the end, and you sit on your daybed, the rope relaxes to a much better height. So don't skip that detail or your end result will be a crazy low (and maybe ground-skimming) daybed. Did you see how much it drops in our video? It's almost unbelievable how many inches the ropes can relax in a second or two.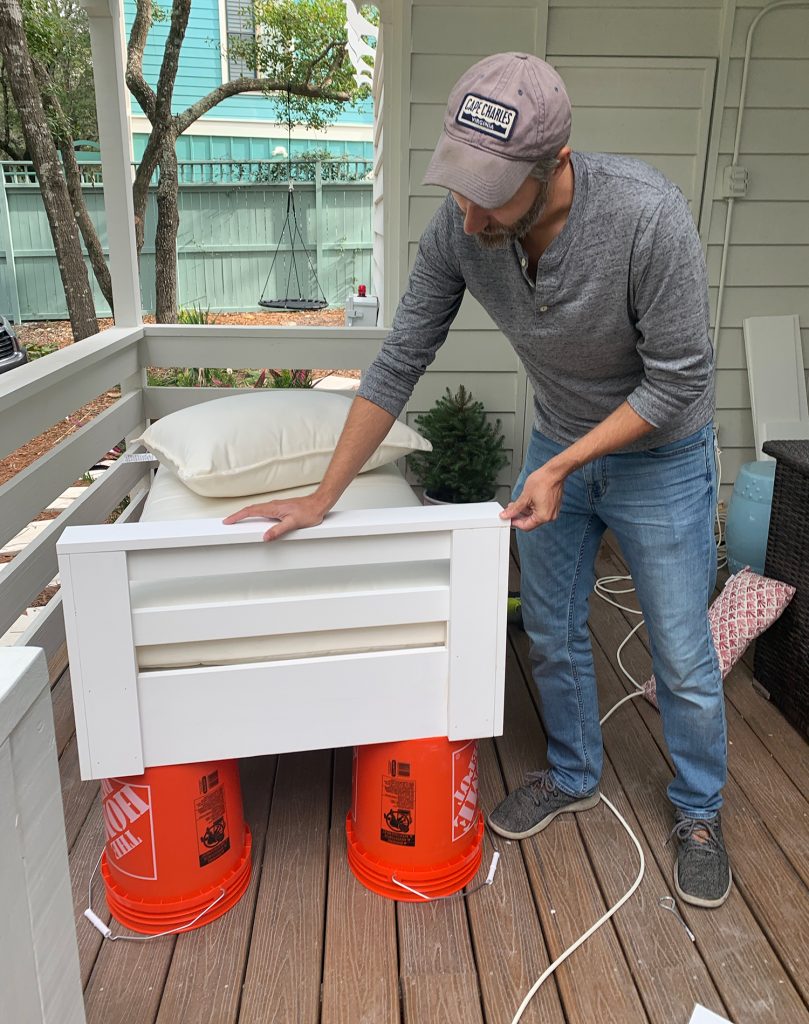 We used some heavy-duty screw eye hooks in our ceiling, being sure to screw them into a strong support beam. We have the benefit of an exposed porch ceiling, but if you don't, use a stud finder to locate a solid spot to hang your daybed. We installed one hook for each corner of the daybed, being careful to place them at the exact same spacing as the hooks on the bed below it.
Tying Your Rope
We tied our rope through these eye hooks using a midshipman's hitch knot because it's an adjustable knot, meaning we would be able to tweak the height if our daybed ever became unlevel. I demonstrate how we tied them in the video (nice and slow for you to follow along at home) – or you can reference a tutorial like this one.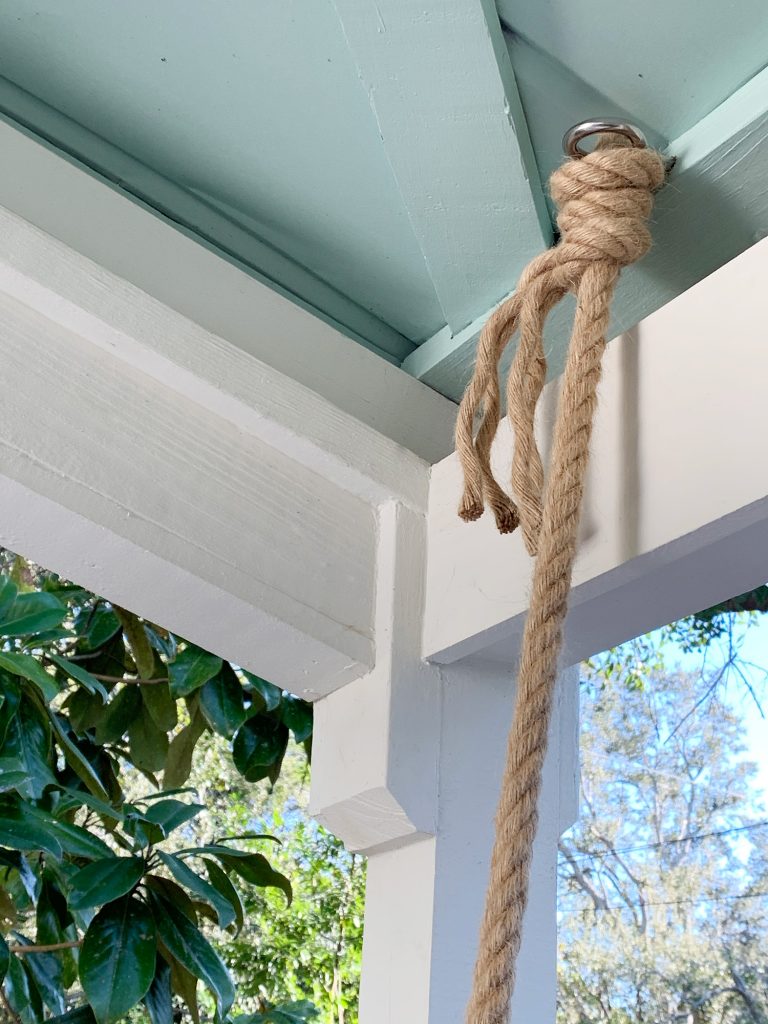 We used slightly smaller screw eye hooks on the bottom that were the perfect size to thread our 3/4″ rope through. Be sure to drill pilot holes before attaching them. Another tip is that you can use a screwdriver like a lever to help you twist it fully into your daybed (like you see below):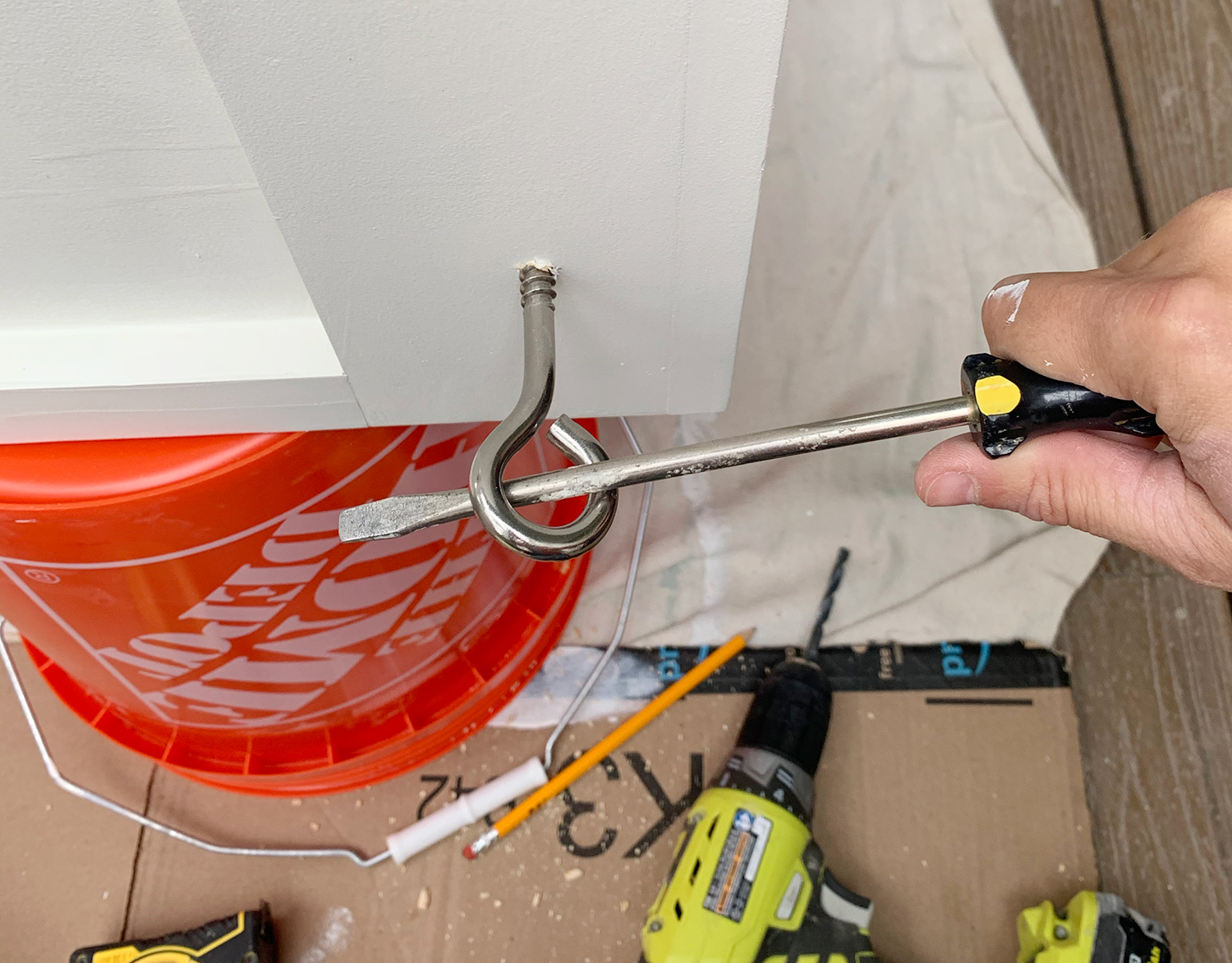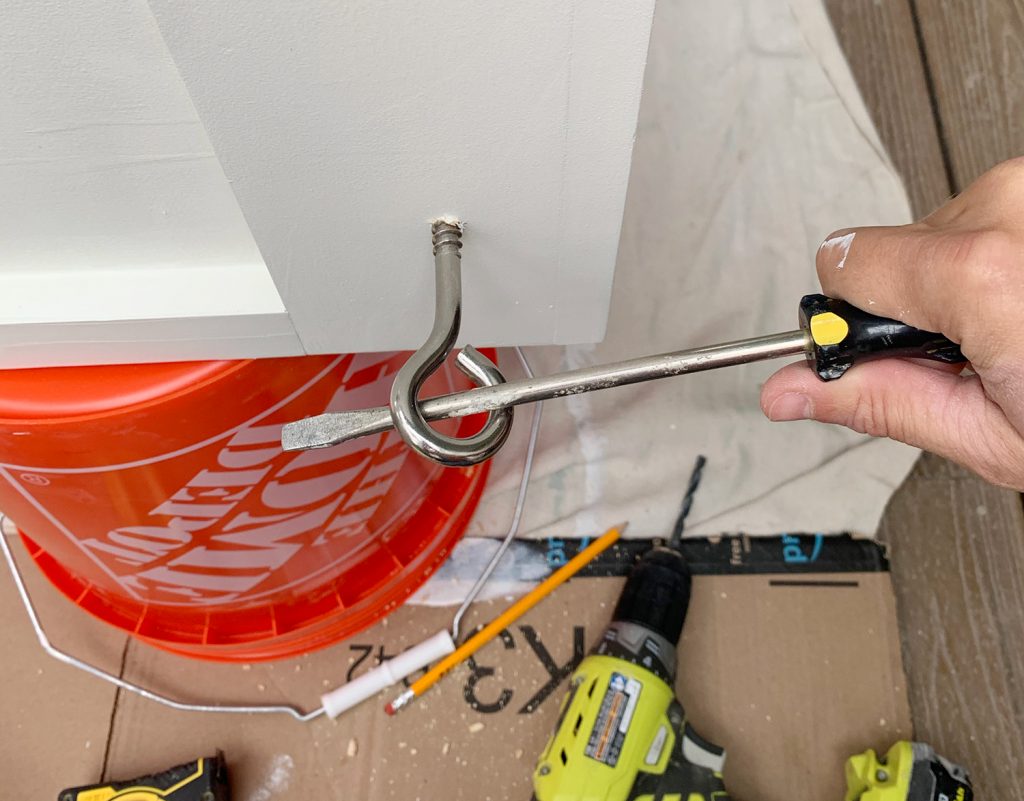 With the rope already tied to the top eye hook, we threaded it through the bottom and cut off the excess, leaving about two feet of extra rope at the bottom, just to be safe. Before tying the bottom knots, we used a tape measure to make sure our daybed was placed exactly where we wanted it (centered in the space) and that it wasn't sitting crooked or skewed to one side. Then we just used a basic pretzel knot (I'm pretty sure that's not the technical name) tightened right below the eye hook on the bottom of each corner.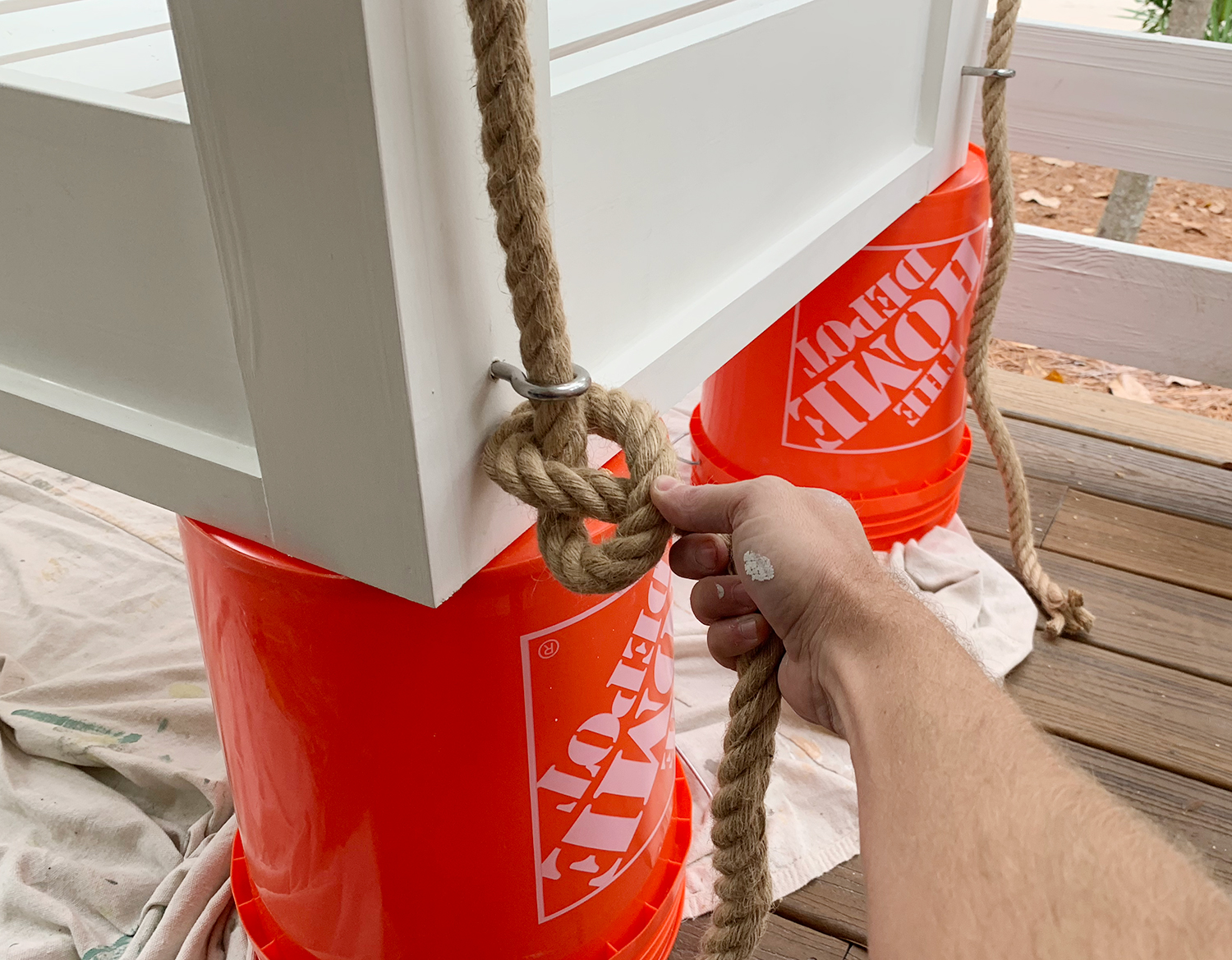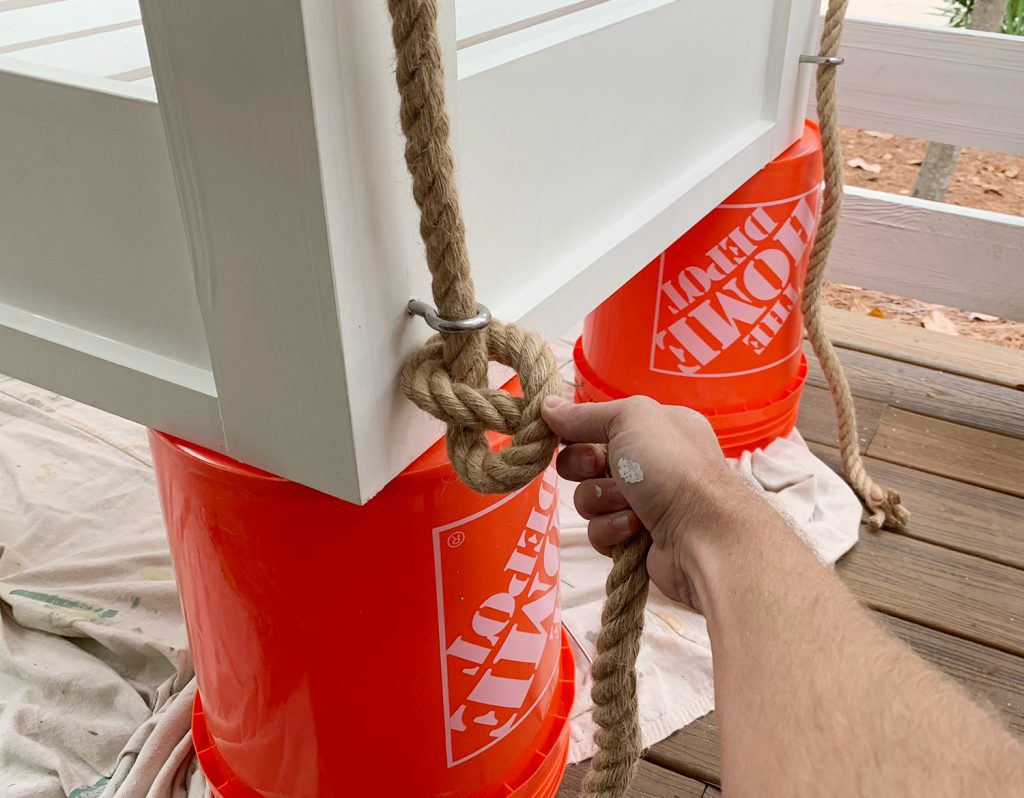 Once we pulled all four knots tight against each of the bottom eye hooks, we removed the buckets and let the daybed hang freely. And then I sat on it. It's an exciting, if not slightly nerve-wracking moment, especially since you'll probably hear the rope creak loudly as it stretches and relaxes under your weight (you can see AND hear it in our video!). You'll also probably notice that it pulls the rope tight against your bottom knots.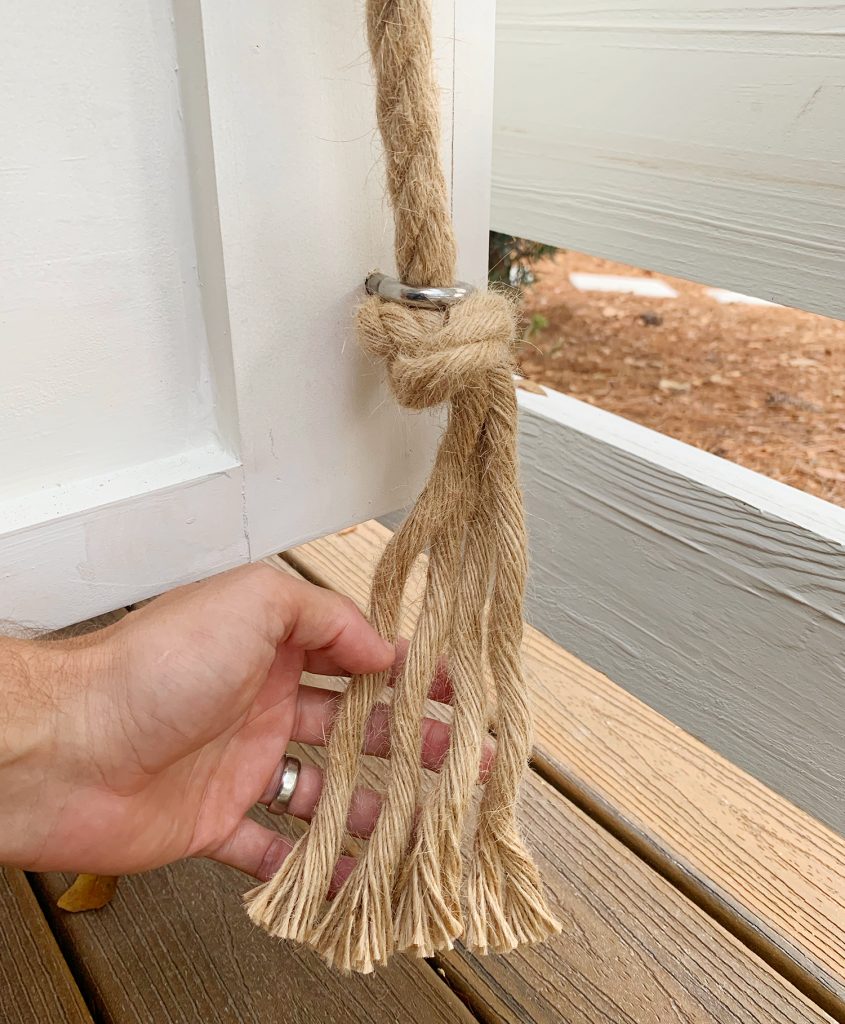 You can see from that picture above that we chose the fray the excess rope, trimming it so it hangs above the decking below it. You don't want it dragging on the ground because it would likely get dirtier that way – and it would make an annoying sound if it drags as you sway.
Finishing Touches
As for if we have any issues with our daybed hitting the railing behind it, it can knock into it if you're actively trying to do that, but if you're just lounging on it & gently swaying, you don't. Most porch swings & hanging daybeds are hung near some sort of railing and it's just up to the people on them not to smash into them. We had that setup at the pink house, and it was also fine.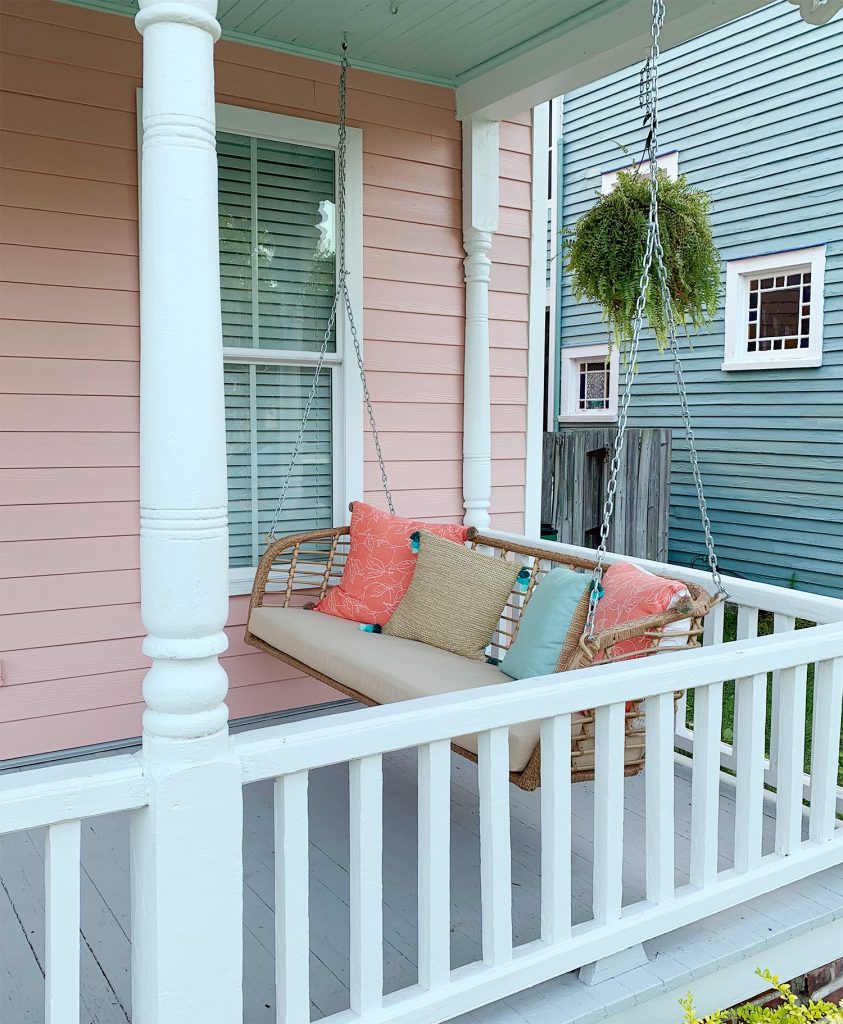 Our kids know it's not some big geronimo adventure swing (they have one of those already in the yard), but just in case someone decides to come in like a wrecking ball, we did add a few of these clear furniture bumpers along the back edge, just to help protect the bed corner from getting damaged if it were to make contact.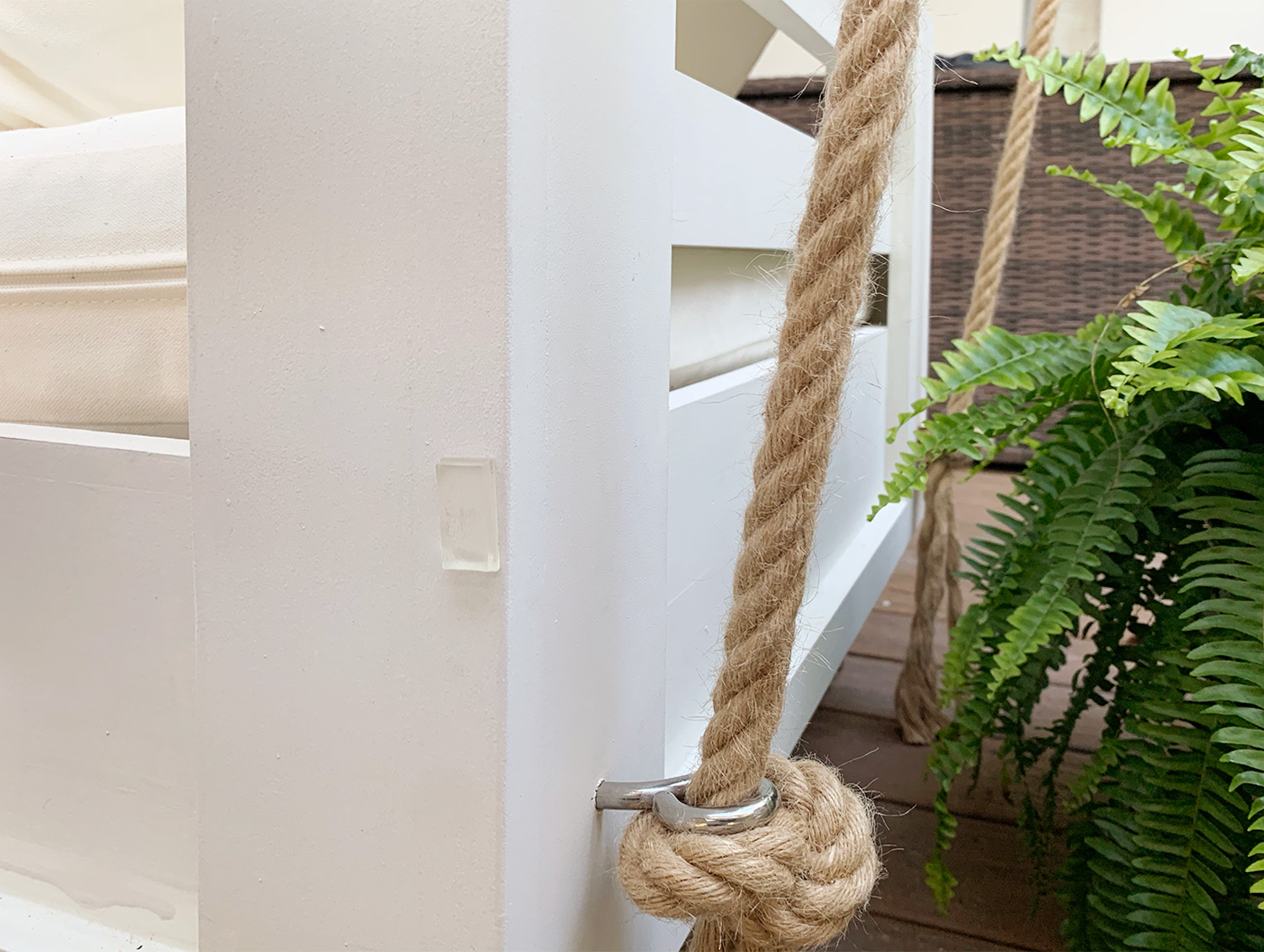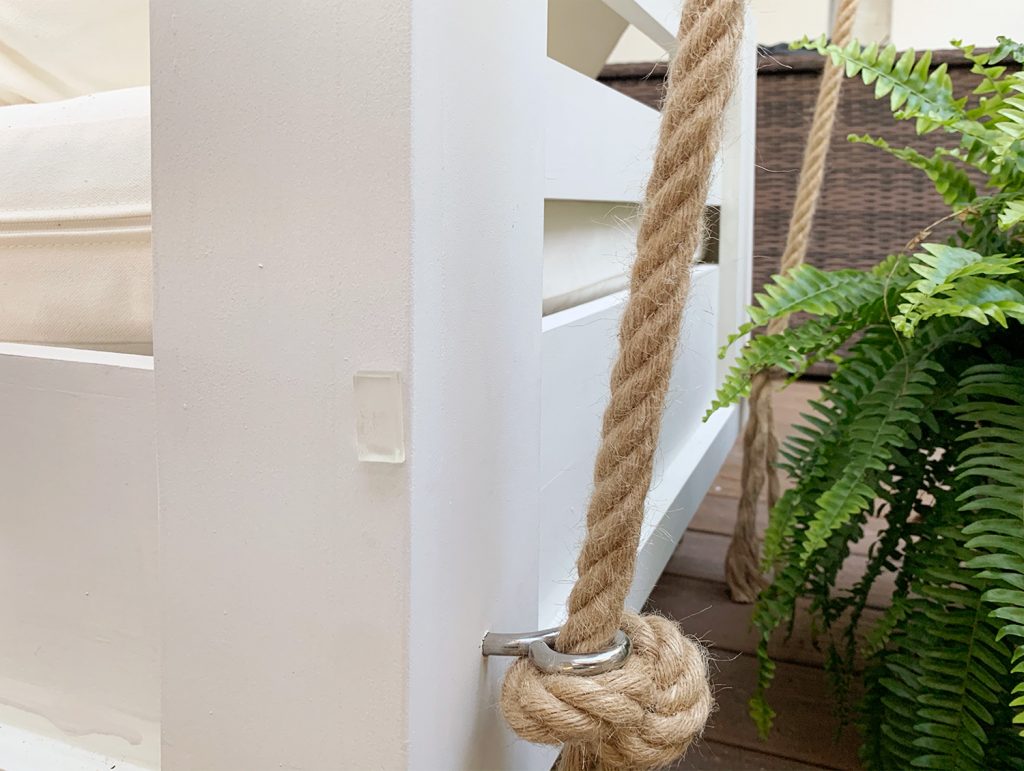 No one really sees this side (it's hidden by the front of the railing – which I'm peeking over and through to get this photo), so we figured it wouldn't hurt to add them, just for peace of mind.
So here's the finished porch daybed as it now hangs from four anchor points in the ceiling. It's hard to describe how much this hangout zone has improved the already awesome experience of sitting out here (we used to have some simple chairs, but it's really nice to fully extend your legs and lounge). You can see my full leg-extension right here.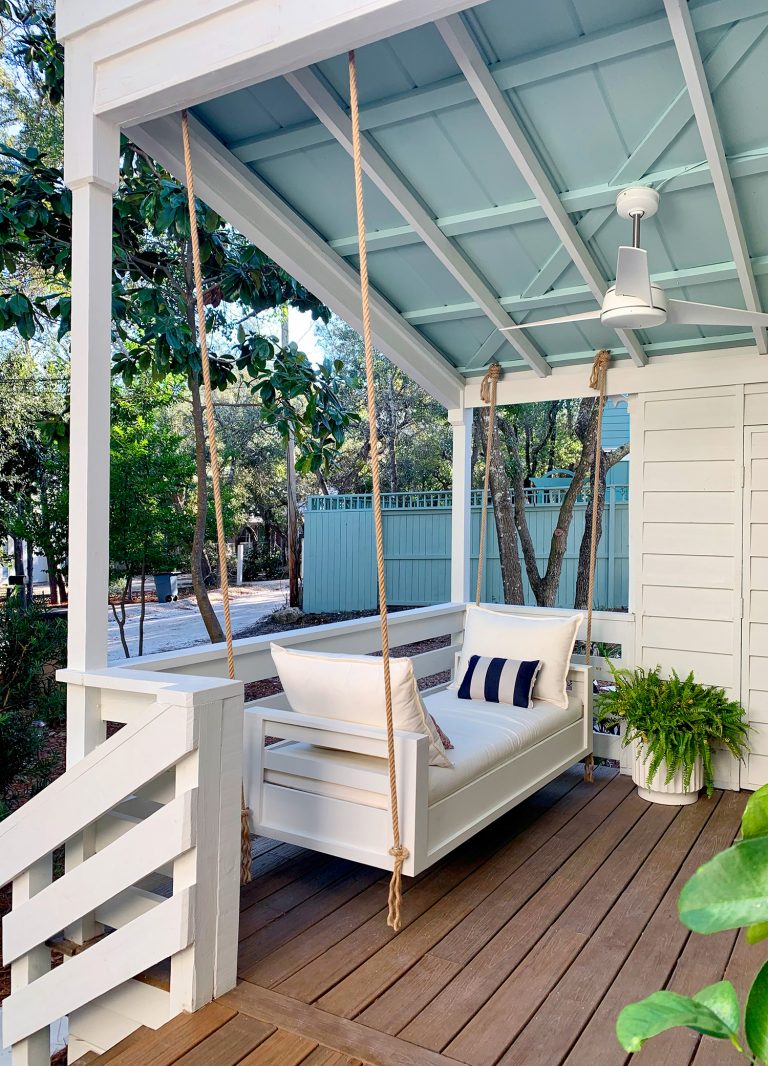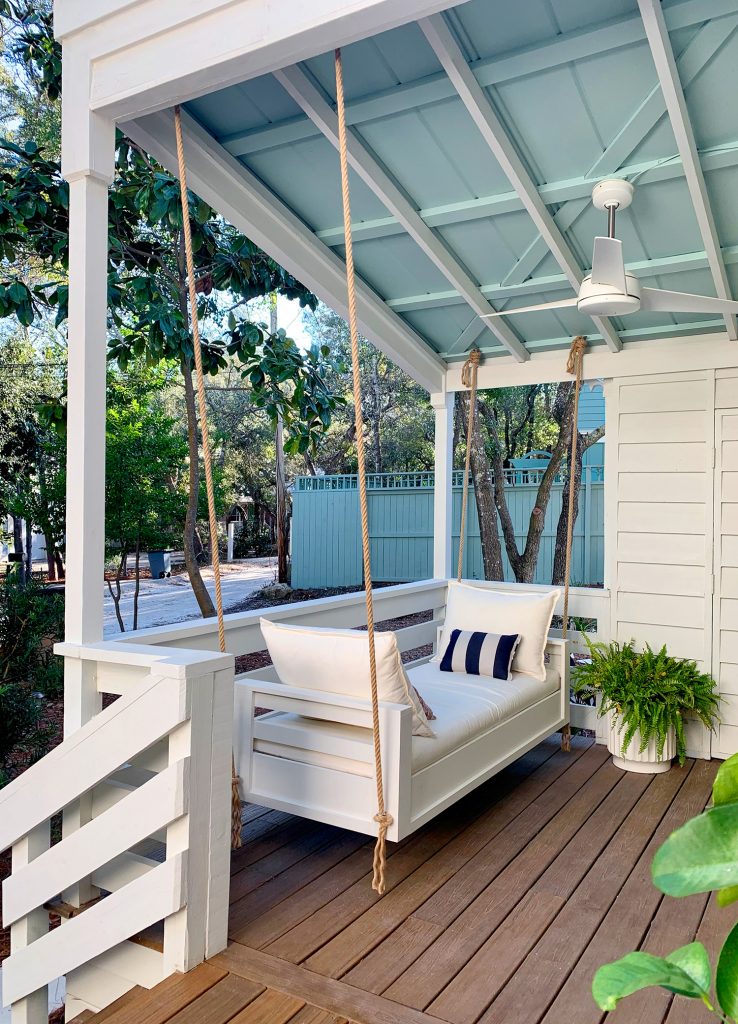 And just because we can't resist a before and after, I thought I'd throw in this photo of the same angle, taken the day we first saw this house last February. The entire side porch was screened in and full of mildew and rotten floorboards back in those days: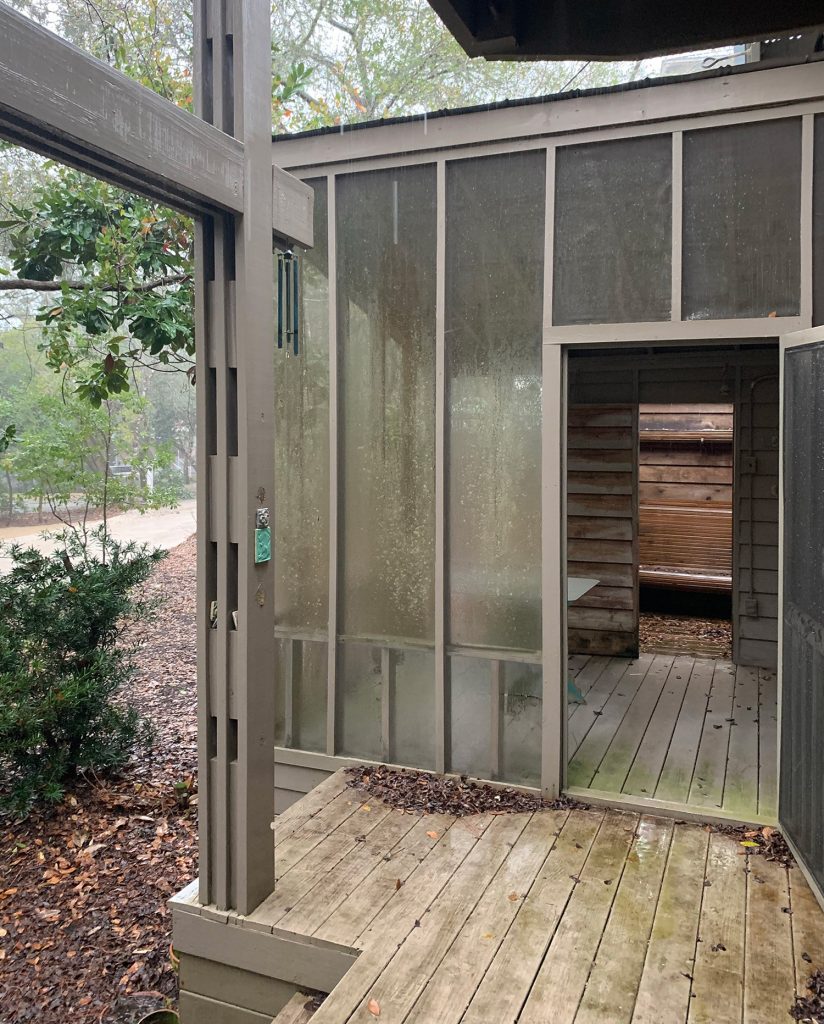 It's wild to think that this Friday will be exactly one year (to the day!) since we first laid eyes on this house. This porch was one of the weirdest spots at the time (it didn't help that it was extremely rainy and dark that afternoon) and it's awesome to see how far it has come. (If you're going to ask if we miss the screens, the answer is no and the secret is a good outdoor ceiling fan. Mosquitoes – and bugs in general – hate flying into moving air).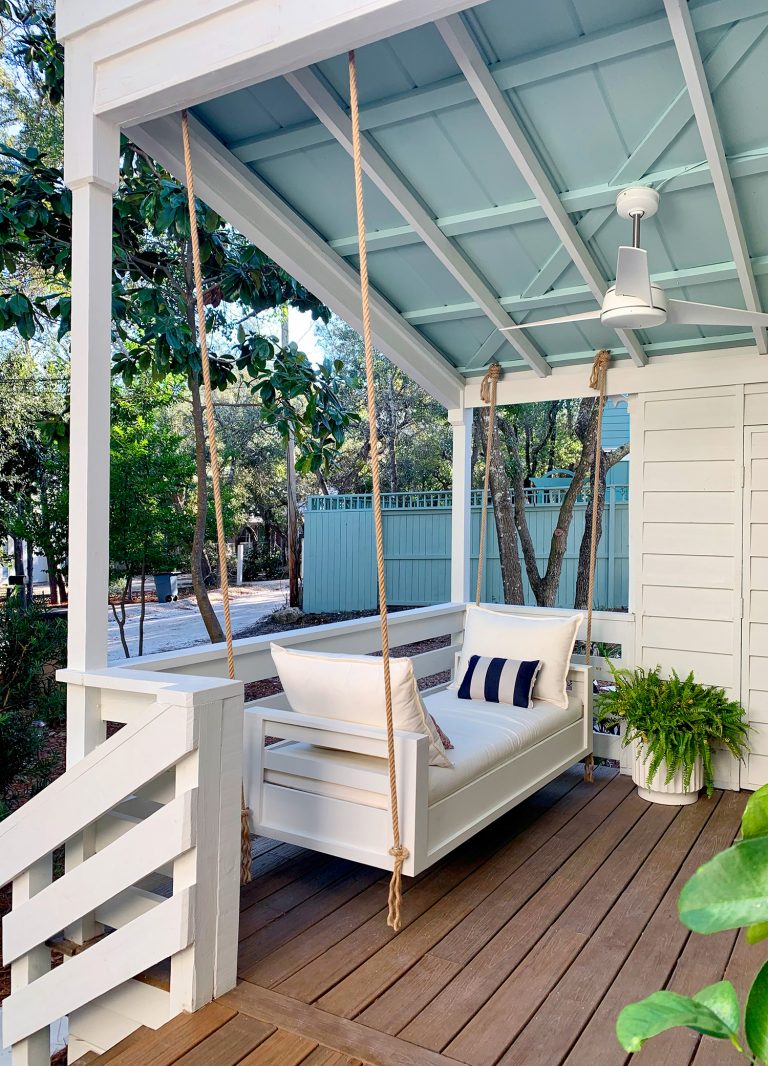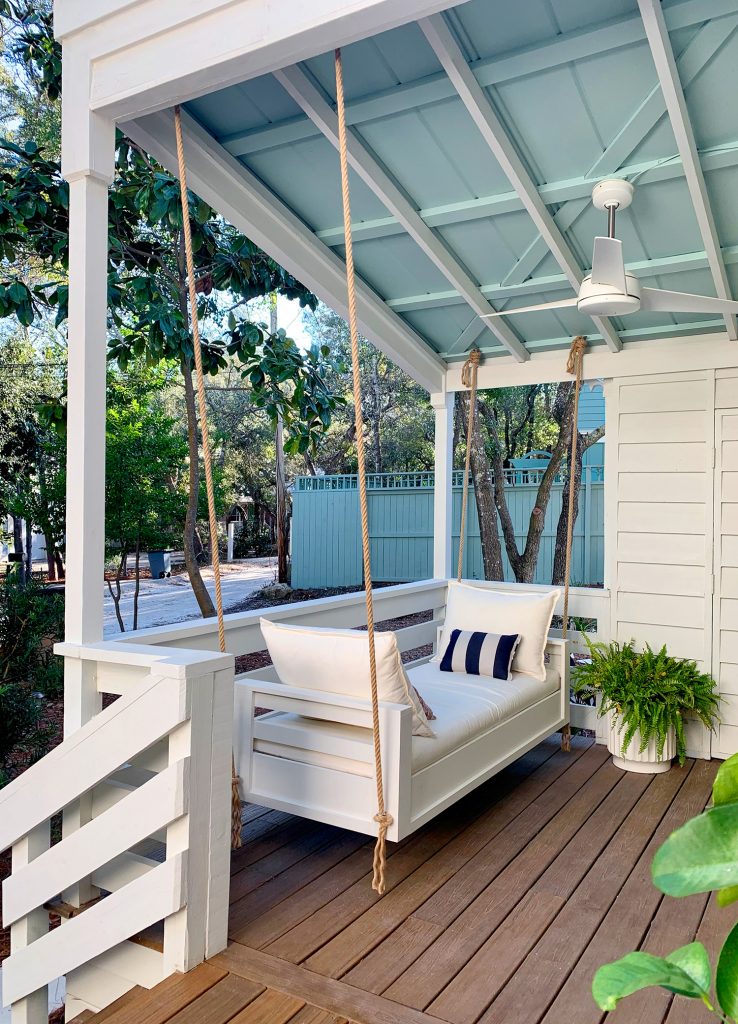 Now if we could just be done with these Florida cold snaps so we can lounge out here even more, that'd be great.
K, thanks.
(Yes, our cold tolerance has been greatly reduced since moving here – to the point that 55 feels kind of cold.)
P.S. If you'd like to keep browsing our building projects and furniture upgrades, this archive is completely dedicated to them. You can also see every single update that we've made to this house over the last 8.5 months in this spot.
*This post contains affiliate links, so we may earn a small commission when you make a purchase through links on our site at no additional cost to you.