File this under "A Lazy Mom's Trick To Get More Sleep." I made no-sew, mind-numbingly-easy, shortcut, DIY blackout curtains. Enough adjectives for you? I'm an over-explainer. Anyway, this isn't the professional way, it's the cheater way. Haha.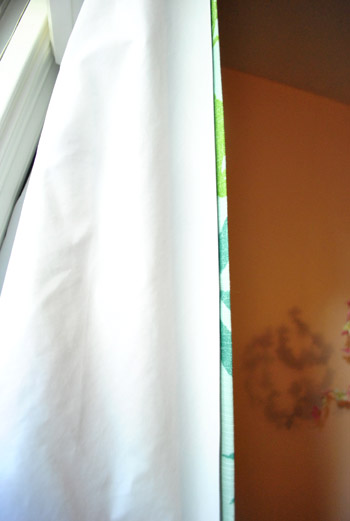 First the why. Although the faux wood blinds on Clara's bedroom window provided a decent amount of light-blockage, I knew blackout fabric would make the room pitch black in the middle of the day (which means it might help with the just-one-forty-five-minute-nap that we've been getting these days). To JoAnn fabrics I flew, and purchased 5.5 yards of blackout fabric (which sort of felt like the white fabric on roller-blinds). Thanks to a 50% coupon I got it all for $15.
How I Made Blackout Curtains:
I returned home with the 5.5 yards of fabric (I measured her existing curtains to see how much I'd need beforehand)
I washed the fabric (it said dry clean only but the lady at the counter said I could wash it on cold and air dry it without any issue and she was right)
I unclipped the two fabric curtain panels from Clara's room and laid one on the floor on top of the blackout fabric to use as a template
I cut two blackout curtain panels to the same size as the two curtains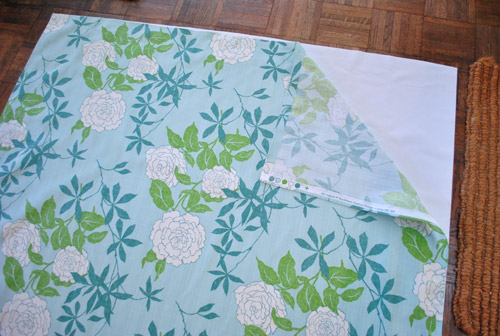 I debated sewing the back side of the fabric to the back side of the blackout fabric on three sides and then turning it rightside-in to hand sew the top closed, creating a finished panel the same way you'd make a pillow cover
I realized I had four minutes before nap time and couldn't wait to see if the blackout curtain would even make a difference
I used my ring clips along the curtain rod to clip the curtain up in front of the blackout fabric without sewing anything together (thanks to the weight of both materials, the fabric drapes down in front of the liner, looking virtually identical to how it looked without it)
Haha, so with that description of virtually identical, I will now share a photo of Clara's room that looks pretty much the same as many others I've shown sans blackout liner. Haha. But know that it's there. Lurking.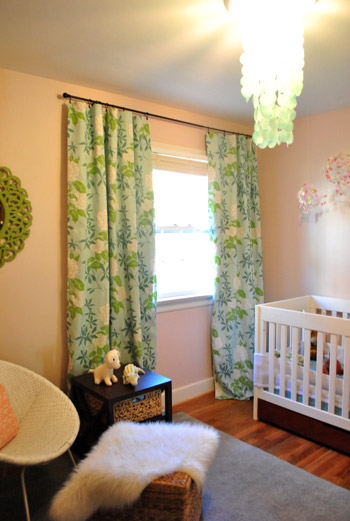 So yeah, I'll probably go back and sew at least a few sides of them together like a proper semi-dysfunctional seamstress (remember, I'm not exactly old friends with Oh Brother, but for now… it works). Clara has been giving us about 90 minutes for naptime instead of 45 for the past two days since we added it (we'll take it!) and now sleeps 12+ straight hours overnight (from 7:30 pm to 8 am). In the keep-it-real department, she has always been an awesome night sleeper (I take no credit, it's just how she was made) so this was more about attempting to convince her that napping for more than 45 minutes in the 12-ish hour span of day between that awesome night of sleep is a good idea. It was a total bonus that her usual 7:30 wake up time scooched back to 8.
So those DIY blackout curtain liners are well worth the fifteen bucks and fifteen minutes spent. Sleeping until 8 for the past two days has been amazing life saving, especially since we've been going to bed around 2am due to book stuff. But it's all worth it! Can't wait to share sneak peeks of our book shoots and other how-does-this-word-doc-become-an-actual-book stuff as we go (now that the final manuscript is in as of last night, well, this morning at 2:14am). Woot!
Have you guys taken any shortcuts lately? Are you all in complete disbelief that Clara runs around all day long and only naps for 45-90 minutes? When the Bowers came to visit Will was regularly serving up three hour naps and Jeremy couldn't believe how Clara would pop back up a little over a half-hour later and be raring to go. And yes, I was jealous of their sweetly slumbering son. Very, very jealous. Do you know how much backsplash tile we could start installing over a nice three hour chunk of time? Haha. That's ok though, we definitely can't complain about the awesome night sleep Clara has given us pretty much from day one. And the fact that we can put her to bed at 7:30 and hammer away from 8 o-clock on is pretty darn awesome.
Psst- Wanna know where we got something in our house or what paint color we used? Just click on this button: