A bunch of folks have asked for a little deck mood board, just to see what we're imagining when this beast of a project is actually complete (oh man, that might make our year). Of course since money is tight and we have yet to finish furnishing the patio that we built last year, we won't have this thing thrown together overnight (which means any or all of the items on this board could sell out before we get to snag them all – wah!) but here's what I'm loving today, just so you guys can start to picture it…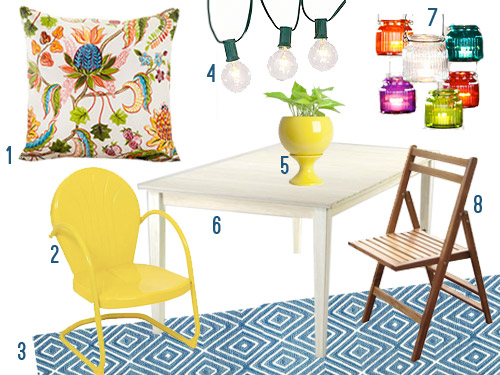 1. This fun indoor/outdoor pillow from World Market is really pretty, dontcha think? And at 50% off, it's pretty tempting…
2. I'm obsessed with the idea of these yellow metal chairs for the head of the table (whether I DIY them with primer and yellow spray paint myself, or find them as-is somewhere).
3. This charming outdoor rug by Dash & Albert would be sweet by the sliding doors (and would catch dirt when folks come back in).
4. Some big bulb string lights swagged over the entire length of the deck would make for such pretty ambiance for alfresco dinners.
5. A few cute and colorful planters in the middle of the table would be sweet, maybe even full of fresh herbs to add to our dinner…
6. This table is ours. Literally. After I saw the price while making this mood board ($82?!?!) we measured to be sure it was a good fit and ran off to the store to grab it. It was actually $73 at our local store (I think it would actually cost more to buy wood & stain to DIY one!). We think the white finish will look so great with the wood tone of the deck and those fun yellow metal chairs along with some understated wood chairs to fill out the rest of the table.
7. A few hanging tea light holders might be sweet mounted to the sides of the house, just to make those exterior walls feel more integrated and cozy.
8. We got these wood chairs from Joss & Main for a steal (around $40 each with free shipping), so we'd love to use them for seating around the table (with those fun metal yellow ones at the head of the table).
And as for the layout of the deck, here's what we're thinking thanks to a little photoshop rendering (it's around 20′ long by 8′ wide):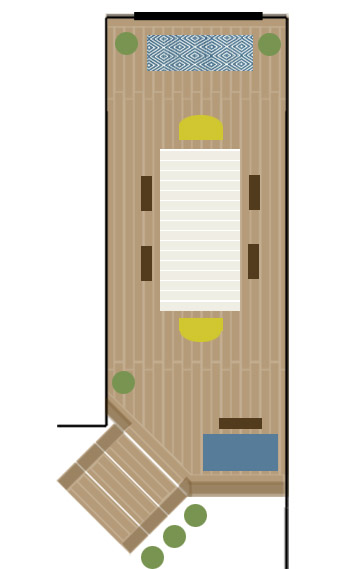 You can see the little welcome mat by the sliding door (we just added some planters on either side of it, so anywhere you see a green dot, imagine that's a planter with something leafy and green in it). We'd love to place the table (we're guessing it'll seat 6-8 people, but won't know how many chairs fit until it's all set up) in the middle section of the deck between the zipper seams we'll be adding, and then there's some room at the end of the deck for us to put something else that's still TBD – perhaps a sand and water table for Clara (hence the blue rectangle with a chair) or a little sitting area for mommy and daddy.
Oh and for anyone worrying about the width of the table and chairs in that narrow alley of ours, before we got the table we taped it all out, and thankfully there will still be room to walk around the chairs on both sides when they're in place. Whew. Our first house's den was the same width (eight feet!) so I think we might just be used to working with long skinny spaces. Haha. We'll keep you posted as we go for sure! Although at this point I'll just be excited to sit out there on the deck boards themselves and sip on something cold…
Psst- Folks ask how I make mood boards so a quick explanation is that I used photoshop to cut things out, size them, place them, and add numbers. There's more info about the process on our FAQ page along with some free alternatives to photoshop that we hear are lots of fun. Hope it helps!