Ah yes, the much awaited Father's Day post. First off, thanks to all of those who wished me a Happy Father's Day on Sunday. Here's a belated one back to all my fellow man-parents out there.
I had a wonderful weekend with my girls and my main man Burger. I learned from my own dad to think of celebrating these holidays not with things, but by doing things… together (like the trail run I took him on Sunday morning). That's what fatherhood is all about, right? And this year Clara was old enough to participate in the weekend's activities a bit more, which made it even more enjoyable. Not that she wasn't fun to be around last year for my first Father's Day (in the old sunroom- we miss you old house!):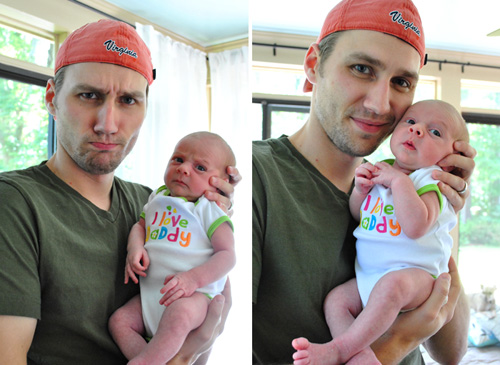 So this year we packed as many activities as possible into the two-day-span (working around a few house projects, of course). The three of us (sometimes four) went out to breakfast, read lots of books, played outside, went on some walks, made some homemade pizzas, and hit up the Farmer's Market – as you already probably read about here and here.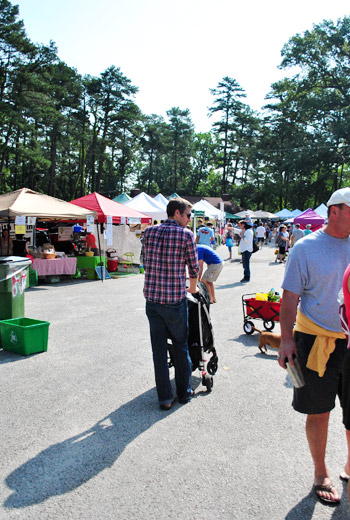 But perhaps my favorite activity of the weekend was christening my big gift from Sherry and Clara on Saturday morning. Yup, a yogging stroller (much more fun to say than jogging stroller).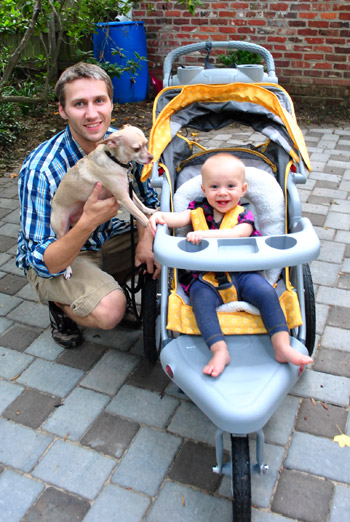 Okay, so that pic isn't representative of its first use (I don't usually run in a button down, khakis… or with a tiny-legged chihuahua). We just forgot to snap a pic after I returned from our inaugural 3 mile jaunt around the neighborhood with Clara leading the way (so we grabbed this photo after using it on a family walk on Sunday night that capped off the weekend).
I love this thing. And Clara seems to enjoy it plenty too, which is the icing on the Father's Day cake. Wait, maybe the icing is actually the awesome deal that we scored on it. Sherry and I had been casually stalking Craigslist for a used jogging yogging stroller for a while. But none of the used ones turned out to be that much of a deal (one I found would've saved me $20, but was a 75 minute round trip drive away). Then I spotted a slightly upgraded model on Diapers.com that was marked down by $65 (from $189.99 to $124.99) with free shipping.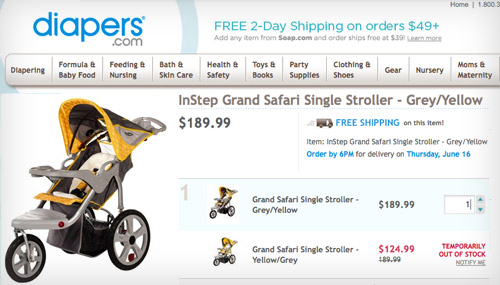 Though, as you can see, there was a problem: it was out of stock. With no assurance that it would come back in stock (or stay at that price if it did), I thought my deal was dead in the water. But Sherry suggested that I call their 800 number just to see if I could pre-order one or ask to lock in that price or something.
They didn't let me pre-order. They did me one better. They honored the discounted price on the out-of-stock "Yellow/Grey" model for the very-much-in-stock "Grey/Yellow" version (which I slightly preferred anyways – sweet). So instead of paying $189.99 for the gray/yellow one in the picture above, I got it for $124.99. Score. Somehow the woman applied my discount over the phone – so within a few clicks, Sherry was checking out with this whopping $65 discount applied to her cart (along with free shipping). Thirty five percent off – just for taking the time to call and ask what they could do. So worth it.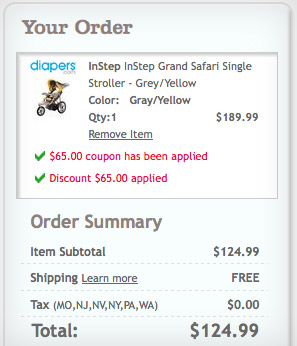 It's a bit over the $100 budget that Sherry and I originally set, but we're both glad that we splurged on the upgraded version with a built-in speaker for Clara. I know it sounds kind of high tech and crazy, but playing her favorite kid songs during my morning runs and our evening walks have kept her so much more entertained (that and fishing for goldfish crackers in her cupholders). She's a musical (and fish-loving gal). And since many jogging strollers are in the $300-400 range these days (be still my beating heart) paying closer to $100 felt pretty good.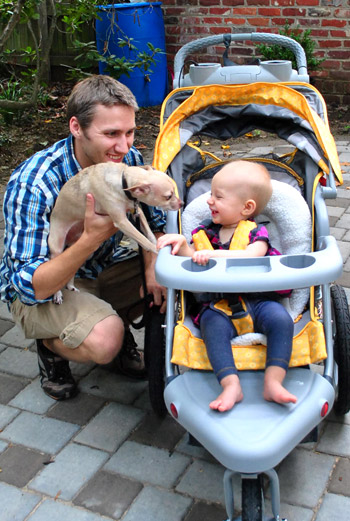 Oh yeah and one other pretty major Father's Day development occurred. Clara took her first steps! Completely unassisted. Two of them actually. From Karl the Sectional to Artie the Ottoman (ok, he doesn't really have a name, but it sounded good). It was amazing. Even though I completely missed them the first time around (I was in the kitchen) I came running in while Sherry went crazy and Clara thankfully gave me a repeat performance. Here's where I'd insert a photo but of course we didn't have the camera close enough.
And to my surprise, the stroller and those first steps weren't my only gift. Sherry used Father's Day to surprise me with a custom 8.5 x 11″ rendering of our first house that she commissioned from a charming artist named Jennifer Ahnquist from Kentucky. How sweet and sentimental is that? It's currently somewhere in the mail on its way to us, but we've seen this preview photo of it – and are both completely enamored with it (we'll have to share a photo or scan of the real-deal when it comes since this is just a preview photo of the sketch).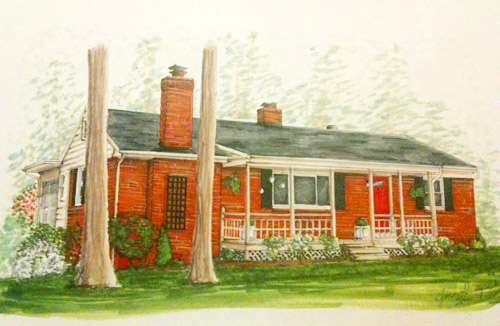 We can't wait to slap it into a white frame with a big fat mat in our hallway frame gallery. Jennifer sketches them using a pen and ink technique and then segues over to Prisma marker to complete each rendering. And to anyone interested, she's running a "Christmas in June special" so the first 75 people to order a house portrait by the end of June can get an 8.5 x 11″ rendering for the same $50 deal that Sherry snagged (they're regularly $90). Just email her at [email protected].
As much as I love my gifts – especially how one reminds me of good times in the past and another promises more time spent together in the future – I really just appreciate Father's Day for reminding me how lucky I am to have wonderful people around me, whether it's the little lady I play father to, the gal who made that little lady possible, or the old guy who still runs faster than me. At least now I can use my jogging stroller as an excuse for my relaxed pace.