For the last few weeks you guys have been requesting a House Crashing post with photos of the other six Homearama homes in the show, so we slipped through and snapped a bunch of pictures of each house, just like we did for this Homearama House Crash from 2012 (that's your warning that this post is extremely image-heavy). Everyone who has attended the show so far seems to have different favorites, which is definitely part of the fun (there's a "people's choice" award that everyone who passes through can vote for, and each of the seven boxes have a ton of papers in them).
All of the houses in the show sit on a cul-de-sac and are numbered, so we'll do the most logical thing and start with House #1, which was built and designed by LeGault Homes.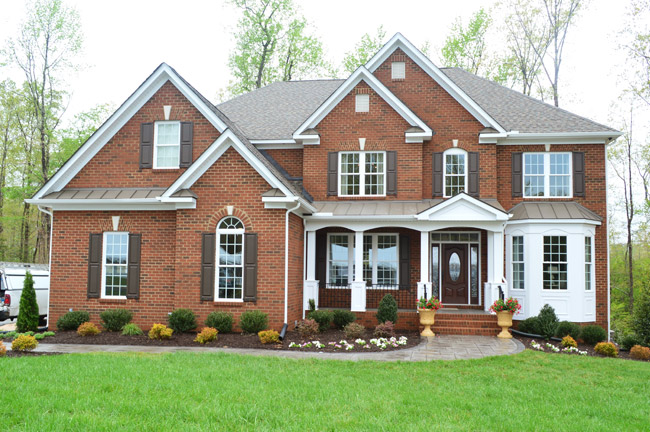 Perhaps the most luxuriously decorated home of the show, it has some of the coolest cabinetry we've seen in a while. Their kitchen included double islands – one with a standard sink, and one with a prep sink that could be used for housing ice/drinks at a party. Note the coordinating dark, mirrored cabinets through the doorway into the mudroom.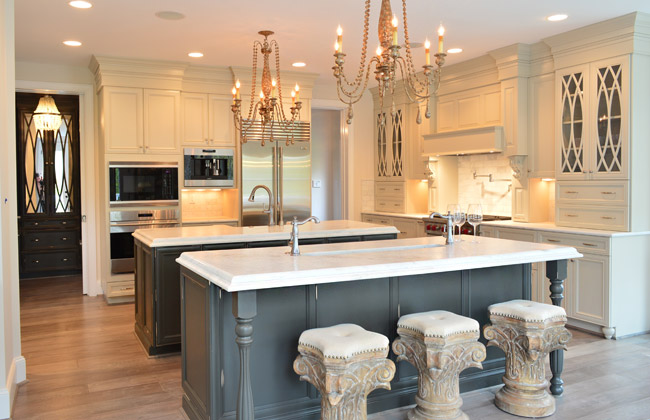 The living room also had a double-sided fireplace with a seating area behind it.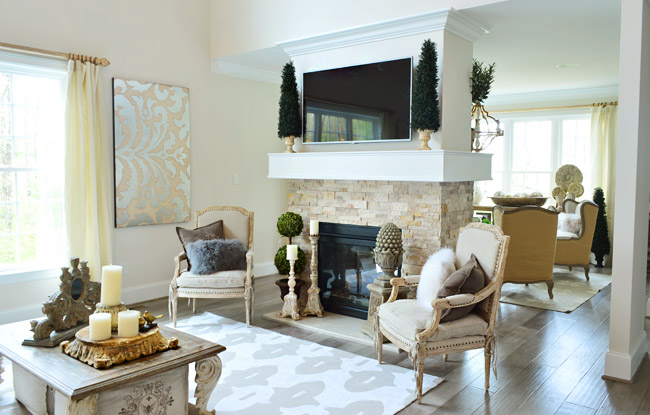 Upstairs there were sliding barn doors that fooled me into thinking they had lots of metal trim (only when I touched them did I realize that gray "steel" is just painted wood).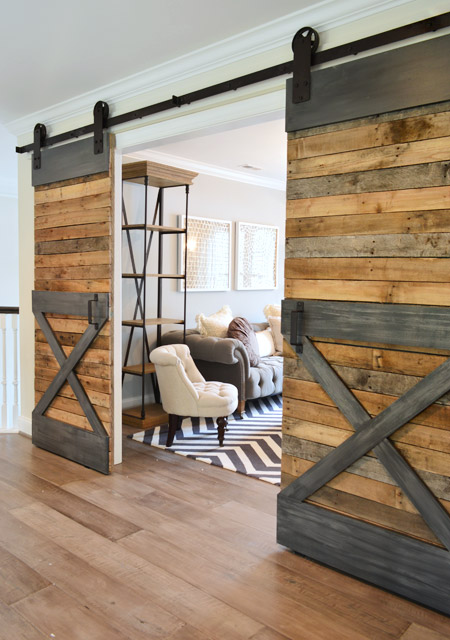 Here's the main bedroom, which had awesome light streaming in – along with a lot of upscale, light colored furnishings.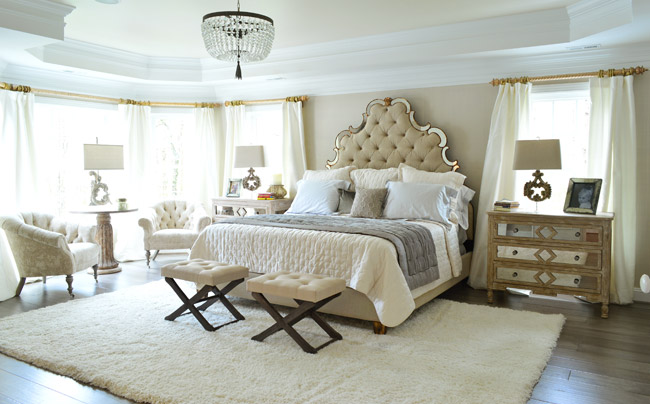 One frequent trend that we saw in other houses was a closet that was accessed by walking through the main bathroom – and this home boasted one of the most upgraded ones we've seen. In addition to being spacious and full of nice cabinetry, it even had its own drink station / coffee bar complete with a mini fridge.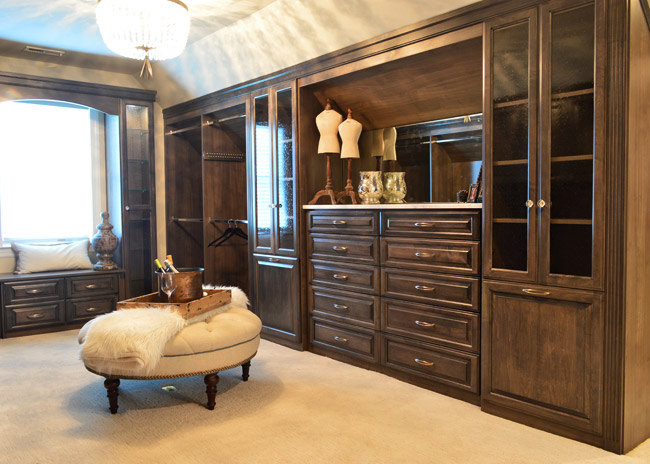 Speaking of beverages, this is the only home in the show with a basement – and they used some of that space to create a wine cellar. The stacked shelving on the far end is made from pallets and provides even more bottle storage.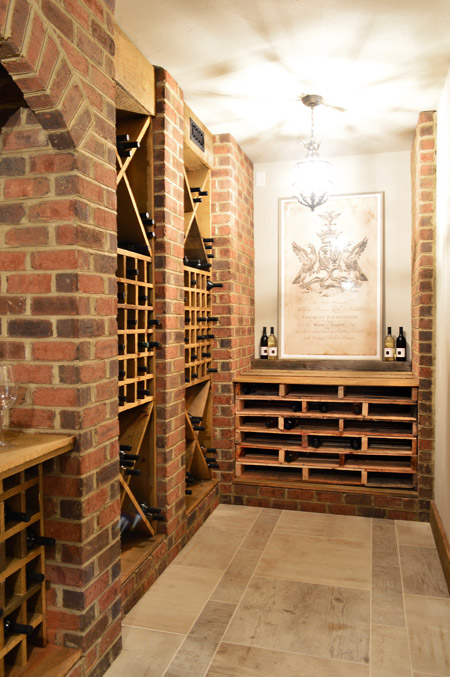 Now let's skip over House #2 (that's ours) and go straight to #3, which is built by Southern Traditions and designed by Elaine Reeder. They've got a really pretty stone accented exterior (with some tin awnings along with a few white rain chains) that we've been admiring from afar for a while, so it was nice to finally get to peek inside.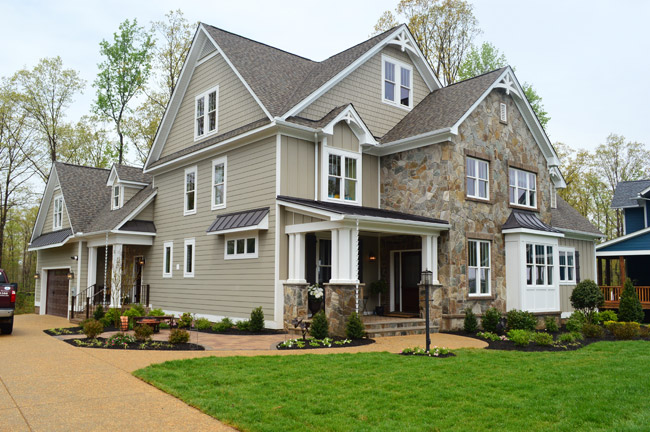 This house has a lot of interesting mixes of materials, like in this little passage between the foyer and the living room that combines a rustic wood ceiling with a stone wall water feature.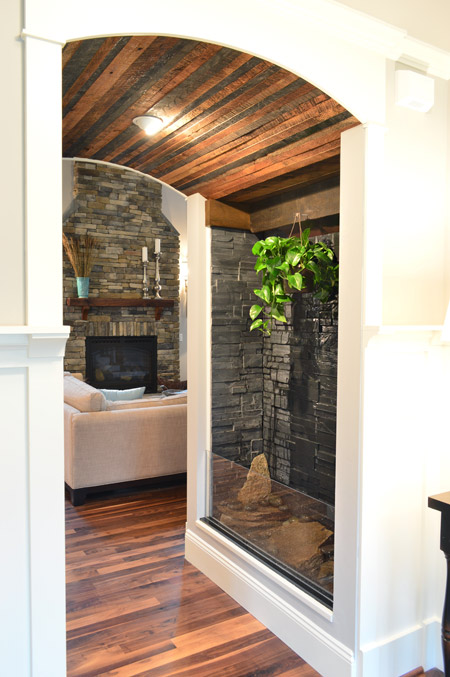 The main area of the home is nice and open, with a two story living room that carries the rustic wood look into the coffered ceiling above.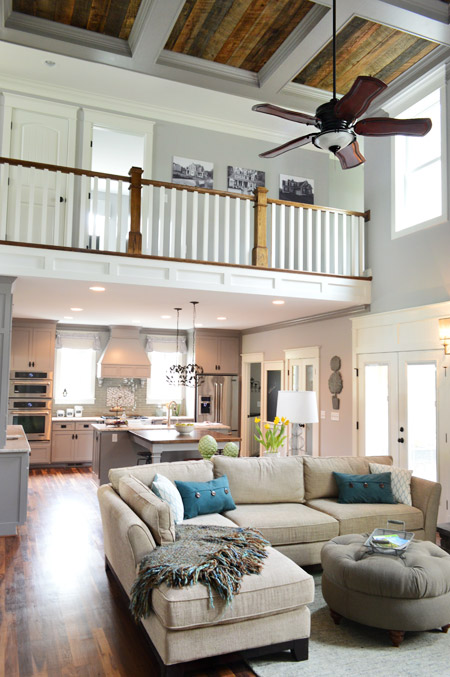 They also went bold in the half bathroom downstairs with this graphic bird wallpaper over the wainscoting. There's even a little local touch with the Richmond RVA hand towel.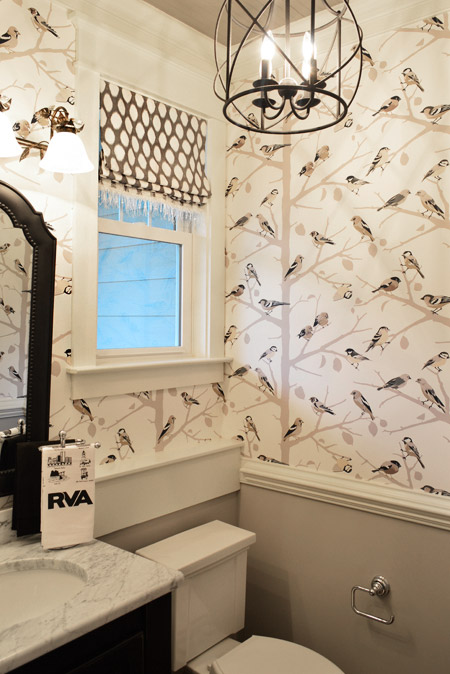 And the en-suite bathroom included something we'd never seen before: a sunken tub.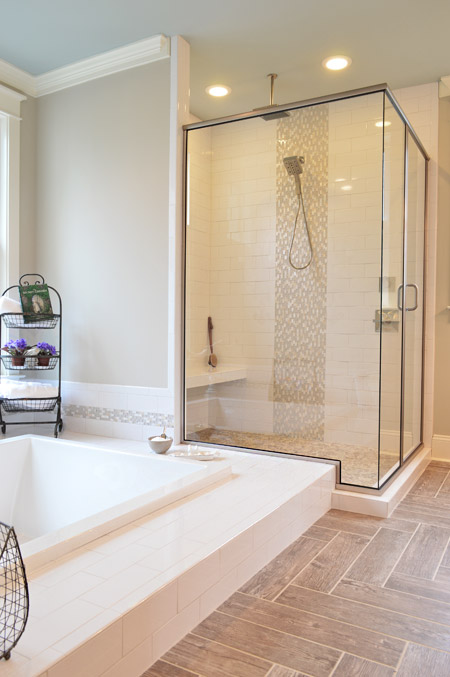 Upstairs they turned the playroom into a sleepover room with two pairs of built-in bunkbeds. The builder's carpenter built them from scratch (including the hidden drawers in the steps) and they certainly got our wheels turning more than your ordinary bonus room does.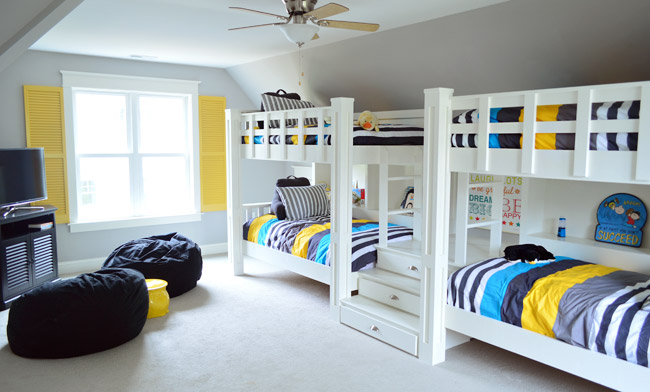 House #4 is built and designed by Ray A. Williams Custom Homes, and it brought some nice dark exterior trim to the show (which is something we've admired on a few homes in our own neighborhood).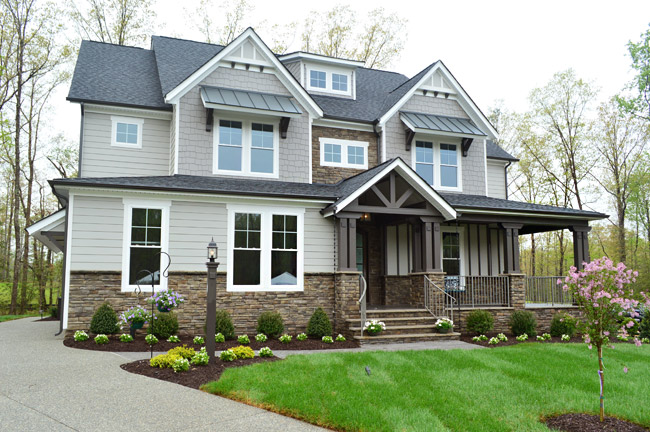 Their kitchen was one of those where you flip the lights on and it's like the clouds part for a moment and you hear a chorus of angels singing. And of course Sherry was loving the silver monkeys on the far right.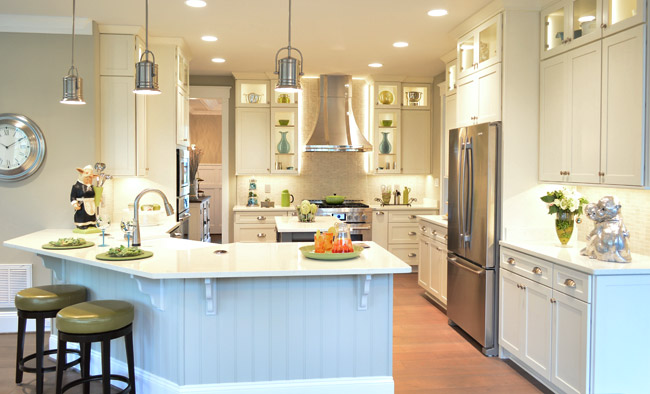 There were also great details like the metal straps on the hood and the mesh on some of the glass cabinet doors.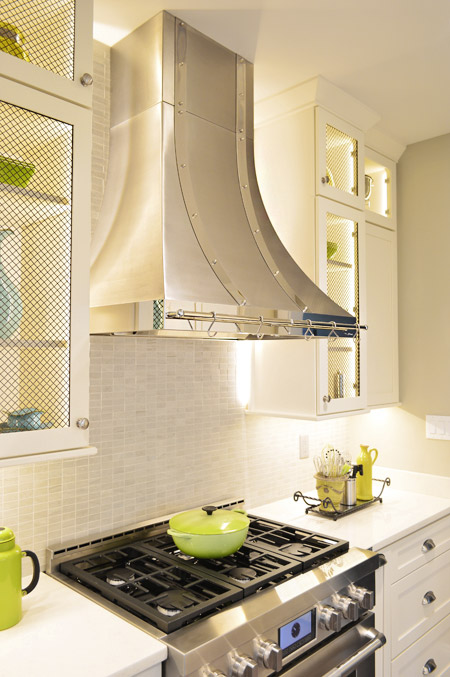 This home probably had the most modern bathroom of them all, complete with small mosaic accent tile and sleek glass shower doors.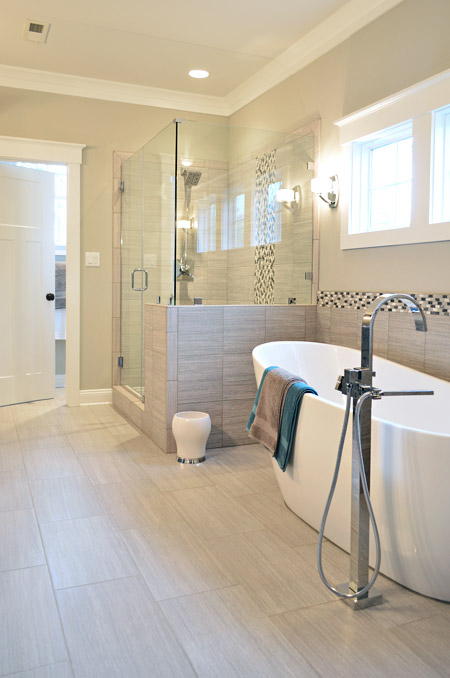 One of the architectural themes of this house were the decorative ceilings throughout, like this paneled one in one of the bedrooms.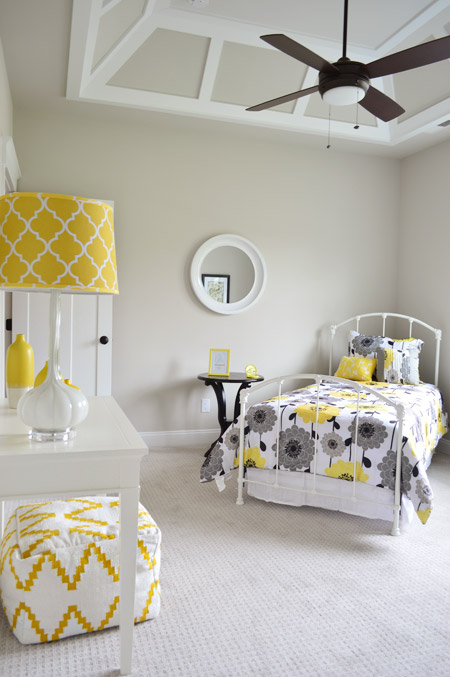 Next door is House #5, which is built by Harring Construction and designed by Diana Ragsdale. She decorated one of our favorites from last year – and we love the look she pulled off this year too.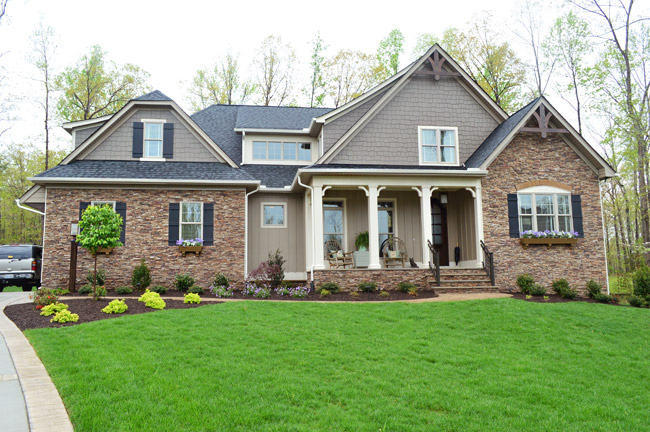 One of the highlights was the main bedroom, which had this awesome vaulted ceiling and stunning gold chandelier.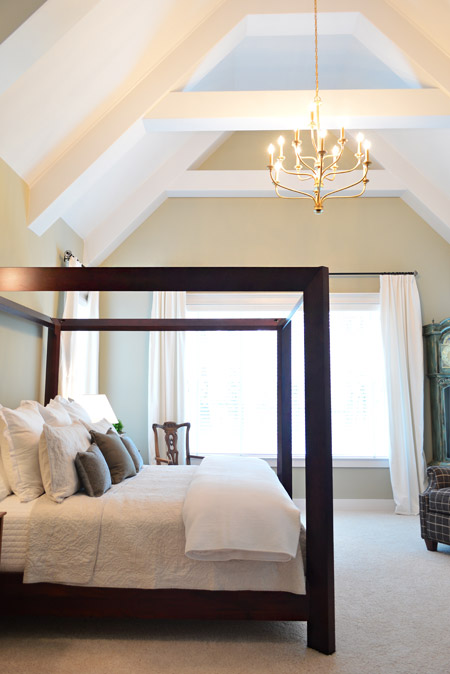 The gold details continued into the en-suite bath fixtures as well. How awesome is a bathroom that can fit such a giant wooden wardrobe?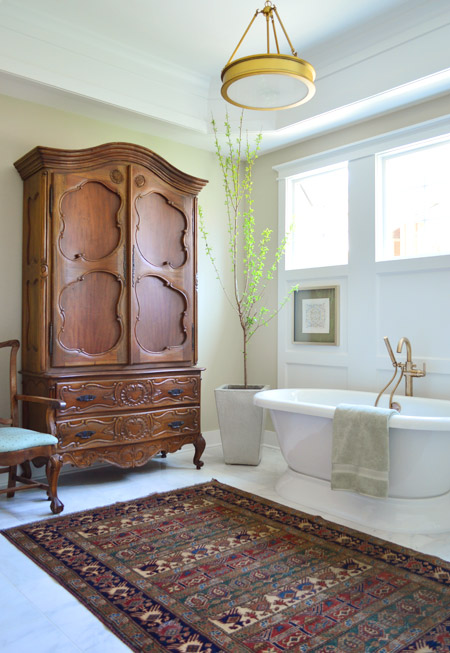 The mudroom had great built-ins too, with a nice rustic touch by using old grain sacks as the bench fabric and reclaimed wood across the back.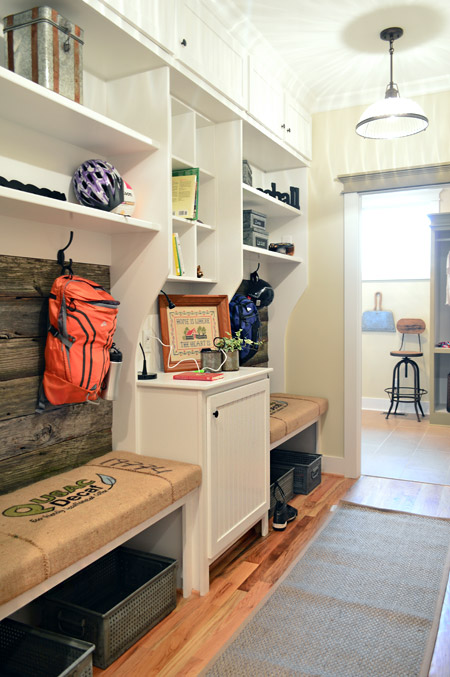 That reclaimed wood, which was found at Diana's friend's North Carolina barn, continued upstairs where it accented the back wall of a desk area that was carved out of an otherwise empty hallway space (as well as on the back of that built-in bookcase).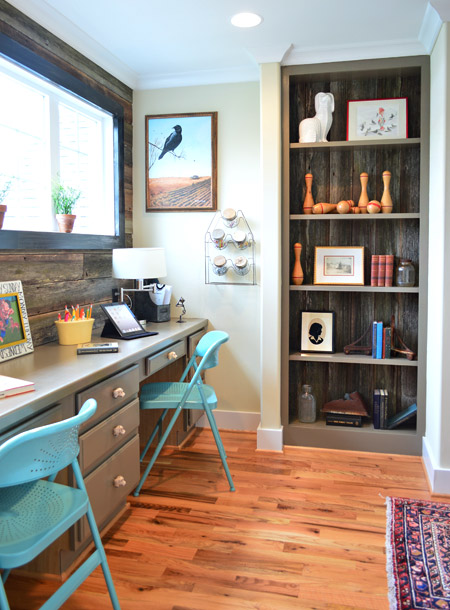 Speaking of bookshelves, in the nearby boys room there's one that acts as a secret doorway…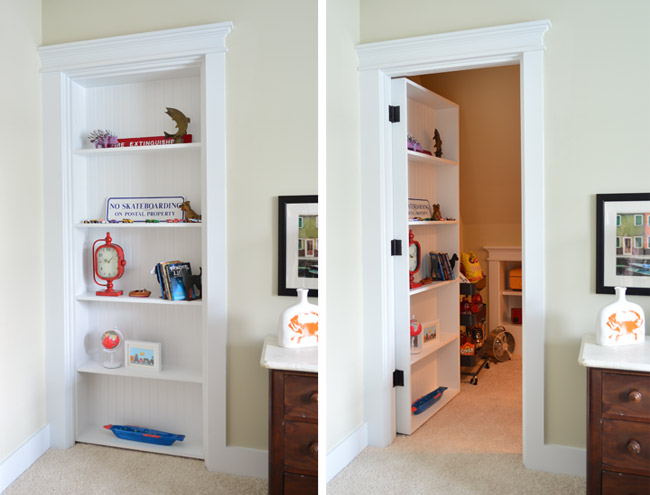 … which leads to a tucked away TV/video game room. My 16-year-old self would've flipped for something like this. Although I probably would've just practiced my marching band music in there. #nerd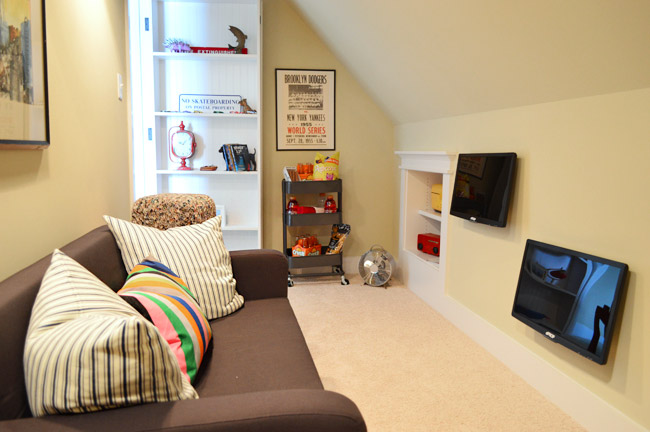 Next door is House #6, which was built by Falcone Custom Homes and designed by Catherine Stanley. It's one of the largest in the show and it boasts some of the grandest features (it's known as "the one with the pool" to almost everyone who worked on Homearama).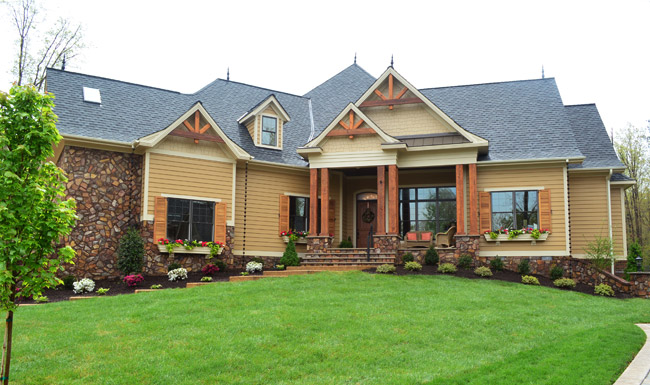 The kitchen sports a separate fridge and freezer and a 100-bottle wine rack, not to mention a pretty expansive ceiling beam detail.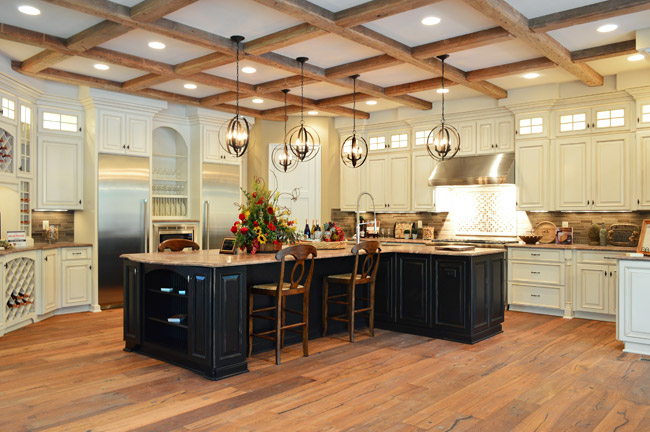 And the en-suite bathroom is unlike anything we've ever seen. The bath/shower area alone is 600 square feet and has an infinity tub, rain showerhead, and body spray jets all around. I had to snap one of my infamous "John for scale" shots just to illustrate how big it really was.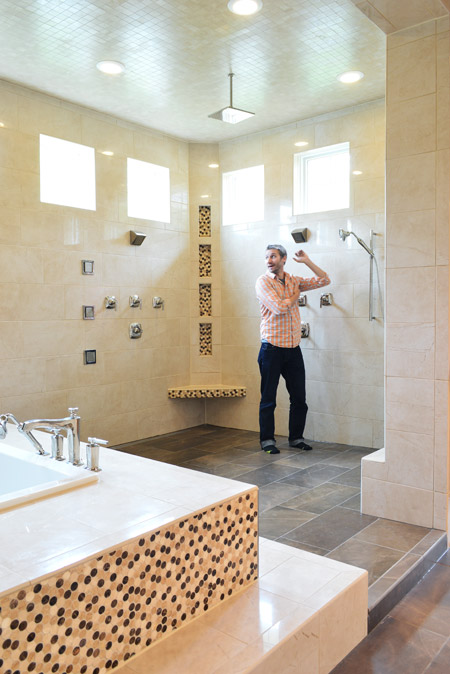 And here's the pool, which we shared briefly during construction. The outdoor area has lots of other fun features like this combo water/fire feature in the foreground (I couldn't figure out how to turn the fire on, so you'll have to use your imagination).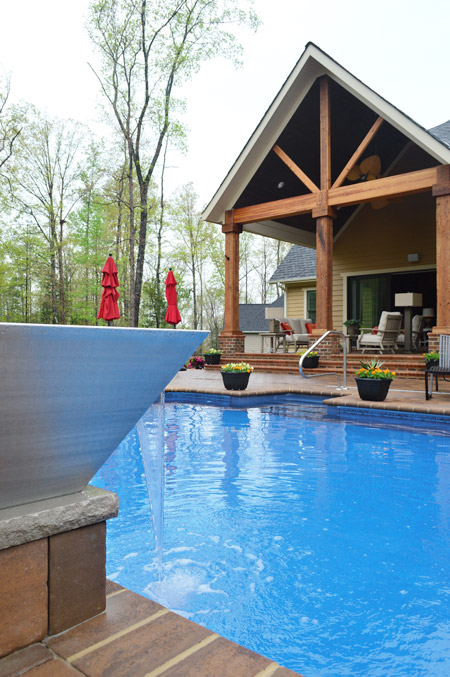 Rounding out the cul-de-sac is House #7, built by LifeStyle Builders and designed by Priscilla George. We spotted a few similar choices between this one and ours – like both choosing a blue exterior paint color – even though ours was deeper and theirs was lighter and mixed with more stone and dark trim along the roofline.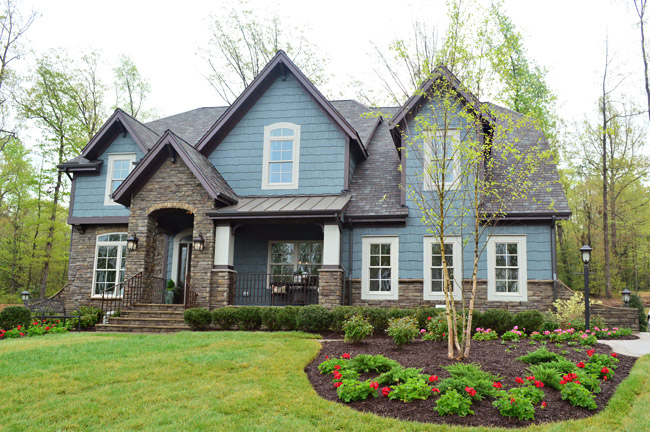 This home also sports a navy kitchen island, but the leg details and glass fronted end cabinet add a nice twist. They also went for some accent tile over the stove and a stainless range hood with chrome lights over the island.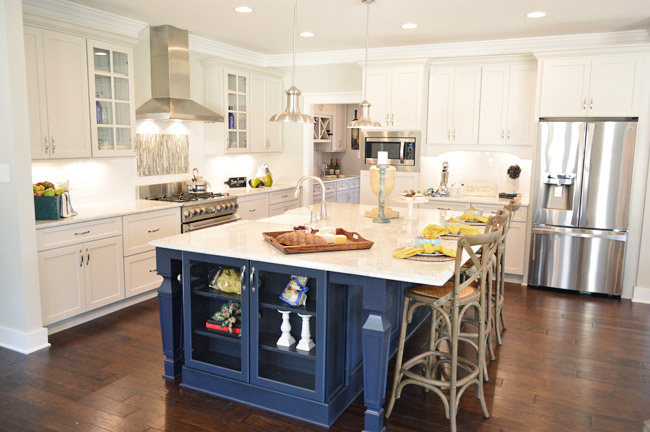 And they also did a built-in banquette, although it was L-shaped and had chairs on the other two sides. We especially loved the cheerful teal backs of the bookshelves.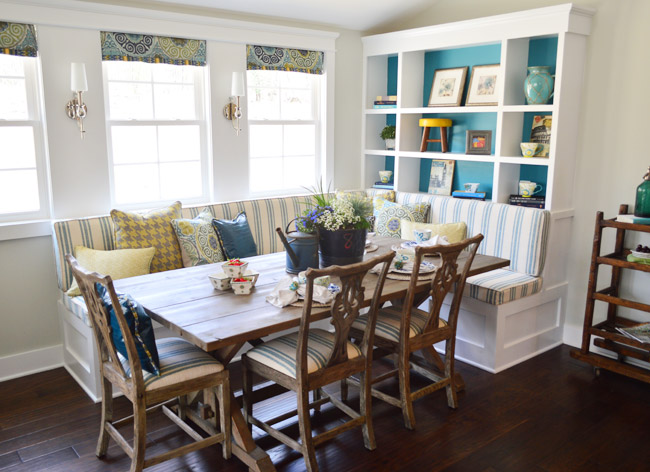 In the en-suite bathroom, they also had a dual shower area – but they created two distinct zones (one side featured a tradition and rain-shower head, while the other had a bench and handheld shower).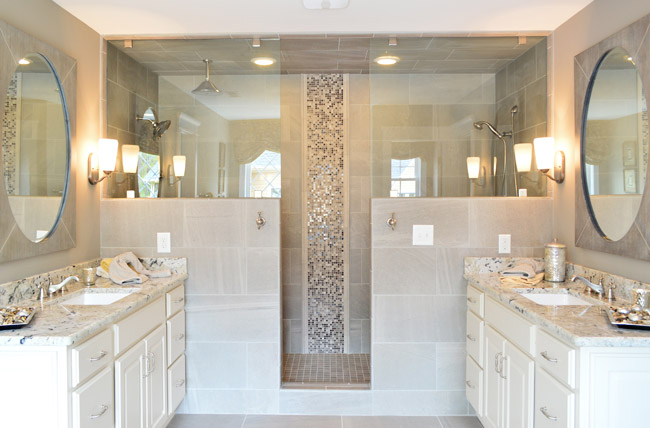 Upstairs they went bold in a bonus room by going all black with the trim and built-ins, which would make for some cozy TV watching for sure.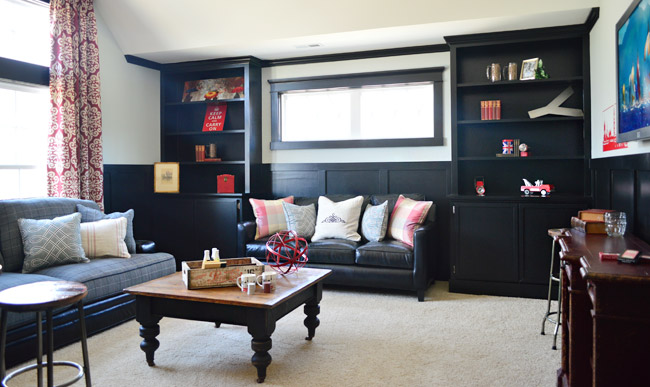 And each of the bedrooms had an interesting theme/style. I was especially drawn to this one with the cool old flag against the grasscloth wallpaper. I think I may be developing a thing for flags, much like my existing map and bike tendencies…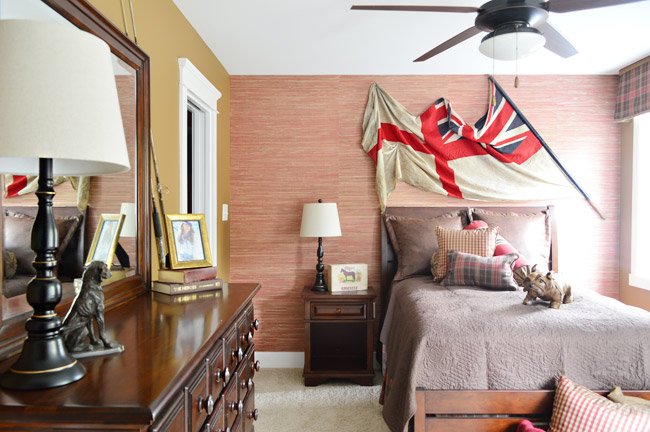 So 30+ pictures later, I'll wrap this up. There's plenty more to see in person if you can make it out, but at least you've hopefully gotten a flavor for the other homes. And while I'm sure there are plenty of source questions out there ("what's this paint color?" "where'd that furniture come from?") we sadly don't know a lot off the top of our heads and most of the Homearama crew is occupied this weekend with the show itself. So feel free to ask away, but please be patient if the answers don't come right away (we're hoping Justin drops in with info within a few days for you).
Psst – Wanna see more showhouse info & photos? Click here for Our Full Showhouse Tour, which includes final pictures of every room, the floor plan, budget info, a video walk-through, and shoppable showhouse furniture & accessories.