To be honest, our bathroom probably needs a total remodel (or at least a new tile job and sink), but we thought a refresher was all we could handle during our lengthy (and expensive) kitchen remodel. So we decided (well, I decided, and then coerced John) to paint the blue walls a soothing tan, and to graduate from a dorm room shower curtain (made of plastic) to a fancy-schmancy fabric one (in a grown up white waffle pattern).
We also thought it was time to remove our beast of a medicine cabinet (which actually had two lights coming out of the sides of it like arms) and replace it with an updated medicine cabinet with a lighting fixture hung above it. Well, it wasn't the easiest project but the results show that it was worth all 3 trips to Lowe's (and a few other trips in search of the perfect medicine cabinet, which didn't exist so we just hung a mirror under the light and plan to get a storage cabinet to hang on the wall next to it).
But before we reveal the "after" pic, let's take a trip down memory lane, shall we? This was our first attempt at decorating the bathroom. The black molding around the window was the worst idea ever (I was trying to mimic the black squares in the adorable- and original- checkered floor), and all the bright blue accessories made it feel so teeny bopper. Oy, and those mini shutters and the granny window treatment had to go.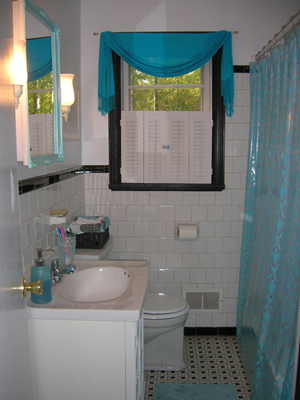 So then we painted the molding white and added a soft blue to the walls (similar to the color that we love in our bedroom) and frosted the window. Better.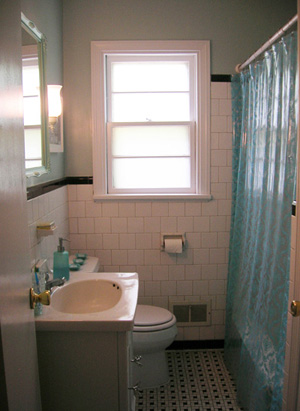 But that crazy medicine cabinet with lights for arms was mocking me in my dreams. And after repainting a lot of other rooms in neutral tones it was obvious to us that the bathroom could benefit from a calming tan coat of paint- and a less plastic-y shower curtain. So here's the updated bathroom with the new light fixture, paint color, and shower curtain: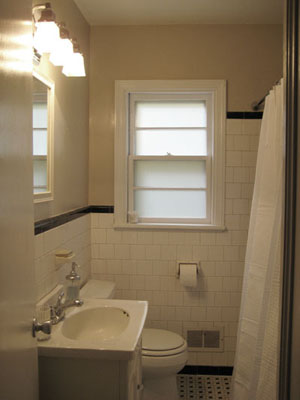 We adore the light we found at Lowe's. I would swear it was a $300 fixture from Restoration Hardware if I saw it in someone else's house, but since I'm the one who did the paying, I know it's really the $90 Lowe's version. Score! And the lighting in the bathroom is SO MUCH BETTER than before. We went from two 60 watt bulbs to three hundred watt bulbs. As Oprah would say, Hallelujah. Now all we have to do is get our mitts on a nice looking storage cabinet for the wall and we'll finally be brushing our teeth in style.