Our Fourth of July weekend was pretty jam-packed and we were grateful to be able to carve out some time to enjoy the holiday. The fun kicked off Thursday (July 4th) afternoon with a family walk around a new park we'd never been to. It was hot, but too beautiful not to be outside.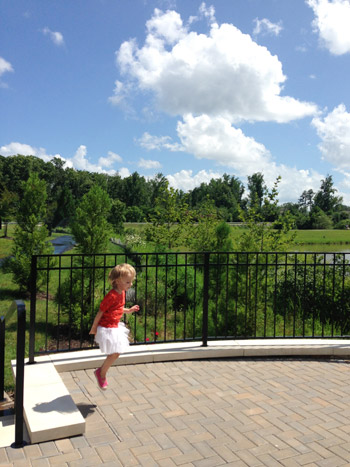 Actually, one of our favorite parts (partly because it was completely shaded) was a tunnel that went under the road. Clara could've spent all day in there.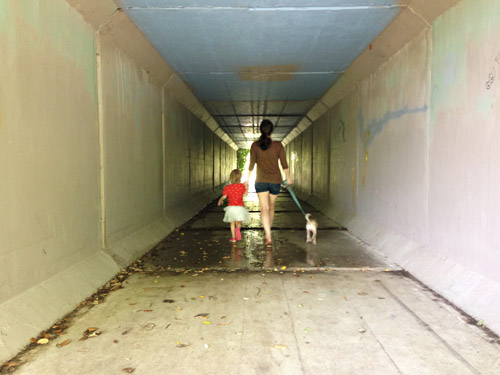 It's where we got this cool shot we posted on Instagram that day.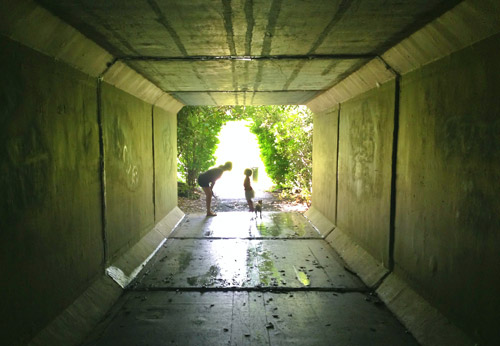 Oh, but did we mention it was hot?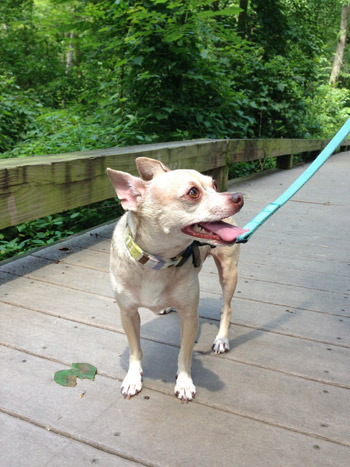 After we got home, cooled down, and napped (well, Clara napped) we walked over to a neighbor's house for a little BBQ. It made us feel quite welcome to the neighborhood to have already been invited to a get-together like this. And Clara had fun running around their backyard with another little girl/her new best friend.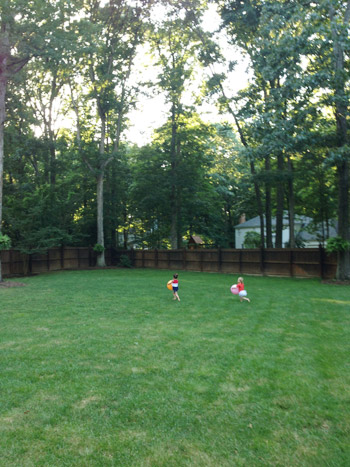 But our 4th fun didn't stop there. Around 8 o'clock (Clara's usual bedtime) we headed out to meet up with my family, who was gathered to watch some local fireworks. There were going to be fireworks after the Squirrels baseball game, so we camped out (with tons of other people) in the nearby parking lot of the Science Museum to anxiously await the end of the 9th inning. This was among the ways we kept ourselves entertained. You know, just making weird faces and picking a winner (Todd won in case you're wondering).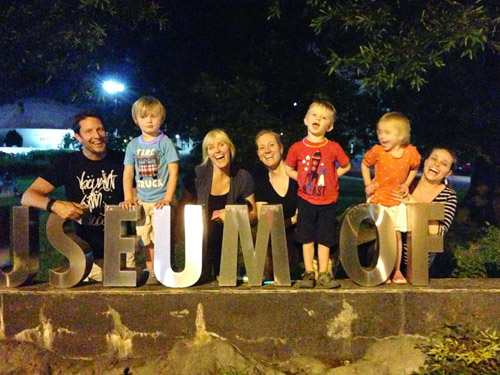 By that time the fireworks were over it was nearly 10pm, so we called it a night so we could all get some rest before more guests arrived the next morning. Clara's cousins Elsa and Edison (along with their parents, of course) came to hang out for the day and become our official first overnight guests in the new house.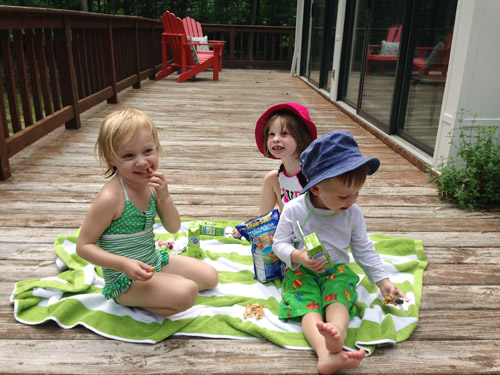 It was a pretty low-key day. We played on the deck. We went to lunch. The girls ate lemons. We played outside some more.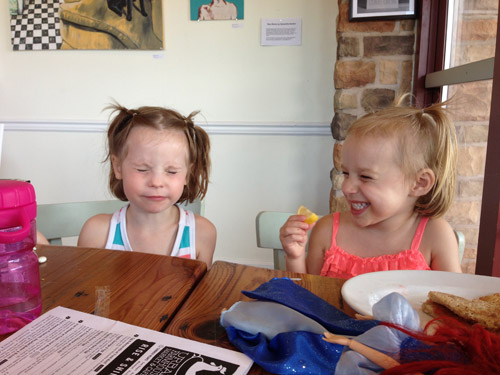 Oh yeah, and we all took advantage of the free friends & family night at the local pool that evening.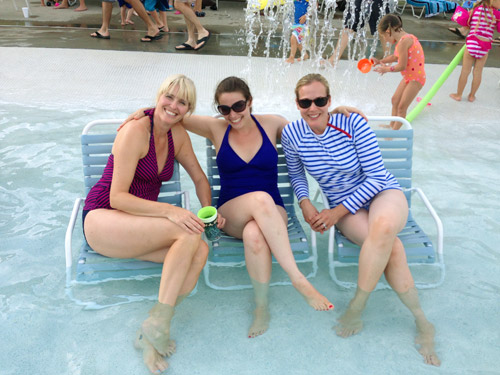 The festivities ramped right up again the next morning, which just happened to be my sister Katie's birthday (she and her fam had come down from New York for the weekend). We offered to host a casual birthday breakfast in our oh-so-beautiful kitchen.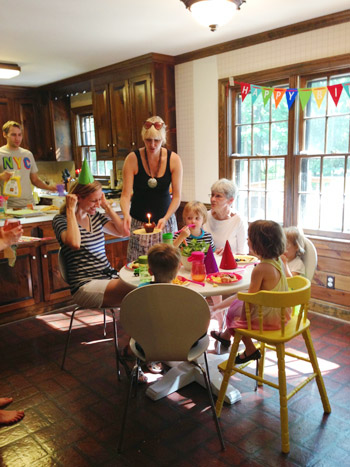 I even got up early and "decorated." Okay, so I just made one of my mom's traditional birthday signs. I blurred her age out as a courtesy. But I didn't blur the 80's Bon Jovi picture I added to the banner (she was a big JBJ fan back in the day).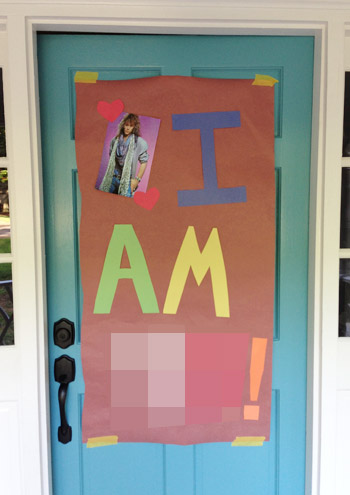 Things didn't get much fancier when it came to the food. We whipped up some pancakes and scrambled eggs while my family contributed some other yummy stuff. We appreciated the excuse to use up some leftover party plates.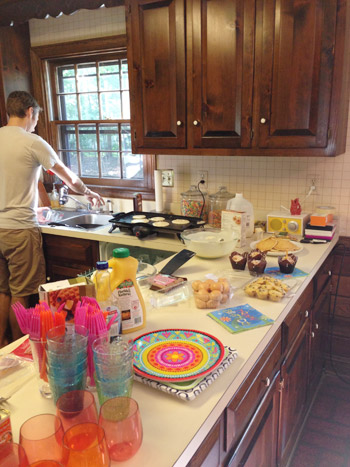 The morning was an interesting test to see how well our home functioned with six kids under age four running around. Don't be fooled by this calm picture of them, it was a bit of a madhouse. But they had fun and the house survived just fine. As did Burger.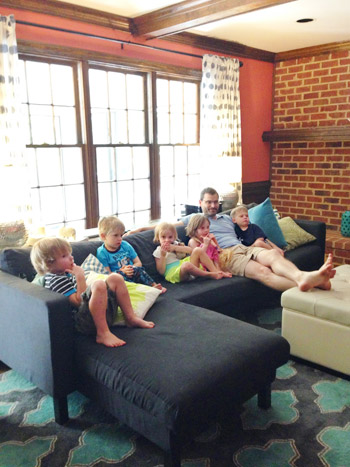 When breakfast wrapped up and we wished our morning guests on their way (Elsa and her family went home to Northern Virginia) we enjoyed a bit of downtime before our next round of visitors came by. Sherry's brother Dan (aka Uncle Monkey), his wife Ali, and their dog Sasha came down from New Jersey for a quick visit which included, among other things, a trip to one of our favorite parks.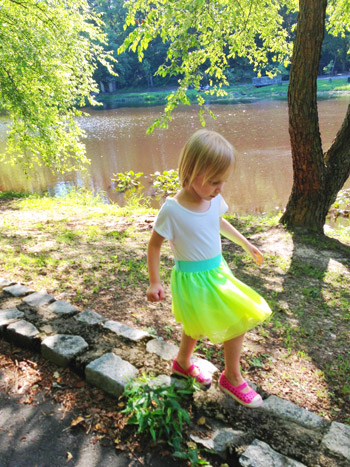 Clara is getting old enough that our walks involve more of her actually walking than being pushed (somewhere her stroller is shedding a single tear). But I kinda like it because it means more exploring.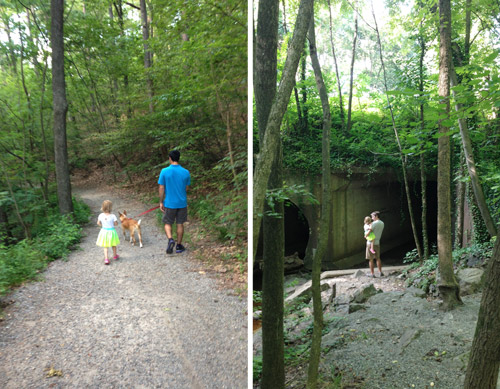 Although it also sometimes means more routes that aren't stroller friendly. So when Clara ditches her ride halfway through our walks, I end up doing things like this.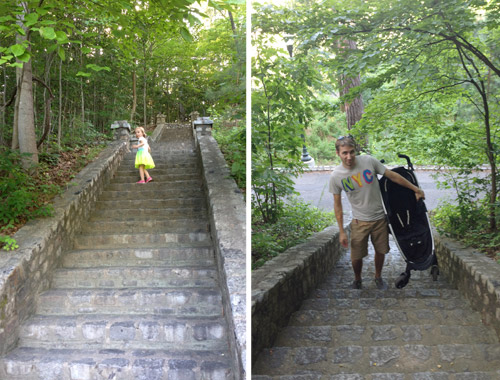 Stroller or not, we had quite a fun visit from Sherry's fam. And I seriously don't think Clara could love her Uncle Monkey more.
Dan, Ali and Sasha hit the road the next morning to try to beat the end-of-holiday traffic, which meant we were left with a day to ourselves for the most part. Which was nice because that day just happened to be our wedding anniversary. But that's a story for another post…