As many of you know, Hurricane Irene swept up the east coast on Saturday afternoon and evening, bringing lots of wind and rain along with it. Sadly, our neighborhood didn't fare very well with high wind gusts slamming a bunch of giant trees down on power lines, roads, and even homes.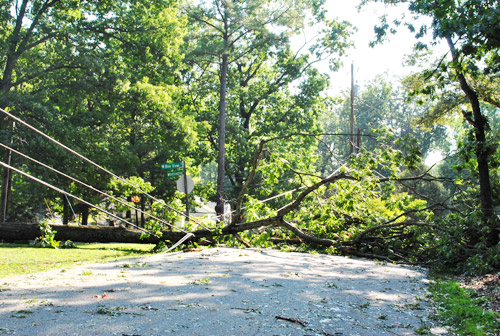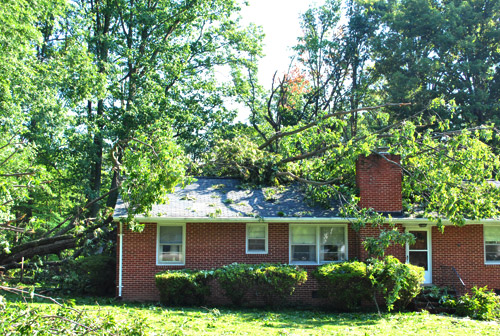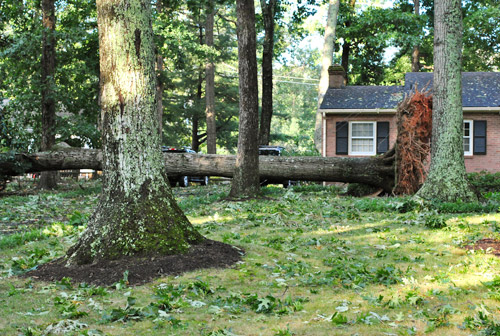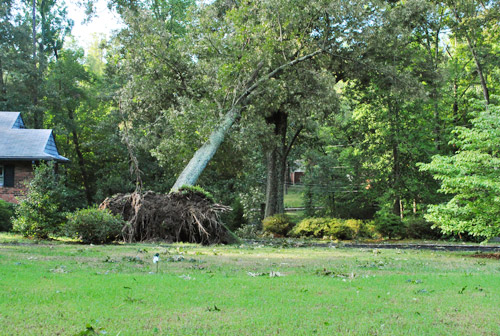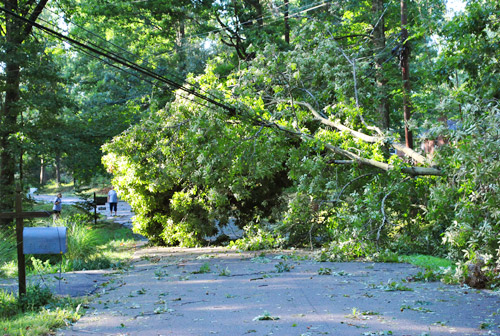 Thankfully, our house was spared. But many of our neighbors and friends weren't so lucky. It broke our hearts to look out from our patio to see that a tree in our neighbor's yard had fallen onto their home (it easily could have hit ours if it fell in the other direction).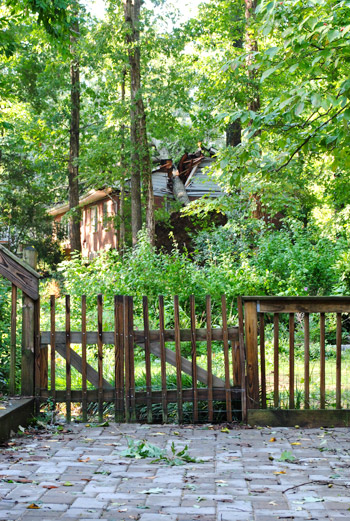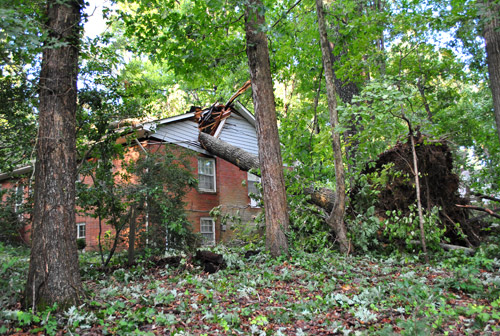 Thankfully although they were both home with their two dogs at the time, no one was hurt. But parts of their house are flooded and shattered, and we're so sad for them – and anyone else whose family or house has been affected.
When it came to what we did during the storm, we just hunkered down at home between 6pm to midnight when the winds were at their worst. And after hearing/seeing a few large trees come down on our block we decided to sleep in interior rooms, just to have a bit more protection in the event that something fell on our house (since our basement is below grade, we worried it could flood – which is why we opted for interior rooms over lower level spaces). Clara slept in the hallway in a pack and play (since it was insulated by rooms on all sides)…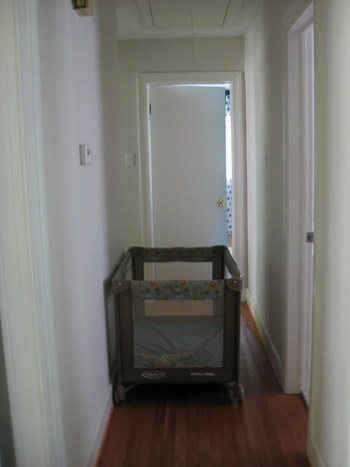 … and John and I dragged the not-as-heavy-as-ours mattress from the guest room into the kitchen (which is also in the middle of our house).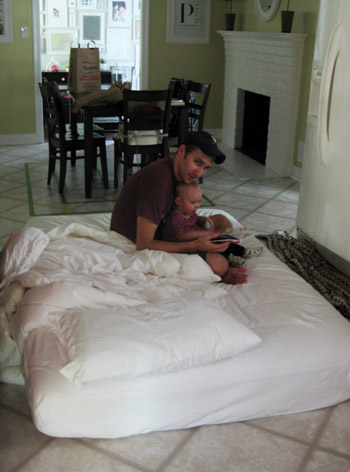 Thankfully our basement didn't flood and although we have a bunch of branches and debris to clean up on our yard (along with a few larger tree limbs in the back) we feel incredibly fortunate.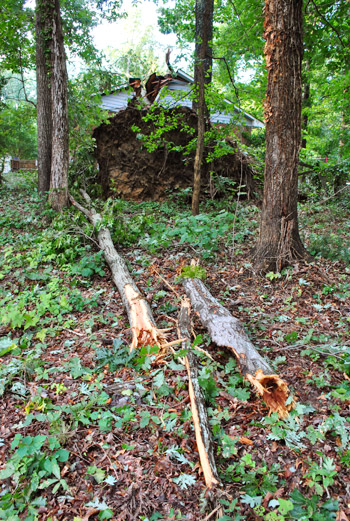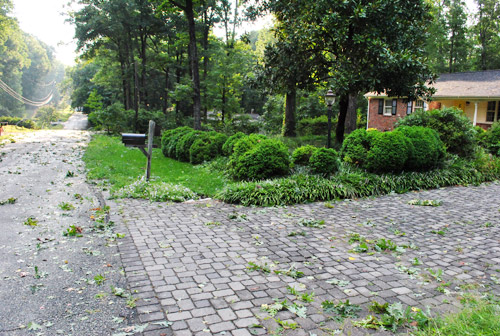 We're still without power along with what we hear are around 800,000 other Richmonders (ours went out around 5pm on Saturday, so we're on our third day without it). We're hoping to have it restored soon, but realistically know that it could be a few more days or even one to two weeks (a statement that they just released alludes to the latter of those timelines). A number of trees on the power lines in our neighborhood means that it might be a while for us, so our blogging schedule may be a bit irregular until our area is back up and running. We also might not be able to keep up with comments, facebook, and twitter as much as we'd like (since you know we're usually so chatty), but we do have plans to stop in with the afternoon giveaway as usual, and hope that everyone else who is dealing with any sort of storm repercussions is doing ok.
Oh and we felt compelled to check on our first house and were so relieved to see that it appeared to make it through. Although there was a huge tree on the house across the street. Scary stuff.
Between this and the earthquake on Tuesday, we're ready to be done with natural disasters for a while – especially since it's rare for either of them to affect Richmond so much (the last major storm in our area was Isabel in 2003, and most Richmonders were without power for about a week). Let's hope we're back up and running sooner than that. Luckily a few of our relatives do have power and enough food/water to go around. In fact here's Clara on Sunday morning after the storm passed and we headed over to Grammy's house, where there's power, glorious power (which seems to be a rarity in our city). We joked that all of the chaos drove her into the arms of her cousin John…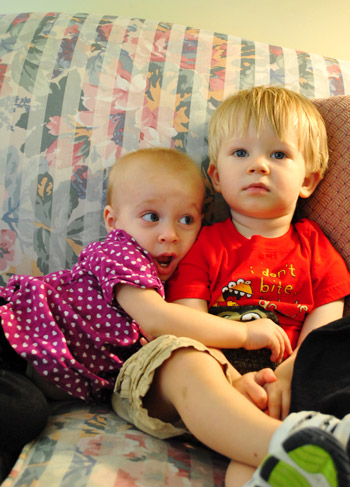 … where they watched a video together and had a grand old time.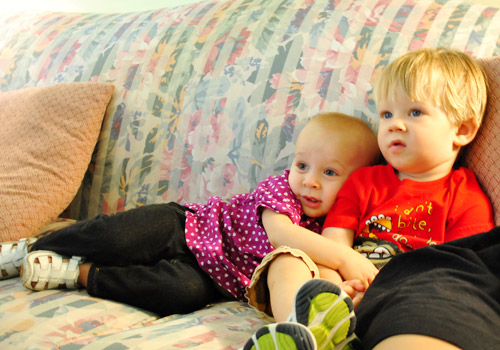 Thanks so much to everyone on twitter, facebook, and here in the comments who checked in on us this weekend. You have no idea how much we appreciate the love and send it right back atcha. And for anyone else who was affected, we'd love to hear from you about how you're doing.