Clara likes little creatures (seriously, the girl thinks snakes and spiders are cute), and is currently in the midst of an apple/pumpkin obsession (which is very fall-appropriate). So we decided this year's loose Halloween theme could be "nature" (said a la Will Ferrell as Robert Goulet on SNL). That way it encompasses things like pumpkins, gourds, and apples along with creepy things like spiders and black crows and snakes.
But let's go back to the beginning. I had some fun with Halloween stuff. First, I grabbed some $1.99 spiders and $2-3 snakes at Michael's (the snakes were in the wood toy aisle and definitely not meant for Halloween but you know I'm weird…).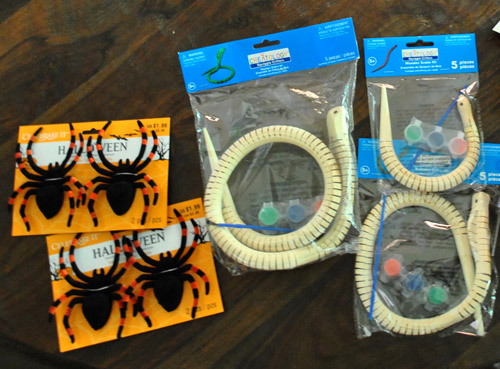 When it came to adapting the spiders, I just used a black sharpie to color over the orange bands on their legs (all black spiders = much more real/scary looking). As for the wooden snake toys I immediately pictured them flat white as soon as I saw them. There's just something haunting about ceramic-ish snakes, right? For some reason I thought glossy white might be too sleek looking, and flat would be sort of ghostly and chalky so I went for it: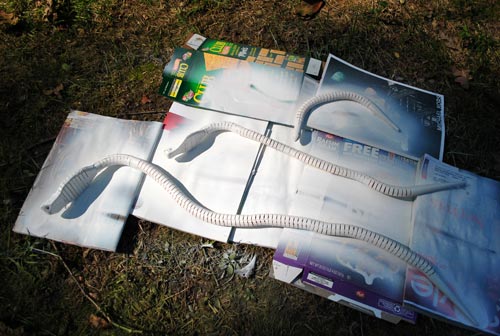 And… I love them. Who is surprised? No one? Cool. Anyway, it's always a tradition to do the console table (see it here and here from years past), so that was the first surface I spooked (spookified?):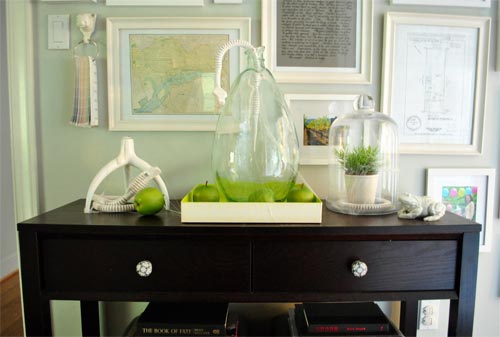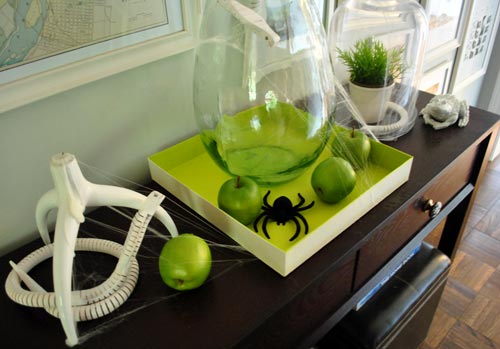 I used a few faux apples that I got a while back on super clearance from Pottery Barn for some color along with some old spiderweb stuff I had leftover from a few years back in my Halloween tupperware bin (yes I have one, and yes it's labeled… I'll pause while you mutter "dork" under your breath).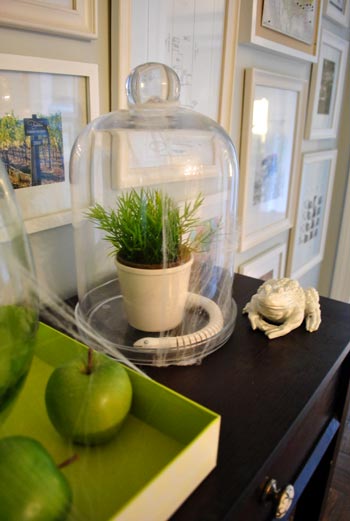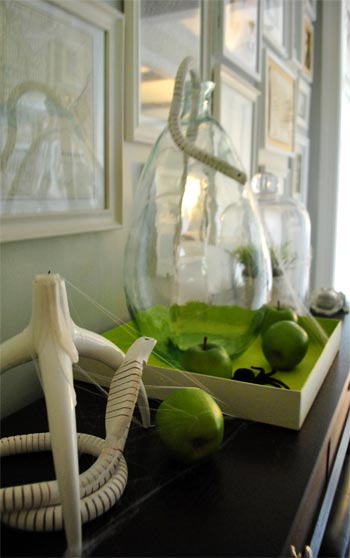 Other than that it was just my new snakes and a creepy black spider among things that are usually on the console table, like my oversized vase from ZGallerie, my faux tray from Target (the green tray-looking-thing is actually a box that a wedding photo album came in), my antler candlestick from West Elm, my yard sale greenhouse, and the faux plant inside of it from Ikea.
Oh and miraculously, Clara has yet to mess with stuff on the console (she can't quite reach up there yet). Of course typing that has probably jinxed us. But anyway, I thought it was cute to snap a picture from her POV. Of course we've held her up so she can look at the spiders and snakes, so now she walks by and says adorable things like "bye bye spider" and "hi apples!"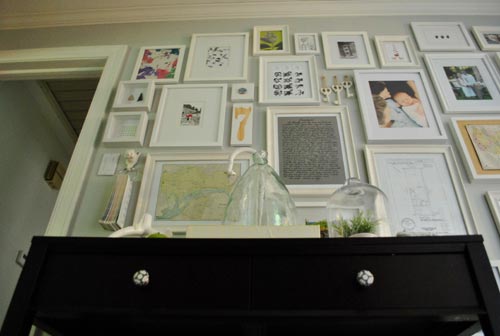 Next came the mantel in the kitchen (which I realize I never took a straight-on shot of, so forgive me).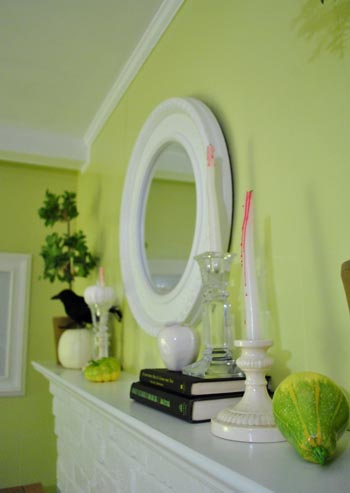 You'll also notice some green and white gourds/pumpkins, a bunch of mismatched candlesticks, and my gory little blood-dripping candles (which I made here).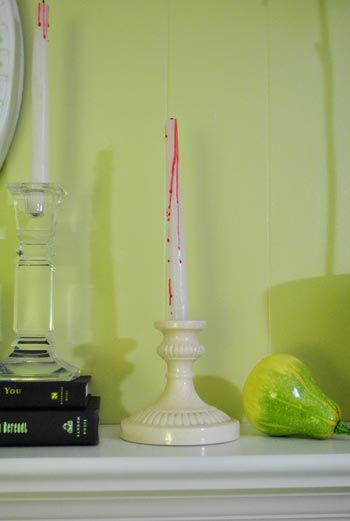 I also used some books I love dragging out every year (yes, also from my Halloween bin) like Midnight In The Garden of Good & Evil, and Everything Bad Is Good For You along with my faux crow (from Michael's a few years back).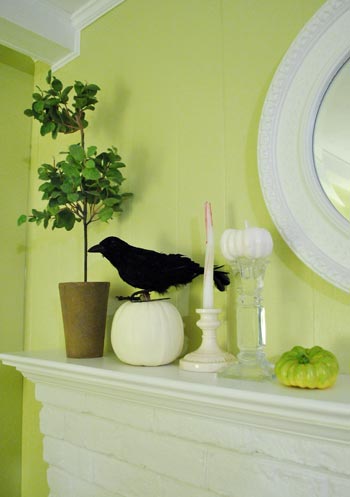 Don't mind the crooked candle in this pic. Ooh, spooky.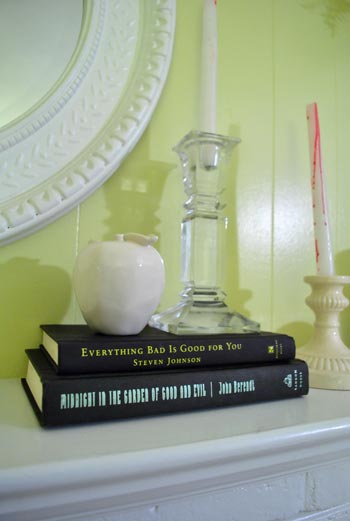 Still have a few more spots I want to spook up, but that's where we are for now. Oh and just for kicks I thought I'd toss in a few photos from Halloweens gone by (find more info on the pics/vid below here and here):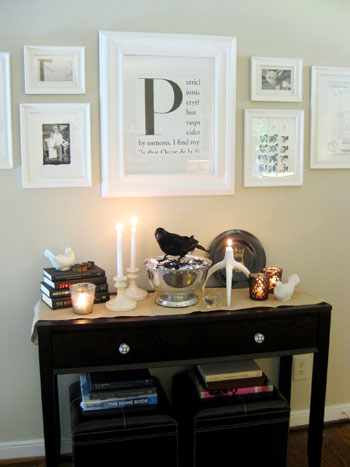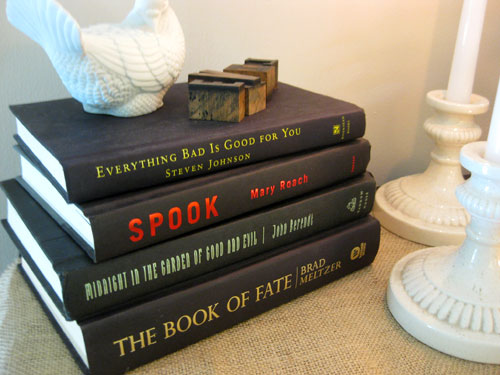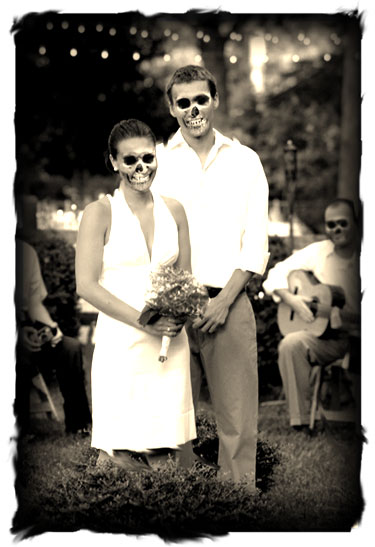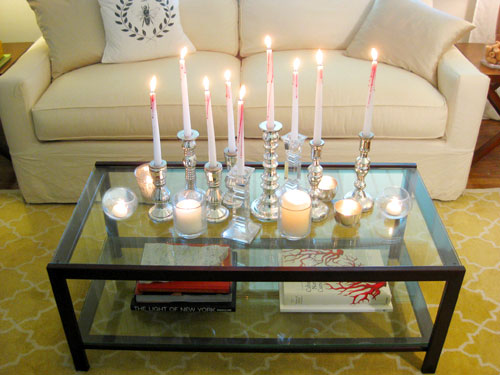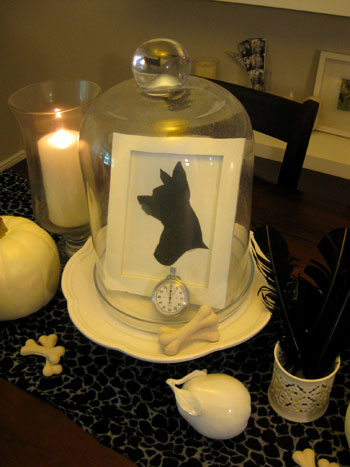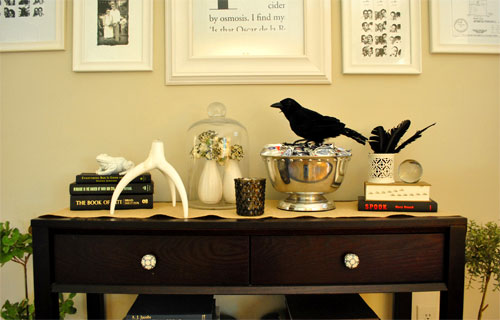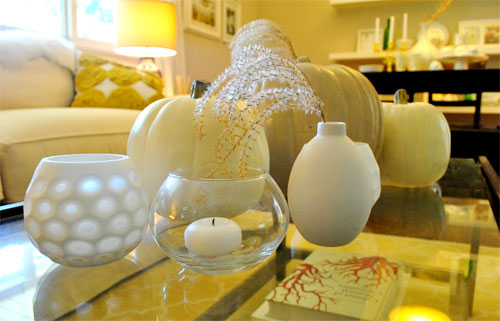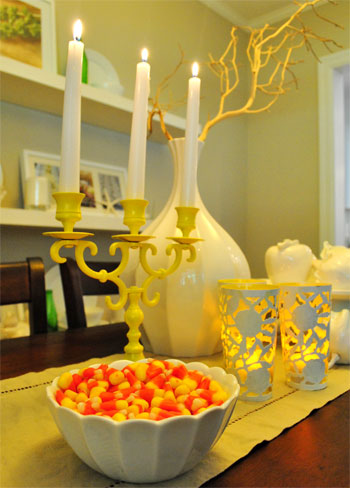 How are you guys gearing up for October 31st? Any candy-corn-induced stomach aches yet?