In what can only be described as a one-two punch of home-ownership havoc, our washer officially died right on the heels of the big plumbing debacle that we detailed for you guys yesterday. Yup, remember when we mentioned that we hoped it would be a simple and inexpensive fix here? Well, the appliance gods must have been softly giggling as we typed that.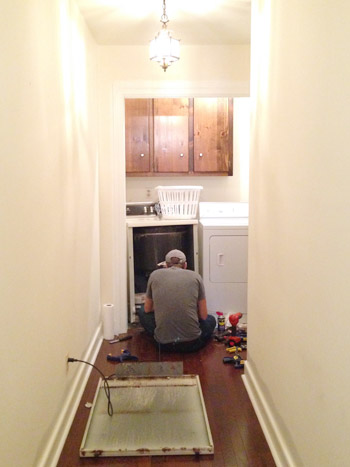 The repair guy took one look at the corroded interior of our old machine (rusted bolts, a broken belt, etc) and said "I could attempt to band-aid this for $200, but I don't think it would run for very long – honestly, I wouldn't put another dollar into this machine." And that was coming from the man who would be taking said money… so… not a good sign. But we definitely appreciated his honesty.
And that's how we suddenly found ourselves digging back into our "emergency fund" just days after writing a plumbing check to go laundry appliance shopping. We briefly considered trying to get something secondhand (from the ReStore, Craigslist, etc) but we decided that to spend once on something for the long haul would be more settling than getting another "in the meantime" fix and hoping it held out. So after checking out a few online appliance outlets, as well as some mainstream big box stores to see what was on the market, we hit the streets to check things out in person.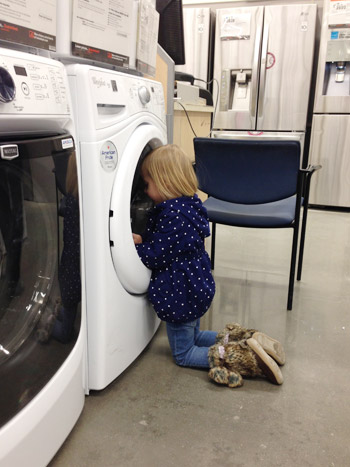 We had actually been looking forward to the eventual laundry appliance hunt, because we knew someday we'd get to upgrade these guys (the repairman guessed our washer was over twenty years old, so that's a pretty good run!) but it was certainly nothing we expected to be embarking on so close to our little plumbing snafu.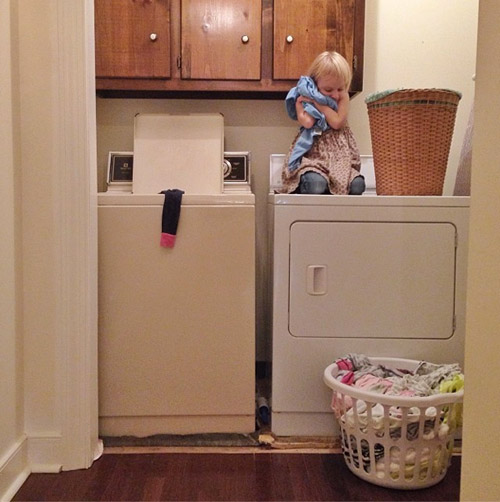 When we moved in, we'd daydream about getting what I affectionately call "mac daddy appliances" someday (both in the kitchen and the laundry area) all of which would be pretty and sparkly and have all of the features we'd ever wanted (like projecting laser shows on the ceiling and making us waffles). Okay, maybe those last two are a stretch, but this sudden rush to get a working washer while our laundry piled up wasn't the scenario we originally pictured ourselves shopping under ("what do you mean I can't wait for a Presidents Day sale???").
Luckily John's parents welcomed us into their laundry room to do a couple of loads to tide us over while we researched and price-compared (and you better believe I asked John to do those loads so that if something broke he would be the one answering for it). Thankfully, we were able to catch up to our quickly-growing piles, and nothing broke on our watch.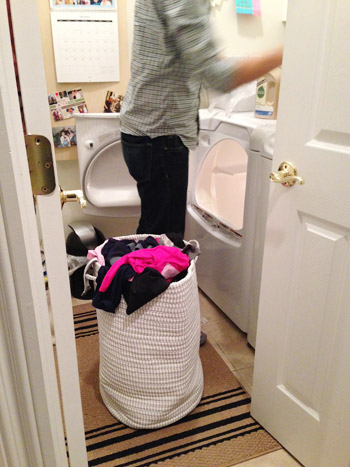 We have sort of a new appliance mantra in this house, which is essentially that this time around we don't want to just chase a deal. We want to do more research, be open to spending a bit more than before, and really think about the features we'll enjoy and use, because we plan to be here for decades.
We got one of the best deals of our life on our last washer/dryer purchase because we selected the most heavily discounted models on the showroom floor (they were the same brand as our first set, which we liked, so it seemed like a no-brainer). But while we don't regret the savings (nearly 50% off!), or the quality of them (they worked great for us), we did sacrifice some features in those heavily-discounted models that we ended up missing over time – like a digital display that showed the amount of time left in the cycle, for example. A little thing, yes, but something in retrospect that we would've paid extra for – especially since we had it in our first home's washer & dryer, so we knew what we were missing.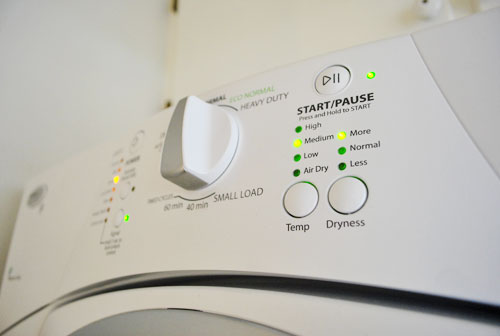 After a ton of discussion and research, we narrowed our search criteria to the following:
A Top-Loading washer. We liked our last two front-loaders a lot, but with our existing set-up we've both enjoyed not bending over as much. And we didn't like having to keep up with mildew maintenance on our two previous front-loaders (we'd take time to wipe it down, leave the door open to air it out, and occasionally run Affresh tablets through it) which we understand is a persistent problem in front loaders. Plus, top-loaders now come in high efficiency versions which minimize front-loaders' previous advantages of load size, spin speed, and water usage.
Whirlpool or Maytag. Both brands are made by the same folks who made our last two washers & dryers, which worked really well for us (Whirlpool Corp). We also heard from lots of you that brands like GE and LG can be expensive to repair (and boy did we have repair costs on the brain!) while many of you agreed that Whirlpool/Maytag did you right (like on this comment thread for example). Plus, we liked our last two Whirlpool Duets and the top loading washer in this house that we're replacing is a Maytag (that thing lasted 20+ years, so it definitely was reassuring).
The ability to silence the buzzer. Again, it's a little detail, but our current dryer doesn't let us disable the crazy loud and annoying buzzer that shouts at us three times as a cycle comes to an end. So we couldn't run it during Clara's nap for fear that it would jolt her awake since it's just down the hall from her door.
A digital display. Mainly for the cycle time countdown mentioned above. What can I say, we're divas for the are-we-there-yet how-much-longer details.
A dryer with steam. We just heard good things about that throughout our research and it sounded like a feature we might actually enjoy and use.
Our search first lead us to this model (here's the washer & the dryer) because it's a Whirlpool and actually very similar to what we used at John's parents house (they've had theirs around a year and have really enjoyed them so far). They each earned a 4.5 star review on Home Depot's website too, so that was reassuring.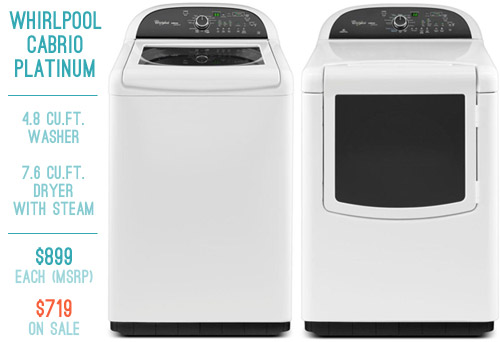 We narrowed our shopping zone down to Home Depot and Lowe's, since we've had success there in our previous appliance hunts (prices from other vendors like Best Buy, HH Gregg, and sites like Whirlpool Outlet didn't get as low as theirs for the same models) and both of our previous laundry sets were from Lowe's.
The sale prices shown above and below are from both stores who each had them marked down 10% below MSRP and were running a 10%-off-all appliances promotion, which could be stacked. They also both were offering free delivery and haul away, and would honor 5% off if we used our store credit card (the Lowe's card does it automatically, and if you ask Home Depot to do it at the register they should be able to manually apply that in the interest of "price matching" their competition).
Initially we were torn between the Whirlpool above and this extremely similar model from Maytag (here's the washer & the dryer).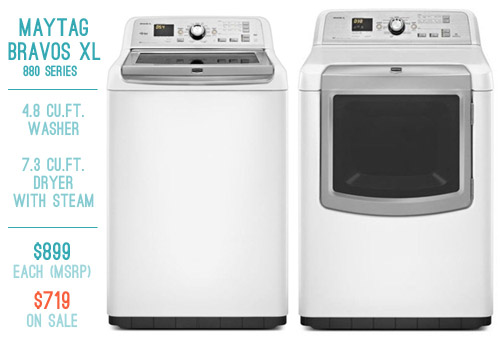 After hunting for some reason or review that would sway us towards one or the other (they both were very highly rated, had similar capacities, similar Energy Star ratings, and identical price tags), this third option appeared to us at Home Depot (here's the washer & the dryer). It was just a slight step-down from the ones above (the washer capacity is .3 cubic feet less – oh the sacrifice!) and the front is designed differently (no gray trim, and no window into the dryer). But the price tag promised to save us over $130 between the pair and their online review boasted a nearly 5 star rating – which was better than the other two we had been weighing!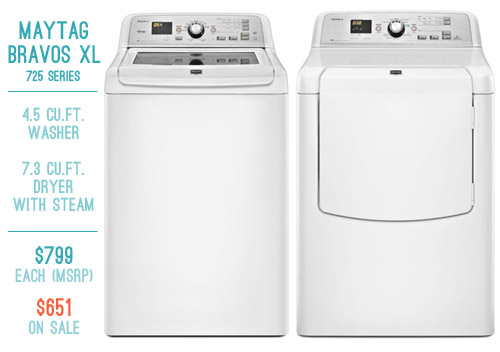 Home Depot carried it in stock (the display price of $724 was before the 10% off promotion was applied) but Lowe's didn't. They offered to special order it for us, but they'd only be able to apply one of the 10% discounts. We showed them the printout that Home Depot had given us that showed $651 as the final price (before the additional 5% credit card discount was applied at checkout) and they said they'd price match it. But ultimately we gave our sale to Home Depot, since they were the ones to show us this option first, as well as having it in stock (truth be told, we liked that salesperson better there too, so we wanted him to get the credit).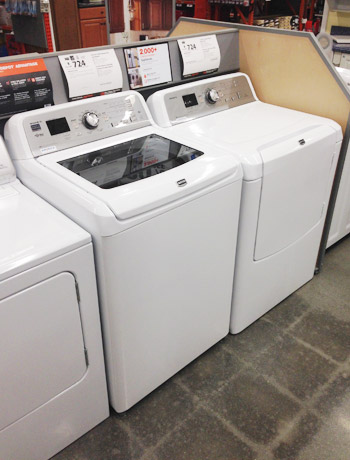 In case all of those words make your brain hurt and you like images and arrows, here's a cost breakdown (mostly because John takes great pleasure in making them).

We're glad that we weren't forced to pay full price due to being under the gun and needing to replace them rightthissecond instead of waiting for a special holiday sale, but it also felt good to take the time and make a detailed list of what we really wanted this time (and check out a bunch of reviews) instead of jumping on the "this one's the cheapest" bandwagon. Honestly, even if these were less discounted, the features and reviews probably would have tipped the scales in their favor.
They're set for delivery a little later today (WAHOOOOOO!) so we should have an update for you next week once they're here and we've taken them for a spin.
We also have some plans for the floor under them in the laundry nook (there are actually small scraps of old carpet hiding under the ones we have now). So just cross your fingers that we don't peel back those carpet scraps under the old washer and dryer to find a giant hole/huge leak/live animal/other debacle lurking. Don't they say these things happen in threes? Le yipes.
Psst- None of the links in this post are affiliate links. Also, your hair looks pretty and I like your smile.