Hi guys! I've been behind the scenes messing around with tech organization while the lady wife chats about feminine products and nail polish and whatever else she has been chatting about lately (justkiddinghoneyIloveyou) but since today is the day we said we'd get on some paper/tech org – specifically some blog streamlining (but you guys can tackle anything like digital photos, filing paperwork, or cleaning up your desktop) I'm here with the goods on that. With all the organization happening around our house this week it was bound to spill over to some blog organization eventually. And the portion of our site that was feeling the most out of control was our Projects page. You know, the one under our blog header that says "Projects"?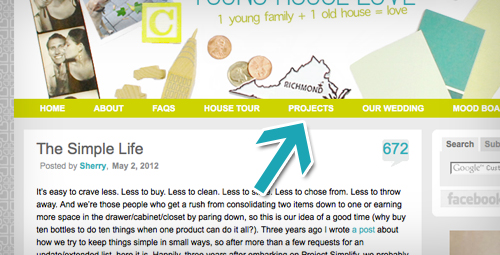 In case you've never visited, it's where we attempted to sort all of our project posts into categories.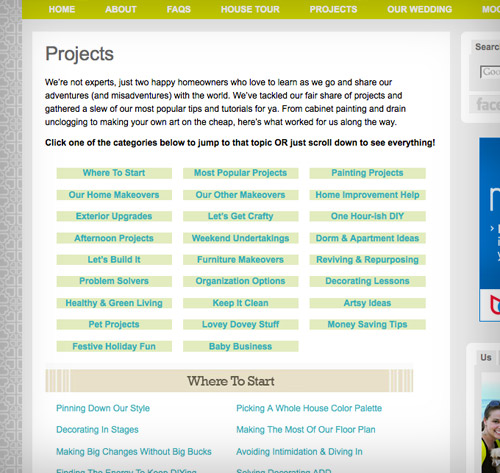 Our simple system of a linked description for each one worked well when there were only a few dozen posts to link to. But as time went on and our project tally grew, it kinda turned into this sea of text that made even our eyes cross a little bit. We last counted over 750 links on that page (admittedly with duplicates, since some projects fell into multiple categories). And we hadn't even updated it since December, so our best guess was that we could hit 1,000 once we added five more month's worth of links. Yikes.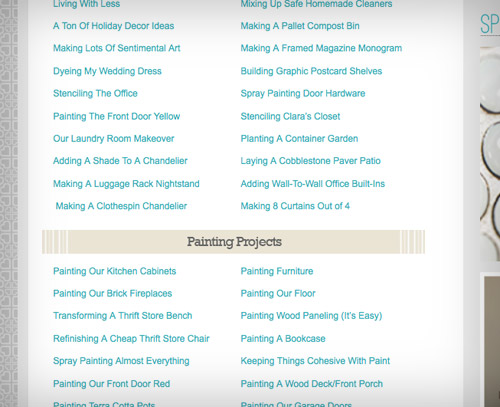 So the last couple of week's we've been working on an overhaul. The goals? 1. Pare down. 2. Make it easier to browse. And we say "browse" very specifically, since it's probably best to think of this section like you might casually peruse a bookstore looking for a good read: head to your favorite section and see what title strikes your fancy. If you're looking for a specific item, it's probably best to hit up our information desk search bar, although it can't hurt to breeze through the project page now that we've given it a nice swift kick in the pants a much-needed upgrade.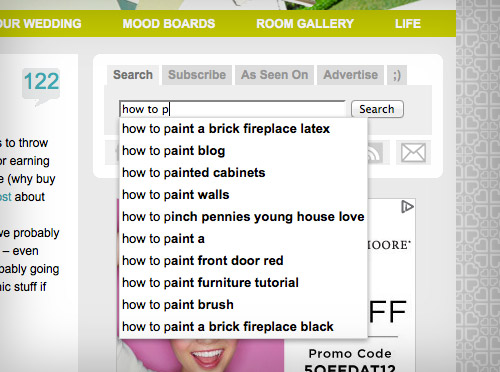 Paring down was the easier part. We condensed 26 categories into 16, eliminating a lot of duplicate listings without eliminating any projects. But as far as browse-ability? Let's borrow from the bookstore metaphor again and just say that we gave all of our projects a cover: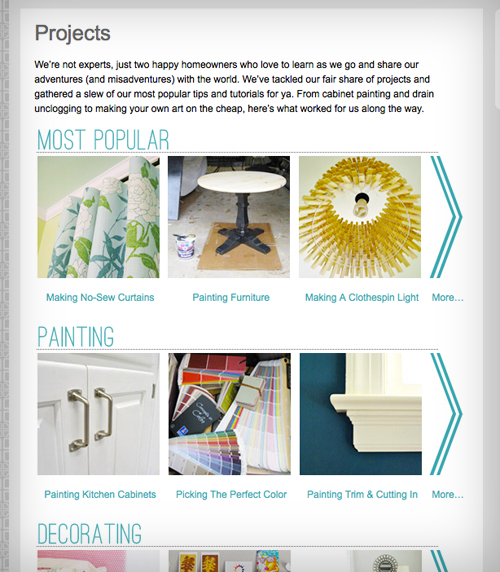 We had been planning to add photo thumbnails for a while, along with giving each category its own page (we've always loved project galleries with nice glossy pics like Kate's and Stephanie's and Layla's) but we really had to work up the energy. Let's just say there were some pretty decent man hours (and woman hours) spent relinking everything and creating and coding all 600+ thumbnails (we tried a few plug-ins but due to our template and our categories we learned that we had to hard code them all by hand). Whew. But now that it's done, and our eyes don't see code floating in front of them when we close them anymore, it was totally worth it.
Adding an image to each project makes scrolling through each category much easier on the eyes, while also hopefully helping you zero in on the type of project that you might want to tackle faster. Plus, aren't pictures just prettier anyways?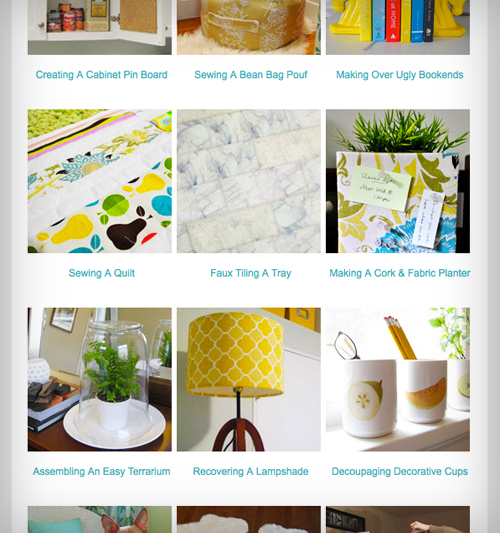 So now there's one main projects page with a few thumbnails of each category to give you a feel, and then you can click "more" to see an entire page devoted to each of the 16 categories, which are:
We plan to update them every few weeks with the latest projects we've tackled so it should always be reasonably current (we haven't added any of the O-R-G posts that we've done this week, but will add them and more in the next few weeks). The order of each of those category pages is admittedly a bit willy-nilly. We tried to put some of our favorites/most popular towards the top while keeping some logical groupings throughout the rest of it (like lumping all of our kitchen and bathroom remodeling projects together). Of course we didn't want all of our oldest ones on the bottom (wop woppp), so we just sort of shuffled things around and embraced the random-ocity of it. So in the end it's mostly a mixed bag. Like a book store. Just pull one off the shelf, check out the cover, and see if you want to flip it open…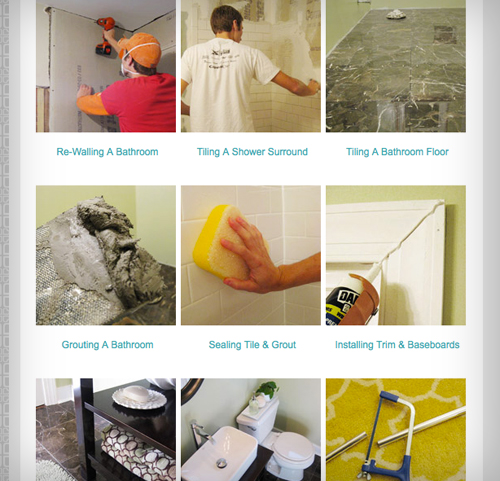 Hope you guys like the little revamp. With this now complete I can turn my attention to another big organization project on my to-do list (ackthebasement). But more on that tomorrow! In the meantime, what paper/tech org have you guys taken on lately? Any tips for the group? Or are you gearing up to knock something out tonight?
Psst- If you're shaking your fist at your screen wishing this was a more traditional organizing and paring down post, just hit up our newly organized Cleaning & Organizing page (how's that for being meta?) where you'll find 50 posts on the subject.