Our poor tools. Remember how they used to live in our kitchen?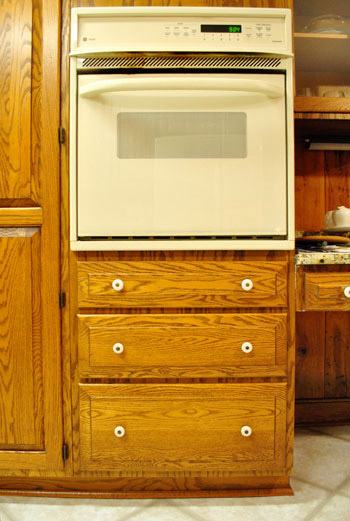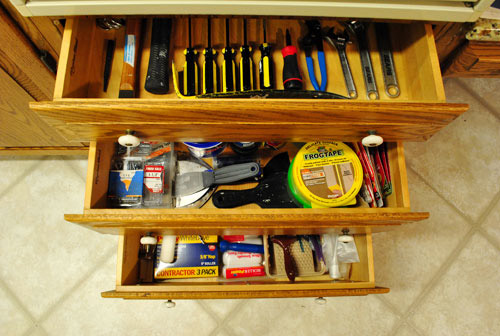 Well, they obviously had to move when that whole cabinet went kaput a few months ago in favor of a nice big peninsula that we were adding.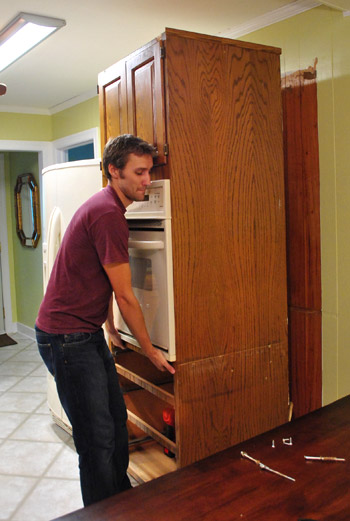 Well, I guess the cabinet didn't go kaput. It just went to live in our sunroom (aka cabinet purgatory) – along with the drawers full of tools, which have been splayed out on our daybed for three months now. Yeah, we're organized. Not.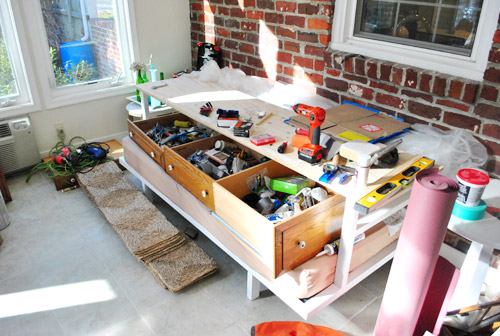 Come on, let's bring back "not." And slap bracelets.
Anyway, as Sherry and I embarked on three weeks of photoshoots in our house for our book (you can survey some of that chaos here) we learned that space was at a premium. New things like this giant white backdrop…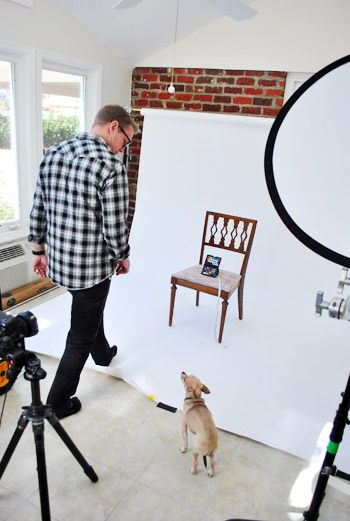 … and this crazy photography equipment…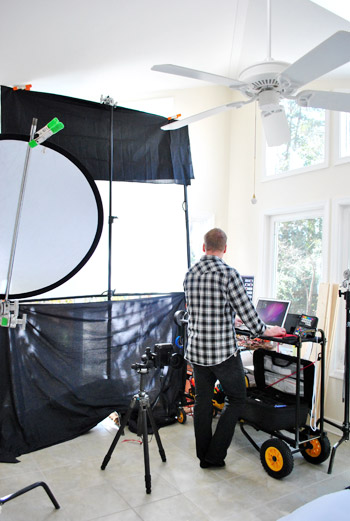 … suddenly needed room to come live with us.
So see this giant cabinet that used to house or tool drawers? That guy was taking up valuable real estate. And after pushing him around to get him out of the way, we realized it was just time to do something real to remedy things.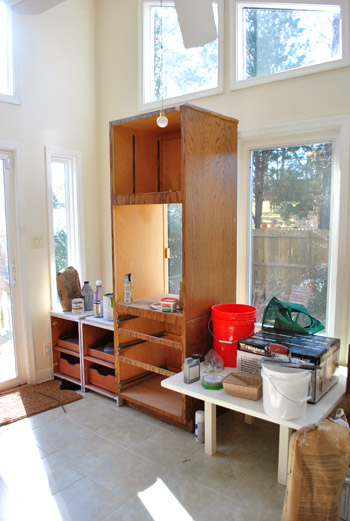 Rather than find a new piece of furniture for storing our tools, we decided to try to retrofit the existing cabinet. At least for now. Heck, it's free because we already own it, so why not? Our first step was to chop off the upper part that once housed the wall oven and some cabinets. To get that going, Sherry and I just tipped it on its side and used a straight edge to mark our cut.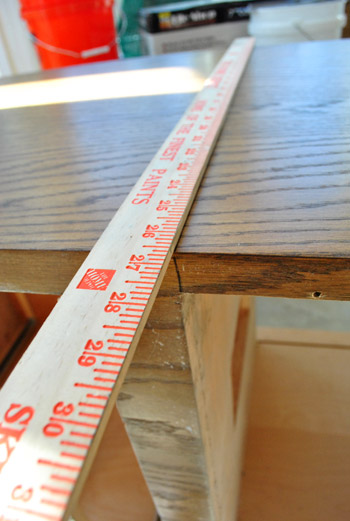 Then I broke out the jigsaw to make big slices across each side, right where the top drawer ended….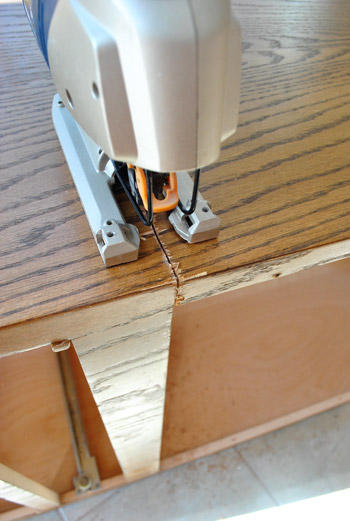 …leaving me with two separate pieces. Too bad Sherry didn't lay down on top of it and reenact some Vegas-worthy magic act, eh? Next time.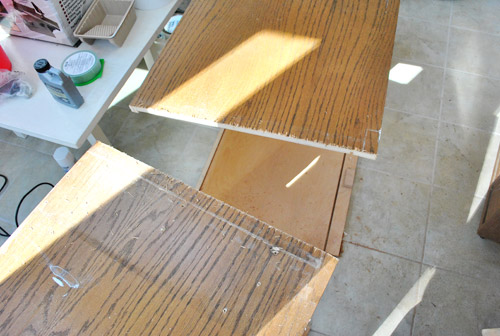 I broke the top piece apart with my foot and a hammer and put it out in our recycle pile (the ReStore wouldn't want it but we're going to call our local recycling center to see if they take clean wood scraps). But the leftover drawer base found a new (temporary-ish) home tucked away in the corner of the sunroom. Remember all of our kitchen cabinets used to be this ugly with these eyeball drawers, so there's definitely room for improvement in the form of leftover primer, paint, and hardware for sure.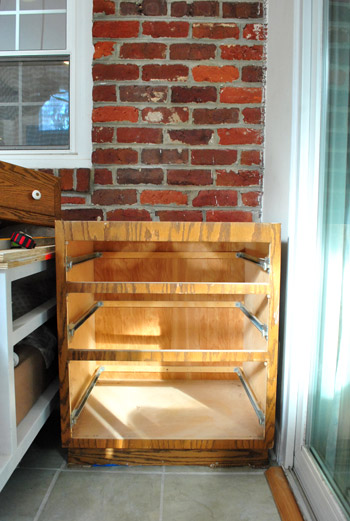 But for now it gets 'er done. Meaning our tool drawers – for the first time in over 3 months – can actually reside in functioning, pull-out drawers. Gasp. It's like we're real people again all of the sudden (don't mind the drawer sitting on top of it, floor space is precious with this many people and cameras and tripods and reflectors – so up it went).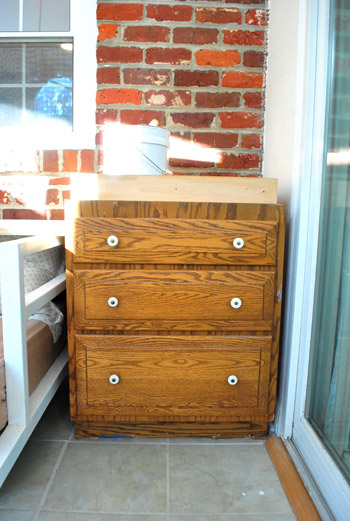 I won't show you the inside of the drawers this time because those could still use some organizing. But at least that tall cabinet that we were dragging all over the house is finally gone! So maybe this should count as a Dude Get On That Already challenge since having drawers full of tools all over the daybed in your sunroom for OVER 100 DAYS STRAIGHT is definitely deserving of a "dude, get on that already" statement (picture me hanging my head in shame). Ah well, it's finally done. What have you guys been retrofitting or hoarding for way too long? Does anyone else have a cabinet purgatory going on in their house? And where do you keep your tools? They seem to be things that get stored in a wide variety of places (the garage, the basement, the kitchen, a guest room or spare room, the attic, the shed, etc). Spill it.
Psst- We announced this week's giveaway winner (and laughed at all of the impromptu poetry you guys shared) – so click here to see if you're the big hundred dollar flower winner.