Last week my brother and his wife Ali came to visit us (well, mainly Clara, haha). They live up in NYC where John & I met and fell in love, so it's always a treat to have them in our neck of the woods and it was actually their first time seeing our new house. Since it was almost exactly their one year wedding anniversary I thought I should DIY something sweet, and since I was an accidental kleptomaniac at their wedding (where John's long arm snapped the pic below), I knew at least one material that I'd be using: a pilfered napkin.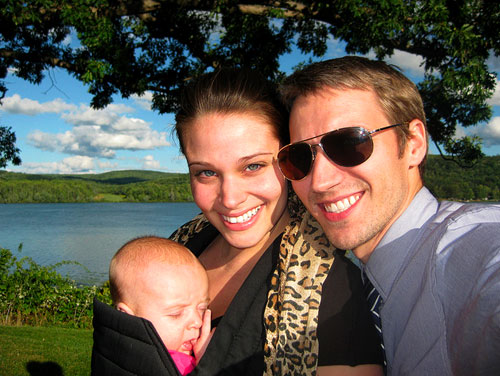 Wait, let me explain. I had a three month old daughter who pretty much wanted to nurse the entire time. And somehow amid feedings and meeting & greetings a napkin from the table migrated into my purse/diaper bag. It probably got caught up in a blanket or was somehow mistaken for a bib. Total mystery. But the end result is that I accidentally took a cloth napkin from my brother's wedding reception. And I'm the weirdo who actually called the venue to tell them what happened and offered to mail it back to them, to which the sweet man laughed and told me to that shipping it would be far more than it's worth and to "consider it a gift." So I did. And it sat in our full-of-junk-that-we-need-to-do-something-about playroom until Dan and Ali's impending visit. At which point I said "ooh, I'll use the stolen wedding napkin to make them an anniversary gift!"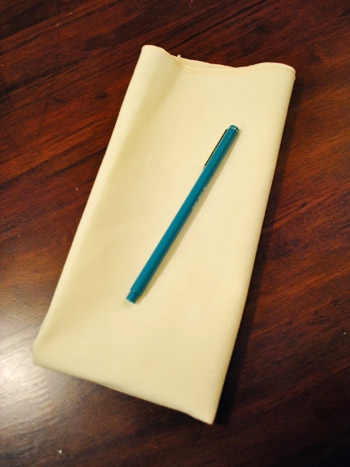 John and I brainstormed all sorts of options for using it (making a fabric mat to display a framed photo from their wedding, dying it and cutting it down to make little fabric coasters, formally monogramming it and starching it to the bottom of a serving tray, etc). But for some reason the idea of needlepoint kept popping into my head. I knew I didn't trust myself to actually needlepoint it (maybe someday, but with their visit fast approaching and lots of desk/office projects going on, I decided I'd rather "cheat"). And I actually liked the slightly off-kilter idea of hand-drawing a needlepoint inspired design right onto the napkin and then framing that. So first I trolled Pinterest and Google for needlepoint inspiration (most of which was far too advanced for a fake-needlepoint project like mine) and sketched out a few possibilities on graph paper.
Update: I just learned that needlepoint is the wrong word and I actually mean "cross-stitch" – so pretend I'm saying cross-stitch everywhere that I use the word needlpoint below.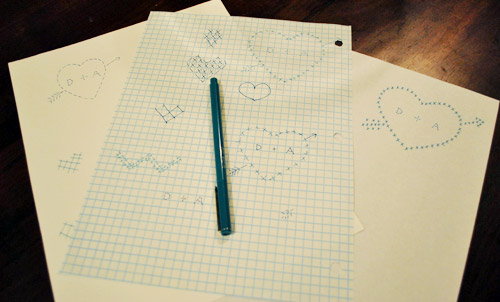 John and I decided that this little drawing on the right was our favorite.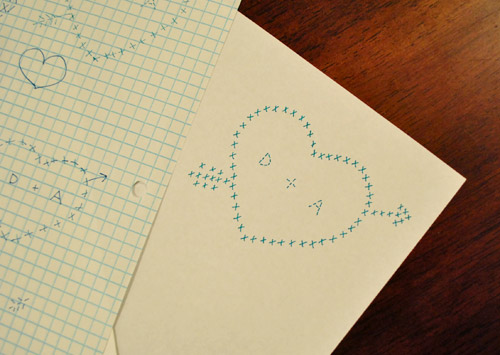 I worried how it would transfer onto the napkin (would it bleed? would it run? would it just look terrible and drawn on?), but luckily the Ikea frame that I had on hand (thanks to this Ikea run where we stockpiled a few for random projects like this) had a 5 x 7 " opening, which meant that I could cut my stolen napkin into fourths so I'd have the option for three do-overs. There was definitely comfort in the fact that the first, second, and third attempt could fail and I'd still have one more shot. I figured the best method of transfer would just be to lay the cloth napkin over the card stock sketch and see if the design was visible (aka: traceable) through the fabric. And it was. Booyah.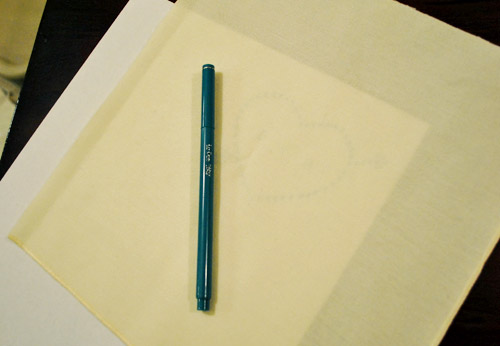 Incidentally, if it wasn't sheer enough I planned to tape the napkin and paper up to a window so the sun would shine through and make it easier to see, but I was glad to skip that step.
Then I just used a fine pointed marker to trace my little faux-needlepoint Xs all around the heart and the arrow and just freehanded the little dashed letters from the original design. Since I'm a detailed-oriented gal, I'll take a moment to mention that the specific fine pointed marker that I used was a LePen (purchased on sale at Michael's a few months back in teal because I loved it and couldn't resist). Did the marker bleed? Yes. Was it slight? Yes. Did I like it? Surprisingly, yes. But it took me a second to realize that.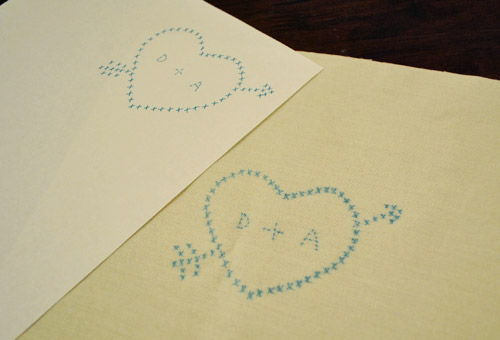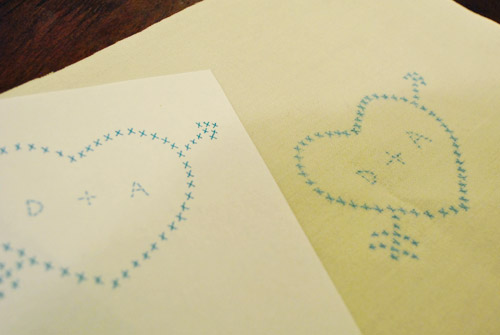 Since I had four shots at this (thanks to cutting my napkin into fourths), I tried my Le Pen first. And I wasn't sure I liked how not-super-crisp the slight bleed made things. So then I tried tracing the same design onto a second fourth of the napkin with a ballpoint pen (which didn't bleed at all). I did it in blue, and black, and even used a red Pilot rolling-ball pen too, just to exhaust a bunch of options.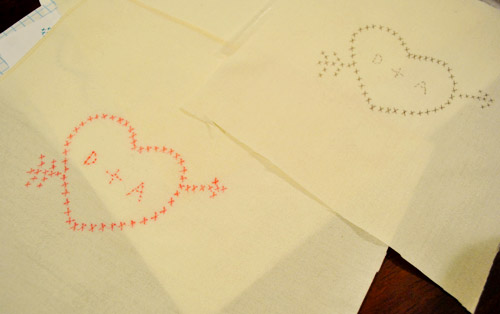 I learned that I actually didn't like the sharp lines as much as the softer and more charming slightly blurred lines from the Le Pen. For some reason it just looked more homemade and sweet and sort of timeworn and imperfect – as opposed to sharp and doodled with a pen. Does that make sense?
So I popped my favorite first attempt into my already-on-hand Ikea frame.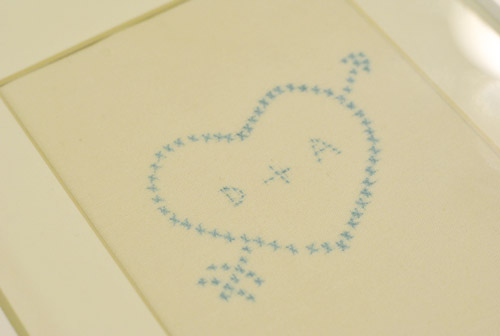 Here it is hanging on our frame wall so you can get a feel for how it might look when hung with a few other things at Dan & Ali's place: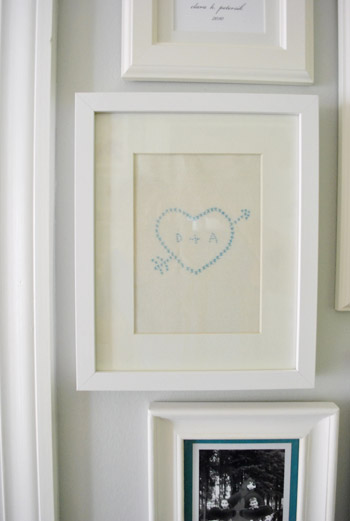 It's kinda plain-jane on its own, but it's a nice little frame for a grouping since it plays so well with other busier things.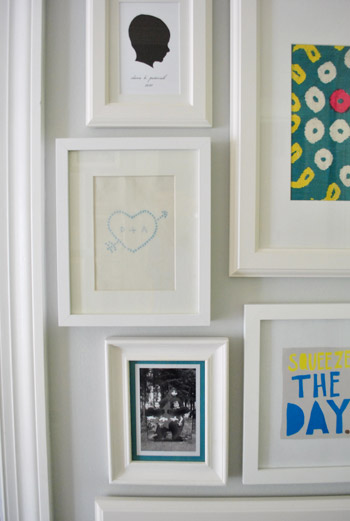 Total spent: $0. But if you count the original cost of the frame, the price of a Le Pen marker, and a scrap of fabric/cloth napkin (if you don't accidentally steal one like my frazzled-mom self) this project might be around twelve bucks or so. And when it came to time spent, maybe it took me half an hour from start to finish? Unless my brother Dan is reading this, in which case it was $100 and took me five grueling days to complete.
Speaking of the one-year-anniversary lovebirds, Dan and Ali seemed to be genuinely charmed by it, so… score. I think they especially loved that it was a stolen napkin from their venue (which was hilarious/meaningful), so perhaps using something special like a swatch from a wedding table runner (or even a non-fabric item like a paper menu or seating card?) could help you create something sort of handmade and personal to commemorate someone's big day in a new way?
So there's the story of a napkin that I accidentally stole, kept around for a full year, and then hunted down in our crazy playroom full o' junk. Please tell me I'm not the only one who has inadvertently taken something that wasn't theirs. And that I'm not the only one to have a giant mountain of odds & ends that desperately need to be sorted/garage saled/repurposed/donated. Oh well, at least I was actually able to locate the napkin without calling in a search crew. That means the playroom can't be too bad, right? Right?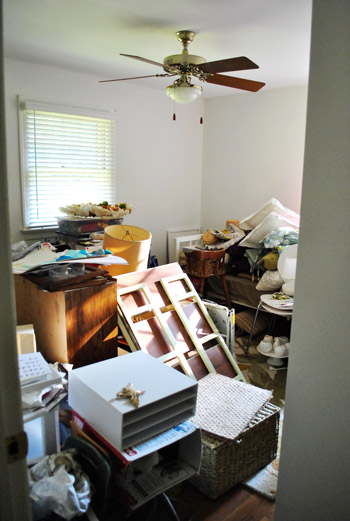 Wrong. It's bad.
What have you sketched/framed lately? Any other accidental kleptomaniac stories? Feel free to make me feel less alone in my little napkin-caper incident.
Psst- After many requests we're spilling the beans about our approach to feeding Clara over on BabyCenter. With our doc's blessing, we tried a method called Baby Led Weaning which meant no purees and no babyfood (instead she got the same healthy foods that we were eating, tweaked so she could safely eat them right along with us). More on the whole shebang here.