Occasionally we do get out of the house. And occasionally it's to more exotic places than Home Depot or Target. So just like our past adventures to Savannah, Florida and our road trip to Dallas we wanted to take you along for our Labor Day weekend trip to Ithaca, NY. The reason for the trip? Sherry's brother Dan was gettin' hitched!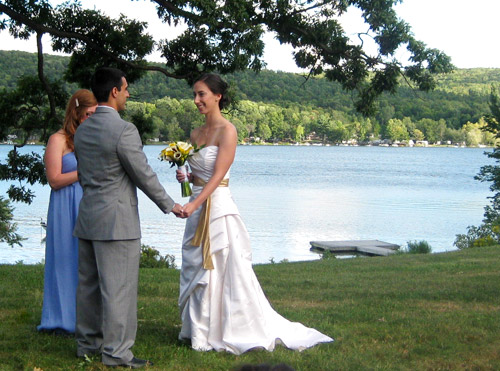 Yep, that's Almost-Doctor-Dan (as many of you know him) marrying his bride Ali during their beautiful lakeside wedding in wine country just outside of Ithaca. The ceremony was touching and fun-filled at the same time (the officiant was their friend and Wedding Bee blogger Mrs. Hermit Crab, fyi). I even got to watch my two girls walk down the aisle together (Sherry actually wore Clara in her carrier, which seemed to be a hit with other wedding-goers). Not too shabby for Clara's first wedding.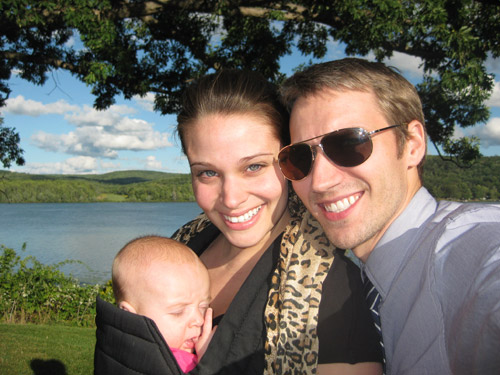 The wedding took place at a picturesque spot called The Fontainebleu Inn, a historic estate that we got to explore a lot of as we hunted for private spots for diaper changes and nursing.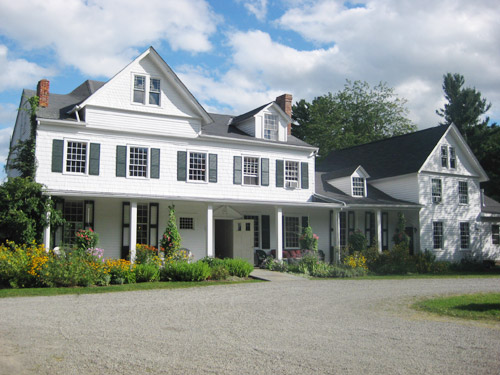 While the weekend was certainly filled with family and wedding-related adventures, we carved out some time of our own to explore the area. And thanks to some tips from readers Amanda, Kirsten, Ashley, Julie, Nicole, and Josh (via Twitter/Facebook) we were able to live like true Ithacans for a couple of days – which we're pretty sure requires inserting a "gorges" pun periodically into conversation.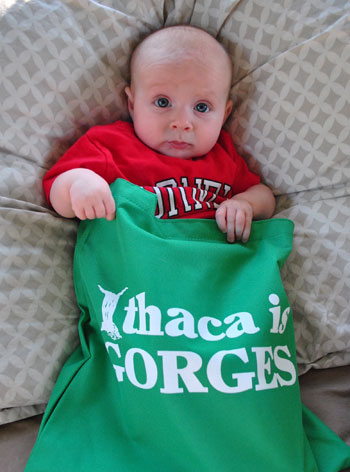 Wordplay aside, Ithaca was a scenic spot with lots of opportunities for sightseeing and photo taking (too bad we managed to forget the good camera at home). For example, here's Ithaca Falls – which actually cascades right through the center of town: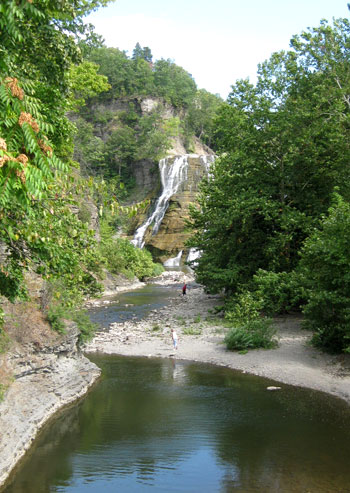 Both Dan & Ali met at Cornell where he was getting his undergrad, and he's now getting his PHD at Columbia and they're living it up in NYC like Sherry and I once did. There was a HUGE area filled with gardens, lakes, walking paths, and an arboretum. Sherry's biggest takeaway from that trip was actually these chunky stone steps that were spotted frequently (and sat upon occasionally). Makes us want to do some landscaping!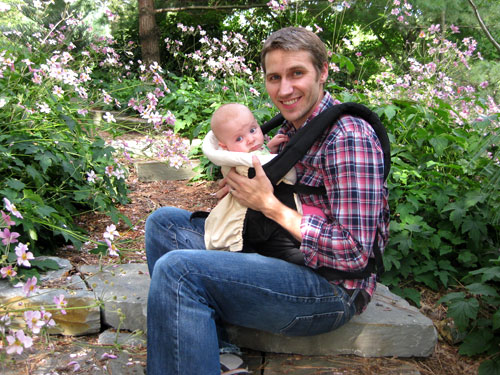 But beyond beautiful greenery, one of the things that impressed us most about Ithaca was its green-ness. Perhaps its because its residents are blessed with such a stunning natural setting that they seemed to work extra hard at being eco. We lost count of the number of places we spotted with compost receptacles right alongside the standard trash and recycling bins – like this one at Collegetown Bagels. And nearly every cup and plastic utensil that we used was recycled and even compostable.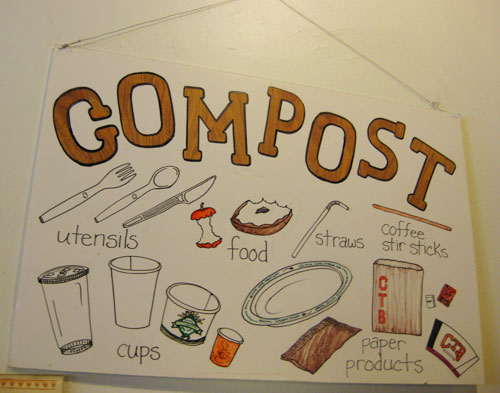 And their Farmer's Market kind puts Richmond's to shame. Once we managed to find a parking spot, we loved how there was not only fresh local food to buy (or eat on the spot) but tons of housewares, clothing, and art too.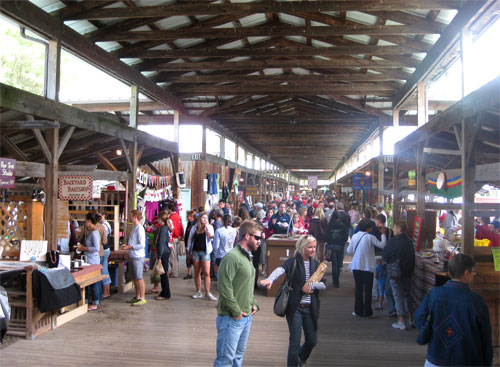 We particularly loved the style of these graphic clothes and handmade pillows. We left empty handed though because we arrived devoid of any cash (which was probably a good thing since our car was packed with baby stuff anyway).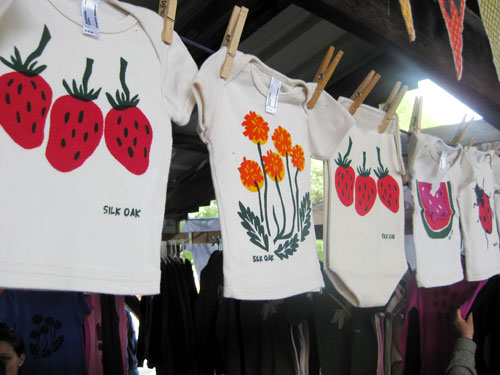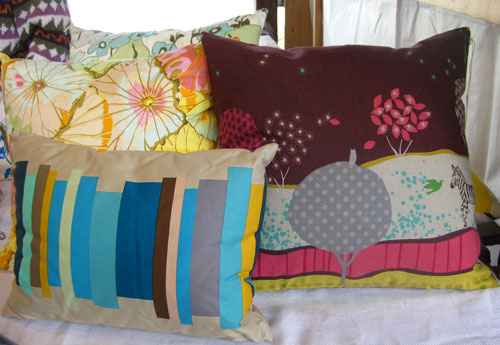 And thanks to the tips sent by our readers, we also were able to check out a lot of stores with waste-not mentality, like Home Green Home – which even carried those beer and soda bottle tumblers I tried to make (for $8 a pop, by the way). Sigh.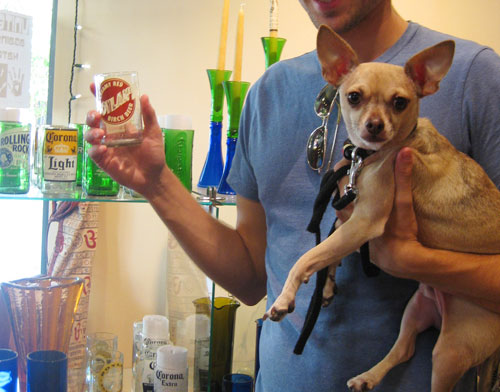 There was also an architectural salvage spot called Significant Elements that carried your usual collection of old windows, doors, and plumbing fixtures along with some more interesting finds that we loved: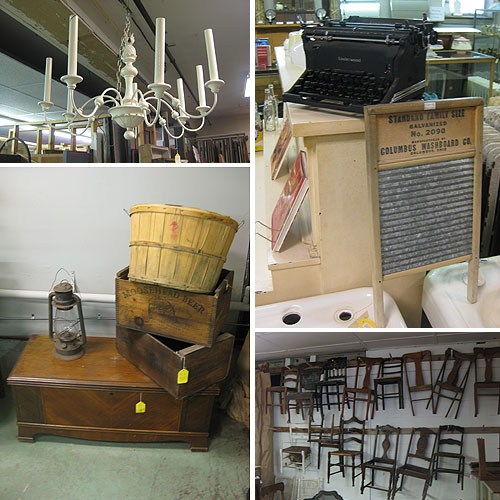 We also ventured into a thrift store called Mimi's Attic that focused on just household items, including some upcycled furniture like these brightly colored pieces that would provide a fun Domino-ish pop of color.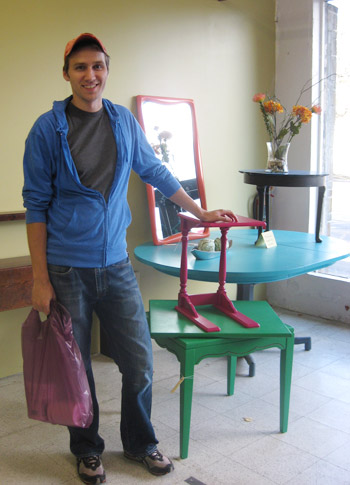 Right next to Mimi's Attic was a second-hand baby store called Mama Goose. It was filled with gently used clothing, books, games, and any other kind of baby gear you could think of. We even walked out with some of the Charlie's Soap that many of our varsity cloth diapering readers had recommended for washing Clara's dipes. So far we're loving it by the way.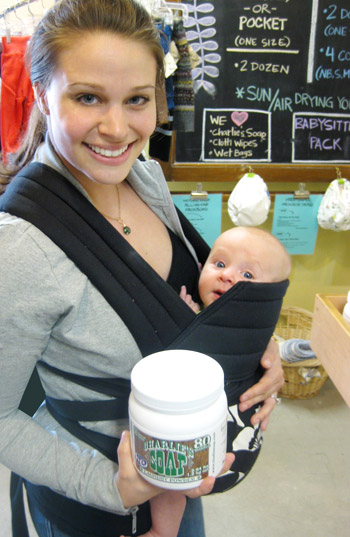 Ithaca actually had a lot of great places for kid-related shopping. At the Ithaca Commons walking mall (where we found Home Green Home) there was also a place called Jillian's Drawers. They introduced us to the novel concept of buying gently used cloth diapers (they looked like new) and renting baby carriers so you can figure out which is best for you before buying one (which definitely can save money and storage space since you're guaranteed to end up with something you and your wee one like). Genius.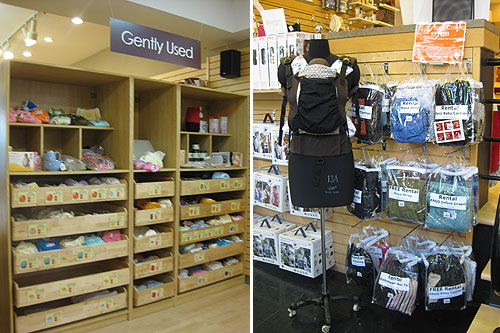 There was also an awesome toy store called Alphabet Soup that we thoroughly enjoyed (even though Clara slept through it- figures). I couldn't decide which I liked most: the bright recycled-wood dinosaur toy or the chunky modern alphabet blocks.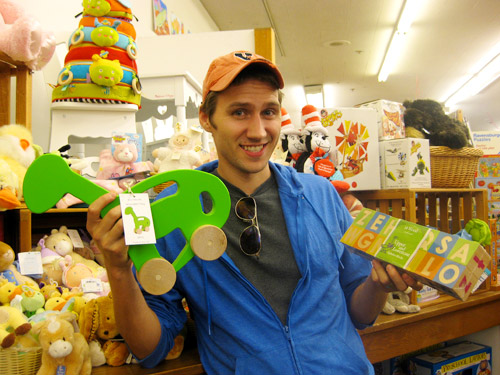 But then I spotted the Plan Toys Green Dollhouse and suddenly had a clear winner in my mind. We already own a few Plan Toys because they're green and fun, so we were totally entertained by the thought of someday getting this dollhouse for Clara. Yes, it actually has a recycling station and solar panels.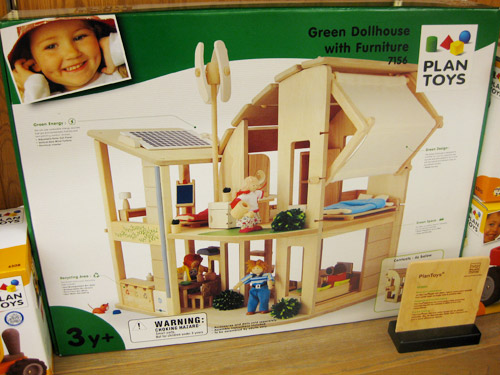 So that wraps up our little trip to Ithaca. Thanks again to the folks who offered up suggestions for what to see and do (we also loved our dinner at the Moosewood Restaurant and the Hot Truck subs that we snagged before the wedding). We'd love to go back to Ithaca someday when Clara's a bit older and we can take her on some of those "gorges" waterfall hikes. Ok, I think I'm done with the gorgeous/gorges puns for now.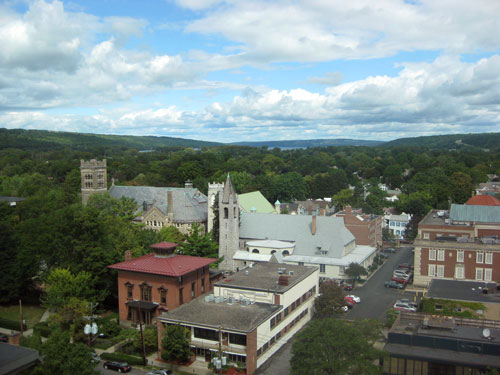 Have any of you guys traveled to (or lived in) Ithaca and have other must-see, must-do, or must-eat items to add to the mix for a future trip by us or someone reading? Or do you have other Ithaca-like cities that you'd suggest we check out?