A couple of months ago I came across an article in Men's Health called "Your Lethal Lawn." It was a bit doom-and-gloom about the negative effects of chemicals on our lawns and the people who live on them (if you couldn't tell from the title), but the point still resonated with me. It sort of reinforced our decision to stop fertilizing and using herbicides /pesticides on our lawn a few years ago so that a certain chihuahua wasn't romping in chemicals… and tracking them back into our house. And as we grow closer to a time when Clara will be doing the same thing in the yard (and crawling around on the floors inside) we're still personally set on staying fertilizer & pesticide free in our front and backyards.
The article wasn't all about scare tactics though. It touched on some practical tips for moving towards a more natural regime for maintaining your lawn. Those suggestions piqued my curiosity because since banishing fertilizer/herbicides/pesticides from our lawn we really haven't done anything proactive to maintain it and it certainly could use some help (especially after the heat/drought we've been "enjoying" here in Virginia). Luckily the article referenced a book, The Organic Lawn Care Manual by Paul Tukey, which even more luckily was carried at our local library (free books= booyah). You may have actually spotted it in some of our office progress shots from a few weeks back.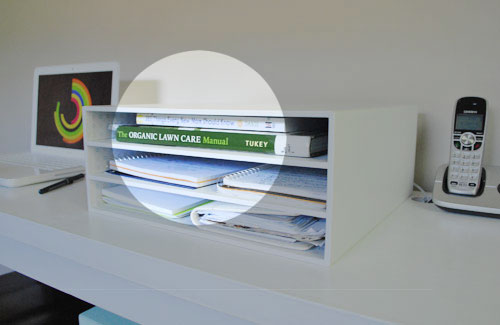 So like the captain of the lawn care nerd squad I've gone through the whole book from cover to cover, reading more about soil texture, grass anatomy, and watering than I ever thought I'd have the patience to read. It was actually quite fascinating and has me wishing I had the time, energy, and money to overhaul our entire landscape (fortunately the author offers plenty of tips for working with what you've got – some of which I hope to try in the coming months).
Many people actually wonder why we have so much grass while considering ourselves to be green, but because we don't use any fertilizers/pesticides/herbicides and don't even water our yard unless we're seeding it (which we haven't done for 2+ years) it's actually a pretty eco friendly expanse of green. We even use a reel mower 90% of the time so we don't even have the gas guzzling guilt to deal with. But anyway, back to the book. When I said I was acting like the captain of the lawn care nerd squad, I meant it. Just look at how many pages I flagged: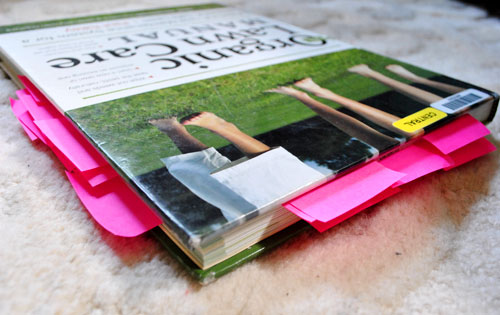 Without even attempting to play organic lawn care expert here, I thought I'd at least share some of my "aha" moments and tips from reading The Organic Lawn Care Manual so that you guys might get a flavor for what I found so interesting:
Do you only visit certain parts of your property to mow? This was a throwaway question but it's the #1 idea that has stuck in my head. The book asks us to reconsider the needs of our lawn and calls into question the ideal of a golf-course ready expanse of green in front of our homes. Tukey does a good job at not making anyone feel bad if they just love a big, grassy yard but his thought to seed part of his own backyard with wildflowers had me rethinking a few spots on our own property.
Self-sustaining vs. drug-addicted lawn: I liked his analogy that the goal with a lawn should be to train it to take care of itself, not teach reliance on a cocktail of weed and insect killers, fertilizers and winterizers. A healthy organic lawn is one where the plants are strong enough (and the soil is nutrient rich enough) that it crowds out weeds, survives droughts, and fights off disease on its own. Sign us up.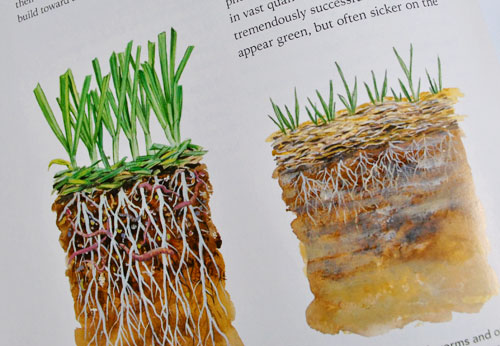 It's about soil first, grass second: Tukey spends a fair amount talking about soil (though in his opinion not enough). He reminds us that without enough healthy soil as a starting point, you'll constantly be battling your yard. He dives deep into tips of conditioning with compost, compost tea, aeration, etc. but really drives home the point that you should understand your soil (by digging in and examining it, and by conducting a soil test) to see where you may be lacking. I may try the soil test and compost tea thing, btw. Updates to come if/when I do.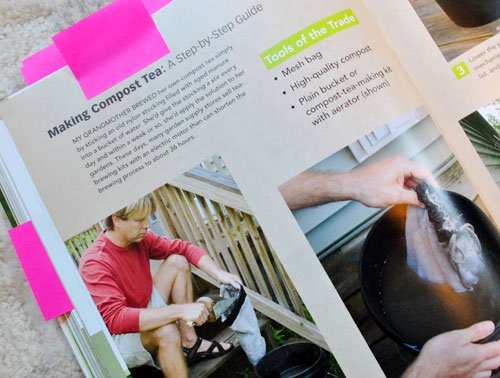 Use water wisely: And even though we don't water our lawn (thank goodness for all the fall storms that seem to tide it over from year to year after such hot Virginia summers) there's a whole chapter on watering with great tips like: water between midnight and 9am, so it can soak in before the sun evaporates it (did you know evening watering could over-moisten things and lead to fungus?). Also you should aim for fewer, deeper waterings (which encourage deep root growth) rather than frequent, light waterings (which leave roots more vulnerable on the surface) – though always stop to let water soak in if you see it pooling anywhere. And who knew the best sprinklers where those spinning rotary kinds? We used oscillating ones (with the gradual swaying fan of water) back when we established our yard, but apparently they don't distribute water as evenly as they should.
Be wise when water is scarce: His discussion of droughts was most pertinent to me, so I liked little explanations like a browning lawn is just the grass going dormant and conserving its energy. While your instinct may be to continue to water every 4 to 8 weeks-ish to keep your yard from browning, watering too much before the drought could unnecessarily "wake up" the lawn before the drought is over (and it's more protected when it's brown and dormant than "awake"). He also suggest leaving grass a bit longer during droughts because it will create its own protective shade. We always cut our lawn on the highest setting (except at the very end of the season) because we heard it was best, but now we actually know why!
Imperfection is okay: Perhaps my favorite lesson from the book is that an imperfect lawn is okay (if it's okay with you). While Tukey does spend a lot of time talking about how to crowd out, cut out, and even burn out weeds – he also makes the point that a plant in our yard is only bad if we say it is. If you can live with a patch of clovers or a few dandelions on your lawn, leave them alone (clovers are actually good for the soil, believe it or not). In fact the first step of his RILE approach to weeding is "Relax" (the others are "Identify," "Listen" to what it's saying about your lawn's health, and "Eradicate" if necessary).
Mowing can be an art form: Tukey reminds us that cutting any plant is an unnatural activity that the plant has to recover from, so grass is quite amazing in the way that we shave it constantly and it comes back more often than not. He offers a lot of tips like mow in the evening for minimizing wear on your lawn and your equipment. Alternate directions each mowing so you don't encourage permanent tire-track lines. Oh, and of course never cut more than a third of the blade on any one day or else you could shock it too much.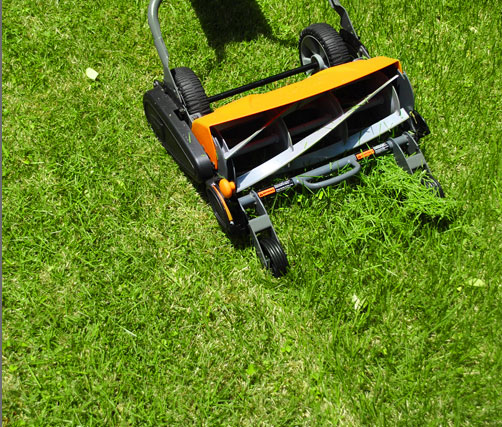 There's a bunch of other interesting stuff in there (at least by my standards), including a nice collection of how-to guides. He also covers a lot of options for non-grassy yards like gardens and xeriscaping. And hopefully in the next few months I'll be able to try out some of the things he suggests in an effort to green up our lawn both literally and figuratively.
Do you guys have any earth-friendly and lawn-friendly tips or tricks to offer? Any organic lawn care suggestions that you care to share? Or have you tried some of these things with much or limited success? Please share because we'd love to learn more – especially me, since I'm clearly a card-carrying member of the grass geek society.
*BONUS FREEBIE! When reader Alee spotted The Organic Lawn Care Manual back in our office post, she was delighted to see her company's book in our house. When I told her I was planning to blog about what I learned she and Storey Publishing offered to give away FIVE copies of The Organic Lawn Care Manual to you guys! So if you want a shot at one of the free copies, head over to our Facebook page where we'll be accepting entries today (and announcing the winners on Friday, so be sure to check back). Thanks Alee and Storey Publishing for the bonus freebie!