Aw, yeah. Momma made a mood board… for mommas (or any other ladies out there). So without further ado, here's what I'm loving – both as gift ideas for fellow gals in my life… or even for finding under the tree myself. Oh and in the interest of thriftiness, there are a bunch of under-$15 things, a few $30-or-less finds, and a couple spendier items peppered in there (but nothing over 65 beans).
1. This fun watch watch from Anthropologie is pretty cute. I could see going in on it with a sister in law (since most of our family gifts are in the $30 range, this $58 gift is perfect for two folks to share).
2.This $48 brightly colored clutch is my jam. I'd totally use it inside of my big ol' purse (to restore order to my cavernous bag) and then pull it out on any occasion when I want to travel lighter.
3. I actually already have one of these leather keychain tassels – and it probably saves me at least ten minutes a day because it's so easy to find my keys in my aforementioned cavernous bag now that they're all tassel-y. And you guys know I'm a fool for grellow.
4. This pom-pom hat from Target is under $23 and would look cute on pretty much anyone.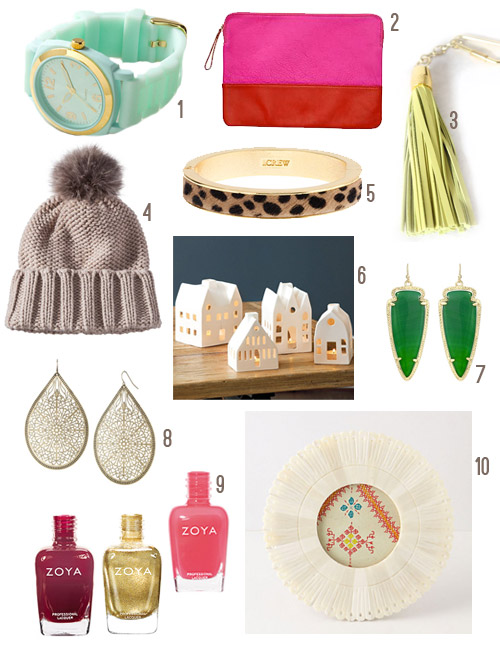 5. Words can't express how much I love this $30 leopard bracelet. I think it would make any girl feel fancy.
6. How pretty would one (or even three) of these guys be, all glowy and charming on a mantel or windowsill? And they're all on sale right now. I would totally grab one of the small $19 ones and make some cookies and give them to a good friend together (to me coziness = a votive candle flickering in the windows while I suck down cookies). Update: they sold out of the smaller $19 guys – bummers!
7. I've dropped some heavy hints to Santa that I'd swoon over these guys in this rich emerald color (John sweetly got me a different set of Kendra Scott earrings last year and I've worn them about a million times since).
8. We all know that I love big earrings, but I'm not a snob about 'em. In other words, many of mine are under $8 – like this pretty pair from Tar-jay.
9. This is my very favorite nail polish ever (it's eco and stays on forever) and these three colors feel pretty festive for the holidays (found here, here, and here).
10. John and I have a collection of capiz frames for each year that we've been married with a picture of us taken on our anniversary inside. So although we have another six months until our 6 year anniversary rolls around, I'm always on the lookout for pretty capiz frames, and round ones like this are my favorite (tip: I usually hold out until they hit the clearance bin at Anthro for under ten bucks).
Woop, there it is. Momma's list o' holiday goodies for ladies.
Update: You can check out all of our favorite holiday decor finds here – many of which are under $15!
*This post contains affiliate links*