This is the story of a door turned desk turned tinier desk. When Clara came down with a case of the coloring bug a few weeks ago, it became clear that she needed an alternate surface for her artistry than the floor. You know, just in case she didn't feel like tummy-drawing.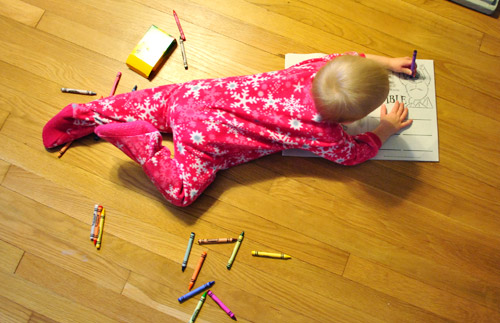 We talked about a few fun play tables over on BabyCenter a couple of weeks ago, but finally found the inspiration that we needed to DIY one right in front of our eyes. And no, it wasn't this leftover-plywood-slash-side-table combo that Sherry rigged up in about 30 seconds of "hey, maybe this will work!" Sorry, Sherry. #playtablefail. Back to the drawing board…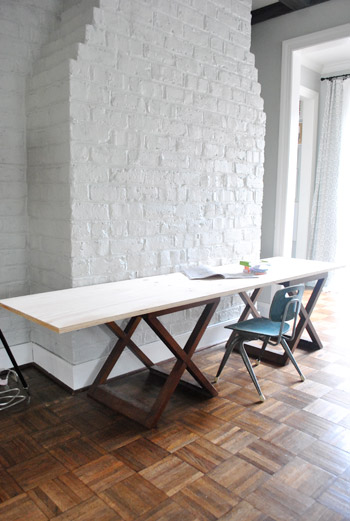 Actually, this was our inspiration. The desk that we built with an old door for our first house's office, that's been getting the cold shoulder ever since we DIYed a newer, bigger desk for our current house's office (which made this one look oddly tiny and cramped). It had been sitting at the opposite end of our dining room for a while – just waiting to somehow be repurposed (or craigslisted).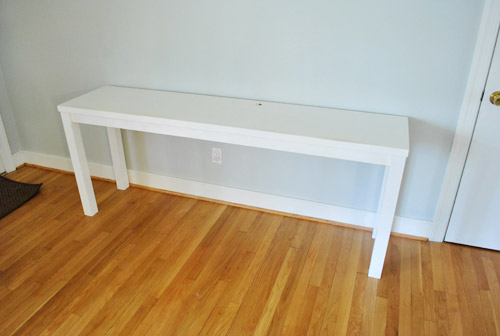 Well, this was its lucky day. It was too tall and too long, but since it was something that we cut to size the first time around, we figured… why not tweak it again? So we set off to create a miniature version of it. But we had a few requirements for it (like for it to be able to be used while Clara's sitting or standing like a true activity table, to be big enough to seat a few other kiddos, to be sturdy and solid and safe, and to not be too precious – so it wouldn't be the end of the world if Clara broke out a permanent marker on it one day). After chatting about a game plan with Sherry for a while (to figure out the right width for a few kids and the right height for standing & chairs), I lugged it down to my basement workshop and starting disassembling it.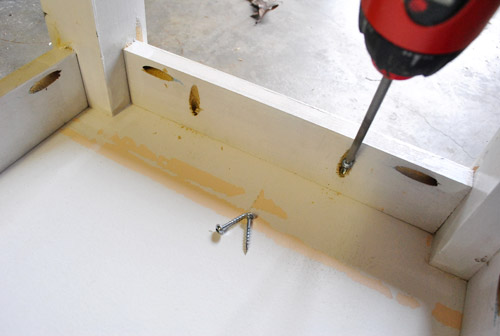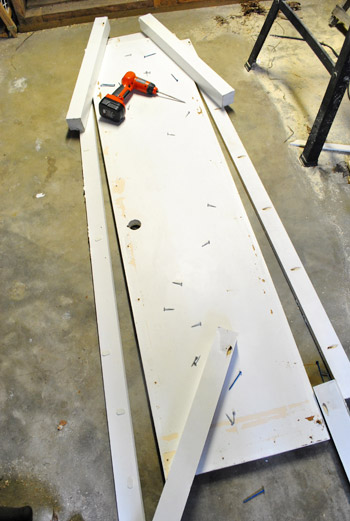 Then I used the miter saw to cut the legs down a few inches.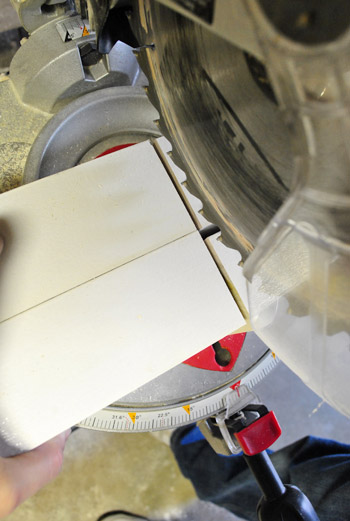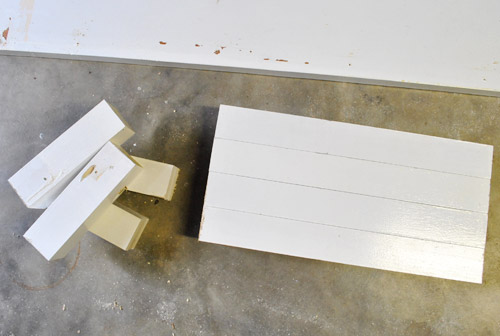 Then I had to cut down the tabletop (aka, the old door). For this I broke out my beloved table saw.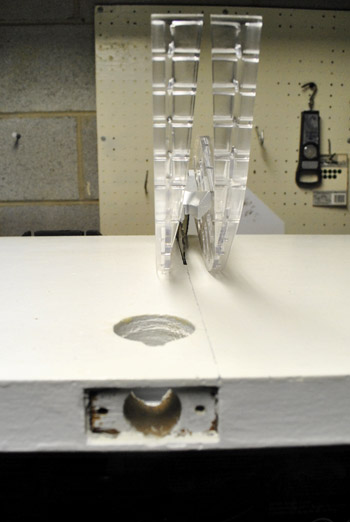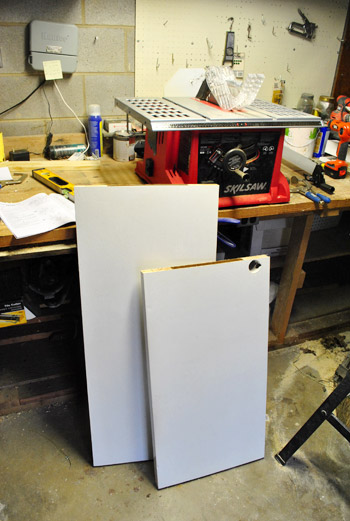 With my top and legs trimmed down to kiddy sizes, I just had to cut down the support pieces (aka: the aprons) and screw everything back together again.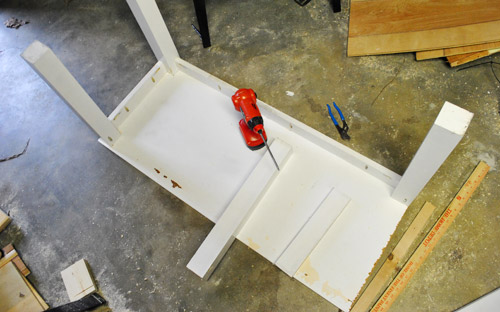 Oh and I did have to patch the open end of the door this time (when it was our desk we just left the end open because it faced the wall, so nobody saw it – and the room was so tiny that no one could get back there). But that wasn't going to fly with little wandering hands around. So I cut a thin strip of spare plywood and nailed it into place. Once it's all painted, it should look pretty good.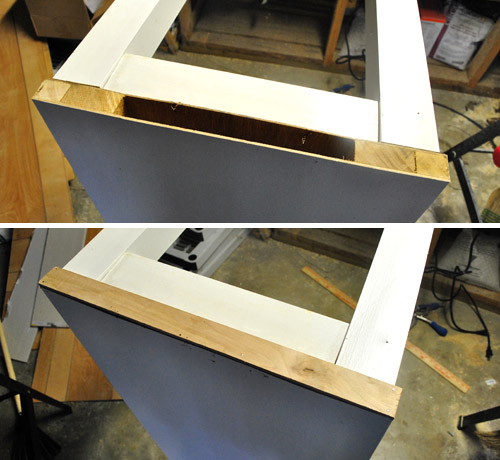 So with that (and zero dollars spent) Clara's new coloring desk was complete. Well, mostly.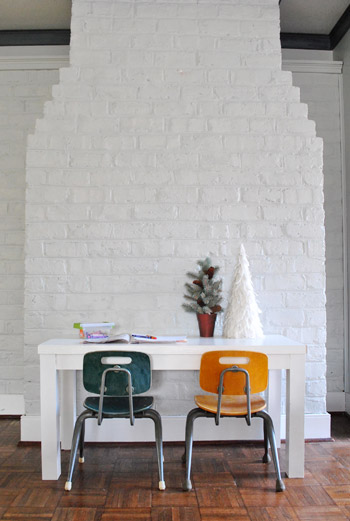 It still needs a fresh coat of paint. And we're leaning towards (can you handle this?) white, so that we can make the $5 yard sale chairs the colorful accent instead of the table itself. Although Clara has done some crayon scribbling on the top that's so cute it makes us want to tell her to go nuts and then use some sort of clear sealer to keep the doodles around forever. So we'll have keep you posted if/when we make a decision…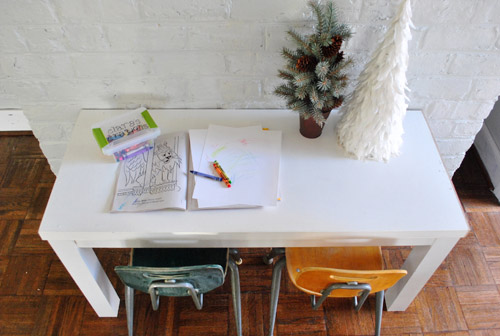 There's something really charming about the fact that it was made from an old linen closet door from our first house (where we brought Clara home from the hospital and raised her for her first seven months of life). That's one sentimental table. And we love that Clara now has her own pint-sized parson's desk when our adult-sized one (from West Elm) sits on the other side of the living room. It's like a mini-desk for our mini-me.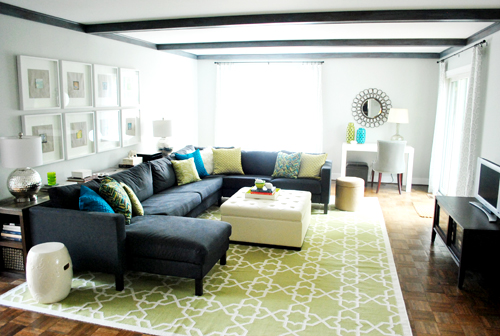 Oh and you may remember these yard sale chairs that we scored back in the summer. We actually used them to build the desk at the right height for those chairs (and for playing while standing too – you know we like things that multitask). So it's nice to have two chairs that already work. You know so if Clara's baby BFF's drop by we're ready (we can also pull the desk away from the wall if kids want to face each other or we want to add more chairs in the future).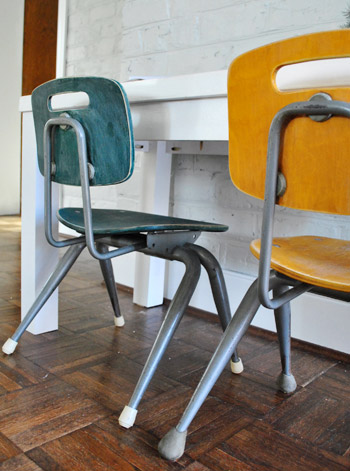 They don't look half bad as-is (one has been stained yellow while the other was stained an evergreen color and they're both pretty worn) so they might stick around like that for a while. We did debate painting/staining them someday, but it doesn't seem to matter to Clara either. She fell in love with her new spot from the first second she laid eyes on it. Must be nice to wake up from a nap to something that was custom built just for you.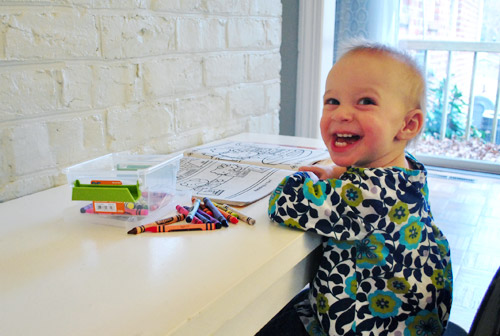 But seriously, look at that face. Does it not make you want to build something for her too?
We're leaving the desk here in the living room for now because it was an empty spot and it's convenient for her to color while we relax work on the couch/clean up/prepare dinner in the nearby kitchen, etc. But we made sure to keep the desk small enough so that it could also slip into her room, the future playroom, the kitchen, or just about anywhere else that we may want to place it as she grows.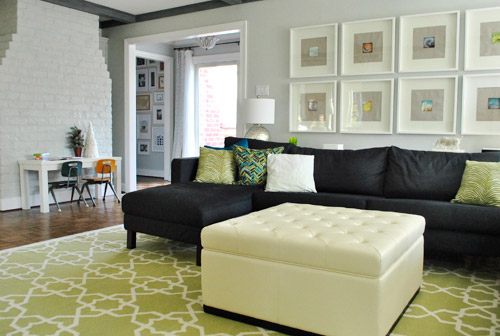 Wanna know the best part of this project? Besides it being 100% free, we got the entire thing done in one day. From concept to completion. Man did that feel good. Especially with a certain other project that's taking several months (cough…thekitchen…cough…cough). Although now that this is done, it's back to cutting trim and sanding wood putty. More on that stuff for ya tomorrow.