Happy Holidays everyone! We got you a little something to celebrate. It's the show notes for Episode #29 of Young House Love Has A Podcast. On this week's episode we talked about hiring out renovation work in your home. Specifically, that it can be exciting and awesome.. and sometimes it can be deflating and frustrating… which was the case recently for us. So we're sharing some red flags to look out for and some tips to try to avoid that issue along with a few more ways that we've cut down on holiday stress (and gift excess). Plus we dive into our favorite design books, dig up John's old journal, and enjoy some holiday tunes from a very special guest.
You can download this episode from iTunes, Google Play, Stitcherand TuneIn Radio – or listen to it below! Then use this page to check out any links, notes, or photos that we referenced.
What's New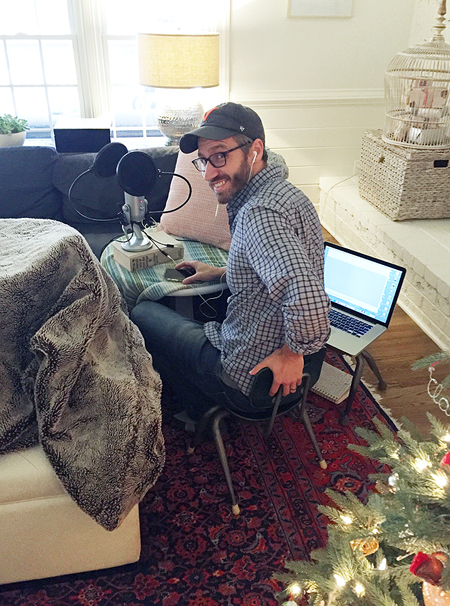 Above you can see that pic of John in the "baby chair" that we promised. It's about 12″ off the ground, and he's 6′ tall.
Below we've included a look at our Christmas card this year, which we bought on Minted (it was this design)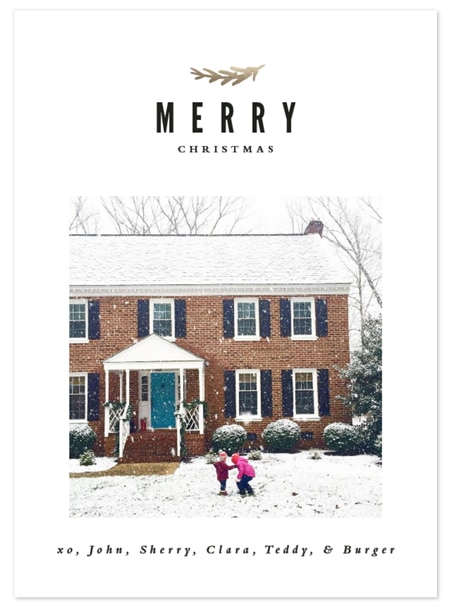 Here's that recap of holiday gift themes we've used in our exchange:

Travel Junk (things you pick up while on trips or vacations)
Say Cheese (photo or cheese related gifts – we got a Wisconsin-shaped cutting board for our cousins who live in Madison)
On The Road (gifts good for road trips or travel, like this travel art kit we received)
The Year of Granny (to honor grandma's 90th birthday we chose gifts that reminded us of her, like an automatic card shuffler)
Be A Good Sport (sports-related gifts like memorabilia for your favorite team or actual games to play together)
Feeling Green (eco-related gifts, or things that were literally the color green)
Across State Lines (local gifts from the town of the gifter)
We also did more general categories like "Music" and "Entertainment" in past years

And you can check out the poll we referenced about devices like Google Home, Amazon Echo, or Amazon Echo Dot in the show notes for Episode #25
What's Not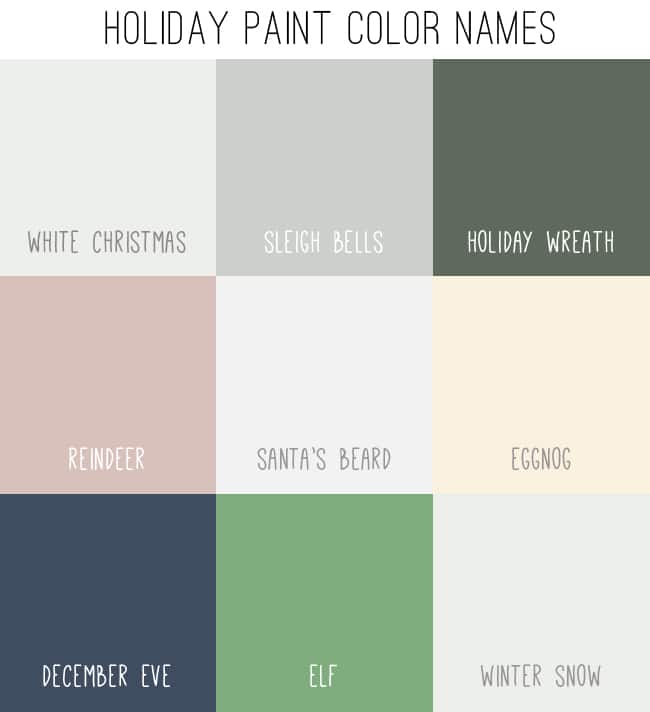 Listener Call
We're Digging
Psst- Looking for something we've dug in a past episode, but don't remember which show notes to click into? Well, here's a master list of everything we've been digging from all past episodes.

Visit westelm.com/yhl to learn more about their Design to Impact program, and enter YHL15 at checkout to get 15% off your next purchase.
*This post contains affiliate links*