A while back we promised you guys a primer in contractor negotiation, so here it is. It's really not hard to master at all, especially since getting more than a few estimates is a great way to practice your new found skills (and score an even better deal while you're at it). So sit back and practice your game face while we run through a few of our tried and true tricks for dealing with anyone from electricians to floor refinishers and beyond.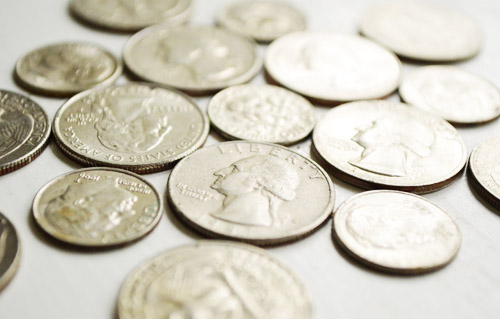 1. There's safety in numbers. The more experts and specialists that you talk to, the more you'll learn about the impending job (you'll begin to see the steps it will take, the materials it will call for, etc) so by the time you get a third or forth estimate for one specific project, you'll speak so knowingly about what it entails that you're sure to get a much fairer deal. We actually notice that our third and forth estimates are almost always a few hundred dollars lower because we're so confident about the subject at that point (and we're not afraid to mention that we've already gotten a few estimates)- which always helps get people down to their bottom line.
2. Cheaper isn't always better. Of course there are people who will do something cheaply and then there are people who will do something well. Sometimes those two things overlap, which is great, but never be afraid to go for the slightly more expensive estimate if you feel uncomfortable with the level of expertise that the cheapest contractors are bringing to the table. When it came to finding an electrician to add a few recessed lights in the kitchen, we went with the least expensive licensed contractor (who actually happened to be the second cheapest estimate since one guy wasn't licensed, which wasn't a risk we were willing to take).
3. But the most expensive is usually not better either. We have never gone with the most expensive estimate. Ever. Not when it came to paving our driveway or relaying our back patio. Not for our kitchen renovation or our radon mitigation system. Not for our tree removal, not for our new floor installation. Never. After many (many many many) experiences interviewing potential candidates to work on our home, we've learned that the most expensive estimates are usually from people who are no more expert than any of the rest (and often times are less experienced so they up their fee since the job will take them longer due to lack of knowledge and expertise). For example, when it came to relaying our patio, the most expensive estimate was from a guy who wanted to duplicate our boring square patio (and kept trying to up-sell us with mentions of stone walls) while the much less expensive (and more creative) stoneworker suggested a curvy and organic shape that was a lot less money AND a lot easier on the eyes. The more estimates you get, the more ideas you can mull over for the ultimate outcome that you're sure to love. And you'll be surprised to notice that often the least expensive solution is also the most creative and current (sure to add a lot more value to your home than an outdated and expensive technique or idea).
4. It never hurts to ask. We rarely go with any of the numbers that people first spit out, because we consistently ask people one simple thing: "can you do any better?". It's kindly delivered in a friendly tone with a smile (we don't believe in pretending to be tough, we've learned that you catch more flies with honey…). And the usual reaction is that the contractor will come down. Not way down, but somewhat lower than the original quote, which is really amazing when you think that all it took were five little words to score a nice 10%-ish discount to seal the deal.
5. Beg, barter and deal. Sometimes you can score an even lower estimate by mentioning something that may be just as valueable to your contractor as cold hard cash. For example when we had a tree guy come cut down about a billion big trees that hid our house from the curb, we convinced him to dole out a hefty discount by promising to give his name to all the neighbors who happened by afterwards to tell us that our front yard was looking great. We ended up handing out his business cards to score him at least five other jobs in the neighborhood, which definitely made his discounted rate to us worthwhile to him.
That about does it for our primer in negotiating a good deal. When it comes to your home, remember that finding someone who does something safely (and correctly) is definitely the most important thing. But it's nice to know that you don't have to pay an arm and a leg when it comes to hunting down the right man (or woman) for the job. Especially in this economy where everyone's cutting prices and throwing in free services just to score some much-coveted work. Happy haggling!