Decorating
From moment one of seeing this house, something about the view of a series of three lights all in a row(ish) in the upstairs hallway made us inexplicably excited. Just call it "the tri-light zone" effect. We just knew that arrangement had serious potential. You know, once we looked past the old carpeting and the blue trim.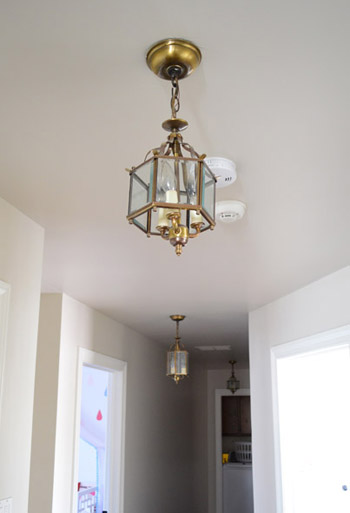 The existing lights were a little undersized for us (pictures don't do it justice, but this is a 33 foot long hallway!), so although we considered spray painting them another color (oil-rubbed bronze? red? navy?), I worried it'd make them look a bit more gothic cathedral than we wanted. Plus, all three of them were crooked, one of them had a broken stem, and the middle one was actually bigger than the other two.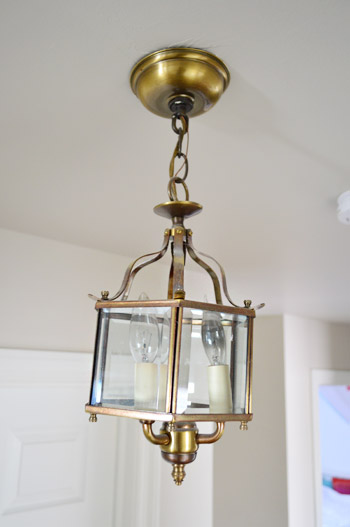 I've had these fixtures mentally bookmarked for years. Ever since we saw them in a House Crashing that we did in Portland, OR in 2012 I've wanted to work them into our home somehow. I like that they're a mix of classic and modern, and that their dark finish offers some nice contrast but isn't too heavy looking thanks to all the glass. The good news is that Sherry was with me (we don't always agree on lights, so sometimes finding something we both like takes a while). The only issue was that the $250 price tag was a bit much for us since we'd need to buy three of them.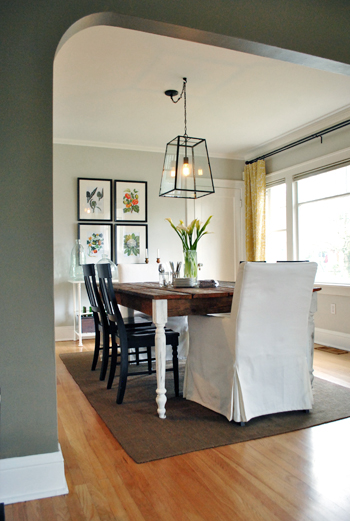 We hoped to find something similar at a local lighting outlet that we frequent (and even checked craigslist and the ReStore occasionally) but coming by three identical fixtures was tough. Then Sherry got an email alert about a World Market sale (25% off orders over $150) which lead her to these puppies – and we realized that after the sale they'd be $75 each, which means we could buy all three for less than the price of our single inspiration fixture.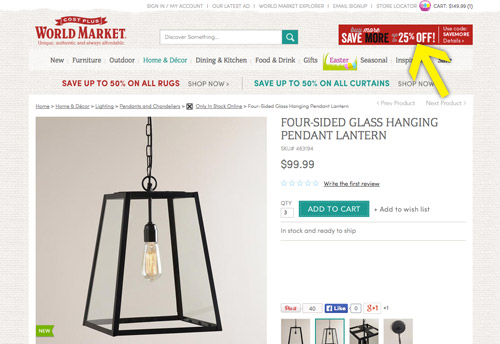 Normally I wouldn't take you through the installation process again, since I feel like I've done lots of posts like these – but I actually picked up a couple of tricks (albeit small ones) from observing the electrician work his magic at the showhouse. Trick #1 being leave the protective packaging on during installation. I guess I've always been so eager to unveil our new purchases that the first thing I usually did was strip away all of the plastic, cardboard and styrofoam. But I had a "well duh!" moment watching the electrician leave it all on (well, whatever didn't interfere with installing it) to help prevent any damage while he worked. Of course he took it off before firing up the power and adding a bulb, but just hanging them with the added protection felt a lot better than rushing to strip it before manhandling things into place.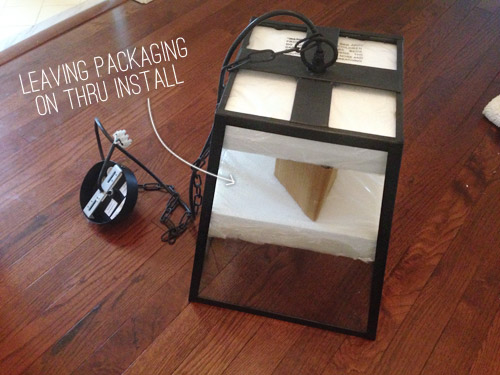 Obviously I would've loved to let these babies hang down on their chains a bit, but our 8ft ceilings weren't gonna let it happen. So we had to shorten the chain by prying the links open with two pairs of pliers, the tips of which I wrapped in masking tape to keep them from scratching the finish off.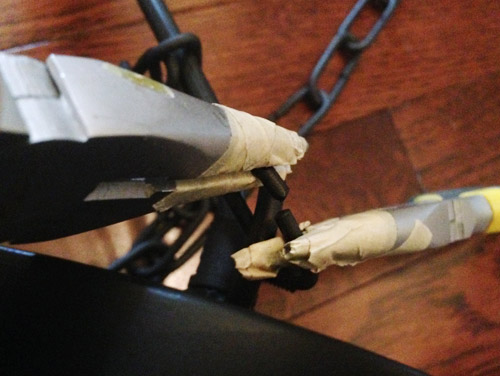 The previous lighting had been a bit low for my 6-foot self (well, the middle one outside of Clara's room was – since that lantern was inexplicably larger than the other two), so we decided to hang the new lights by just one chain link – which would put them all a couple inches higher than that old middle light (it hung about 75″ from the ground). So even though these are larger scale fixtures, the bottom of each lantern ended up being 77″ from the floor after installation.
But back to the single link method. I kept one link handy, but left a longer string on the fixture for the time being. More on that in a minute.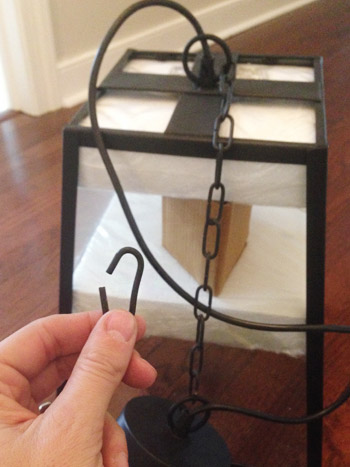 In addition to shortening the chain, I had to shorten the cord. So using my wire cutters I cut open the wire cover, pulled it off, and then stripped the ends of the white, black, and green wires.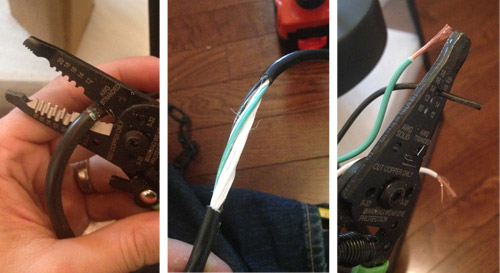 With Sherry supporting the fixture, I connected the wires to the matching ones in the ceiling. Sorry for the grainy pic, but we had the power off so lighting was limited up there.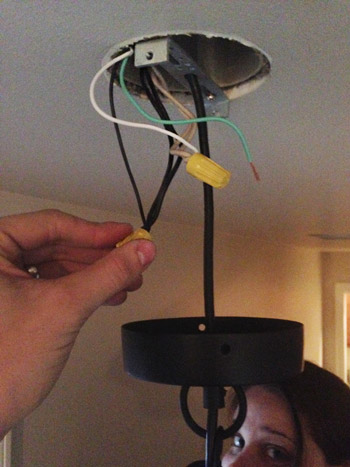 The second trick I picked up was to hang the fixture low and then raise it to your final desired height. With most light fixtures it's much easier to raise them (by removing chain or feeding more wire into the ceiling) than to make them lower, especially if you've already cut your wire. So not only is this an easier way to get your perfect height, in our case it made installation much easier because Sherry didn't have to hold the light as high and I wasn't wiring in such a cramped space between the fixture and the ceiling.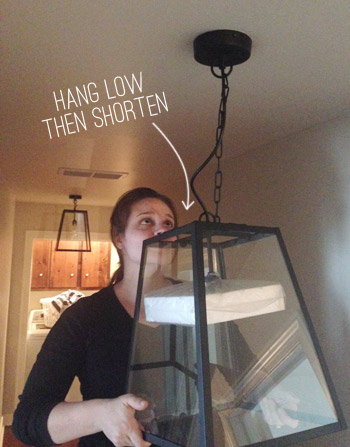 Once everything was secured, I swapped out the long chain for the my single link and pushed the excess wire up into the canopy. You can see my screwdriver tightening the screw that pinches the wire in place.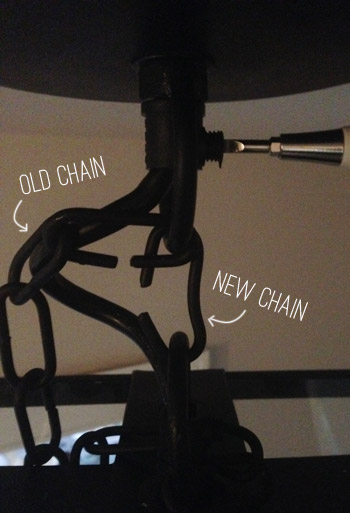 It still took a fair amount of time to get all three installed. Maybe 3 hours? I always have a tough time guessing since I'm slowed down by photo taking and, in this case, fielding showhouse calls. But in the end we love the result.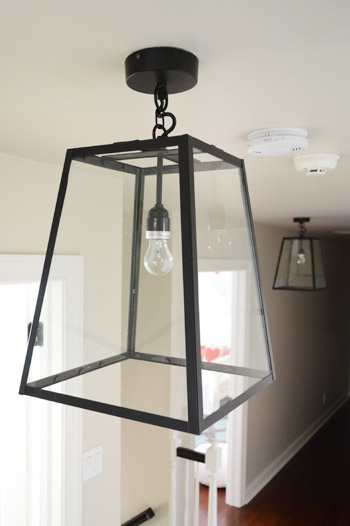 Just like the light in our foyer downstairs, we really like the high contrast look that these add. Even the way they tie into the dark door hinges, doorknobs, and the stained stair rail and runner that lead downstairs seems to make things feel more deliberate. They're a bit oversized for the space, which may bother some folks – but it's kinda what I dig most about them.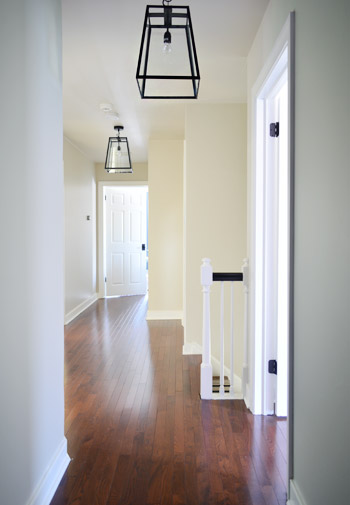 Adding some substantial wainscoting, interesting art, and other hallway updates should definitely bring more balance. So here's our remaining to-do list:
Reinstall & maybe modify the doors in front of the laundry area
Add crown molding (not looking forward to those angles!)
Add some nice thick wainscoting (it'll bring more substance to the bottom half of the hallway)
Get some art going on
Just for fun, here's a hallway before shot for comparison.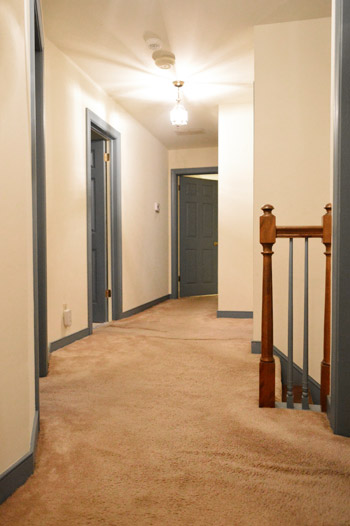 In the function column, I feared that it might be a little darker (going from three 3-bulb fixtures to three single bulbs), but these take a higher wattage (60 instead of 40) and somehow the glass seems to reflect so much that it actually feels brighter. Could also be that half of the old bulbs were burned out too, so there's that.
Here's how things look with the clear bulbs that came with the fixtures when they're on. They throw some angular shadows on the ceiling, but if we want less of that look we can switch them out for frosted bulbs (eventually we'd love to get LEDs in every fixture).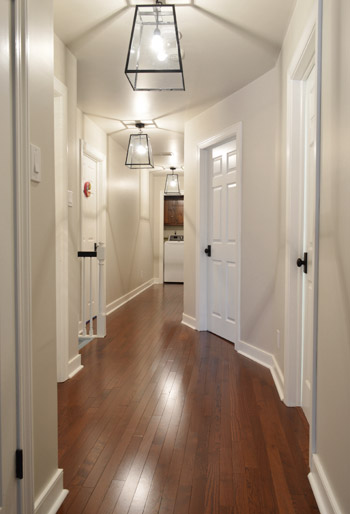 Anyone else have hall happenings to share? It's weird that those "not real rooms" in the house can end up being the ones you spend a ton of time passing through, so they make a surprising difference when you show them a little attention.
&nbsp&nbsp&nbsp
I've always thought that curtains are the unsung hero of room makeovers because everyone's quick to talk about how paint can make such a huge difference (agreed, it totally can) but I'd argue that curtains can rival the whole "wow, paint totally changed that room" because they can:
make a small window look twice as wide
draw the eye up and make ceilings feel taller
add a whole lot of color/pattern/interest (or not, if you just want something simple/breezy)
make any room feel more cozy by adding softness
add function (block light and drafts, provide privacy, absorb sound, etc)
So there it is. My name is Sherry, and I'm a fan of curtains. Just look at the nursery wall without any: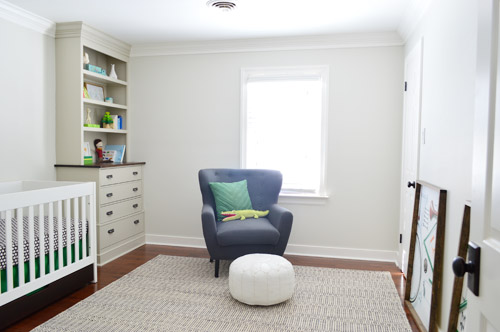 And here it is now with some happy green-apple deliciousness going on: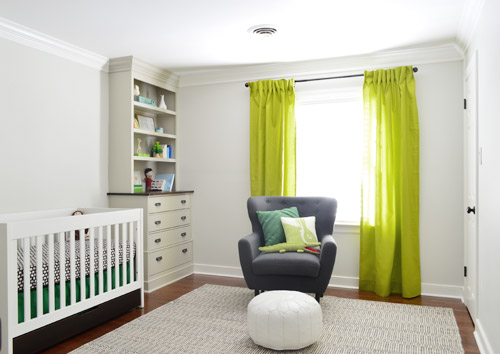 This room is still far from finished (we're planning a colorful large-scale mobile for over the crib – maybe something like this – and the bare wall across from the crib still needs furniture and art). But back to the curtains. They make such a difference, right? I also tried a new pleated approach this time, along with an extra thick hem at the top and bottom to give them some added heft, and I'm a complete fan. It was really easy, so I'll just stop yapping and dive into the details.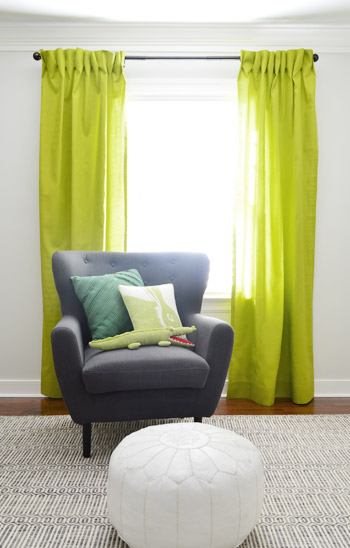 When it came to picking the fabric for the nursery, we knew we wanted something happy and colorful since the walls and built-ins are a neutral palette (Clara's white-walled yet super colorful room has taught us that safer choices on those harder-to-change surfaces leave things wide open to layer in a lot more personality and color with other accents like textiles, art, and accessories). We considered everything from a bold pattern to a fun dip-dyed look or a band at the bottom, but thought one solid hue would be nice because we didn't want anything that would look too busy next to our patterned rug and crib bedding.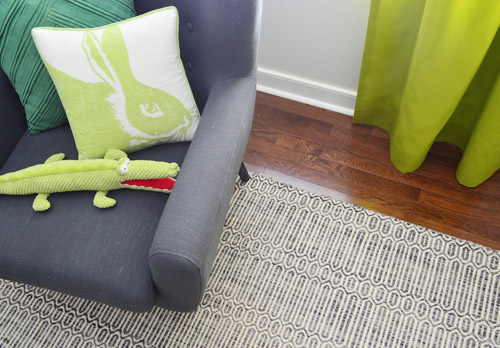 We were actually really inspired by the different tones of green in the Target box that we recently grabbed for the built-ins, along with our old stacking tree game, which both showed us how great a vibrant apple green color could look with a darker kelly tone in the mix.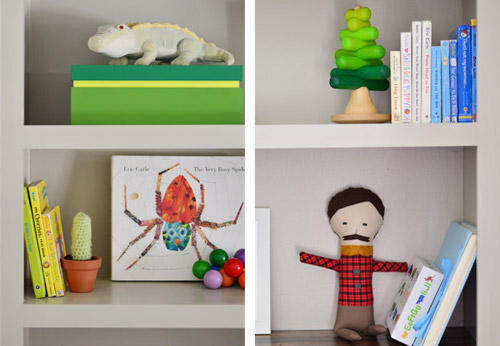 We hit up a local place (U-Fab) as well as JoAnn fabrics, and ended up falling for a cheerful apple green color at JoAnn. We thought it would layer in nicely with the kelly green bedskirt, bike art, and chair pillow without being too matchy or flat. I bought five and a half yards of fabric, which was listed at $6.99 a yard (it's 100% cotton, and the color is Solid Apple if that helps you track it down at JoAnn) but I used one of those 50% off coupons so my entire purchase was $19.22, which means each of my panels breaks down to being under ten bucks.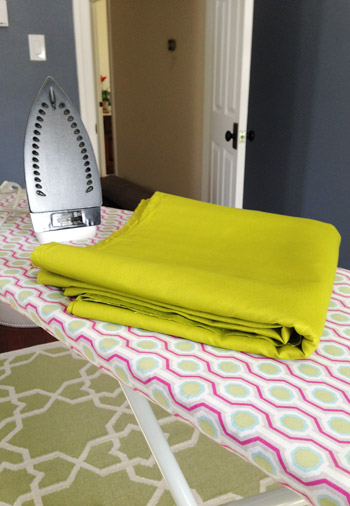 The first thing I did when I got it home was pre-wash it (this helps you avoid shrinkage on the back-end, which can result in highwater panels if you wash them later). Then I laid my fabric on the floor and folded it in half (length-wise, not width-wise) and cut along the fold so I was left with two equally sized 99″ panels. My desired finished length was 88″ so that meant I could have a nice weighty 5.5″ hem at the top and the bottom. First I hemmed the top and bottom of the panel just about an inch from the edge with hem tape, like so: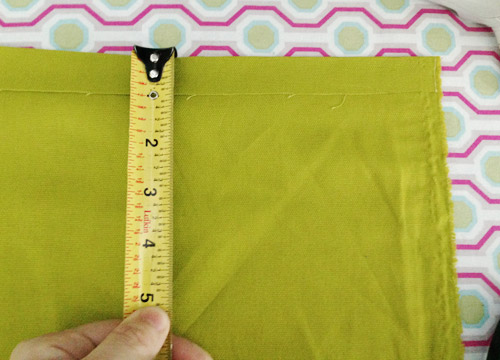 Heavy duty Heat N' Bond is a favorite of mine, just because I've made a few curtain panels with my sewing machine and others with hem tape and find that hem tape is easier for me to get a nice straight seam instead of a slightly meandering one. I've also had luck with durability (and washability) in a nursery/kids room with it over the last 3.5 years (all of Clara's curtains have been hemmed with the stuff) so that made it an easy choice.
After making that first 1″ hem on the top and bottom of the panel, I folded each one of them over again to make a 4.5″ cuff, so I was left with a nice finished looking edge on each end (that's why I did that little 1″ hem first). Even though it's the back of the panel, it doesn't take much time to make that extra little fold, and it ends up looking nice and clean.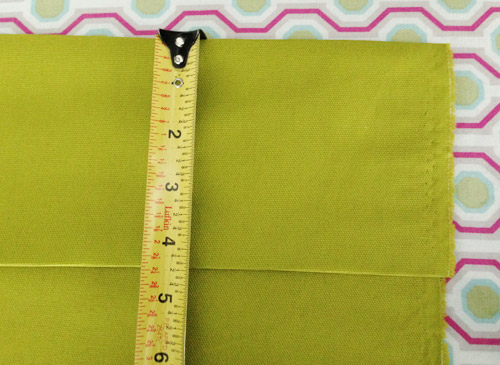 Again I used hem tape to secure that flap of fabric at that 4.5″ mark.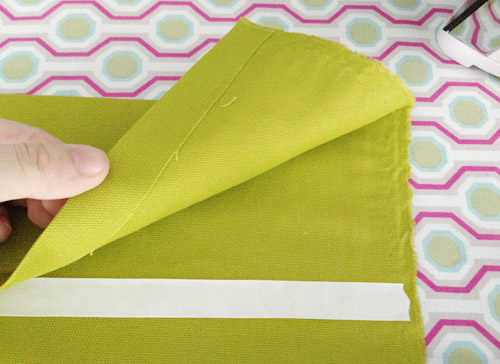 After securing each of those top and bottom hems, I hemmed the sides (just with simple 1″ one) to keep the panel as wide as possible, but give it a finished edge. Here's what one panel looked like on the floor with the backside-up, wrinkles and all.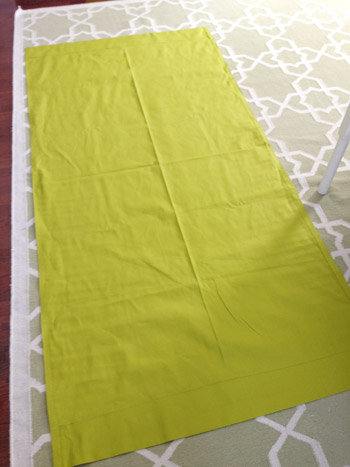 Next I ironed each panel to get a bunch of the wrinkles out (they honestly still could use a steam-session now that they're hanging in place) and then it was time to give the whole "pinch-pleat effect" a try. Instead of my usual MO of clipping rings to the top edge of the fabric (so the curtains hang like this or like this), I pinched the fabric in ten equal increments and secured the clip to the back of the top hem, about 2.5″ from the top of the panel. Burger was intrigued.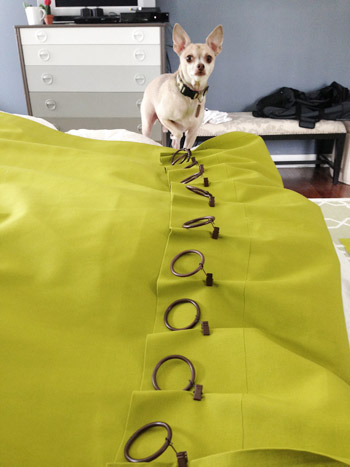 Here's a close up for you of that top hem along the back of the panel (again, I just used ten ring hooks and spaced them out by eye in as-equal-as-possible increments).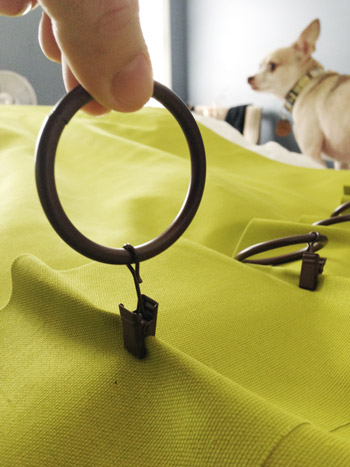 This is John holding up the rod after I strung one panel on so I could snap a picture of the back for you guys.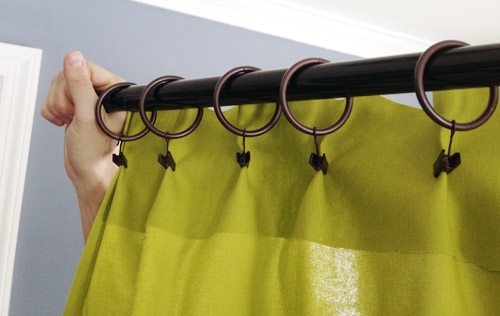 And here's what they look like from the front after hanging them with the anchors and screws that came with the rod we picked up at Home Depot: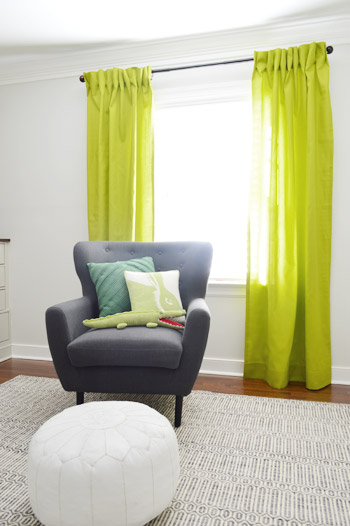 Don't those pleats add a little something extra? I like that they're not super perfect & uniform (it's more of a casual pleat if that makes sense) but they still feel a bit more upgraded than the regular old ring-hook look that I'm used to. If you're at home thinking "I'd make those, but I wish each pleat was identical and super uniform" – fear not. You could probably stand on a stepladder and tweak the clips in the back to even everything out. John and I just thought they looked sort of effortlessly cool this way. Either that or we're too lazy to break out the step-ladder.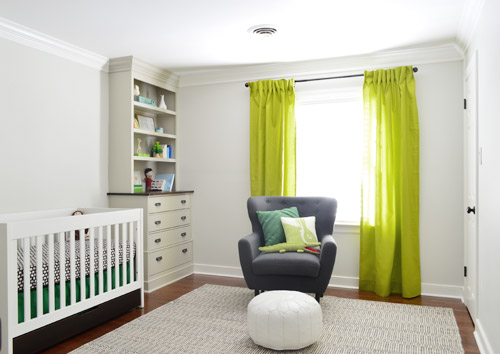 Update #1: We're getting a bunch of questions about if we're planning to use blackouts and/or if these curtains can close to block light. They can close (they're each 56″ wide) but we have light-blocking faux wood blinds on all of the upstairs windows (more on those here) so we typically just close those instead of the curtains. Although I might add some blackout panels to the back of these panels like we did in Clara's room if this guy ends up loving total darkness like her. Will keep you posted!
Update #2: Also getting questions about where the chair's from. We bought that from Joss & Main a few years ago (it used to be in the corner of the kitchen across from the fireplace in our old house, and was in our office at this house until we realized it made more sense in the nursery). The white pouf is a sale find from J&M too.
It's definitely feeling a bit more like home (and making this baby on-the-way thing feel a bit more real) to see how much this space has changed since we bought the house.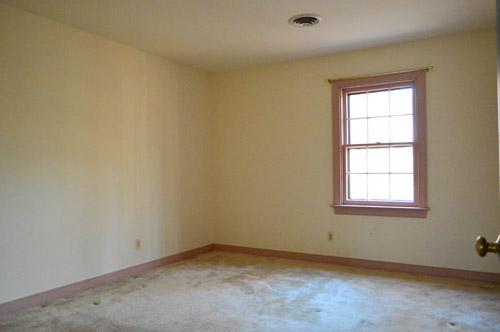 I'm telling you, curtains make the difference. Ok, and a new floor, some wall paint, a pair of built-ins, crown molding, and furniture help too.
So that's what's new in the nursery. And Operation Homemade Mobile is actually in progress, so I hope to share that with you guys soon – along with some updates to the completely blank wall across from the crib. Have any of you ever done pinch-pleats, either with the sewing method or the ring-clip method? Do they make you feel fancy? Was your dog super interested the entire time?
&nbsp&nbsp&nbsp