Cleaning, Organizing, & Eco
Let the pantry party commence! I never thought organizing a space that sat behind a closed door 90% of the time could be so cathartic, but working on this pantry with Sherry has made us both feel like the whole kitchen – nay, the whole house – is more functional. Clearly it has even made us more prone to hyperbole.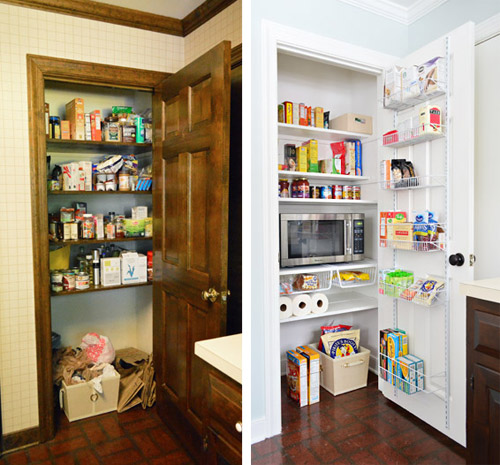 First we got an outlet added, switched up some shelves, and moved the microwave in. Next we moved the trash out. Then it was time for a few fresh coats of primer and paint.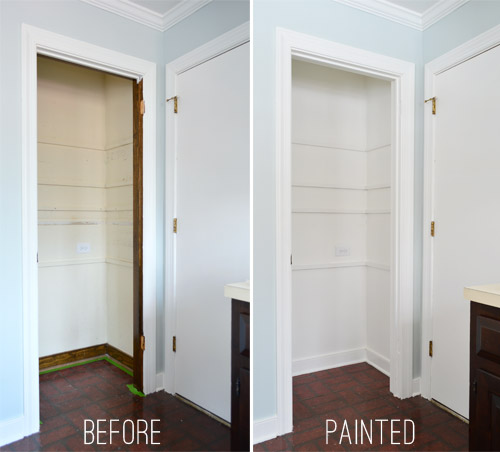 Sherry and I briefly debated choosing a happy or bold color in there (either on the walls or the shelves or both), but with all the colorful food labels that end up in a pantry we decided white made sense to keep things as calm as possible – especially since we don't have a light in there, so we didn't want it to get too shadowy or dark in the back corners.
So we removed all of the shelves and lined them up in the dining room. Note the strip of painter's tape so they could lean without marking the wall. It took one coat of primer (Kilz Premium) and three coats of paint (Advance paint in Simply White, leftover from the kitchen cabinets) which we applied with a small foam roller for the most part, although we did break out a brush for the trim and corners in the pantry.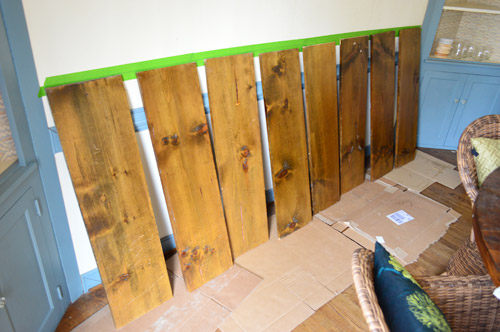 Once the shelves, walls, and trim dried, we put things back together and rehung the door, which we removed for easier priming and painting access. Each shelf was made up of two boards, but after a fair amount of debate and experimentation, we opted to only use one board for the two upper shelves. We decided that shorter depth would prevent things from getting pushed way back where we couldn't see / reach / use them anymore.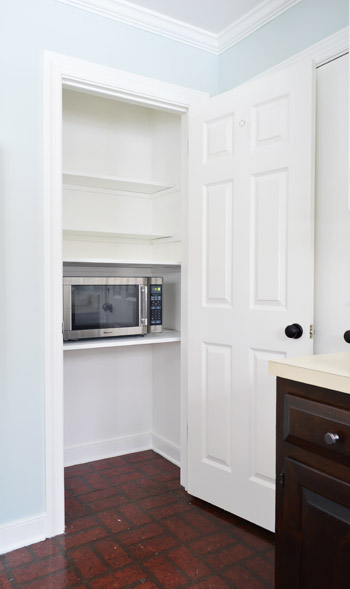 Next up, we added this $35 back-of-the-door wire shelf system since no fewer than two dozen of you recommended it in the comments of this post. It can be hung over the door, but we opted to screw it directly into the door (using anchors whenever it didn't hit something solid) so we wouldn't have any hooks peeking over the door when it was closed.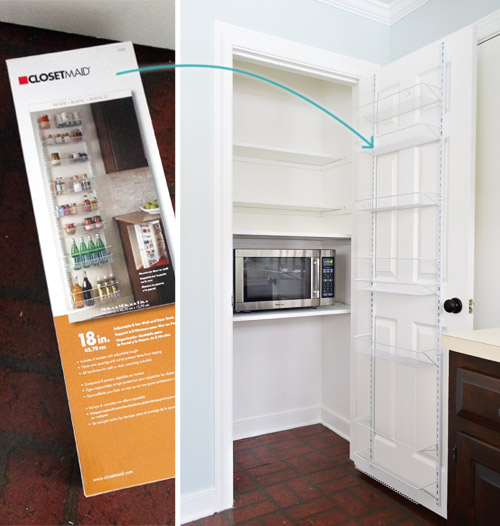 We still wanted to do something to make the bottom area of the pantry work harder (since the trash can was no longer hogging all of the space), but before we made any decisions we figured it would be smart to load things back in and see what sort of help we still needed down there.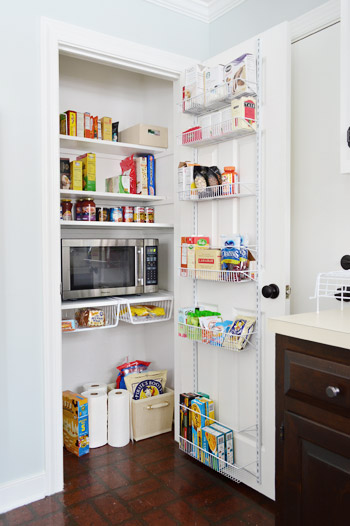 We debated some vertical dividers, or maybe some stacked bins, but ultimately decided that another shelf would do the trick for now. Thankfully it was pretty speedy to add one because we already had two spare boards ready to go (since we only added one to make those two top shelves shallower, that left us with two extras that were already primed and painted). So I just screwed a couple of wood strips to the walls (like I did in this post) and in no time we had a spot for paper towels and cloth napkins (those were in the laundry, so they're MIA in these pics).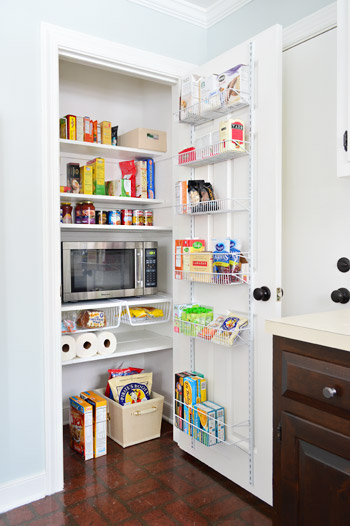 You'll note the two under-shelf wire baskets that are also helping maximize the space, which came as part of this $15 shelf organizer set. We like that they allow us to compartmentalize the shelf a bit more without having to add more permanent systems (the wire cubbies just slide on and off, and we can remove them or place them somewhere else if we want to reconfigure things down the line).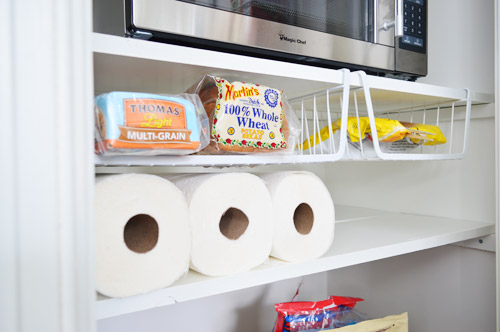 It's looking a little sparse in there because we have to go shopping again pretty soon. Or maybe it just looks that way because we suddenly have so much more storage space in there? Either way, by the end of this little pantry re-org, Sherry and I were both itching to go to the store just to see how much more we could cram in there. Maybe tonight's the night…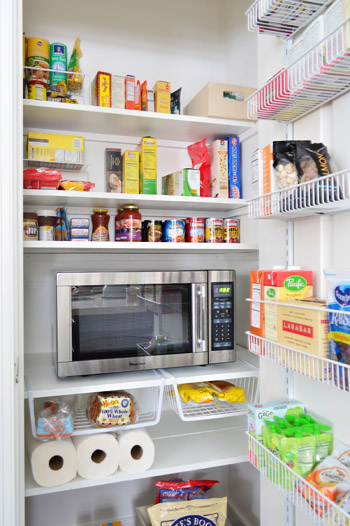 On the top shelf we put baking items and meal items, including things like bread crumbs, boxed rice, brown sugar, and baking soda. On the right there's also a box that contains sprinkles and icing for decorating cookies and cupcakes. Below that is a shelf that we devoted to snacks, cereals, and other boxed items like oatmeal, granola, and crackers. Then below that one, on our narrow shelf, we lined up all of our shorter items, like cans and jars of soup, salsa, peanut butter, tuna, etc.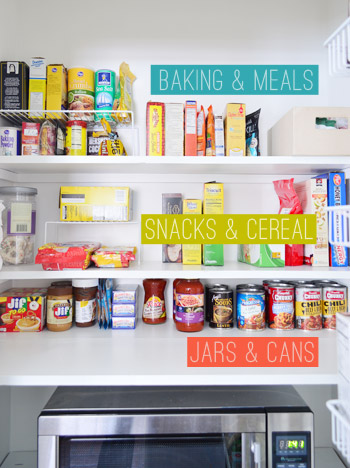 The wire shelves that gave us a little bit of extra stacked storage were part of the same 5-piece set that included the two under-shelf baskets that I called out a few paragraphs ago. And the fifth piece from that same set was a wire basket that hangs against a wall or inside a cabinet door. We screwed ours into the side wall to store spare plastic bags. It's so much nicer than the giant bin on the floor that we used to haphazardly toss them into.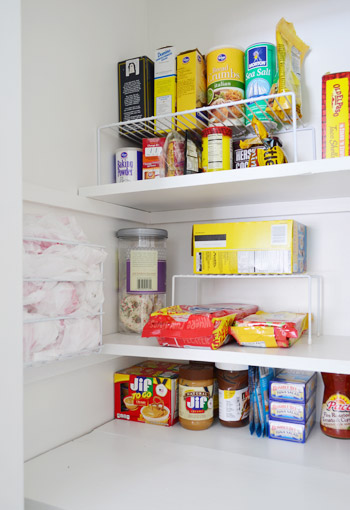 Oh and although a ton of Pinterest pantries have awesome glass or plastic containers like these (which are from The Container Store), we thought long and hard about how we really live and decided that even though we have some clear containers already on hand (like the ones you see in this shot of our first house's makeshift "pantry') it felt like they'd be more for show than anything else. We tend to go through things fast enough within their own packaging, so putting them in pretty jars just didn't feel like something we'd honestly keep up with these days.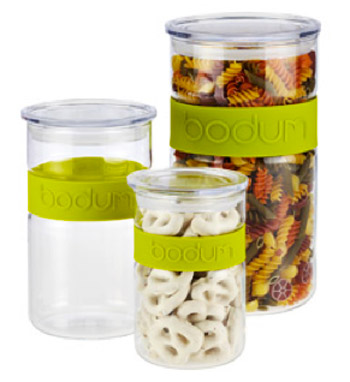 But back to the pantry. The wall across from our plastic-bag-holding wire bin has a similar spot where we could hang something else, but it's empty for now, at least until we have a specific use for it. You'll also notice some empty shelf space in front of the cans. We can always use it if our can & jar stock expands, but for now it's mostly to protect the top of the microwave from anything that might "jump" off one of the top shelves. It has also proven helpful as a spot to temporarily put things down or spread them out while we're organizing or looking for something.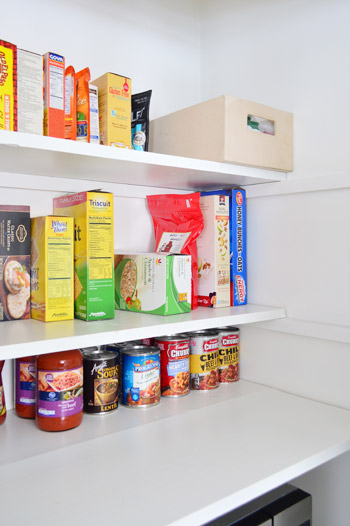 And thanks to the narrower shelves on top of that one, it's still easy to grab those cans and see what we have (we stacked the same items in front of each other, so there's nothing different lurking in the back that we'll forget about).
We used our new door-hanging system to stock the items that would most easily fit into those baskets (they're only 5″ wide). So it mostly ended up being random stuff like tea-and-coffee-related items on those top two shelves, along with a shelf for nuts and other snacks, one for pasta, and one for other items like granola bars.  There are still a couple of leftover baskets from the set that we could have hung, but we found that cramping the shelves closer just made it tougher to access things. So we'll add those extras if we need to down the line, but for now it's nice to have some space above the long boxes of pasta to actually pull them out without banging into another shelf right above them.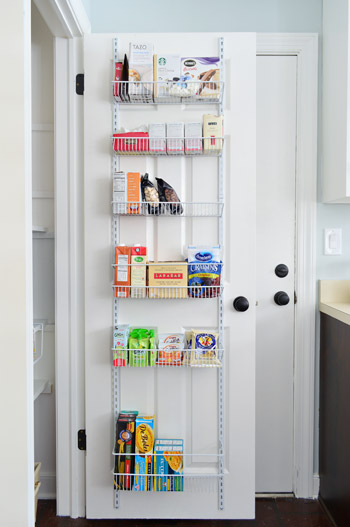 We also dedicated one shelf to some Clara snacks, which are right at her height, so she can help herself. She already loves ducking into the fridge to get packs of carrots or little containers of hummus that we keep on a shelf in there for her, so having a snack-zone in the pantry has been a big hit as well. We also appreciate that this shelf is full of easy-to-grab items for packing preschool snacks more quickly in the morning.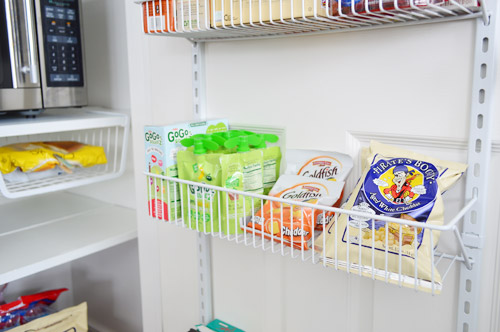 The space that will probably evolve a bit more for us is the floor. We didn't end up doing anything except adding a basket (that had previously housed our plastic bags) to corral big packages of a few bulk items, and tossing down a couple extra-tall cereal boxes before they're called into action (i.e. poured into the glass containers that we keep on the counter). But this probably foreshadows the purpose of this area as a spot to house more bulk items. For example, now that our pantry feels under control, I'm tempted to stock up on some things. Nothing too crazy, but it's nice to have a little "growing room" down there.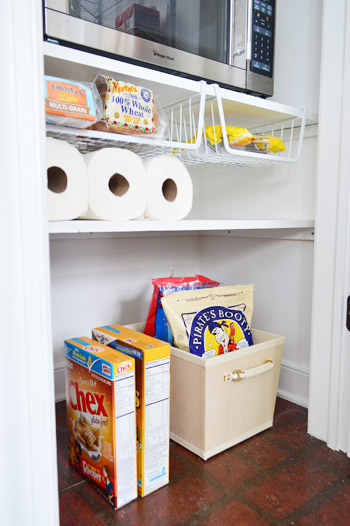 So besides fine tuning the floor area and seeing how it functions after a grocery trip, we'd consider this pantry makeover complete. And now I have the urge to go organize something else. Wait, am I nesting?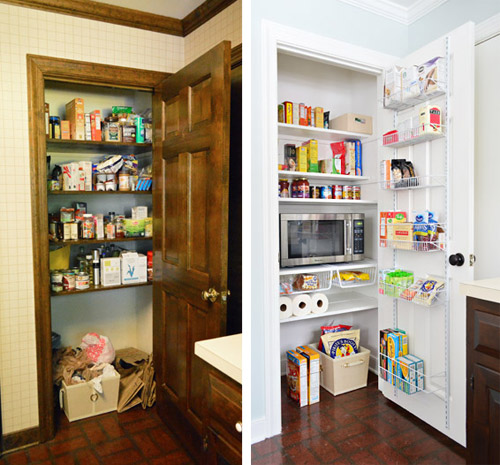 What did you guys do this weekend? Did anyone else who got snowed in end up organizing or re-thinking how a cabinet or closet works for your family? Are you now craving Nutella or Craisins? Ain't no shame in that, my friend.
&nbsp&nbsp&nbsp
That's me these days. At least I like to think it is. Checking off those tedious and lingering to-do list items that I've been meaning to do forever, and taking names. So how about a Friday smorgasbord post? The funny thing is that just a few days ago we got a comment that said "hey I miss your Dude Get On That Already updates – will those ever come back?" Do you guys remember those? Where I'd finally get around to tackling something that had been sitting around waiting to get done (usually just painting or hanging something) and I'd share a little update – like this wall plaque, this box, this coat hook, and this high chair? Well, the funny thing about that comment is that as I read it I was thinking… I have actually gotten on a few things. What has come over me? Is this nesting? Has my body been snatched? So here are those details…
#1: Ding dong, the dining room table is cleared. You might remember this recent house-tour video which revealed that our dining room and guest room were looking chaotic and cluttered (it's pretty much a promise that when we work on one room, another room nearby pays the price). Here's a still shot from that video to refresh your memory: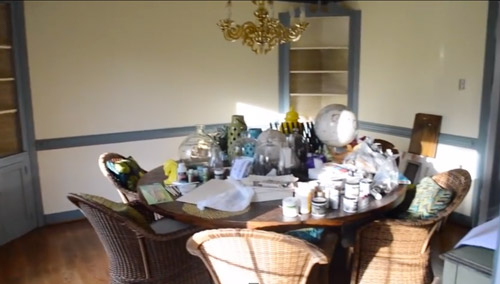 Well, I finally got my act together and found better spots for stuff. It really helped to get a bunch of the craft stuff that had collected there into my newly organized craft closet upstairs. And I tucked the decorative items into the two bottom cabinets in the living room where I store other vases and cloches and stuff like that. It's nice to see the wood of the table again. (I won't tell you how dusty it was before I wiped it down for this shot.)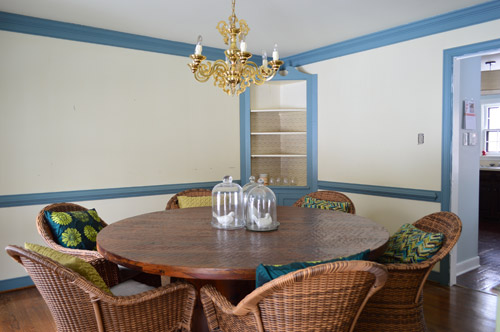 A few folks asked if I thought I'd use this table as a workspace if it were clear since I admitted to using the kitchen table until we get the office whipped into two-people-can-work-there shape. But I've found that even with the dining table cleared off I still prefer the kitchen table. I think it's because I can see Clara playing in the living room more easily from there (the dining room is a lot more isolated due to its layout). But it's nice to know I can run in there if I want a little more solitude. And that we can actually host people for some fancier-than-the-kitchen-table dinner if we'd like to throw a Downton Abbey-ish ball sometime.
The bad news is that the kitchen counter still pretty much looks like this (minus the crockpot full o' stew), thanks to our in-progress pantry re-org (everything's painted, so we're just waiting for it to dry so we can load in some nice new systems). Sigh. It's a vicious cycle.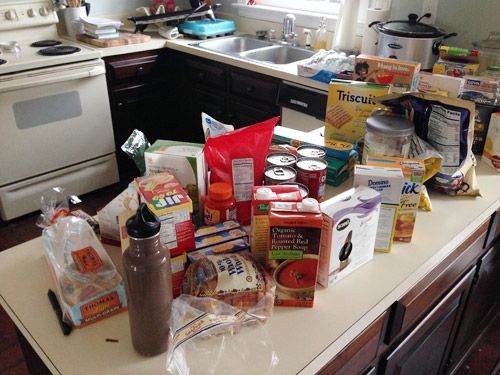 #2: I hemmed Clara's comically long curtains. You can sort of see them in this picture below (I usually tried to just curl them under so it wasn't as noticeable) – but they were about 6″ too long and although I liked the drapey affect, they were borderline sloppy with so much extra fabric going on at the end.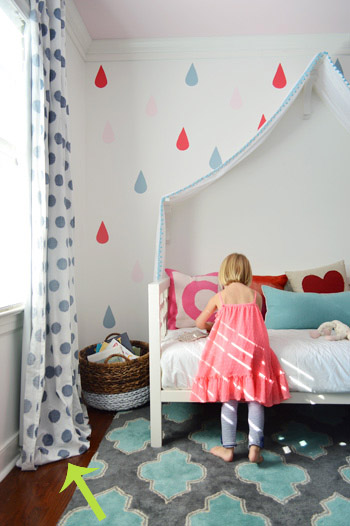 So last weekend while Clara played with her dollhouse in the middle of the room and we listened to some tunes, I got to work hemming them with some Heat N Bond hem tape. It probably took me about a half an hour to cut them all and then hem them (I still left them drapey, so they skim the floor a little for that casual vibe) and it feels so GOOD to have that done. Seriously, I've asked myself if there's something wrong with me that hemmed curtains make me feel so accomplished – but I think it's just one of those things that I thought a million times in the last eight months ("I should really hem those curtains" would pop into my head each week as I put away Clara's laundry), so it feels great to finally check that box.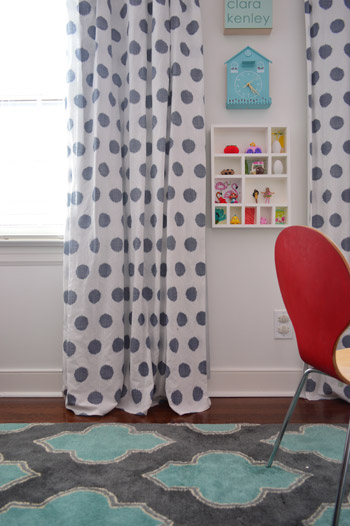 #3: The extra pieces of our sectional have been sent to greener pastures. Remember how our full Karlstad sectional didn't fit in our cozier living room, so "honey, we shrunk the sofa"?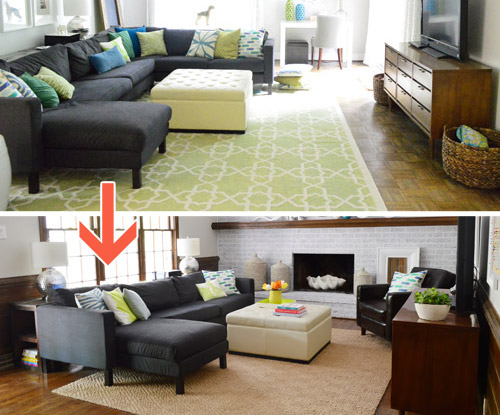 Well, the random extra pieces that we we haven't been using (the corner piece and the loveseat-sized end) have just been sitting in our attic under a drop cloth for the last eight months. I even mentioned that we thought about craigslisting them, but "we just figured selling the corner and loveseat to a sofa that's incomplete without another end piece that someone would have to purchase might fetch us $20 tops" so I said we'd rather hold onto them and see if we had a use for them in the future. It was a completely surprise when someone emailed us months later, and offered to buy them for $250! We hadn't so much as looked at them at all in the past eight months, so… sold!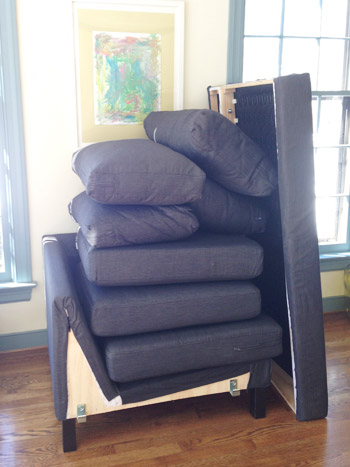 The funny thing is that it wasn't a blog reader who wanted them. A woman was just googling around to locate these exact Karlstad pieces (they don't sell them separately, so she thought she'd never find them) and came across our old post about storing those in the attic. She's not from around here (lives in Florida, actually) but she had items in a storage unit in New Jersey that she was going to be driving down to Florida in her SUV, so on her way down she swung through Richmond and (miraculously) fit them all into the back. So now we've got an extra $250 in our pockets and Karl – er, well the unused portion of Karl – is living a sunnier life in St. Augustine!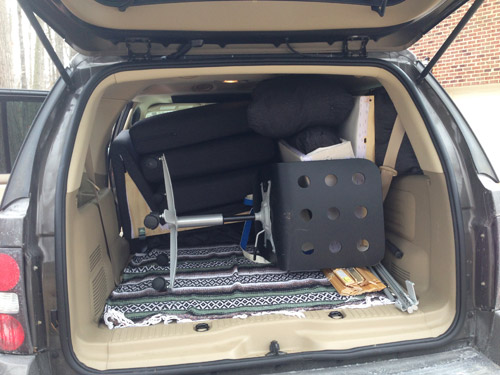 #4: I donated/gave back/handed down/consigned a bunch of Clara's old clothes. There were four large bins in this video that I explained were being sent in a bunch of directions (some items were being returned to sweet friends who loaned things to us, some were being donated, some were getting handed down to other prego friends and relatives, and I wanted to try consigning some things as well).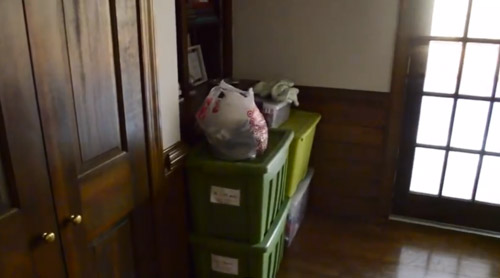 So after they sat there for months, I finally got around to donating and passing along everything I had set aside, and I trekked the leftovers to Once Upon A Child (a little secondhand baby store here in town) just to give it a try. Forty five minutes after dropping them off I returned to get a nice little check for $141!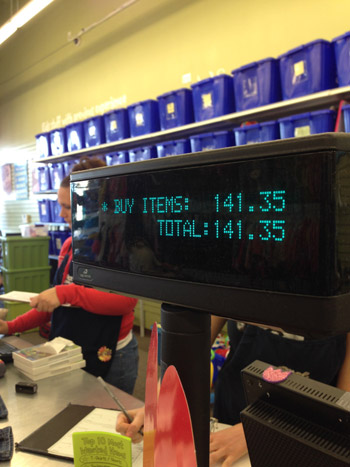 There were a few things they didn't end up taking, so I swung by another donation box on the way home with the extras, and finally that Corner O' Bins in the living room is no more. The funny thing is that I dragged those downstairs from the storage room at around 18 weeks pregnant (in anticipation of finding out if this was another girl or a boy, so I could sort through everything). Which means they sat in that corner for over 10 weeks just waiting to be dealt with. Better late than never, right?
#5: Clara's birdcages are no longer birdless. That's right, I put a bird on it. Make that six. I noticed that West Elm was having a huge ornament sale about a month ago and they had these gorgeous little colorful birds on clearance.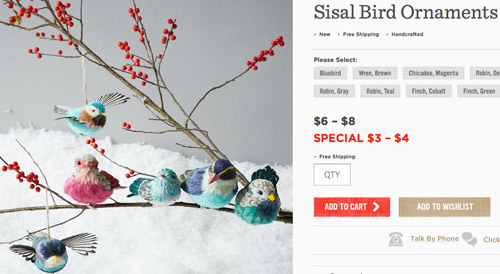 So for $20 I got six of them, and when they arrived I reenacted Snow White and put them all over my arms used their clips or their ornament loops to make them cozy in Clara's birdcages. A few of you guys noticed them in this picture on Instagram/Facebook, and I promised an update, so there you go.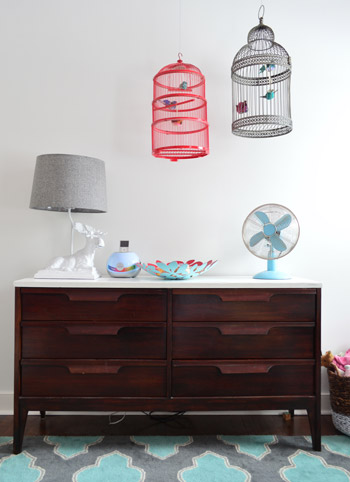 I even added a little wood dowel to the grey birdcage since it didn't have one and I wanted to create a spot for one to perch and another one to hang. You can just barely make it out in this shot (the cut off bird on the right is sitting on it, and the flying bird under that one is hanging from it). That's what I get for trying to be artsy with my photography.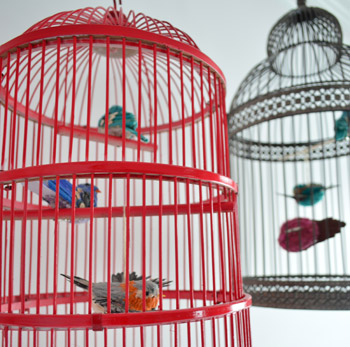 Clara's favorite is this one right here. She named him Prince Sam Bluebird, and we say goodnight to him every evening.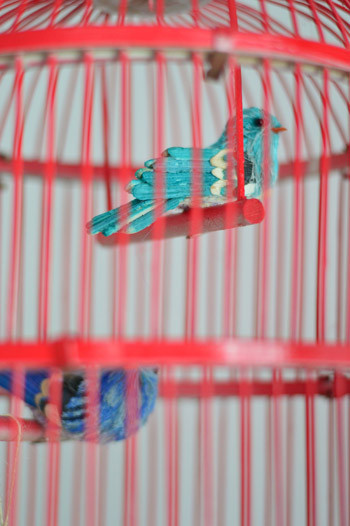 And in other update news, our new washer came bright and early on Saturday morning (some of you guys have been asking about it, which is beyond sweet) and it's a HUGE relief that it's finally here. I now sing and occasionally pirouette while doing laundry. I'm sure that won't last for more than a week, but it truly is one of those "you don't know how good you have it until an appliance conks out on you and you live without it for a while and then the new one comes and it's broken so you have to wait another week and a half" things.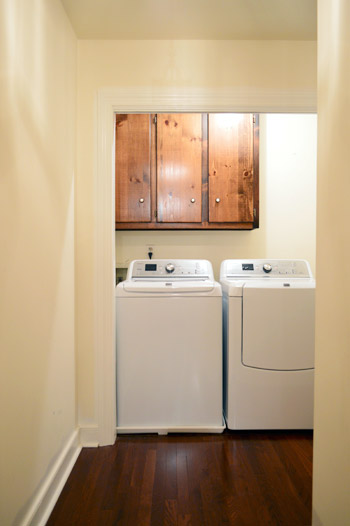 So those are a few of those "I actually got on them!" updates, along with a little Washer Status Report. I still have a bunch more should-have-done-that-yesterday things bouncing around in my brain, so maybe I should set a future check-in date with you guys to force myself to attend to them. Wanna get stuff done with me? And then we can all reconvene and attempt to hold ourselves accountable to the internet at large? What's your "gotta get on that" list looking like these days?
**********************************
As a little Friday bonus, here are four fun projects, chats, or questions going on over on the Forums. We also announced this week's giveaway winner, so you can click here (and scroll down to the Rafflecopter box) to see if it's you.
| | | | | | | | |
| --- | --- | --- | --- | --- | --- | --- | --- |
| | | | | | | | |
| by WifeInProgress | | by rentalrevival | | by HomeComing | | by lorigrams | |
&nbsp&nbsp&nbsp