Cleaning, Organizing, & Eco
Let me tell you a tale of a girl who used to be organized, oh…. about four years ago. Since Clara came along, well, it has been a slippery slope. I've kept notes to myself in various notebooks, on my phone, on post its, and have scribbled in every square inch of my day planner. I'm almost never sure what I need to do next since there are so many active lists competing for my attention these days. So when John and I were asking ourselves what our home office needs to make it as functional as possible, it was about two seconds before I was pulling a Mary Katherine Gallagher and jumping around and throwing my arms in the air and shouting "command center!"
Yes, my friends, it was even more urgent to this nesting pregnant lady than painting those office walls. Although we realized as we were nailing into them to hang things that it's sort of an accidentally genius move to hang art before painting because if you make a few bad nail holes you can just spackle them before you paint the whole room, so that's a nice perk.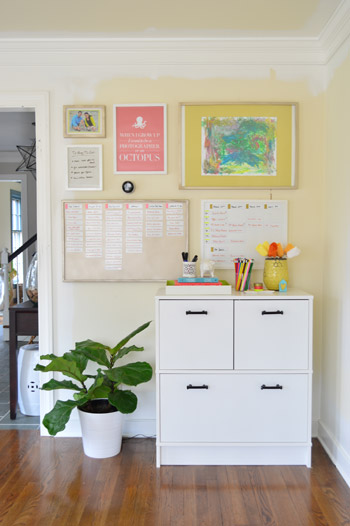 We thought this wall was perfect since it would be visible from within the office, but our scribbles would be out of sight from the foyer. And we both agreed that we needed a place to write things that had to be done across multiple categories like "projects", "house maintenance", "showhouse/book 2 stuff", "future post ideas", "website to-do", etc. We just knew there had to be a better way than having different lists of each of those things floating around randomly (the website one just fell behind the couch, by the way).
Not only did I dream of having them all in one place in an easy to reference spot for both of us – most of all I dreamed of having a column for "top tasks" so we could lift tasks out of each of those other columns and place in there by order of priority. This will hopefully keep us from bouncing around randomly without really weighing what makes the most sense for us to tackle next.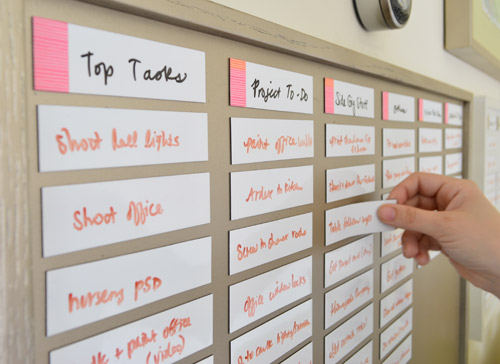 While we were dreaming, we also wanted a place to work out our upcoming post schedule where we both could see it (so we can see which giveaways are lined up, what posts we're planning to write up next, etc). We also wanted a smaller spot to jot down what we need to buy/get the next time we're out (we're always forgetting random things like new oil-rubbed bronze window locks for the freshly painted office windows).
John and I weighed a ton of options for meeting all of those needs, like: one big dry erase board, one big cork board, using dry erase paint right on the wall, going the chalkboard route, using magnetic paint to hold up small pieces of paper in a grid that we could move and shift, etc. In the end we settled on sort of a hybrid solution. We decided to make two big magnetic frames so we could use smaller dry erase magnets (which we could write on and shift around) to create a multi-column to-do list and a post-planning schedule. We even snuck a "To Buy/Get" list in there on a smaller frame while working in some sweet Clara art, a quote that makes us laugh from our last office, and a favorite family picture.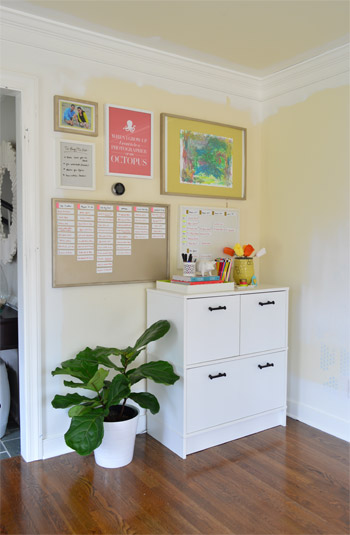 First we planned the arrangement with some old frames. We continued to shift things around a little after this photo was taken, but you get the idea: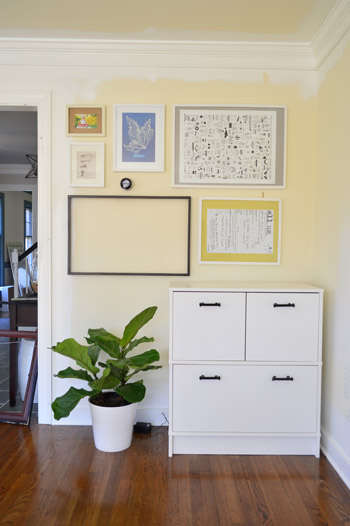 Next we ordered some white dry erase magnets from this site. John found them and I was instantly on board because I love that they're not small/swallowable magnets (which make my paranoid-mom-heart skip a beat) and also because we can write directly on them and move them around. So placing them in a "projects" column, then moving them to the "top task" column, and even popping them over to our post schedule board if they're done/shot/written/ready to be scheduled would be nice and simple.
We also hit up Home Depot to see what they had in the "sheets of metal" category. There were some other sheet metal options on an end cap, but we bought a magnet with us just to be sure they were magnetic and they weren't. Kinda threw us for a loop until we saw these panels hiding in a completely different aisle. And thankfully, these guys were magnetic.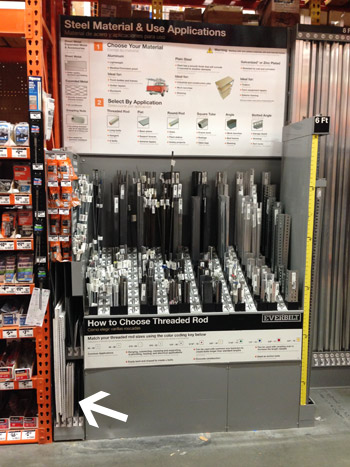 We ended up getting two of them that were big enough to fill our frames (they came in a bunch of different sizes, and thankfully were pretty easy to cut at home with gloves and a metal snip). Here are my supplies all laid out: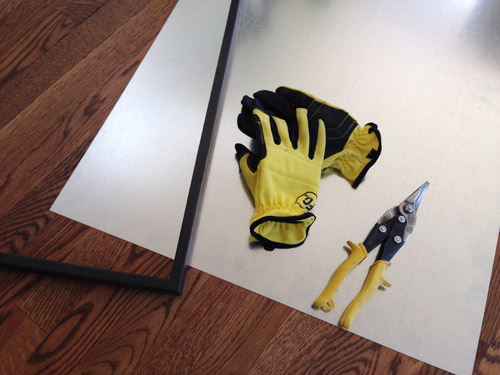 First I removed the glass from the frame along with the backing and laid just the wood part of the frame over the sheet metal and used a red sharpie to trace the rectangle that I'd need to cut out.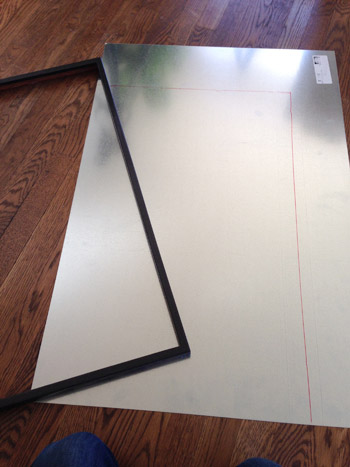 Then I just slipped on my gloves and started cutting with the metal snip. It took a little while since it makes such small cuts, but it was pretty straightforward and I was left with two metal inserts for my frames in about fifteen minutes.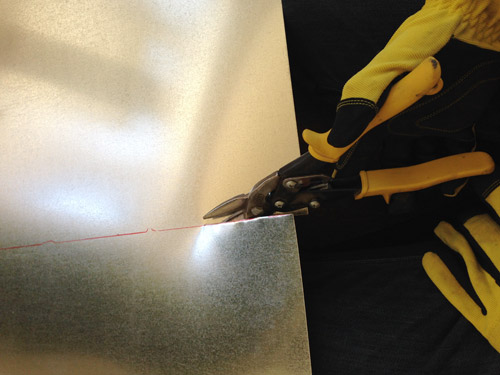 Here's one slipped into the frame, with the backing holding it in place. It was pretty exciting to test drive a few of the dry erase magnets up there. #yolo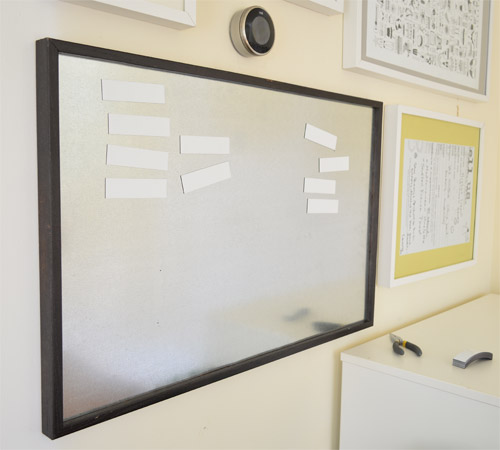 After I made sure both pieces of metal fit into the frames, John and I chatted about what colors we thought would be nice for the metal and the frames, and decided to draw inspiration from our new desk. And so the idea for a mixture of frames in a soft champagne color, a pearly metallic white, and a flat basic white was born. We had all of these guys in the garage already, so I was ready to rumble.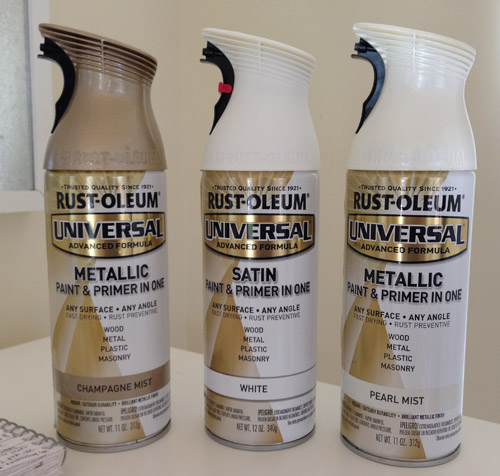 First I used clean metal primer on both of the sheets of metal we bought, just because I thought it would be a nice uniform look to spray those to match their frames. We figured with all those white magnets on them, things could get busy, so keeping the frames and backgrounds uniform might be a nice touch.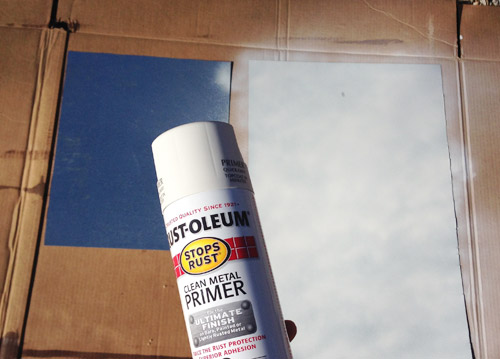 Next I sprayed the frames themselves. This is the pearl mist going on a few of the frames and one of the primed sheet metal pieces (you can see the champagne mist ones drying in the background). I left these outside to dry so long that a rogue leaf landed in the middle of that smaller frame (thankfully it was completely dry by then).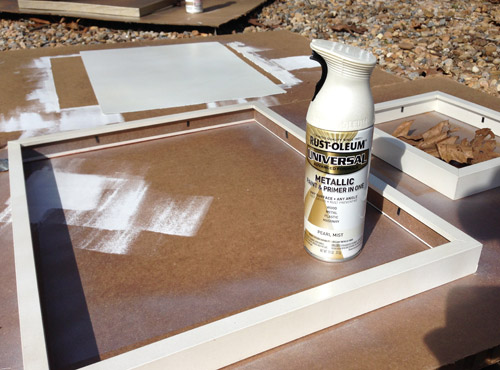 It took about four thin coats of spray paint to get things nice and even, but in the end it's a really clean look to have the metal sheets and the frame the same color. I even used a little bit of washi tape on the end of the magnetic headers for each category to set them apart along the top of the board.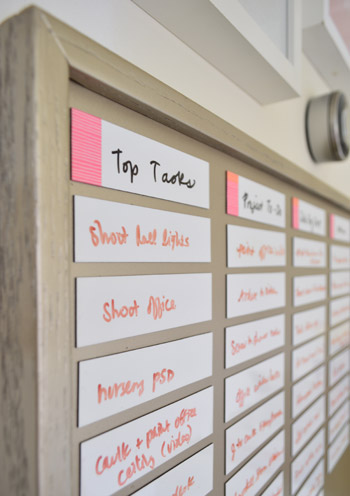 Oh office supplies, why are you so adorable?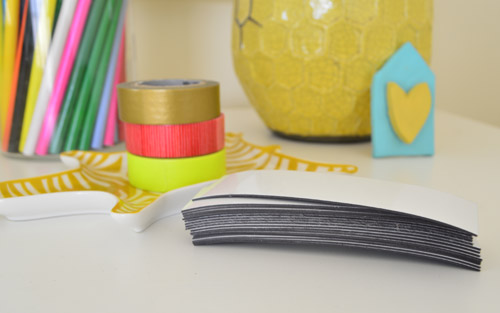 To make our "To Buy/To Get" board, I used a smaller frame with some slightly metallic linen-like fabric slipped that into the frame behind the glass. A black dry erase marker makes it easy to write on the glass, and we just shoot a picture of the list whenever we're running out for errands so I can remember everything instead of muttering "where's that list?" followed by some endless purse-searching.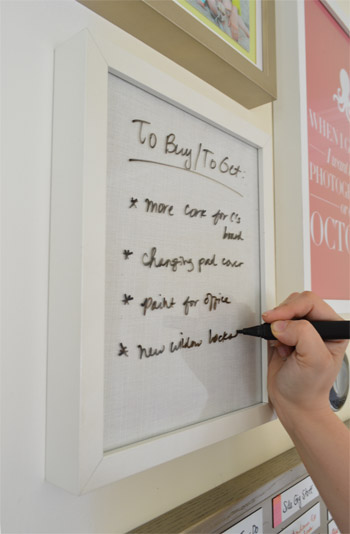 Here's a closer shot of the post planning board, which got the pearl paint treatment, and some gold and yellow washi tape along those header and side labels. We don't usually work very far out for posts (we share a lot of stuff within a week of doing it) but it's already coming in handy for jotting down future ideas, giveaways that have been scheduled, etc.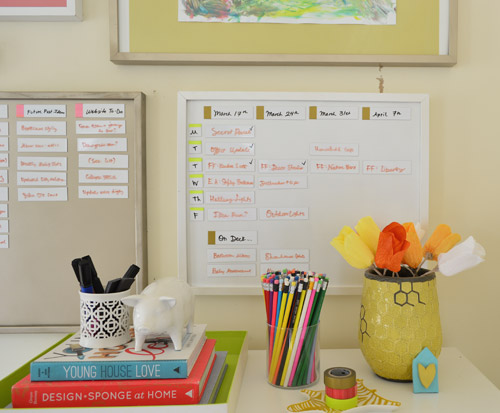 So that's how our little command center came to be. I'd really love to upgrade some of the frames eventually (the one with Clara's painting in it needs a larger mat for example) but for now I'm feeling around 95% more organized. If only I could fit my massive belly behind the couch to retrieve that old website to-do list…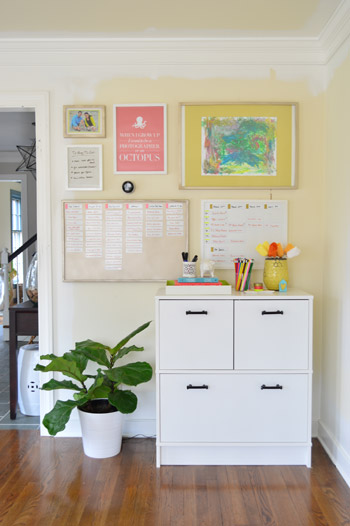 Might have to send Burger in for it. And by that I mean "somehow convince him the list is made of food so he cares enough to retrieve it."
How do you guys stay organized? Do you have a big family calendar that hangs in your kitchen? We debated doing a calendar board as well, but like using my planner to write down meetings, appointments, parties, etc – so we thought keeping that in there but all the project/home maintenance/book/showhouse/post stuff on the wall would be a good combination. We'll have to see how it goes…
Update: For anyone wondering what the octopus print says, where we got it, or where the file cabinet is from, that info is all on the first page of comments for ya.
&nbsp&nbsp&nbsp
Let the pantry party commence! I never thought organizing a space that sat behind a closed door 90% of the time could be so cathartic, but working on this pantry with Sherry has made us both feel like the whole kitchen – nay, the whole house – is more functional. Clearly it has even made us more prone to hyperbole.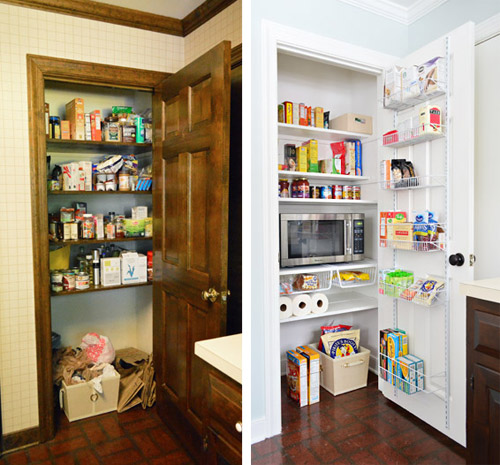 First we got an outlet added, switched up some shelves, and moved the microwave in. Next we moved the trash out. Then it was time for a few fresh coats of primer and paint.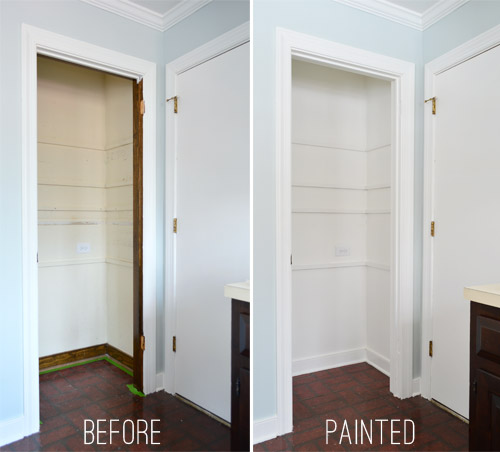 Sherry and I briefly debated choosing a happy or bold color in there (either on the walls or the shelves or both), but with all the colorful food labels that end up in a pantry we decided white made sense to keep things as calm as possible – especially since we don't have a light in there, so we didn't want it to get too shadowy or dark in the back corners.
So we removed all of the shelves and lined them up in the dining room. Note the strip of painter's tape so they could lean without marking the wall. It took one coat of primer (Kilz Premium) and three coats of paint (Advance paint in Simply White, leftover from the kitchen cabinets) which we applied with a small foam roller for the most part, although we did break out a brush for the trim and corners in the pantry.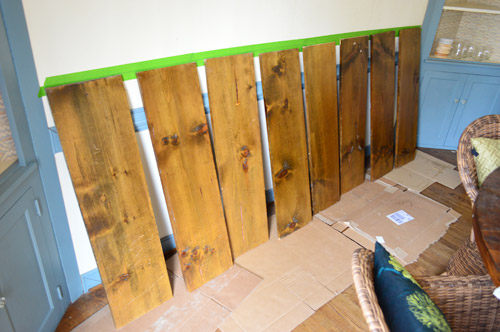 Once the shelves, walls, and trim dried, we put things back together and rehung the door, which we removed for easier priming and painting access. Each shelf was made up of two boards, but after a fair amount of debate and experimentation, we opted to only use one board for the two upper shelves. We decided that shorter depth would prevent things from getting pushed way back where we couldn't see / reach / use them anymore.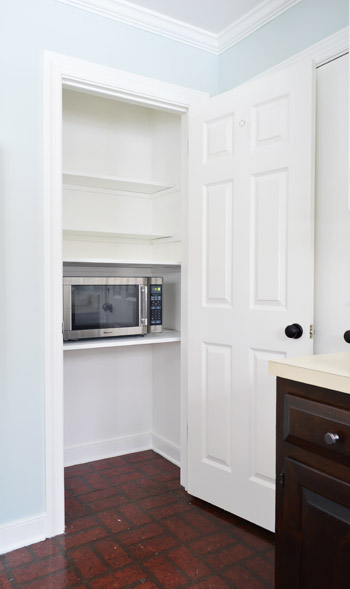 Next up, we added this $35 back-of-the-door wire shelf system since no fewer than two dozen of you recommended it in the comments of this post. It can be hung over the door, but we opted to screw it directly into the door (using anchors whenever it didn't hit something solid) so we wouldn't have any hooks peeking over the door when it was closed.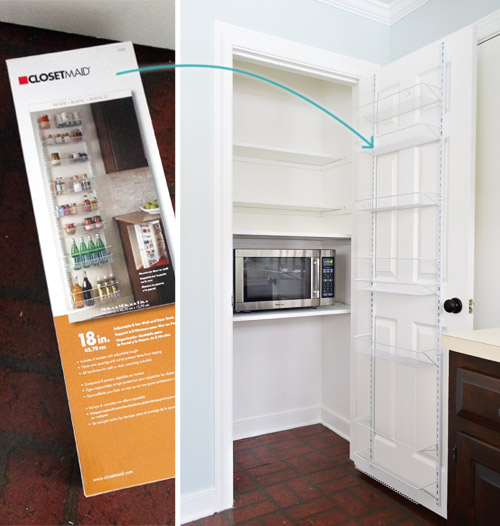 We still wanted to do something to make the bottom area of the pantry work harder (since the trash can was no longer hogging all of the space), but before we made any decisions we figured it would be smart to load things back in and see what sort of help we still needed down there.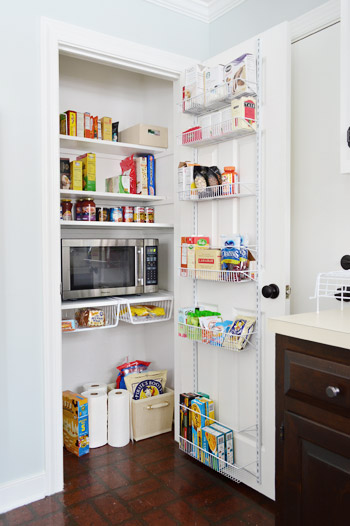 We debated some vertical dividers, or maybe some stacked bins, but ultimately decided that another shelf would do the trick for now. Thankfully it was pretty speedy to add one because we already had two spare boards ready to go (since we only added one to make those two top shelves shallower, that left us with two extras that were already primed and painted). So I just screwed a couple of wood strips to the walls (like I did in this post) and in no time we had a spot for paper towels and cloth napkins (those were in the laundry, so they're MIA in these pics).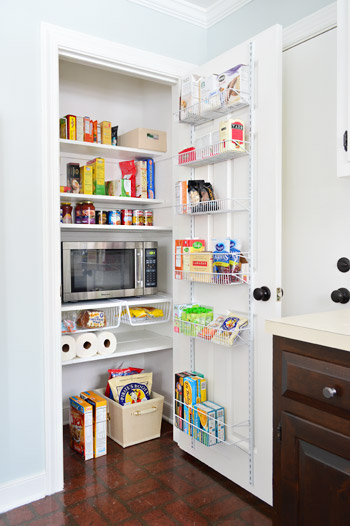 You'll note the two under-shelf wire baskets that are also helping maximize the space, which came as part of this $15 shelf organizer set. We like that they allow us to compartmentalize the shelf a bit more without having to add more permanent systems (the wire cubbies just slide on and off, and we can remove them or place them somewhere else if we want to reconfigure things down the line).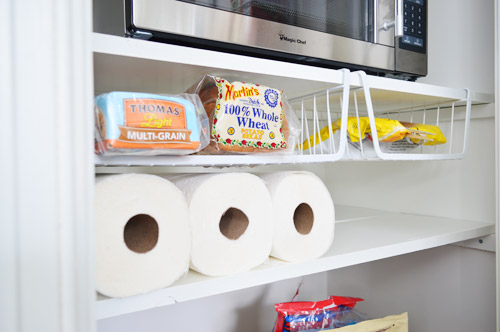 It's looking a little sparse in there because we have to go shopping again pretty soon. Or maybe it just looks that way because we suddenly have so much more storage space in there? Either way, by the end of this little pantry re-org, Sherry and I were both itching to go to the store just to see how much more we could cram in there. Maybe tonight's the night…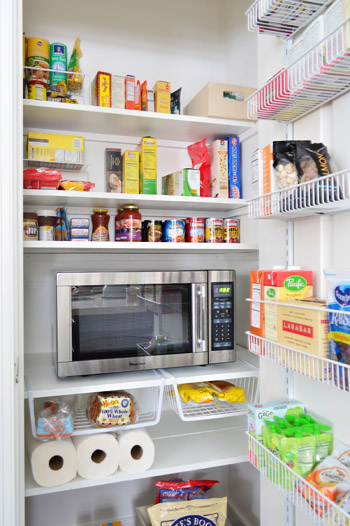 On the top shelf we put baking items and meal items, including things like bread crumbs, boxed rice, brown sugar, and baking soda. On the right there's also a box that contains sprinkles and icing for decorating cookies and cupcakes. Below that is a shelf that we devoted to snacks, cereals, and other boxed items like oatmeal, granola, and crackers. Then below that one, on our narrow shelf, we lined up all of our shorter items, like cans and jars of soup, salsa, peanut butter, tuna, etc.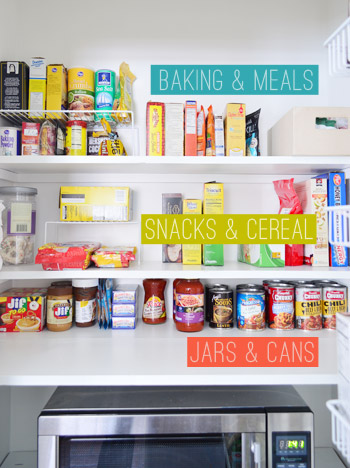 The wire shelves that gave us a little bit of extra stacked storage were part of the same 5-piece set that included the two under-shelf baskets that I called out a few paragraphs ago. And the fifth piece from that same set was a wire basket that hangs against a wall or inside a cabinet door. We screwed ours into the side wall to store spare plastic bags. It's so much nicer than the giant bin on the floor that we used to haphazardly toss them into.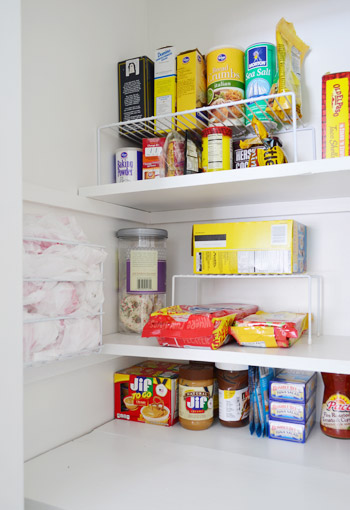 Oh and although a ton of Pinterest pantries have awesome glass or plastic containers like these (which are from The Container Store), we thought long and hard about how we really live and decided that even though we have some clear containers already on hand (like the ones you see in this shot of our first house's makeshift "pantry') it felt like they'd be more for show than anything else. We tend to go through things fast enough within their own packaging, so putting them in pretty jars just didn't feel like something we'd honestly keep up with these days.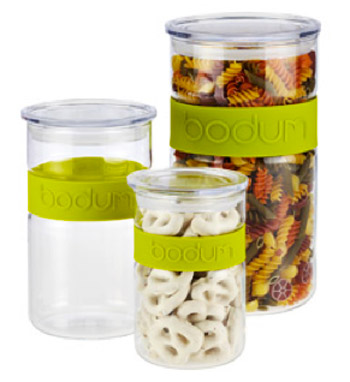 But back to the pantry. The wall across from our plastic-bag-holding wire bin has a similar spot where we could hang something else, but it's empty for now, at least until we have a specific use for it. You'll also notice some empty shelf space in front of the cans. We can always use it if our can & jar stock expands, but for now it's mostly to protect the top of the microwave from anything that might "jump" off one of the top shelves. It has also proven helpful as a spot to temporarily put things down or spread them out while we're organizing or looking for something.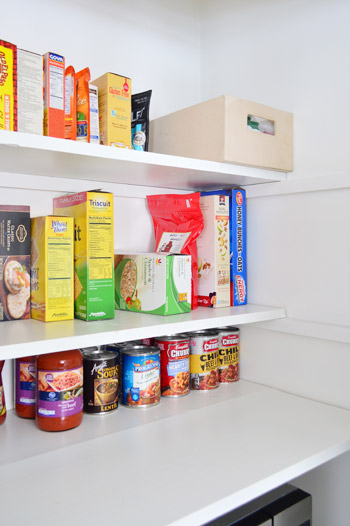 And thanks to the narrower shelves on top of that one, it's still easy to grab those cans and see what we have (we stacked the same items in front of each other, so there's nothing different lurking in the back that we'll forget about).
We used our new door-hanging system to stock the items that would most easily fit into those baskets (they're only 5″ wide). So it mostly ended up being random stuff like tea-and-coffee-related items on those top two shelves, along with a shelf for nuts and other snacks, one for pasta, and one for other items like granola bars.  There are still a couple of leftover baskets from the set that we could have hung, but we found that cramping the shelves closer just made it tougher to access things. So we'll add those extras if we need to down the line, but for now it's nice to have some space above the long boxes of pasta to actually pull them out without banging into another shelf right above them.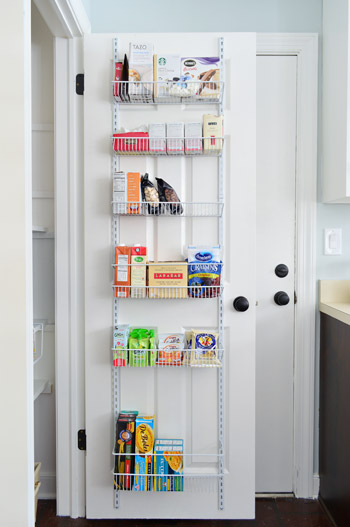 We also dedicated one shelf to some Clara snacks, which are right at her height, so she can help herself. She already loves ducking into the fridge to get packs of carrots or little containers of hummus that we keep on a shelf in there for her, so having a snack-zone in the pantry has been a big hit as well. We also appreciate that this shelf is full of easy-to-grab items for packing preschool snacks more quickly in the morning.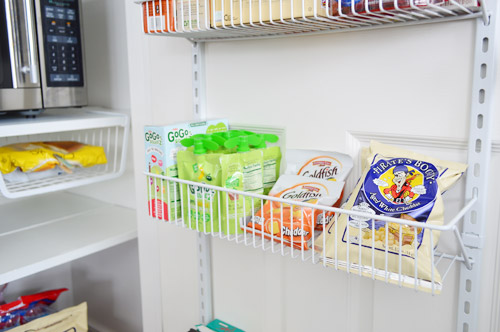 The space that will probably evolve a bit more for us is the floor. We didn't end up doing anything except adding a basket (that had previously housed our plastic bags) to corral big packages of a few bulk items, and tossing down a couple extra-tall cereal boxes before they're called into action (i.e. poured into the glass containers that we keep on the counter). But this probably foreshadows the purpose of this area as a spot to house more bulk items. For example, now that our pantry feels under control, I'm tempted to stock up on some things. Nothing too crazy, but it's nice to have a little "growing room" down there.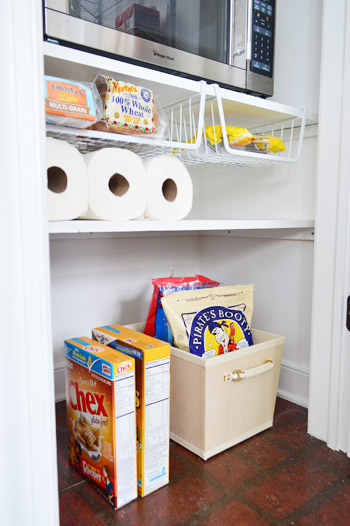 So besides fine tuning the floor area and seeing how it functions after a grocery trip, we'd consider this pantry makeover complete. And now I have the urge to go organize something else. Wait, am I nesting?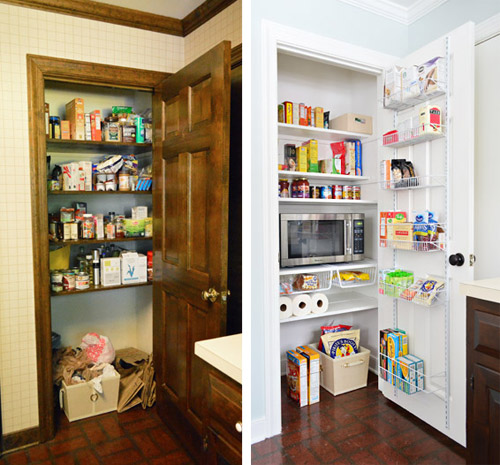 What did you guys do this weekend? Did anyone else who got snowed in end up organizing or re-thinking how a cabinet or closet works for your family? Are you now craving Nutella or Craisins? Ain't no shame in that, my friend.
&nbsp&nbsp&nbsp