Author Archive
That was my description after we installed the marble backsplash tile on the back wall of the laundry room. And under-cabinet sweaters are something I can get behind. It seems like just last week we were installing laundry room floor tile (oh yeah, because we were), but this time around we got to break out the tile we bought a while back for the wall behind our washer and dryer. Suddenly the room feels a lot more upgraded than the blank box that we started with, and it only took 13 sheets of tile to do it.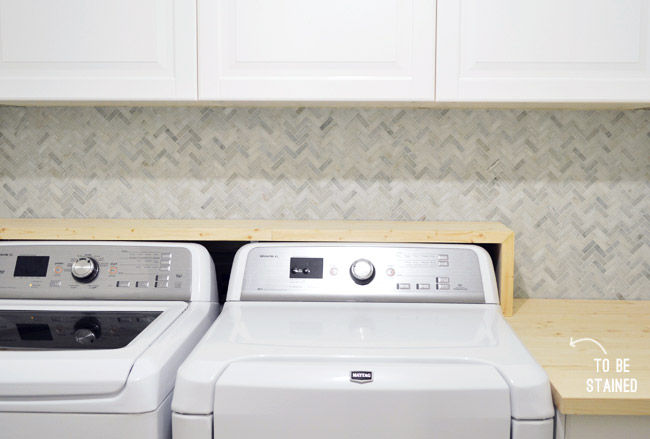 Try to ignore the unfinished shelf /counter since it's half done (still needs to be stained/sealed/installed, so we'll tackle that later this week). The important things to note about the shelf is that it will rest on some L-brackets and be completely removable, so we will still have easy access behind the appliances (we can even reach into that triangle between them while the shelf's in place to shut off the water in an emergency). But thanks to that new shelf, no random socks will fall back behind the washer & dryer anymore – plus it'll add some nice warmth & texture to the room.
The only reason we constructed the shelf/counter before tiling that area is so we could mark a line to indicate how far down we needed to tile (and make sure we didn't tile where those brackets would go, since hanging them first and tiling around them would be a lot easier).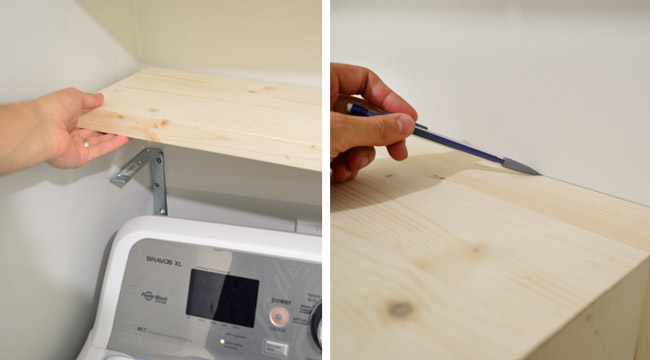 We'll be staining the wood slightly darker, maybe somewhere in the vicinity of #1 in the mood board below (you can also see the wall tile down there as #9, which is the Hampton Carrera marble from The Tile Shop, in the small herringbone pattern). We hear it's back-ordered now, so we wanted to be sure not to make any bad cuts that would result in us running out of tile and needing to wait months to finish this job (hence drawing that line above and taking things nice and slow). Note: all sources from this mood board are in this post.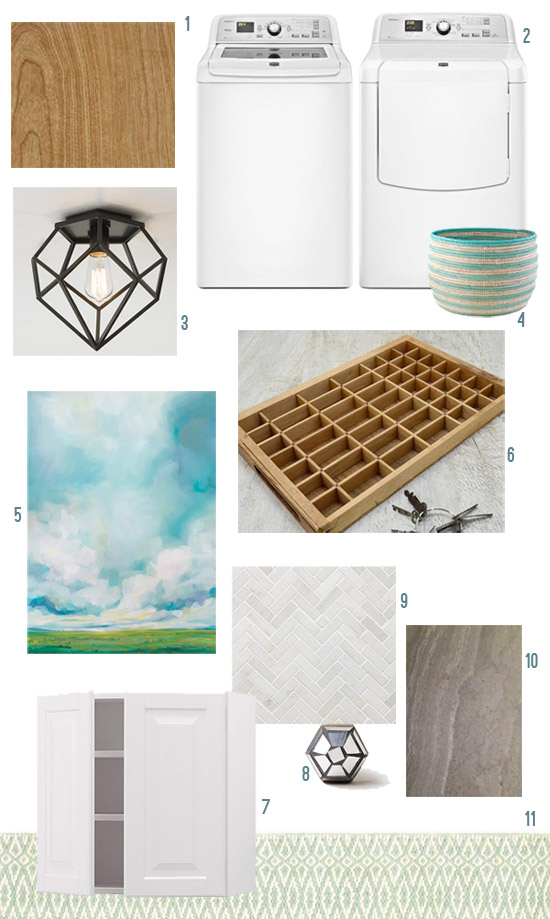 Two things were new about this tile job for us. We were taking a new type of tile for a spin (we made our own larger herringbone pattern out of marble subway tile from Home Depot on our old fireplace, but this tinier marble herringbone came in mosaic sheets, which we'd never used in combination with marble before – just on our ceramic penny tile). We were also using mastic for the first time, which would allow us to tile right over the painted drywall (we did sand it to get it a bit grittier first, though).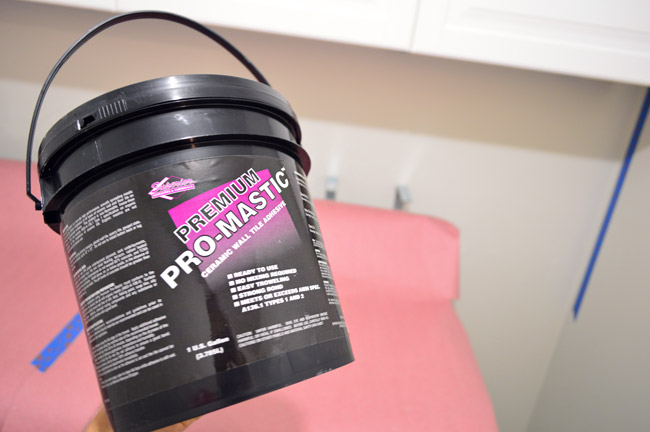 The mastic (from The Tile Shop) comes premixed and is sort of the consistency of spackle or drywall mud, but the process ended up being pretty similar to applying thinset, like we used on the floor. Although for the combination of mastic + this smaller mosaic tile, we used a smaller 3/16″ v-notch trowel to apply it.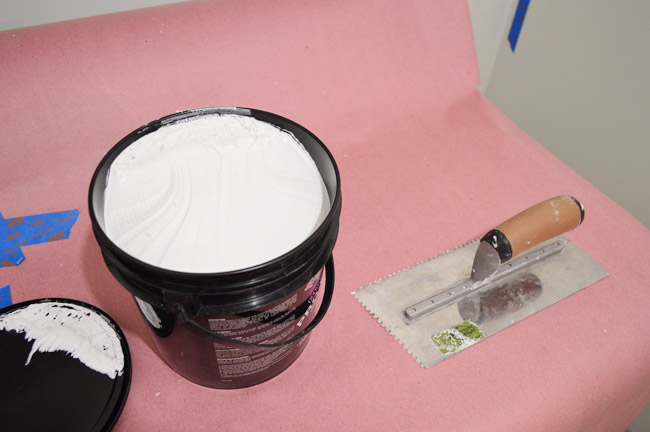 One thing that had us a little nervous about this project was cutting the tile without ruining too many pieces since it's on back-order. Last time we used a mosaic sheet was the ceramic penny tile in our kitchen, and it took some trial and error to figure out how to make clean cuts (spoiler: the wet saw made a mess of the mesh, so tile nippers ended up doing the trick).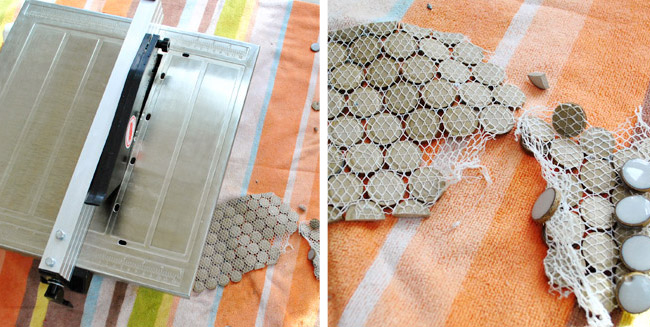 But some tips that we read online about marble mosaics had us convinced that the wet saw was the way to go this time. And it actually worked WONDERFULLY (did you hear our sighs of relief through the computer?). One big help was putting two scrap tiles (we hear you can use wood too) on either side of the blade so the mosaic sheet has a flat place to rest as it goes through and is cut.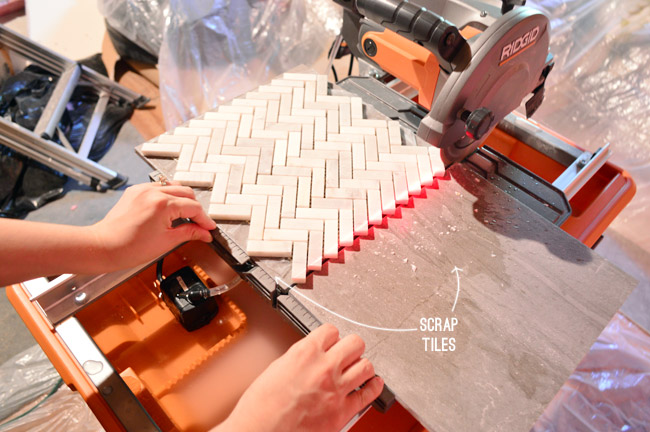 We were mostly just cutting the top off of a few tiles (so they'd sit flush against side walls or the underside of the cabinets), so we worried the blade would just push the little corners out of the way. But as long as we didn't push too fast (and made sure there was sufficient water on the blade) it cut everything really well. Also, Sherry now wants to take the tile saw out to dinner. We have ourselves a love triangle.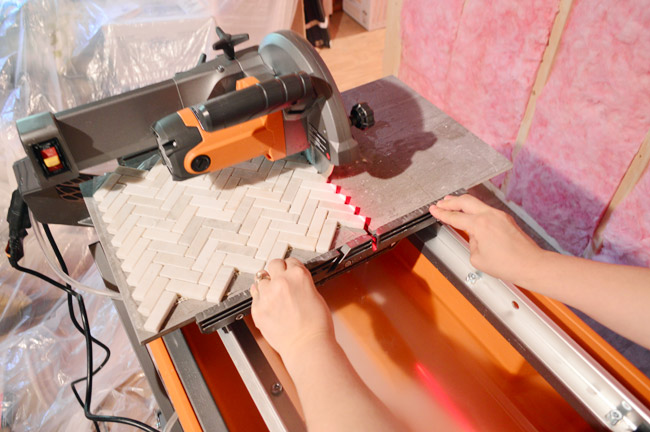 I'm pretty certain we wouldn't have had the same luck with my old wet saw, since the rolling tray on our new saw helped to make this process really smooth (the laser line really helped us keep our cuts straight along the angled tiles too).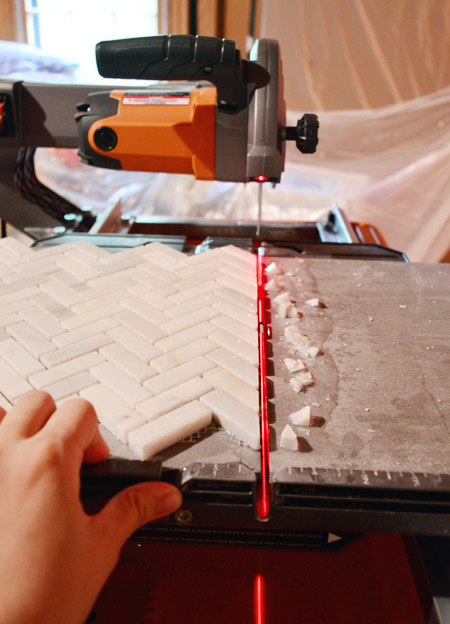 This is the only shot I got of applying the mastic, so don't mind the skip ahead to being halfway done. Mastic does set faster than thinset (in our experience) so we only spread enough for two sheets at a time.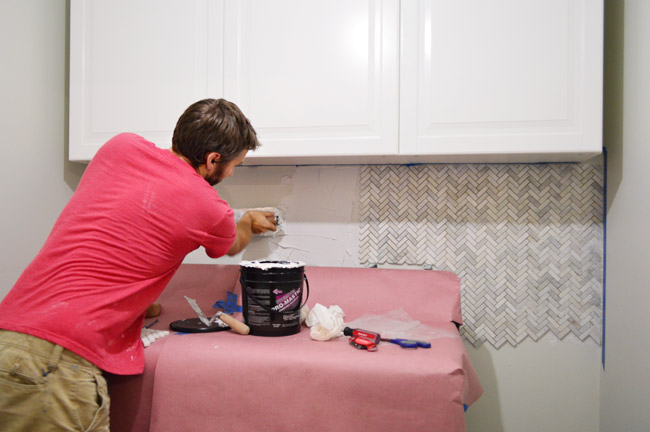 Once I got the mastic spread with the flat side of the trowel and then scraped with the v-notched side, Sherry took on the task of applying each sheet of tile and positioning it so it nested in without a seam. The instructions said to "twist" the tile slightly to make a good bond. Making crazy gnarled looking fingers is completely optional.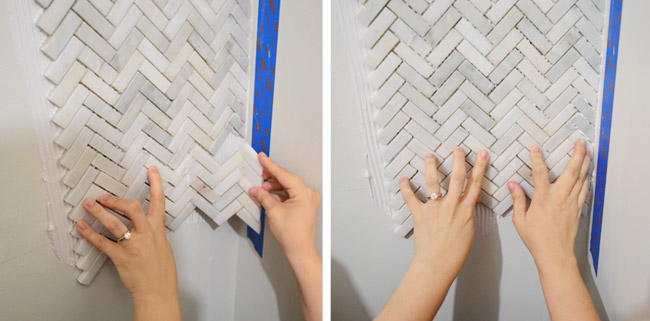 Much like laying sheets of penny tile, there was a careful eye needed (thank goodness I have Sherry) to make sure the pattern lined up between sheets. Some of the spacing on the sheets themselves wasn't flawless, and sometimes if you stepped back you could see an obvious seam, so you had to sort of maneuver things to get them to fit better. Below is an example of an obvious vertical seam forming (see how that vertical zig-zag seems a little further apart than the rest?). To eliminate those, Sherry slowly smooshed the sheets together, or pushed them slightly higher or lower to bridge those gaps so they matched the rest.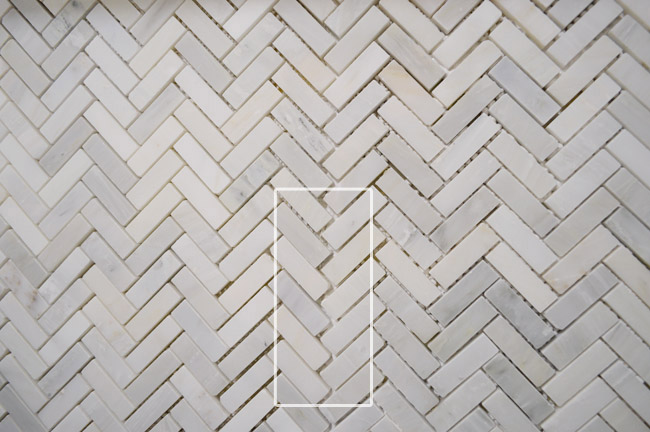 One thing that helped was to snip out some of the mesh backing that hung over the side that would nest better with the already set tile (we found that sometimes it got in the way of positioning the edge tiles close enough, so cutting it out made everything go more smoothly).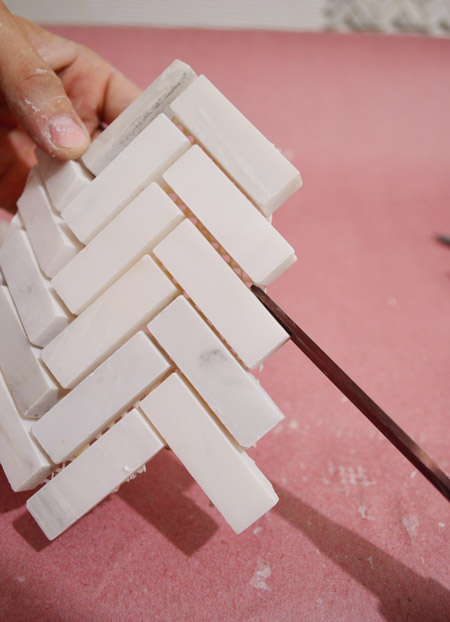 The other thing we did was that we staggered our sheets to further disguise any horizontal seams. Since we only needed 1.5 sheets (vertically) for the areas above the appliances (and 2.5 for the two vertical rows above the counter) it made it easy to start one vertical row with a full sheet at the top and a half-sheet on the bottom, and then start the next vertical row with the leftover half sheet at the top and a full sheet on the bottom.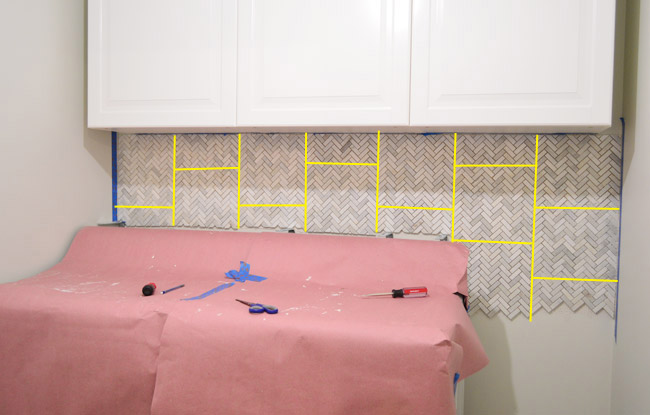 If all of the horizontal seams lined up across the entire back of the splash (for example, if all the top pieces were full tile sheets), it could create an obvious seam across the entire back wall, and we wanted to avoid that.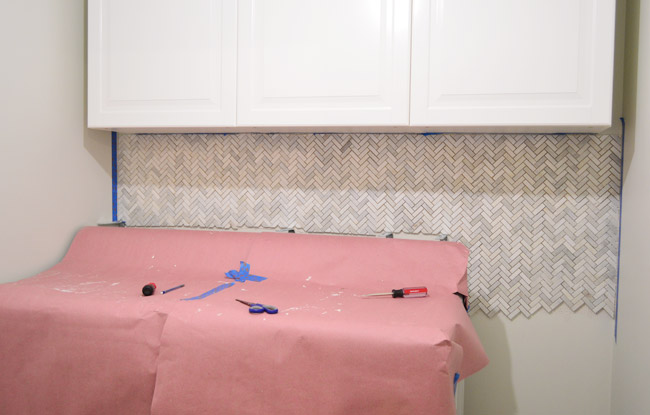 We managed to get it hung in about two hours on Saturday afternoon while Clara napped and Teddy kept himself mostly occupied thanks to a playmat-bumbo rotation (there may have been a nursing break in there). The mastic – which dries a lot faster than Thinset – was probably dry enough to grout on Saturday night, but we waited until yesterday morning just to be safe. Since the spaces between the tiles are larger than an eight of an inch, we used sanded grout (in the Standard White color from The Tile Shop).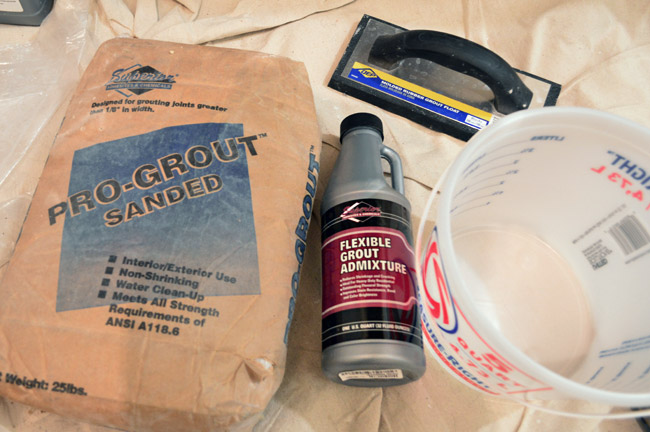 Even though this was a smaller area than the floor, it would require much more grout because of all of the gaps between the tiles. I mixed up enough to do about half of the wall, since I knew it would take more effort than the floor (so many cracks to smoosh it into!) and I didn't want it drying out on me.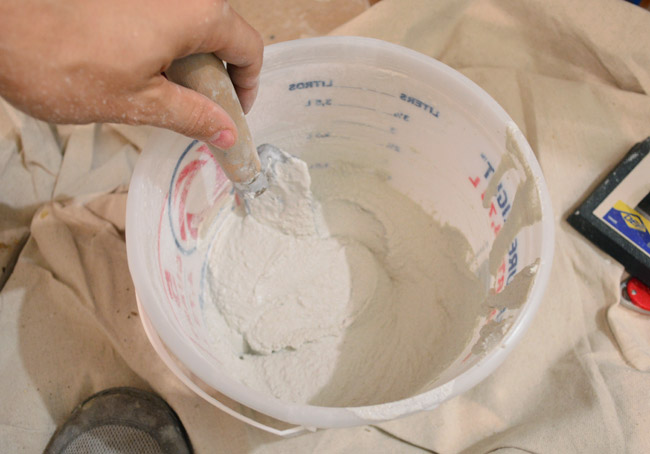 I also laid a scrap piece of wood where the shelf would sit to help catch drips, that way I didn't grout half of the floor behind the washer and dryer while I was at it.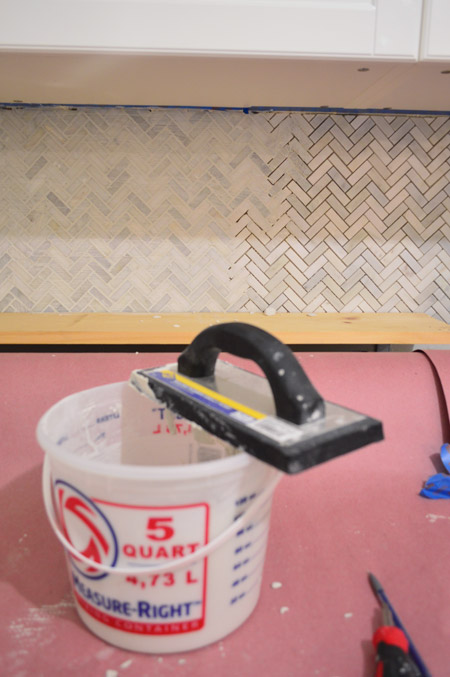 Once I had fully applied the whole bucket of grout (which covered about half of the wall) I wiped it down with a lightly damp sponge to smooth it out and remove some of the excess.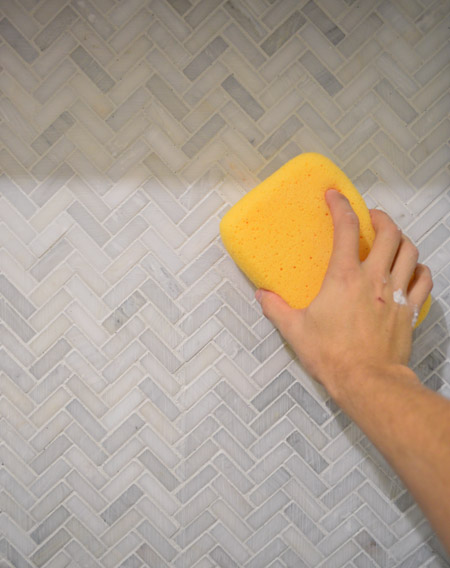 By now we know to expect some haze to appear as the grout start to dry. It used to freak us out (oh no, we didn't sponge well enough!) but now we know it's just an inevitable part of tiling (as least for us) and there are a few different ways to get it off.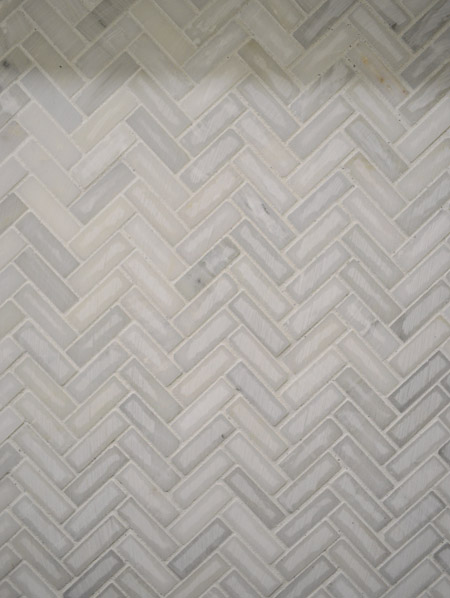 In the case of polished marble, a chemical (like a haze remover) isn't recommended. So it was up to another weapon I like to call elbow grease. I used a microfiber cloth to buff some of the drying haze off the tile. It wasn't a fast process, but it made a big difference.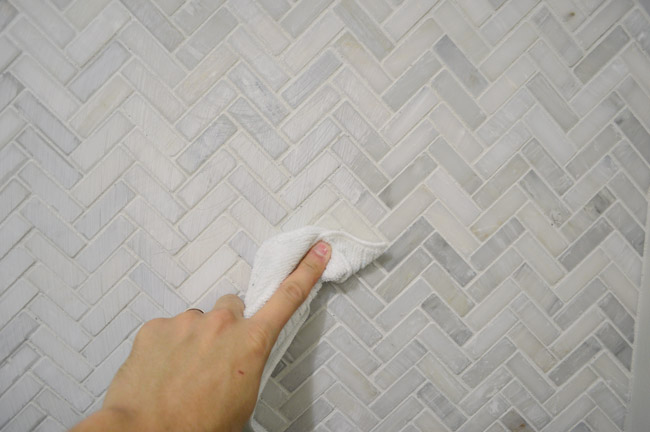 Here it is after two buffing passes, although Sherry wants to do one more, just to get it as gleamy as possible (polished marble can look dull unless you get every trace of haze off of it). I realize the edges looked a little ragged on the bottom, but…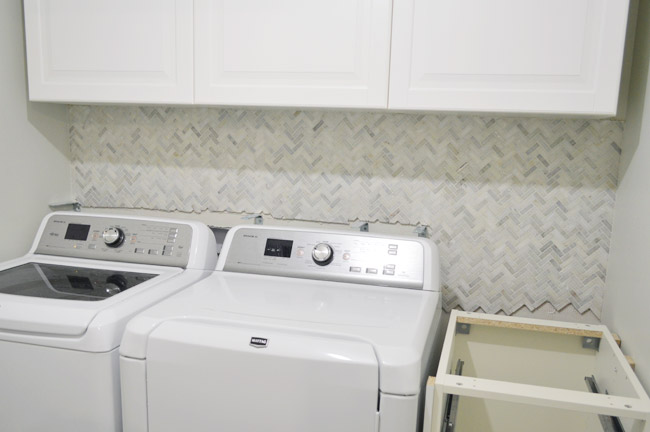 … that's the beauty of the shelf and counter that will be going over it, once they're all stained and sealed.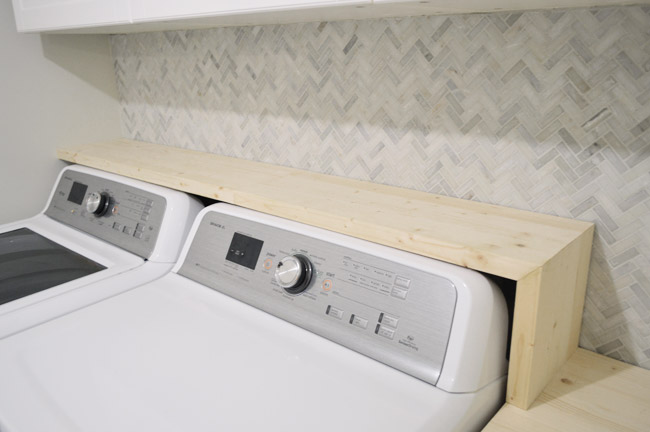 Update: Some questions came in about what happens if we get a new washer/dryer someday and need a new shelf placement and more tile. Width-wise, a new washer/dryer could slip right in since the spacing is standard (that side cabinet & counter could stay) but the height may vary slightly, so we might have to remake the little shelf on top (it's removable so it wouldn't be too hard). We couldn't tile much lower since the brackets were there, but we did save extra tile & grout, so we can add that later if needed.

Speaking of staining the shelf & counter, we've started doing some tests on some scrap pieces to see what stain/sealer combo we want to use.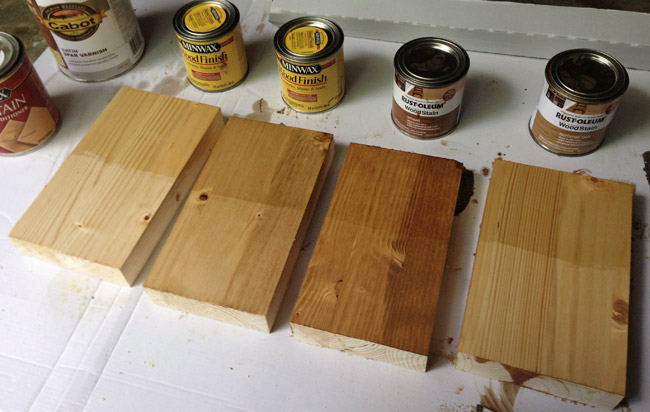 We hope to be back with the finished shelf & counter in a few days (just realized we owe you details on installing the washer/dryer and hooking up the overflow drain, so that'll be in the next post too). Until then, here's an updated to-do list:
Move washer & dryer and remove cabinetry (more on that here)
Demo cased opening, side wall, back wall, part of the floor and the attic step
Frame new walls & doorways

Move laundry plumbing hook-ups & drains

Move laundry electrical plus other outlets/lights (more on those last four bullets here)

Move dryer vent & HVAC duct (more on that here)
Hang drywall (more on that here)
Add insulation (more on that here)
Mud, tape, and sand all the drywall seams in the new room (more on that here)

Prime & paint laundry room and hallway walls (more on that here)

Tile & grout new laundry floor (more on that here)
Hang upper cabinets and install lower cabinet
Reinstall washer & dryer (more on those two bullets here)
Stain, seal, and install the wood counter & shelf
Rehang the laundry door & add our new glass door to the future bunk-room
Add cabinet fillers, crown molding, baseboard, & door casings
Install cabinet hardware & soft-close drawer upgrades
Add a ceiling light fixture & under cabinet lighting
Hang art, ironing board, and bring in other laundry room items (drying rack, trash can, etc)
Finishing touches and repairs (fix the drywall in the garage, add the step to the attic, etc)
We still have seven bullets to check off, but having a working washer & dryer again definitely feels like we're in the home stretch. Also, there's a fair chance that Sherry is petting the tile as I type this. An intervention might be necessary.
&nbsp&nbsp&nbsp
This post was shaping up to be a weird one (well, weirder than our baseline weird). We were simultaneously trying to hang Ikea cabinets in our laundry room and re-hook up the washer & dryer, but as of yesterday morning we were sort of stuck half-way through both projects and this was the best progress shot we thought we'd have for you today: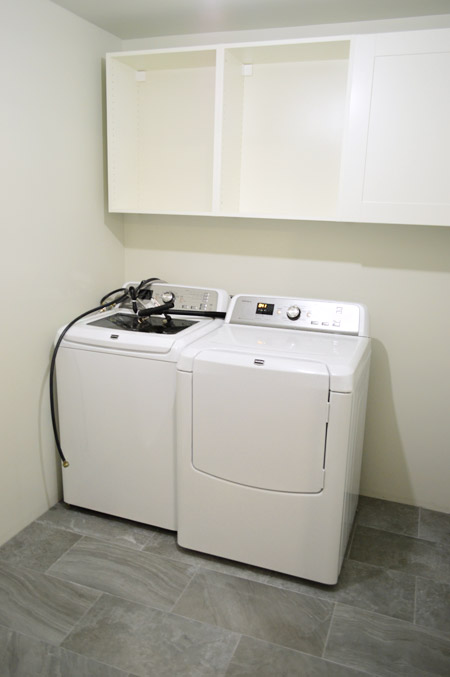 But thanks to some last minute pieces falling into place over the last 24 hours, we have working appliances that have been completely re-installed (picture Sherry dancing for no less than twenty minutes with an elated baby in her arms laughing at her) and doors on our all of our cabinets (more dancing – also singing). I'll get into appliance installation details next week (getting the overflow drain and washer pan connected took some effort) but today is all about cabinets.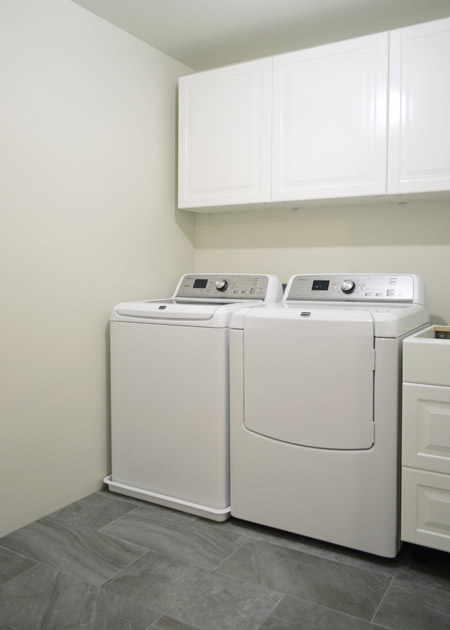 We've been wanting to take Ikea cabinets for a spin since we're heavily considering them for our eventual kitchen remodel. We hear great things about them and pretty consistently see them popping up in high end homes thanks to magazines like Dwell, Domino, and House Beautiful, yet we've gone a bunch of other routes in the past. We've done the custom cabinet thing in our first house, and the second-hand / work-with-what-you've-got thing in our second house (we refinished our existing cabinets and added used ones from the Habitat ReStore). It's funny that despite all of the Ikea in our life, we've never actually dabbled in their cabinetry. So the laundry room felt like a perfect lower-risk test space to learn the process and to help us determine if we want to go this route in the kitchen down the line.
We started by using their online Kitchen Planner to map out the space. We actually used it before to help envision our last kitchen, even though we weren't purchasing their cabinets. In general it's a pretty easy (and free!) online tool to play around with – although I did have to insert a dishwasher into my plan, since they don't have a dryer option. Before long we had a plan and a shopping list that we could print out and bring to the store.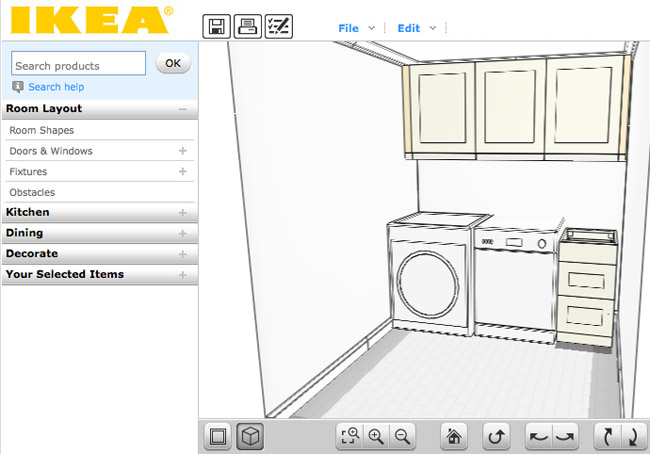 The above shot is the plan after the kitchen expert at Ikea helped us fine-tune things. I'm glad we arrived with an idea of what we wanted (it saved a ton of time!) but I'm also glad we consulted with one of their employees before our purchase (it saved some unnecessary purchases when she went through the list and explained that some things weren't necessary for this type of installation). She also helped to point out some trim that we might want to add to hide our under cabinet lighting (last minute decision = under cabinet lighting, just to help us see & treat stains more easily).
While we were there, we also made a change in our cabinet door decision. Online the Ramsjo looked closest to what we wanted, but in person it had more of a whitewashed wood look (with some pink undertones). The Adel, even though it was labeled "off-white" appeared to be a lot closer to the solid white look we wanted. It wasn't perfectly white, but we're used to Ikea stuff being ever so slightly creamy.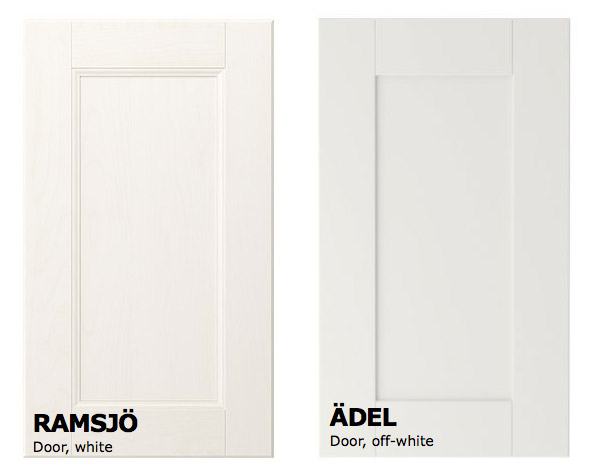 Everything was in stock, so about an hour (and 800-some-dollars) later we were packed up and back on the road. Which was a good thing since we were doing this on a Friday afternoon, which is pretty much the last time you should attempt traveling I-95 South near Ikea (we were doing a few other things in the area, so it definitely wouldn't have been the time we'd pick if we were just hitting Ikea and returning home).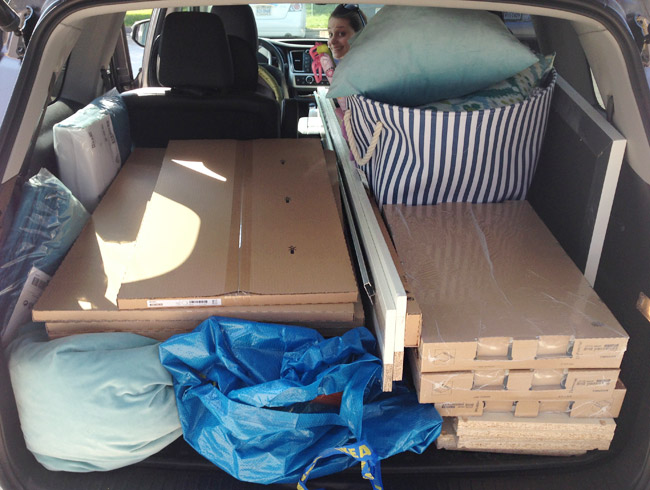 We gritted our teeth through the normal rush hour / summer Friday traffic. And just as we got through it… they closed the highway entirely because a truck spilled acid all over the road. Sooooo yeah. I trip that's normally two hours took about three times that long.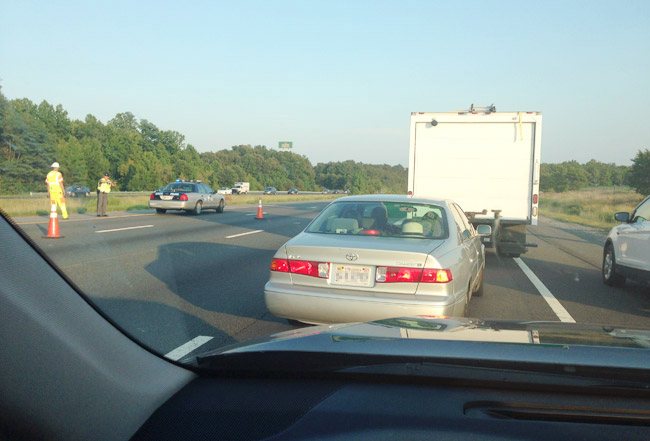 Once we had them home, it was time to put them together, which we hear is the most dreaded part of an Ikea kitchen. It wasn't so bad for us since we were only assembling three upper cabinets and one lower one. Plus, we did the three uppers assembly-line-style (not to be confused with Gangnam Style) so it went faster.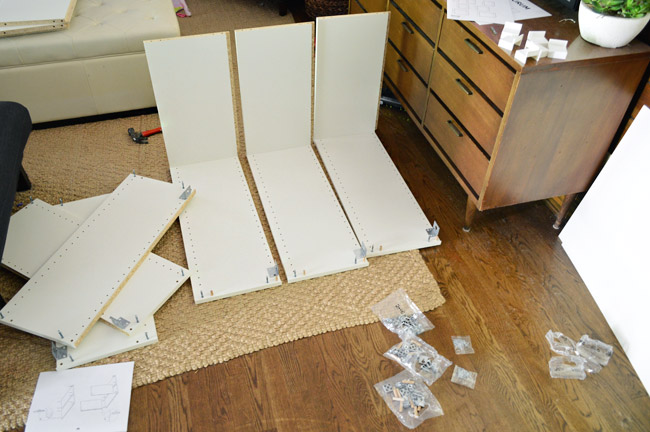 Actually, the most annoying part was nailing the panels on the back of each one, and that wasn't even that bad (it just took a while since there were around 24 nails for each cabinet).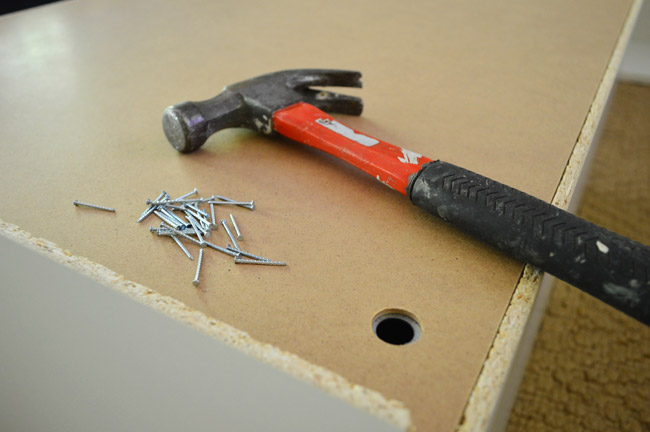 I have to say, we were both pretty impressed with the hanging system Ikea uses. In all of the Ikea kitchens we've seen online and in magazines, we never realized that the uppers aren't screwed to the wall like traditional cabinets. Instead, they all hang from a metal rail that you install directly into the wall studs, which made hanging them ourselves (and keeping them aligned) a lot easier than other methods we've tried in the past.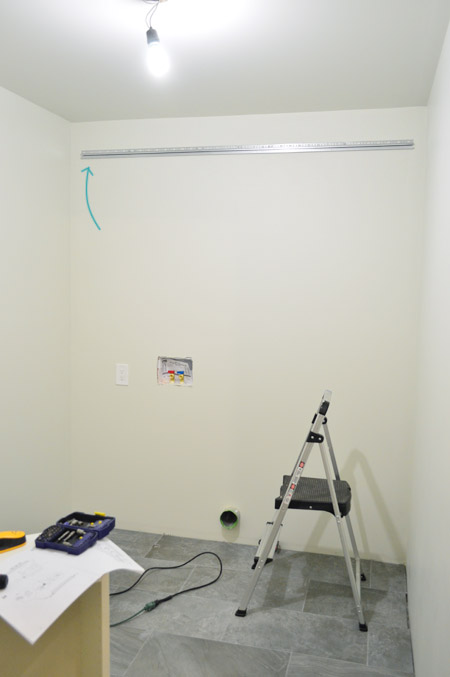 The metal hanging rail comes as one 80″ long piece, but we only needed ours wide enough for the three 24″ cabinets. The instructions suggested a hacksaw, but our Dremel made the job much faster.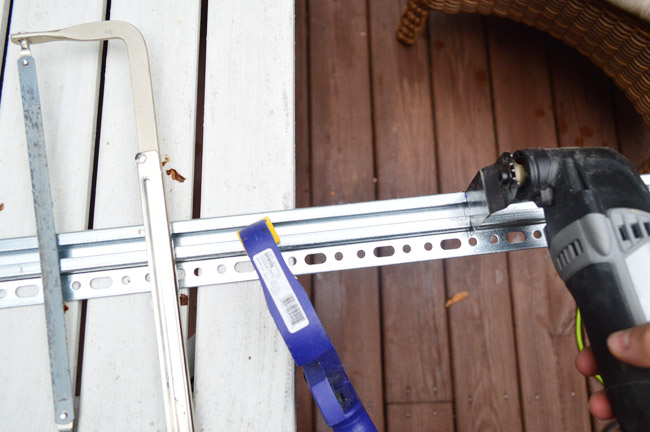 Determining how high to hang the rail took some planning. We're going to finish off our cabinets with the same crown molding that matches the rest of the house, so we had to account for the height that would add, as well as the fact that the cabinets attach to the rail a few inches down from the top of the cabinet.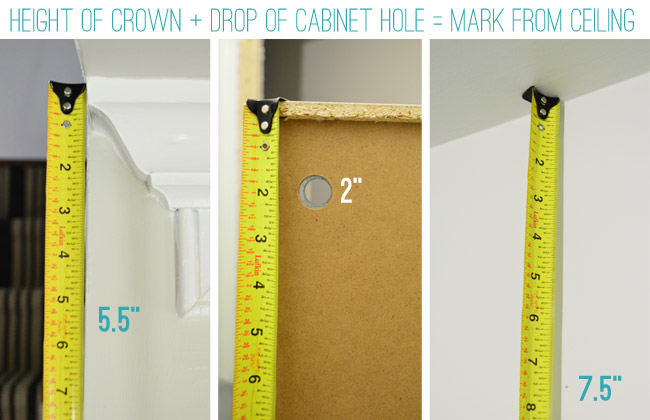 Once I had my mark (which I made in the center of that back wall) I drew a line across the rest of the wall with my level.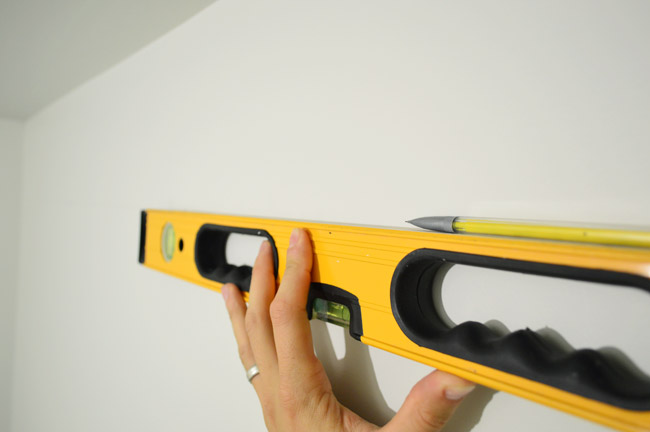 But I soon realized that the line I marked wasn't very helpful since it would be impossible to see behind the solid metal strip that the cabinets hang from. So I noted how much higher I needed to mark the wall to give myself a more visible reference point.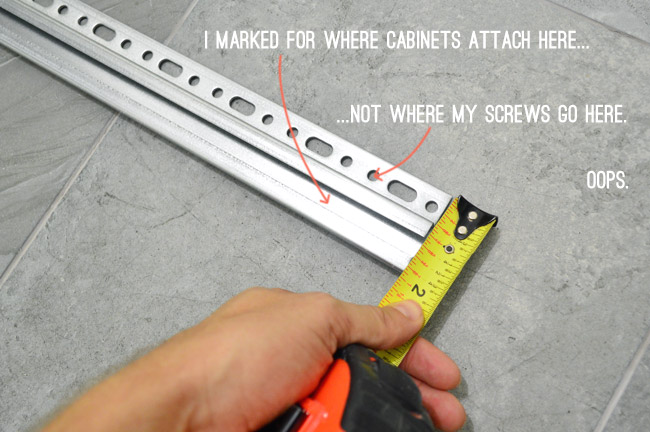 And so went the second line on my wall.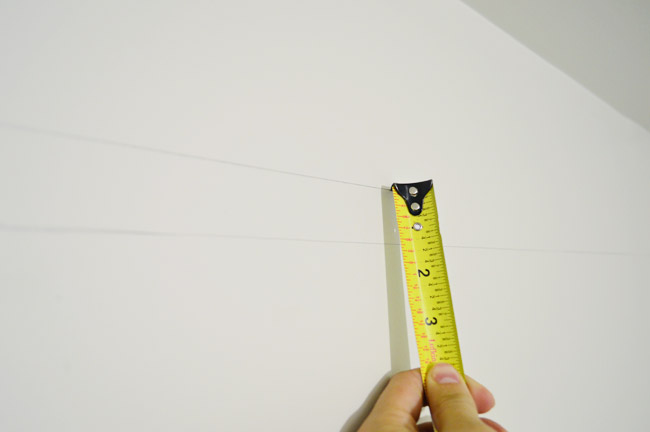 We also marked the studs so we were sure our screws would be going into something solid.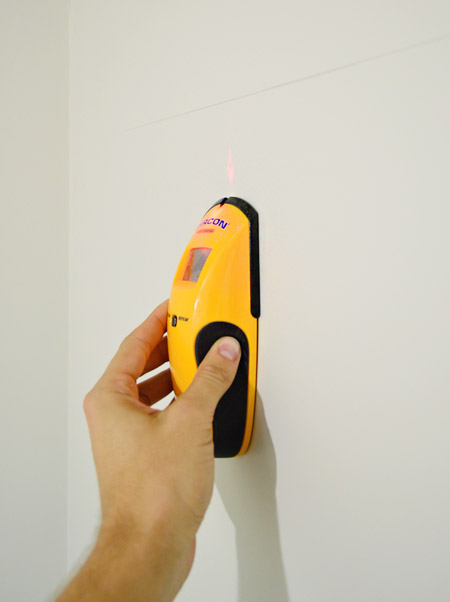 The wall is pretty flat (i.e. it doesn't bow or dip anywhere) so we could just directly screw the metal rail into each of the studs. But according to the instructions, you might have to shim it if your wall is a little wavy.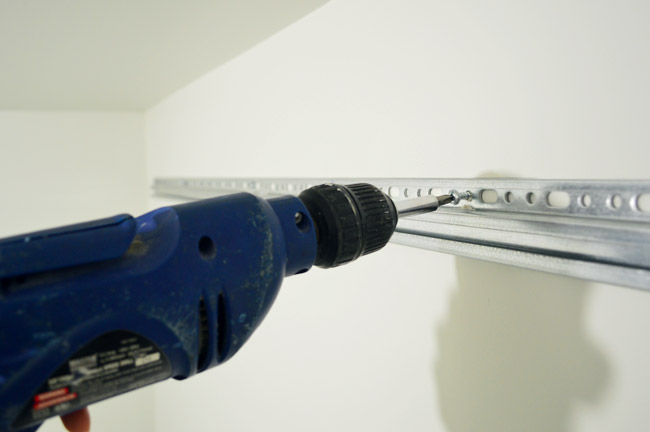 With the rail securely hung on the wall, we slid in the bolts that each cabinet frame would hang from.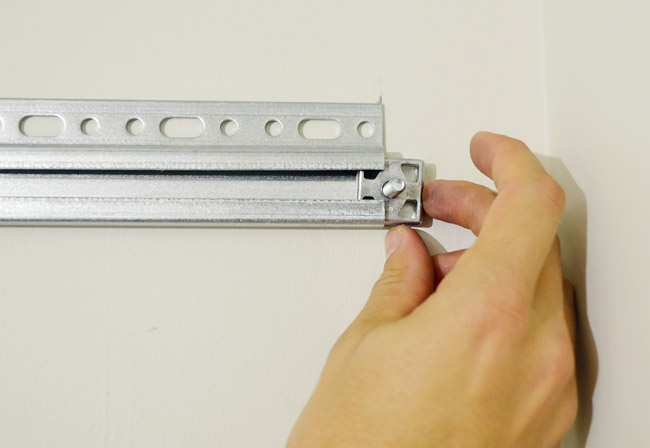 The cabinet frames aren't very heavy (at least without shelves or doors yet) so it was easy enough for one person to hoist them up and place them on the bolts (Sherry did one herself without any sweating or cursing). We secured them one at a time, so the first one to go up was that middle one, then I did the right one and Sherry did the left one.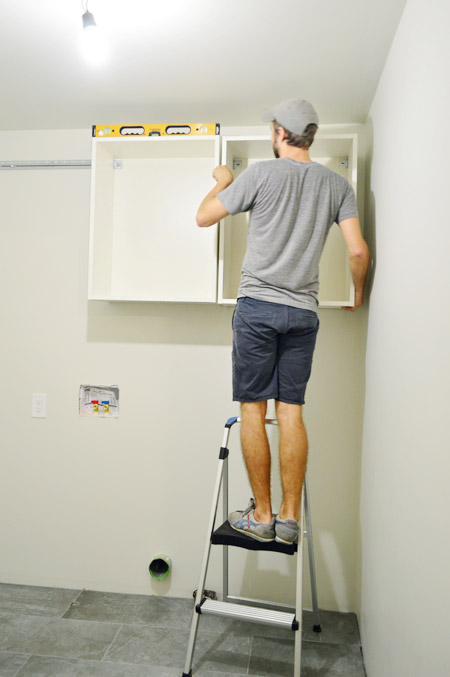 Once they're resting on those two bolts, you add a metal clip and a nut – then tighten everything with a wrench. The clip allows you to adjust the placement slightly in case you need to level things a little. As you can see above, we rested a level on top to make sure each cabinet was straight as we went.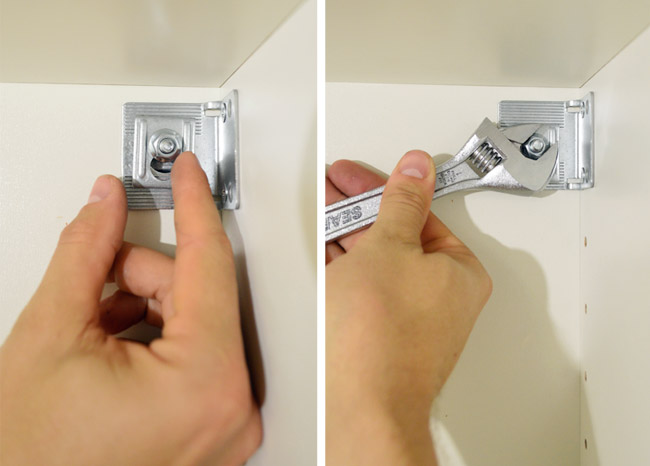 Once all three were up, we clamped them together at the edges so we could bolt all of them together to make one solid unit (this also eliminated any gaps between them). Once clamped, I drilled through one of the peg holes using a 3/16″ bit. NOTE: I realized afterwards that you should do the very bottom and very top hole, not the second one in – since those are used for the door hardware, but it was easy to correct – it just meant doing it twice.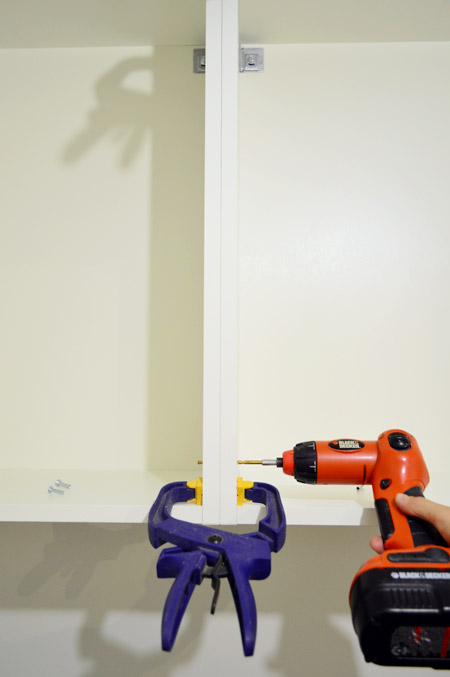 With a hole drilled through both cabinets, I used the supplied screws to make the connection tight.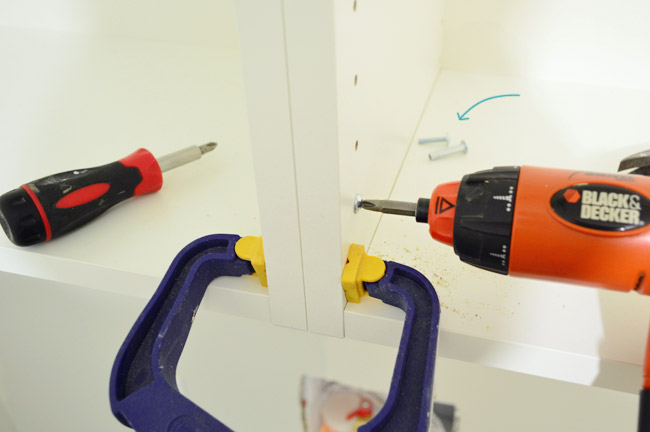 The final step was snapping on the white plastic caps to cover the hanging hardware on the back of the cabinet.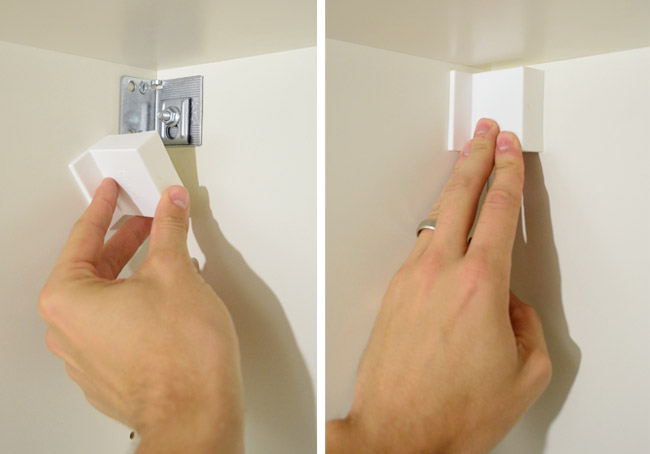 So here are our three uppers sitting pretty on the wall. Definitely an improvement when it comes to storage & function, but not super impressive looking since they still need some wood filler pieces on the sides and some crown on the top. Oh yeah and shelves and doors.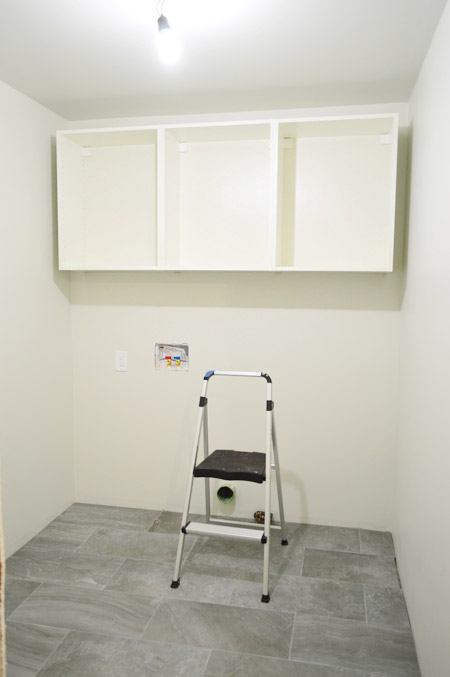 The doors were pretty easy to add, since the hardware that Ikea sells uses pressure to attach everything (there's no drilling holes or anything). The various screws can help you adjust the placement, but our first one seemed to sit nicely against the frame without touching them at all.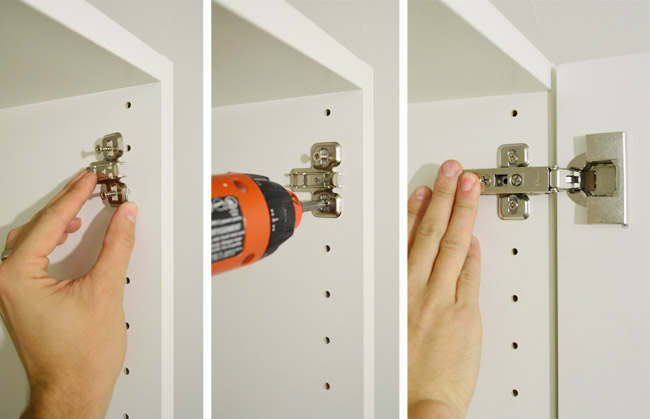 What wasn't so nice? The color. It's harder to detect in photos than real life, but the Adel door front was looking a lot more cream than we hoped it would look (it's a few shades darker than the other slightly cream Ikea furniture we have). It looked especially yellow next to a Simply White scrap piece of baseboard – which is what all of our home's trim/baseboards/doors are painted.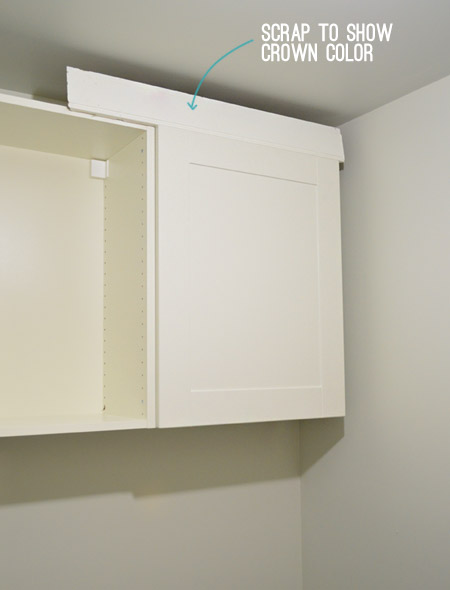 We didn't expect it to match perfectly, but after some Googling (which we wish we'd done before our Ikea trip) we realized that Ikea sells a door style that people say matches Simply White almost perfectly (what are the odds, they actually shouted out our house's exact trim/door color?!). Meanwhile the style we bought is said to match Benjamin Moore's Paper Mache (which is notably less white). Oops. We sadly overlooked the Lidingo door style since the picture on Ikea's website makes it look a lot darker/yellower, but here's an example of how the matching paint swatches look SO DIFFERENT than the photos of the doors online: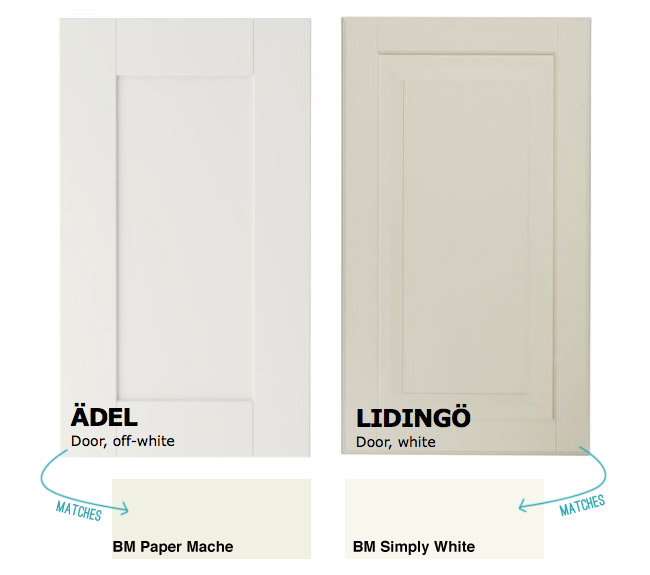 And while the Lidingo door style isn't as clean-lined as the shaker style that we're usually most attracted to, it definitely fits the style of our house and looks pretty great in other Ikea kitchens we've scoped online (we've always liked Dana's over at HouseTweaking, so learning that she used them was definitely a selling point). But most selling of all was the fact that there was actually a door style that is said to match all of our house's doors and trim. I know I've said what are the odds already, but really, what are the odds?!
So… we halted door installation and started planning a return trip to Ikea. Cue the eye twitch and flashbacks to highway closure traffic. But by some MIRACLE, it turns out my parents were visiting my sister and cousins in Northern Virginia on Tuesday and could swing by Ikea on their way home and get the new Lidingo doors for us. They are such an improvement over the Adels that we couldn't wait to hang them last night after we got the kids to bed. We even tucked the base cabinet in there for kicks, although it still needs to be secured to the wall to be officially installed (along with needing trim pieces on the sides, hardware, a counter, and a toe kick).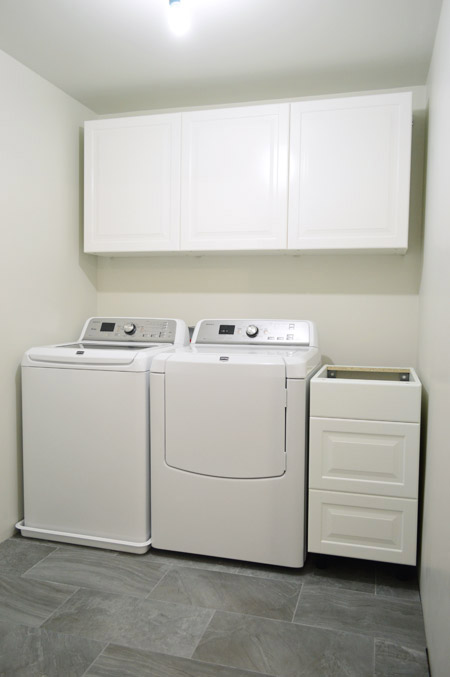 Actually, our to-do list is still pretty long in the cabinet department. But those little details are what makes it all come together, so we're psyched to dive into them.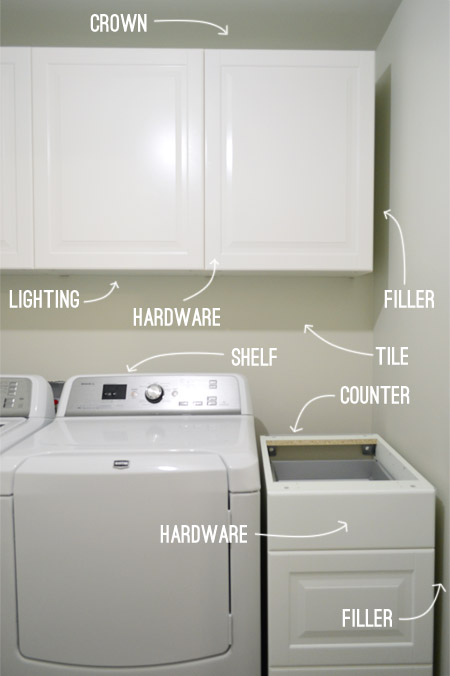 It's definitely still more of a blank slate in here, so we're especially excited to bring in some wood tones to break up all the white – in the form of a butcher block counter among a few other items (you can read about those plans here).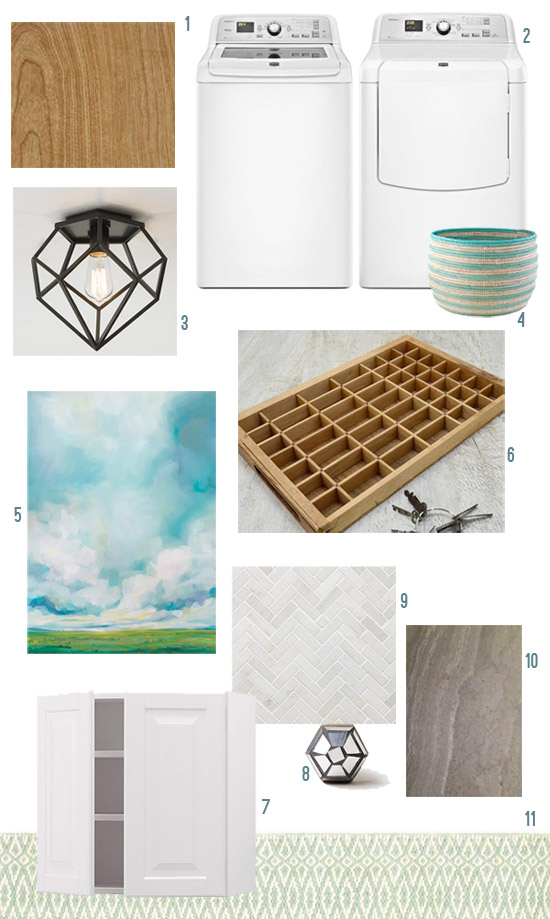 We still need to return the doors and drawer fronts in that first color (we only unboxed one), but we'll be driving through that area again in a few weeks so it's not too much of a pain to stop in and drop those off (he says while crossing all appendages that no unforeseen traffic issues arise). Also, here's how I feel about being able to do laundry at home again:
&nbsp&nbsp&nbsp