Archive for December, 2012
Here she be, all ye merrymakers of the world: our 2012 family Christmas card.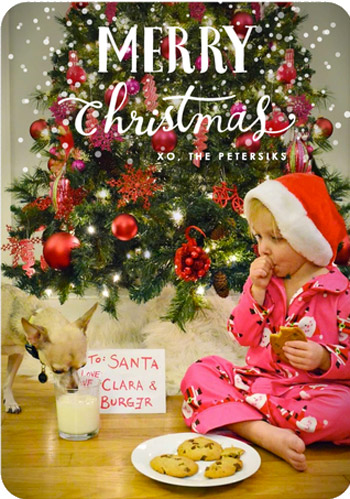 Obviously it's a play on the tradition of leaving some milk and cookies out for Santa, with a nice dose of the reality that unattended food at our house doesn't stay unattended for very long. By some miracle we were able to get this shot without having to Photoshop the two of them together. Usually Clara is all up Burger's grill – meaning that Burger bolts before the first shot is snapped. But apparently they play well together when there are treats to be had.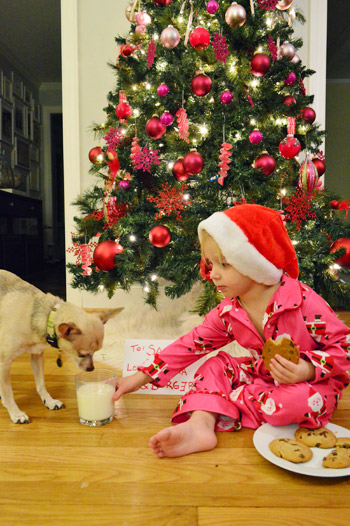 These are just some outtakes from our little photo session, which we actually didn't start until after Clara's bedtime. Again, another Christmas miracle was at work here. She not only was an angel for the shoot (probably because she had a plate full of cookies) but despite the post-8pm sugar rush, she thankfully slept just as well as usual.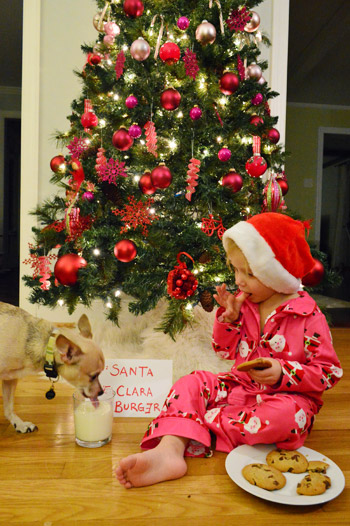 Clara loved the fact that Burger was so interested in the milk ("More cookies for me!") that she constantly tried to invite him to drink more of it.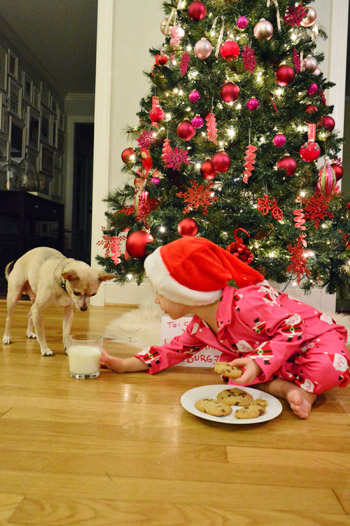 But eventually Burger became more interested in the other snack, which meant we had to pull the plug on the set-up (no chocolate for dogs!).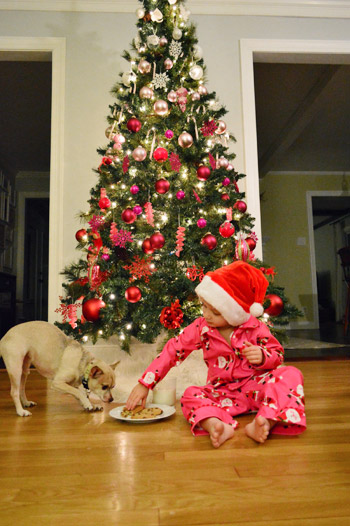 But despite the abrupt end, we're still psyched about the result. Especially since this design at TinyPrints made it even more festive. Yup, we splurged a bit this year (over our usual CVS or Target printing) and went for a heaftier cardstock printing through TinyPrints. But thanks to a free shipping promotion they were running and a coupon code we looked up (thanks Google), we were able to save $30 on our order.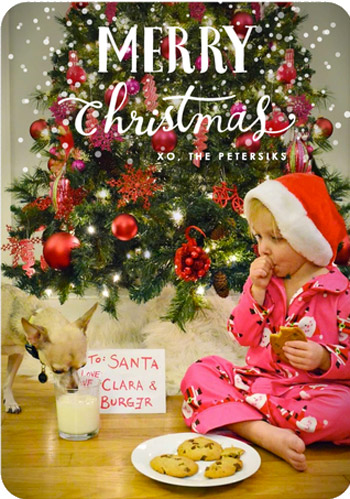 Speaking of past years, here's a quick recap for ya: Here's last year's card: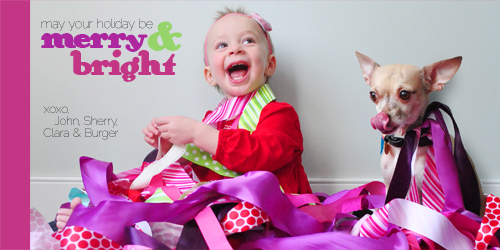 And the one from 2010 (where we actually photoshopped that bow on Clara's head to help long distance relatives remember the she's a she).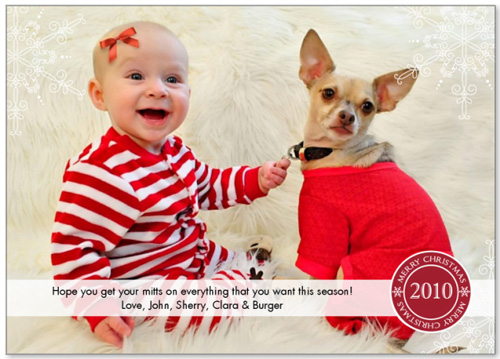 And lastly our card from 2009, while we were still awaiting Clara's arrival the following May…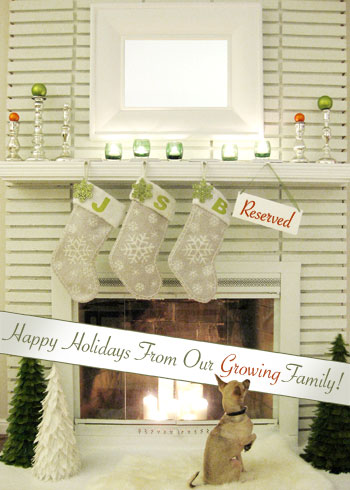 And with that, we're off to spend the rest of Christmas Day with our family. We hope you guys are all having a wonderful holiday and and are enjoying some great food, fun, family time, rest, or whatever else makes this the most wonderful time of the year. And thanks for reading our blog. We're thankful for you.
&nbsp&nbsp&nbsp
***This giveaway is no longer accepting entries – see who won!***
Hope you all had a great (relatively clean) holiday week! The random winner in this week's giveaway is… Karyl (who has "grand finale" to their present unwrapping:"we bring out a bunch of thrift store stuffed animals that we've wrapped in newspaper for the dog and cat. They start tearing into the packages with abandon. By the end there are two tired animals and about 3 inches of fluff, newpaper bits, and four happy kids piled across the floor. It's a mess to clean up though, but huge fun.") Congrats!

If you're like us, by the end of this holiday week you will have had lots of fun… but might also have a bunch of messes to clean up. That's where these stylish, eco-friendly, and good-smelling cleaning supplies from Murchison-Hume come in. These handsome products were born in Australia from a mother's need for safe products that wouldn't aggravate her son's allergies. Now they're here in the USA (at places like Williams-Sonoma, Restoration Hardware, and The Container Store) and the up-for-grabs prize is a full year of cleaning supplies (two of everything they make) totaling about $500!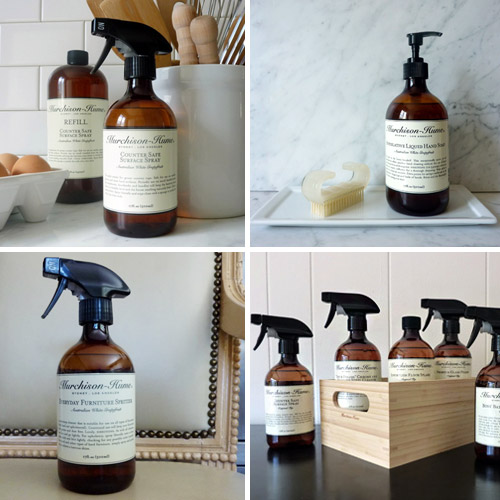 PRIZE: A year's supply of Murchison-Hume products (valued at approx. $500) which including two of the following: Classic Six Boxed Set including bamboo caddy, Premium Glass Polish, Counter Safe Surface Spray, Spit & Polish Steel Cleaner, Everyday Furniture Spritzer, Boys' Bathroom Cleaner, Effortless Floor Splash, Hand Soap and Dishwashing Liquid plus four refills for all products and a dozen jute totes.
TO ENTER: Comment on this post with the words "CLEAN ME!" and tell us…
BONUS QUESTION: …what messy activity you're looking forward to most this week. Is it ripping through your presents tomorrow morning? Cooking (or eating) a large holiday feast with your family? Or, if your weather cooperates, enjoying a white Christmas with a snowy walk… or a snowball fight?
GIVEAWAY CLOSES: Wednesday, Dec 26th at 8pm EST or at 10,000 entries (whichever comes first)
NUMBER OF WINNERS: One
PRIZE SHIPS: This giveaway is open to the United States and Australia (we always beg every vendor to ship internationally but some companies are not legally able to vend things beyond specific areas – more on that here).
USUAL STUFF: One entry per e-mail address is permitted. The winner will be selected using random.org and announced on Thursday as an update to this post. That's right, come right back here on Thursday for the announcement of our winner. Good luck…
***COMMENT ISSUES? If you're trying to enter but keep getting a "duplicate comment" warning, click here to see how to solve it!
Note: We aren't paid or perked for hosting these giveaways, we just do 'em to thank you awesome folks for stopping in. See our Giveaway FAQ page for more info. Pics courtesy of Murchison-Hume.
&nbsp&nbsp&nbsp